229
DAN GRAHAM (1942–2022)
Dara Birnbaum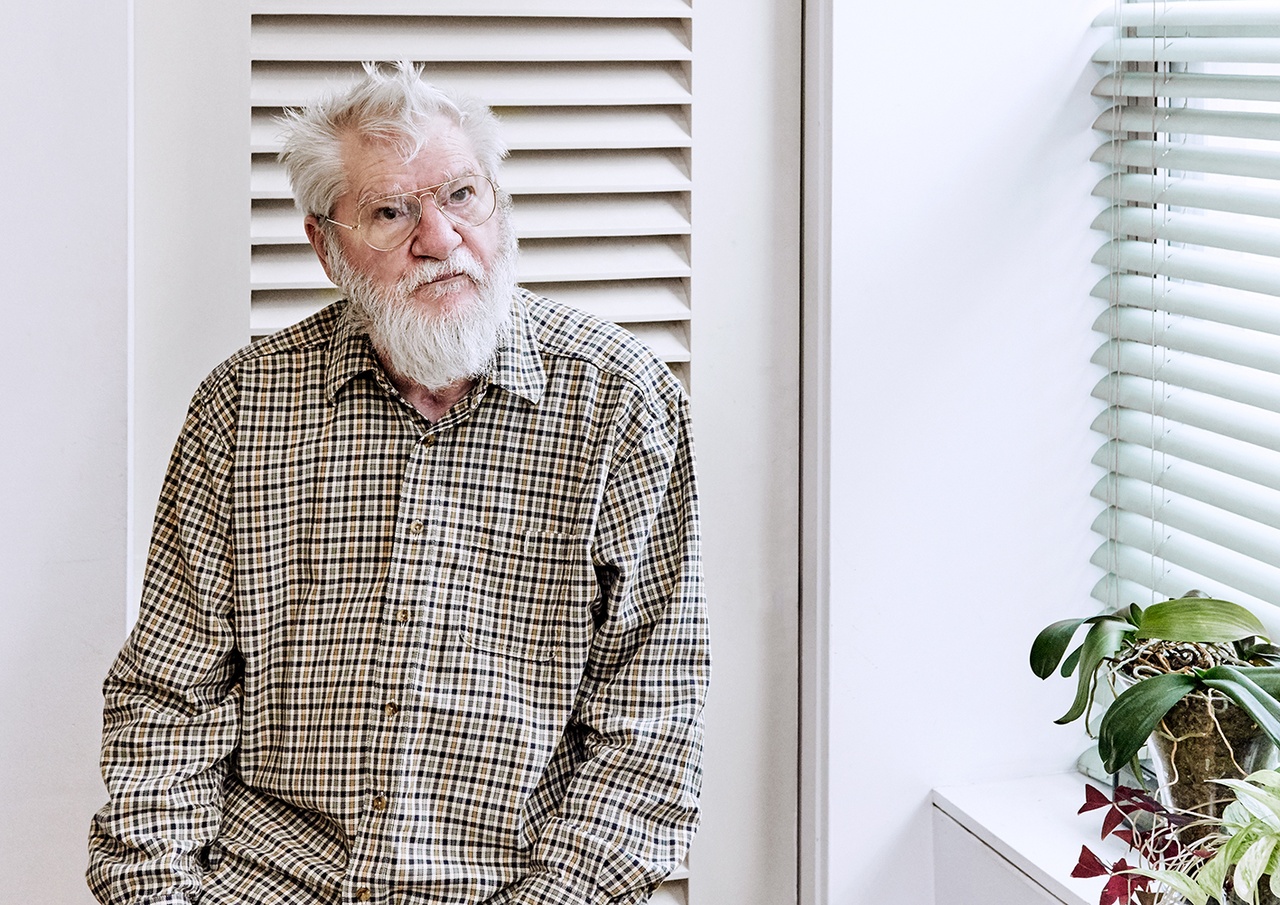 To walk we have to lean forward, lose our balance, and begin to fall. We let go, constantly, of the previous stability, falling, all the time, trusting that we will find a succession of new stabilities with each step. The fullest living is a constant dying of the past, enjoying the present fully, but holding it lightly; letting go without clinging and moving freely into new experiences. Our experience of the past and of those dear to us is not lost at all, but remains richly within us. – Robin Skynner, psychiatric pioneer
We all travel our life paths mostly attempting to go in a rather straight line forward, forging a pathway toward our desires. Others seem to love going off path – and perhaps this was, in part, true of Dan Graham. Yet, there remains a great consistency to the 40 years of steps I took with Dan. To most honor these, I am listing here several deeply embedded memories, which one might say resemble a type of Robert Walser walk that we took together in our lives.
NOT MEETING: 1974
Living in Florence, Italy, during 1973–74, I accidentally came across the gallery Centro Diffusione Grafica (Maria Gloria Conti Bicocchi), which Dan Graham was coming to visit in relation to his art. Maria Gloria was very excited to introduce us – she thought we would get along well because of our similar type of energy and also our interest in architecture (as I had graduated with a degree in architecture from Carnegie Mellon University in 1969). However, Dan was taken straight to the countryside, deciding that would be a better place for him to work. We never met.
MEETING: 1975
Moving back to New York City in 1975, I joined, almost accidently, a group of mostly younger artists, although it also included Dan Graham and Willoughby Sharp (1936–2008), whom I saw as "senior" members, perhaps mentors. After we opened a group show at Scott Billingsley's loft, we mutually decided to attend a performance at Artists Space. I was sitting near Dan when I told the artist next to me that if I ever did work like the artist performing, he had my permission to shoot me. Dan immediately leaned over, asking "Who said that? I want to meet her!" So, we met and began what was to be a 40-year friendship.
STEPPING STONES ALONG A PATH TOGETHER:
FIRST STEP: BEING GENEROUS AND OPEN
Dan invited me to attend an opening (uptown, across from the New York Coliseum) of a group exhibition he was in. This was very new for me, and I dressed how I would have when living in Florence – meaning, without money. I wrapped an exotic scarf around my upper torso (breasts) and wore a plain black skirt. One of the bartenders seemed to have a "good time" with me – whenever I asked for a drink, he seemed to mix my gin and tonic with about 80 percent alcohol. Without having eaten, I got phenomenally drunk. Thus, Dan and Ian (Murray) took me for a dinner close by, thinking it would make me feel better, but I threw up into my plate of food. So, graciously, they both took me home (E. 10th Street), put me gently into my bed, put a container by me (in case I got ill again), and left a note by my head: "If you need us, here are our phone numbers. Just call!"
SECOND STEP: APARTMENT MUSINGS
Perhaps a few of us were at the apartment of a friend, Rosalind Cutforth (1944–2009), who was, as were most of the people I knew at that stage, very close to Dan (as was her husband, the artist Roger Cutforth, 1944–2019). Several male artists – such as John Hilliard, maybe John Knight – were present. The conversation, which included Dan, seemed to be all about art galleries, money or sales made, or not made, etc. I was somewhat startled by the importance this seemed to hold for each artist: ideas regarding acceptance or rejection. Coming from a Marxist background (Berkeley, California in the earIy 1970s), I found such talk upsetting – to relate more to business than art (though now, of course, I can better see both).
THIRD STEP: A CHESS GAME AND GENEROSITY AT PLAY
I joined Dan on a trip he took to Halifax, Nova Scotia (a place he was well associated with, through the Nova Scotia College of Art and Design [NSCAD]). I remember that at the home of David Askevold (1940–2008) two male artists were playing chess (perhaps Ian Murray and John Knight). In what became an angry dispute (perhaps the loss of a game), John rather violently – or violatively – threw chess pieces everywhere. Dan was not part of this; instead, he was constantly talking about or thinking about his work. I watched these early formulations of his work. Naively, I decided I would ask if these male artists would do a performance work I sketched out – one involving a 35mm still camera and a Super 8 film camera (influenced by Dan). They actually, out of generosity, agreed, and Attack Piece (1975) was made!
FOURTH STEP: BEING SMART IN CONTOURING SITUATIONS
Dan was teaching as a guest instructor at the Nova Scotia College of Art and Design (invited by Garry Kennedy). When asked to do it again, for the entirety of the following year, 1978, he replied that he didn't want to be there for the whole year, and he conjured up a new situation: breaking the year into five parts in which different artists would come there, each lecturing and working with students from differing perspectives. It was my first teaching job. Much gratitude!
FIFTH STEP: INGENIUS CABLE TV
Given his early interest in cable TV, Dan encouraged his students at NSCAD to make work geared for a weekly show (through Dartmouth cable TV). The students got excited, as they frequently did around Dan, and the program became successful. Again, we worked together on this. Unique, singular, inventive, contemporary, alive.
SIXTH STEP: CABLE TV EXPANDED IN TORONTO
In 1980, I collaborated on a project, first conceived by Dan, which we called Local TV News Analysis. Here we devised a way to show three "simultaneous realities": the local news being broadcast in Toronto, the control room of the station broadcasting that news, and the family at home receiving it. This was edited overnight to go on-air the following night – simultaneous to the same news program's slot that delivered the news on a major TV channel. The project was supported by A Space, Toronto. Progressive exploration.
SEVENTH STEP: SKIPPING STONES – CBGB
Dan wanted to record Minor Threat performing at CBGB. I did some of the camera work and assisted Dan. One member of the club's staff put a few small, round tables together, which Dan and I climbed on top of – for the best shooting angle. It was the first time I got to truly experience "slam dancing," as the two of us balanced precariously on the support tables while Minor Threat performed. Dan simply loved punk music. His own movements (and hair) have, to me, always remained punk.
EIGHTH STEP: RECEIVING A VAST ARRAY OF MANUSCRIPTS
When younger, Dan was a ferocious writer. All done by typewriter. So much writing, so many edits and revisions. So, all was sent to me to view or, hopefully, go over and give feedback on. Perhaps one could say tons of paper came my way. Avid.
NINTH STEP: POST-ITS THROUGHOUT "ROCK MY RELIGION"
Rock My Religion: Writings and Projects 1965–1990 was published by the MIT Press in 1993 and Dan brought over his copy to my house. There were so many colored post-it notes sticking out from this closed book, seemingly forming a thousand flags adorning its cover and pages within. He wanted me to have this book in particular, as each post-it (long, rectangular, highly colored) demarcated an error or typo he found. He was agitated. However, later on, he took the book back, as it was the original "first" of the edition and therefore certainly a precious memento, errors and all.
TENTH STEP: GOING OUT TO EAT AND THE OTHER SIDE OF THE SIDEWALK
When some of us would get together to eat – usually a dinner in Chinatown – conversations with Dan could at times turn into arguments. That was sometimes the energy Dan could also carry with him. So, when agitated by us, as we walked back to our homes, Dan would always cross the street, to walk parallel to us on the other side.
ELEVENTH STEP: GETTING KIM (AND MANY OTHERS) TO WRITE AND PLAY
Dan could be a wonderful mentor to ever so many people. I remember when Kim Gordon first came to live in New York City. Dan encouraged her to start writing (perhaps it was even first about the architecture of his new loft on Spring Street). Then, the encouragement was for Kim to – perhaps through Dan and/or meeting Thurston (Moore) for the very first time – pick up a bass. Dan, in his enthusiasm, would recall suggesting names for the band that would become Sonic Youth.
GOING ON BY NO LONGER NAMING STEPS
I could go on about the many, many steps taken together, all vividly embedded in memory, mostly in highly saturated colors – because Dan was, of course, quite colorful. His energy could, at times, be almost extreme, as could his ability to become impatient or agitated. It was sometimes like watching a child at play – as he put together ingenious rough (very rough) models and sketches for the pavilions to come – concretizing this play into the art that would reinvigorate form and formulate the structure for the later, highly crated two-way mirror pavilions, and so much more.
ADDENDUM MEMORIES (THE MANY YEARS THAT FOLLOWED)
1. An extremely large front window needed to be taken out at de Appel, Amsterdam, so that the gallery could bring in a huge mirror for Dan to perform Performer/Audience/Mirror (1975).
2. His anger at me for being late for a morning meeting at a hotel in Toronto (to work on the cable TV program we were producing through A Space). He was convinced I had stayed up late, watching pornography accessible on my room's TV. And he was right.
3. A number of hospital visits, watching Dan heal in remarkable ways that I felt no other human being could get through. Walking up three flights of steep stairs to his loft, only some two or three days after open-heart surgery.
4. His loaning of books that changed the course of my life: Screen magazine, Walter Benjamin, and, always, Philip K. Dick.
5. The insistence that all art must be fun or, let's say, at least humorous.
COMING TO A CLOSE: PERHAPS A HALT
I leave it to others to analyze, examine, and reminisce about the vast array of the great artworks that Dan left us with. My saying goodbye here is much more tied to spirit: the remarkable spirit of a man who barely knew bounds, who gave lengthy – with no breaths in between – opinions on almost any topic one could think of. The challenges he set up for others so that his energy permeated in ways that encouraged others to take detours – of excitement – in their own work. Not to take the road most traveled, but to travel on a road, as he did, that presents the most challenges and thus yields the greatness of the bounty of works he has left us with.
Dara Birnbaum makes pioneering video and media installation work that addresses both the ideological and aesthetic character of mass media imagery in a way that is considered fundamental to our understanding the currency of video and media art.
Image Credit: Andrew Boyle