172
A Dose of Feeling
Michael Sanchez on Michael Krebber at Galerie Daniel Buchholz, Berlin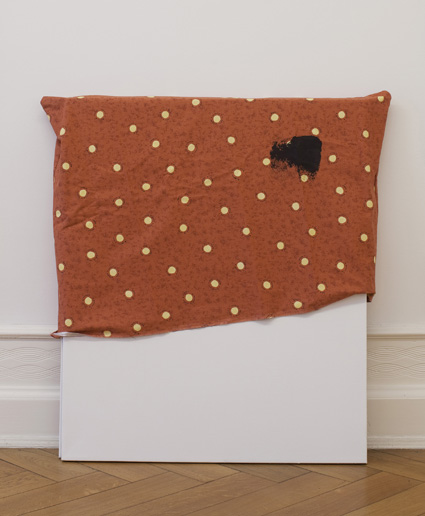 Michael Krebber, "Miami City Ballet IV", 2010, Galerie Daniel Buchholz, Berlin, 2010
"I don't aspire to any indifference of non-participation. I blush like everyone else."

—Jacques Rigaut
What does it mean for an artist to use or perform embarrassment? To put embarrassment to work, in the service of a career? While embarrassment usually depends on being perceived as unintentional, strategic employments of embarrassment are part of the way that the various players in the Cologne constellation of the late 1980s and early to mid-1990s negotiated their respective positions. In the work of Martin Kippenberger, embarrassment most often took the form of bathos or mock-heroism, enlisted in the service of parody (equally of himself and his artistic rivals). The embarrassment particular to Michael Krebber is more difficult to summarize because its relationship to parody, and its potential as a productive means, are precisely what are at issue. With Krebber, the embarrassment derives not from going too far, but in not going far enough, in withholding too much, in anxiously preparing for a date but, nevertheless, failing to deliver the incisive jab or mot juste.
Except that, in Krebber`s case, this is already built into the expectation. By way of what Isabelle Graw has called his "openly displayed stagnation",[1]_ Krebber has built a reputation on his failure to virtuosically pull it all off at the last minute, and "Miami City Ballet", his most recent show at Galerie Buchholz in Berlin, is no exception. Following what Krebber calls, in his press release, a "long period of inactivity", the exhibition is built on the various kinds of investments and surpluses which coagulate around objects when they are allowed to simply sit around or breed dust. Tangential to the present mushrooming of self-curated retrospectives and authorized reconstructions, "Miami City Ballet" is a modest "retrospection under duress", to use Stephen Prina´s phrase, in which coy formal rhymes function as lures of continuity within what is basically a very episodic, almost vaudevillian presentation.[2]_
Now for a quick tour through the three main rooms of the gallery. Krebber has allowed for a diminution effect as one moves through the roughly circularly arranged rooms, the first being the most charged. Recumbent on the floor are three neon text sculptures, still encased in their shipping crates with the lids removed and stacked against the wall. Each has been broken in a different way, and by comparing them with each other the text becomes easily legible: "die Hundejahre sind vorbei" ["the dog years are over", the dog years, in German, being the hard years of learning or apprenticeship]. Beyond literalizing the title of Kippenberger´s show "Broken Neon", in which the young Krebber participated in 1987, "Die Hundejahre sind vorbei" provokes a confusion as to what-negates-what: is it denying its own triumphalism? Saying "enough!" to the whole genre of neon text pieces, a trend now firmly in its endgame? And why the threefold repetition, a restrained but emphatic overstatement? On another level, since the breaks in the neon were made by Krebber himself and not suffered in transit, "Die Hundejahre sind vorbei" fakes the easy self-reflexivity involved in displaying the circumstances of production, for which an analogue might be Walead Beshty´s glass cubes sent through FedEx.
On the wall hangs "Das politische Bild", an ambitious history painting made in 1968 when Krebber was fourteen years old, allegedly under the influence of Rauschenberg, but perhaps more suggestive of an outsider reworking of the early Immendorff. The adolescent Krebber then tore up the painting but kept the pieces, only to have them remounted on bright cotton, the tears and gaps plainly visible, for the present exhibition – a Krebberesque gesture which took over forty years to accomplish. The presence of the word "SHAME" on a television inside the painting, the witty conjunction of a peace sign next to a question mark painted over a photograph of Vietnam War fighters, a Swastika partially torn away from a wall like a Hains/Villeglé in miniature, the phrase "GRUNDGESETZ" unfurled in crumbling bricks across the sky, are so charming that it would feel wrong to pass judgment on them.
The next room is dominated by an engorged platform or socle in the style of Krebber´s wife Cosima von Bonin, entitled "I can be rented", three sides of which are covered in a fabric reminiscent of the recently trendy Western-style wool shirts made by Pendleton (on the others hang what look to be German kitsch tablecloths). The primary fabric, in red, green, and blue, draws a hilariously phony rhyme with the previous room, matching "Das politische Bild" color-for-color. Crowded by "I can be rented" are three enormous canvases, each entitled "Miami City Ballet", propped against the rear wall, primed decades ago but only painted in the gallery just prior to the opening. Each of them is decorated with a small cluster of black enamel paint, applied with a roller, suggesting the beginnings of an even monochrome layer, halted just as the constellation of strokes and drips began to pass for something. Lonely on the opposite wall are three small stacked canvases, covered with a jagged brown slipcover branded with a single roll of the same black enamel paint, registering more as a stain.
Halting the movement of the show with a deliberately meek finale, Krebber uses the last room to trot out two surfboards, each entitled "INT", from the same series he has shown before at Greene Naftali, New York, and the Kölnischer Kunstverein in 2008. Evoking languid adolescent freedoms, from Miami beach culture to the young men surfing on a narrow artificial waterway in Munich´s Englischer Garten, Krebber takes the gear of a liberatory promesse de bonheur and performs a daft and arbitrary surgery on it. One of the surfboards, in neon green, is hung in the usual way, like a Donald Judd, on the wall, while the other, in a raw salmon color, is incomplete and on the floor, each piece sold separately as if to clear out the remainders.
None of the references which I have just "cited" appear in Krebber´s press release. Whereas such texts serve increasingly to make critical claims (and cite legitimizing antecedents) for the work on view, Krebber´s typically laconic but inscrutable text rarely touches down. He begins with a reference to a lecture by Douglas Crimp, who has recently written on shame, but quickly looses the thread of his argument, instead accumulating names associated with camp: Edward Villella, Jack Smith, Andy Warhol and Paul Swan. Krebber refuses to make the camp style too visible in his work, to mine it for material, preferring instead to confine it to the level of the explanatory frame (the dialectic, of course, being that camp, as a sensibility, was so radically resistant to interpretation and articulation).[3]_
Yet the way these names vertiginously intermix, unmoored from a daddy signifier, does parallel the way the artworks themselves keep their formal references in suspense. And the principle of listing, of conjunction without relation, which Krebber introduces in his closing sentence – "I will of course endeavor to regulate dosing so as not to drown out the pictures that I list" – undoubtedly has some bearing on the logic of the exhibition, as does that of its opposite, regulation, of artificially maintaining reserves, of withholding secrets.[4]_ If Krebber insists that artists can be rented (the figure of the artist as prostitute or court jester, paid to perform, is far from new), he also knows that they must also not make themselves too available. Krebber´s work has always encouraged the pleasures of both spreading rumors and eavesdropping.
Using petulant jokes to push a certain bad-ass attitude to its vacuous extreme, Kippenberger´s other most prominent former assistant, Merlin Carpenter, has tested the limits of various markets to fetishize such oppositional behavior. Krebber, on the other hand, does not make jokes so much as inhabit and dilate the structure of what Freud has called "joke-work". For Krebber, the process of making a joke can take decades and still feel interrupted. "Miami City Ballet" feels like the elements of a joke still in formation, perhaps never to reach its punch-line. According to Freud, the operations of joke-work – subtraction, replacement and condensation – aim to maintain the pleasure of play against criticism and judgment.[5]_ The same might be said for Krebber as he keeps at bay a model of art production based on direct communication or problem solving (in Leo Steinberg´s sense of art as professionalized research-and-development).[6]_
Practice conceived as joke-work also works against the idea of progress. Krebber himself has said, early on, that there is no need for change as long as the jokes continue to be good.[7]_ If the humor in "Miami City Ballet" seems to derive, in part, from its staleness, this is precisely the point. The presence of so many old objects (the previously primed canvases, the torn up teenage painting, the surfboards) which have only recently been reactivated, under deadline, are the evidence of a deferral – as is Krebber´s belatedly powerful announcement of leaving his pubescent "dog years" behind. Whereas many Cologne artists have taken the mid-career moment as the opportunity to stage a dramatic about-face, Krebber seems to have purposefully missed even this opportunity. No dramatic disavowal or parodic capitulation. And no ressentiment of the hard-liner, either – what Diedrich Diederichsen has called, in an early interview with Krebber, the "stage-producing of intransigence".[8]_ Perhaps Krebber is the drunk actor he describes in his press release – appearing on stage after he was supposed to be shot, he both makes a funny apology to his audience and unsettles it with a blush.
What Krebber has achieved in this show, as in others, is to allow shame to exist alongside a performative self-awareness. This is a constant in Krebber´s work, and one of the mysteries of the Krebberesque. Although deliberate to the point of artificiality, Krebber´s shame is not recuperated (as one could argue it might be with Kippenberger). In fact, the pervasive knowingness which surrounds it can also be said, in a truly strange turn of the screw, to enable it. What could have easily turned into a lugubrious game of ironic failures actually becomes the conduit for the transmittal of intense feeling. After leaving the gallery, I wrote down in my notebook, probably less than half joking with myself, "When I think of this show, I am tempted to cry". Could Krebber have predicted the possibility that his art could actually be touching? That his joke-work, and the politeness of its delivery, can make one want to cry? This is one effect unfortunately lost on some of Krebber´s admirers, who use his ambivalence as little more than an alibi for beautiful post-medium formalism.
Michael Krebber, "Miami City Ballet", Galerie Daniel Buchholz, Berlin, July 2 – August 21, 2010.
Notes
| | |
| --- | --- |
| [1] | Isabelle Graw, "One Step Forward, Two Steps Back", press release for "Michael Krebber, Shordt Ridte in a fasdt maschine, examples of the art collection of Des Esseintes", Maureen Paley Interim Art, 2001. |
| | |
| --- | --- |
| [2] | Prina has used the phrase "retrospection under duress" for a series of exhibitions in 1996 and again, with the subtitle "Reprise", for an exhibition at Harvard$$$s Carpenter Center in 2004. |
| | |
| --- | --- |
| [3] | Susan Sontag, "Notes on Camp", in: Against Interpretation, New York: Farrar, Straus and Giroux, 1966. Sontag also borrows much of her discussions of camp from Jack Smith$$$s writings for #KFilm Comment#K. |
| | |
| --- | --- |
| [4] | At various points in his career, Krebber has withheld his own production, in an explicit reversal of Kippenberger$$$s attempts at demystification through excessive overproduction. This move, like many which Krebber executes, is ripe for misconstrual as an attempt at cultivating a Duchampian mythos. |
| | |
| --- | --- |
| [5] | Sigmund Freud, Jokes and Their Relation to the Unconscious, trans. James Strachey, New York: Norton, 1960, p. 159. |
| | |
| --- | --- |
| [6] | Leo Steinberg, Other Criteria, London: Oxford University Press, 1972, pp. 77–78. |
| | |
| --- | --- |
| [7] | Diedrich Diederichsen, Michael Krebber, Artist-Painter, Graz: Edition Stadtpark, 1991, p. 5. |