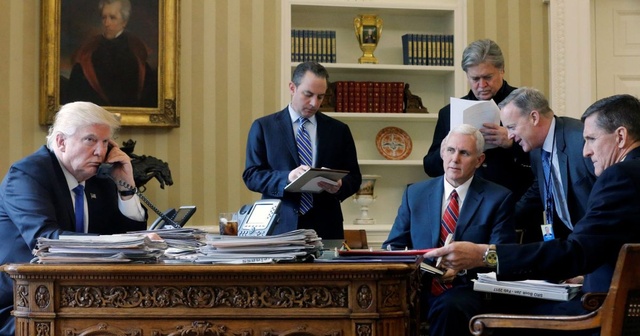 [1]
It's been said that hyperreality won the US election, Donald Trump merely an agent of its power. But as such, it is through Trump's words and actions, his physical, verbal – and now, horrifyingly, juridical – manspreading that this surreal shift in American governance is playing out.
This has been the case, not least in Trump's relationships with women: his protective pat of Theresa May's hand, his ascension of the White House steps leaving Melania to trial behind; but also in how women present themselves to him. Here, Caroline Busta comments on these seemingly retrograde gender relations, locating therein parallels to Trump's handling of America at large.
"When I was young," said Donald Trump in his post-inauguration address to the CIA, "we were always winning things in this country." And it's true, when the 45th US president (b. 1946) was young, his nation had just emerged the victors of a world war. Seven decades later, this man's man appears to have still not passed through that adolescent phase of demystification – parents being fallible, TV being fiction, history being written by the winners, and so on. For Trump, America's postwar dominance was not the byproduct of horrifying mass destruction largely on foreign shores; rather, a dominant America is just the "natural order of things" – apparently like men in the white house and women in the kitchen.
And yet, more than the promise of fulfilling the nostalgic desires of his base, Trump's position is predicated on establishing a narrative wherein the world is scary, the nation weak, and he has arrived as the messianic father here to make everything ok. "There shall be no fear," he bellowed from the steps of the White House on his inauguration day, "We must protect our borders from the ravages of other countries." Donald Trump is here to protect America; he alone will return this nation to her virginal, early postwar state. The complex Lady Liberty – having developed, through benchmark cultural battles, into a force of soft power unparalleled on the global stage – is set to be returned, in Trump's hands, to some Lynchian-fantasy-girlhood version of herself. When it comes to political sex scandals, it's hard to think of anything more pervy: a president (deeply in need of psychoanalysis) obsessed not simply with Making America Great Again, but remaking America in the likeness of some kind of JonBenét Ramsey, a country made "innocent" again, gussied up to Trump's liking and that only he can control.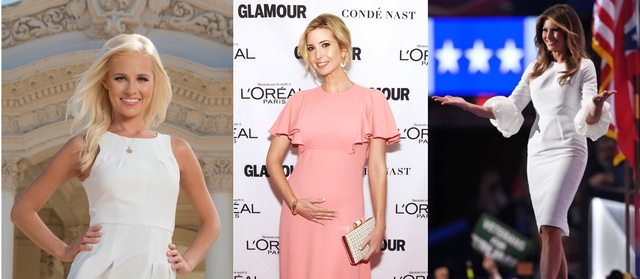 Tomi Lehren, Ivanka Trump, Melania Trump
And so the question arises: what of the women Trump keeps? Who is this Melania, this Ivanka, this Tiffany, this Kellyanne? And who are these women who voted the image of their gentleman's-club-patron of a grand/father into the white house? As indeed it was women who won Trump the vote; middle-class white women who, in an act of perverse virtue-signaling, cast their ballot for a misogynist-in-chief. The equation is not unlike the logic of Milo – as an incendiary, gay, alt-right figure, domming the attention economy by performing/legitimizing a mockery of LGBTQI+ people, who (on some level) he also claims to represent – or (less extreme), as in the logic of a circa-2014 wave of young, generally hetero female artists streaming themselves on social media in the political capacity of pro-slut feminist (a mode that, having been normalized by web 2.0 social media, stands completely distinct from, say, Kathy Acker working a Times Square strip club in 1972, when the association pointed to, among other things, a de-stigmatization of a pervasive yet de-legitimized form of women's work). Like Milo and the art world lonelygirls, female pro-Trump voters (and perhaps this shouldn't really be limited by class) claim to have acted in the spirit of provocative, independent thinking. In choosing to vote for the candidate denounced by the fall-in-line, #ImWithHer liberal program, they were explicitly acting not as "feminists" (an identity the right would associate with vulnerability, victimhood), but "strong women." And as such, they were standing in solidarity with the strong conservative men in their lives, men the left liberal regime was apparently making feel un-free. Which would lead one to ask: What did Feminism get so fundamentally wrong that women would – now, still – see the movement as against them? What kind of emancipation must, as of yet, still have failed to happen? #freemelania?
How, then, might we understand, in this context, Trump's own #womenwhowork? These demure females in soft pastel silks and merino wools suggestive of days that, as they play out across leather seats, hired drivers, and white tablecloths, are protected from the materiality of everyday life – the rain, subway grime, and occasional blood that all the working women I know factor in when choosing what they want to wear. Then there is the Olaplex® blonde (so much blonde) and the flush Latisse® lashes shading pupils barely visible at the core of deeply kohl-lined eyes. And the silence. Melania offered some profound lines at the president's recent Melbourne, Florida rally: "Our Father, Who art in heaven …," the Lord's Prayer in full, followed by a few stock, platitudinous words introducing her husband. Does it matter, in turn, that the president and his men appear to be rotting in plain view, their suits ill-fitted, their faces pocked, their bodies bloated? "I serve at the pleasure of @POTUS. His message is my message. His goals are my goals," [2] tweeted Trump's Counselor to the President, Kellyanne Conway, to her 1.08 million followers on Valentine's Day. Or take how political commentator and TV host Tomi Lahren, an #idontneedfeminism talking head, functions, seemingly, like a red-America Twitter bot in the shape of a "daddy's little (young)girl." Tomi's voice – far from the millennial/do-it-for-the-lulz alt-right spoken by her peers – frenetic and, again, perfectly "Milo" in its logic, seems less her own than one plucked from the sorority house and manufactured to parrot her parents' conservative values; a picture of blonde click-baity youth inspiring not just the women who went pro-Trump, but their men, too.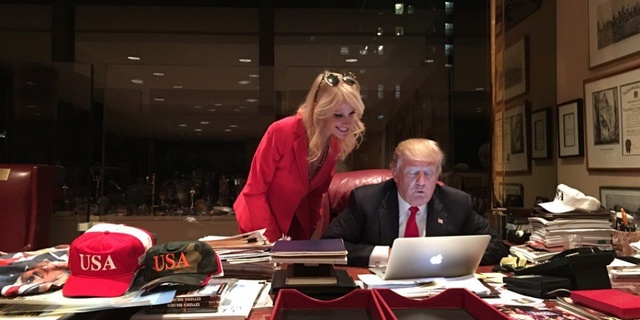 Kellyanne Conway and Donald Trump, Trump Tower, New York
But where does this leave us, now at a time when a not small percentage of women are willingly becoming media – which is to say, not voices in their own right, but channels for men to speak through. In a place where healthy, tolerant boundaries – of bodies, of domestic borders, of executive rule – must be urgently established lest the hardwiring of toxic codependency be allowed to set in.