158
FULLY IMMERSED
Megan R. Luke on Heidi Bucher at Parasol unit foundation for contemporary art, London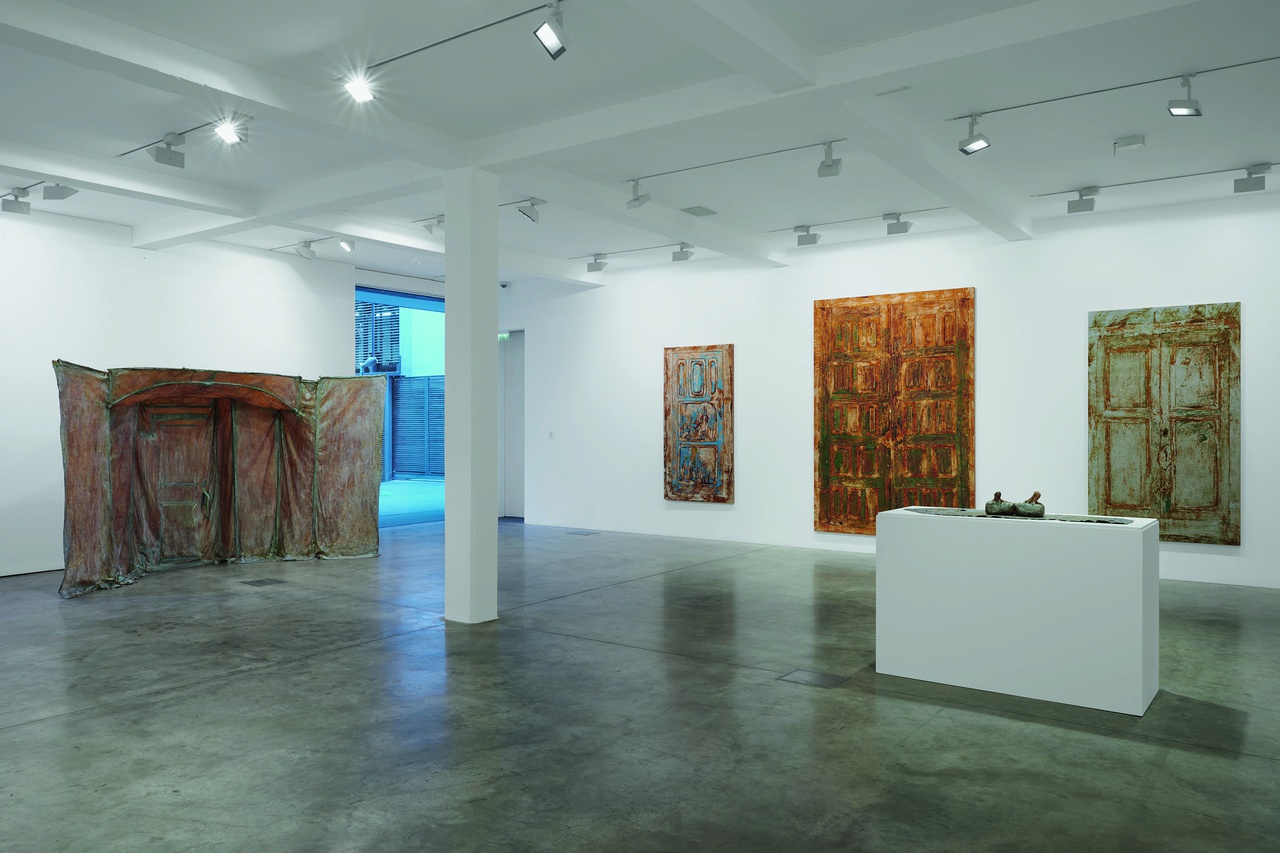 In 1893, when the sculptor Adolf Hildebrand first declared sculpture to be an art of space rather than the beautiful figure, he famously deployed a liquid metaphor in an effort to describe the medium. "By a spatial continuum we mean space as three-dimensional extension and as a three-dimensional mobility or kinesthetic activity of our imagination," he wrote. "Let us therefore imagine the spatial continuum as a body of water in which we can submerge containers and thus define individual volumes as specifically formed individual bodies without losing the conception of the whole as one continuous body of water." [1] Under the sign of this metaphor, space is not static but mobile. It is a flow that proliferates and spreads, enveloping and saturating the forms it catches in its wake. These forms, in turn, are not impenetrable solids but buoyant volumes that playfully resist their full immersion into the fluid surround. Where there is a body, we might imagine, there is no space. And yet, as Hildebrand alluded, the boundaries that separate the inner space of imagination from the space that extends and radiates from the body are porous. Sooner or later, water will seep in everywhere.
Where does a body end and space begin? This is a question that preoccupied the Swiss artist Heidi Bucher (1926–93) with a particular, relentless force, and one she doubtlessly understood had allowed an entire history of modern sculpture to unfold. And yet, as she frequently returned to the faded spaces of the nineteenth century – to her father's wood-paneled study in the family home in Winterthur-Wülflingen (1977–79) or the storied Bellevue sanatorium at Kreuzlingen (1988), for instance – she came to realize, with rare insight and humor, that we can only perceive a cause retroactively through its effects, in the traces that it leaves behind.
In the impeccably focused survey of Bucher's sculptural production recently organized by Ziba Ardalan for the Parasol unit foundation in London, her anti-monumental sculpture "Die Quelle" (The Source, 1987) stood as a wry tribute to Hildebrand's foundational understanding of the true medium of sculpture. Installed outdoors behind the foundation's building, this work was first visible through the large windows on the far wall of the ground-floor galleries. Surrounded by examples of Bucher's "Häutungen" – the latex-infused gauze "skinnings" of architectural surfaces that steadily defined her practice from the mid-1970s until her untimely death – we caught sight of a strange apparition: a tipped vase magically suspended in mid-air, with what appeared to be an impossibly endless stream of water pouring from its mouth, pooling onto the ground below. Exiting the building to investigate further, we could see how this run-off, rendered in fabric soaked in casein and painted an iridescent blue, traversed a meandering path very low to the ground, appearing to flow into a small pond seen at a distant remove. The direction of the current – from inside to outside, from vertical to horizontal, and from near to far – was unmistakable, and yet we were also compelled to acknowledge how the sculpture encoded a simultaneous reversal of this energy, one that might just as easily have begun at the lip of the pond and which ultimately transformed the column of water into a base that lifted and supported the impossible flight of the vessel. Is this the real source of the artifice, or is it the other way around? As we move between these two poles, our answer depends upon whatever direction we happen to be facing.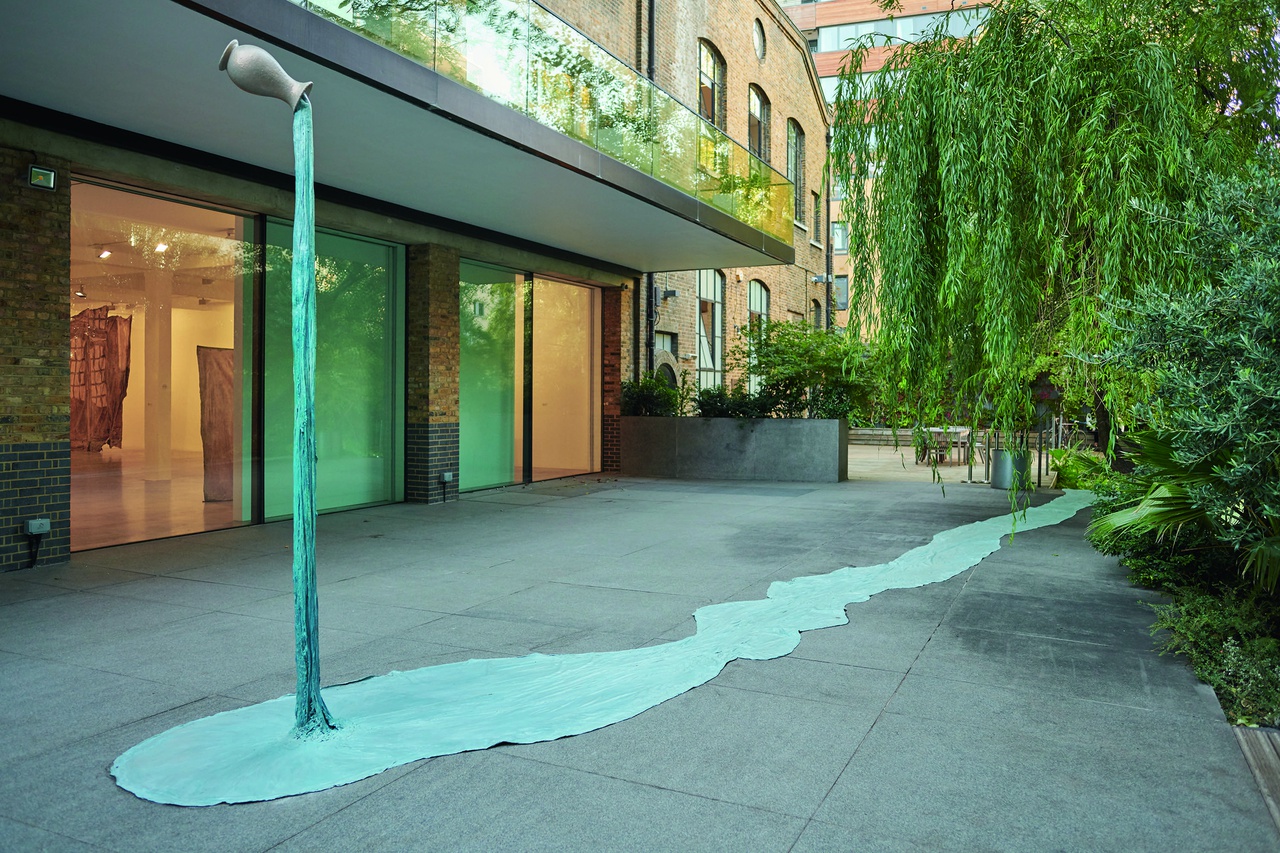 Returning indoors to ascend upstairs, we could find a series of large-scale frottages and wall reliefs that take as their subject nightgowns, long underwear, or bedding – textiles that each serve as a second skin to the human body. Whether Bucher directly embalmed these intimate fabrics in latex or imprinted their outlines in her graphite rubbings, these works show just how intensely she cherished the shimmering effects obtained by pearlescent paints. It is impossible to stand still before the low relief of her wall pieces as the light catches their scintillating, animated surfaces, changing dramatically with every shift in our position. They demand to be seen from oblique extremes: first from one edge and then from another. We approach them much as we might a lenticular photograph, fleshing out virtual volumes of space with our bodies before a given planar surface, in a dance with refracted bursts of colored light.
Bucher first experimented with mother-of-pearl paints in her "Bodyshells" – soft, polyurethane foam sculptures that occupied that indeterminate place between clothing and architecture, which she fabricated during a brief but exceptionally productive residence in Los Angeles in the early '70s. These works are now lost, but they survive in a short film that shows them in action on Venice Beach, stumbling toward the sea foam like stranded anemones and mollusks. She would eventually coalesce the excessive iridescence of her paints into a recurring iconography. Seashells, fish scales, and the chrysalis of the dragonfly appear in many of her latex reliefs, returning us to the guiding metaphor of water by another route. Nevertheless, these motifs do not anchor the significance of any given work but are, instead, the residual deposits of a vast reserve of sensation that is rather more inchoate and unstructured.
Bucher was profoundly aware that space is not "empty" but rather the agent that binds our bodies to others and our perception to the world. Her sculptural practice exceeds the short history of rubber sculpture in the post-Minimal "expanded field" into which it is most commonly inserted. Instead, it challenges us to return to fundamental questions about what we might imagine sculpture to be – a body that is more viscous and less rigid, a space more palpable than a void, and a vehicle for experience that, as Bucher repeatedly insisted, hovers somewhere between flying and drowning.
"Heidi Bucher," Parasol unit foundation for contemporary art, London, September 19–December 9, 2018.
Title Image: "Heidi Bucher", Parasol unit foundation for contemporary art, London, 2018, installation view
Note
| | |
| --- | --- |
| [1] | Adolf Hildebrand, "The Problem of Form in the Fine Arts" [1893], in: Empathy, Form, and Space: Problems in German Aesthetics, 1873–1893, edited and translated by Harry Francis Mallgrave/Eleftherios Ikonomou, Los Angeles: Getty Publications, 1994, p. 238. |