142
Archiving Inspiration
Dave Beech on Albert Oehlen at the Serpentine Gallery, London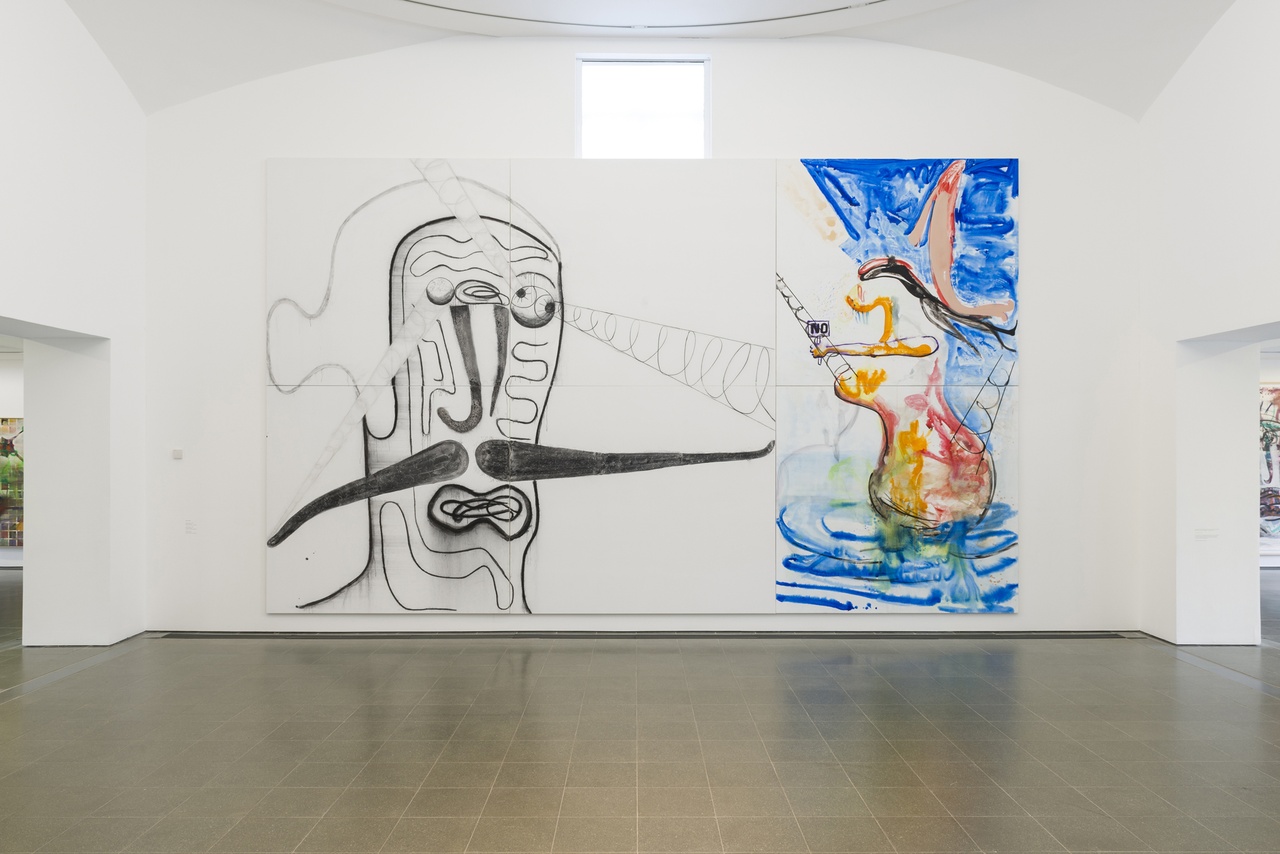 The work of Albert Oehlen was first given theoretical depth as "bad painting": works that were intentional mockeries and send-ups of more serious versions of the medium. That was many decades ago, but the German painter is still up to his old tricks. In a recent show at the Serpentine Gallery in London, Oehlen showcased a full range of his "bad paintings," in black and white, and in garish colors. London-based critic Dave Beech weighs in on a new series of Oehlen's paintings, and how it is that these works keep something of painting's possibilities alive.
Albert Oehlen's new solo exhibition at the Serpentine Gallery in London showcases a series of paintings that responds to the Rothko Chapel in Houston, Texas. While Oehlen has used the Rothko Chapel as a framing device before, this iteration, exhibited for the first time here, revives a set of motifs derived from a painting by the American painter John Graham that Oehlen has turned to many times over a long period. Oehlen describes Graham's painting Tramonto Spaventoso (1940–49) as "a really shitty painting. I found it spectacularly bad." Oehlen explains that this image is "some kind of vehicle for me." If there is anything that has become routine for Oehlen's studio practice, it is this tactic of toying with something alien, awful, hackneyed, or bogus. To look at a painting by Oehlen is, in part, to look at a salvage operation.
The new series is exhibited alongside a selection of older paintings also based on Graham's original. The new paintings are very large watercolor and charcoal works on canvas, whereas the older ones are heavier but smaller oil paintings. Passing across the surfaces of the paintings we see repeated: a mermaid, a head, a waxy moustache, orthogonal lines, spirals, woodgrain, eyes, elongated ears, the letter H. This absurd group of borrowed motifs is elevated by being reformatted through a set of borrowed stylistic and technical devices familiar since Cubism, Surrealism, Expressionism, and Neo-Expressionism. Oehlen executes them in a relaxed manner that plays down his evident facility with charm. Whereas never sleep again recycles the twisting, turning lines of Joan Miro, terrible sunset recalls the cluster of forms and tonal patches typical of Arshile Gorky.
Neo-Expressionism, which set the terms for Oehlen's entry into painting, inserted the mechanical gestures of Minimalism into the brushy brushstrokes of an ersatz primitivism. Oehlen's approach, by contrast, is more relaxed and less programmatic in its deadpan vigor. At the same time, Oehlen internaizes the shock value of modernism by engineering surprises in the studio. In this sense, Oehlen's career can be summarized as a permanent assault on the habits and conveniences of taste. He manufactures situations so that he is faced with the prospect of saving the paintings from some sort of visual or technical threat. Something stupid or ugly will do. In this instance, the paintings do not begin with nothing, with the Hollywood horror of the blank canvas, but with the found motifs of a shit canvas. For this series of works, Oehlen orchestrates a situation in which he must paint his way out of someone else's lapsed judgement.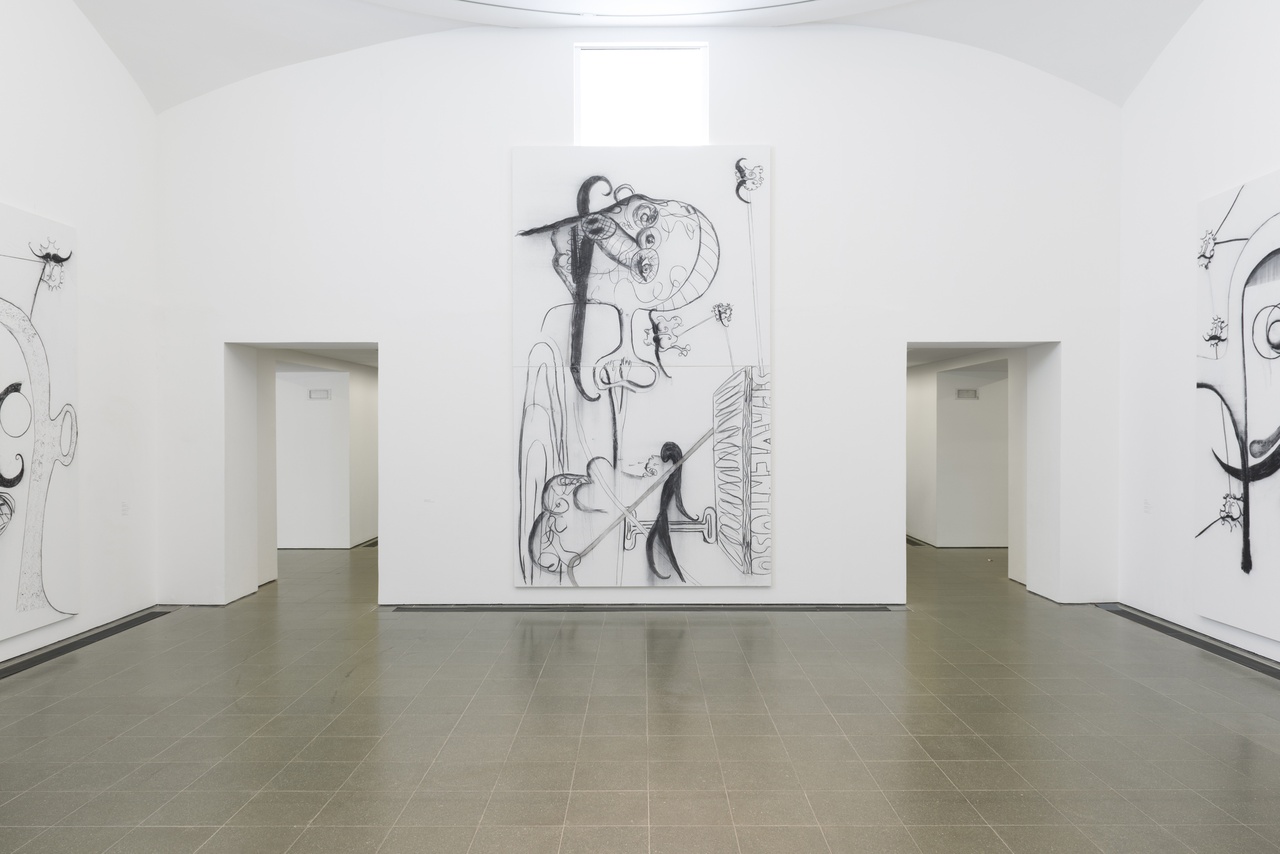 Oehlen makes "moves," to use a term that Terry Atkinson coined during his alleged "return to painting" in the late 1970s. "I like having a reason for something," Oehlen says, "It's nice. Because then you don't need inspiration." He doesn't work in a strictly programmatic way, but there is nothing impulsive in Oehlen's controlled sketchiness. In these paintings, he follows certain paths laid out for him by a painting that he doesn't like. Oehlen traces the contours of decisions he does not want to make because he has chosen beforehand that he wants to inhabit the decisions of another artist. What this means, among other things, is that Oehlen's wrestling with bad taste is always secondary to his primary concern of setting himself tasks.
In this way, the currency of aesthetics is converted without melancholy or triumphalism into sequences of largely mechanical actions. These "moves" are embodied forms of thinking. The bad boy of painting appeared to eschew thought because concepts had monopolized the appearance of thought in art, but today the same "moves" appear as proof of intelligent action. Almost all of Oehlen's "moves" are autographic. Even his use of computers was intended as a preliminary to painting by hand. Oehlen's paintings consistently stage a spectacle of a certain kind of labor that draws attention to processes of decision-making, rather than the manual skills of craft. Every mark is produced as much by unplanned thoughtfulness as it is by the hand. Although, of course, making marks by hand rather than through technology, using mathematical formulas or stencils, is essential for realizing the specific kinds of thought that Oehlen has.
His early self-identification as a painter who misbehaves within the "return to painting" is ultimately just a mythic explanation for a painting practice based on making "moves." The myth had a double meaning. It signified a rejection of the scholarship of Conceptualism and, at the same time, implied something too philistine to be a return to the genteel forms of painting that preceded Conceptualism. Oehlen's incorporation of bad taste directly overturns the rejection of kitsch in Abstract Expressionism, but his strategy for recovering paintings from complete failure is opposed to the procedural methods of painting after Frank Stella. The "return to painting" did not "return" to any historical precedent for painting but in fact presupposed a break with the metaphysics of modernist painting. Painting becomes a living archive of itself.
If there was a problem with painting in high modernism, Oehlen seems to suggest that perhaps it was that it took itself too seriously. Or, that it demonstrated its seriousness in the wrong way by inflating itself with politics, philosophy, social science, and so on. Painting never died; it expanded into the whole field of cultural activity, taking on new forms in the process. The return to painting was part of the retreat to disciplinarity in the scholarship and a symptom of the crisis in the postwar critical project more generally. Instead of the interdisciplinary critique of art as an institution and a break with the white male Western canon, critical thinking has to survive within the bounds of painting's own procedures. The result was not the complete abandonment of interdisciplinarity but its relocation within painting itself, which is the condition under which Oehlen and painters like him do not isolate painting, as Clement Greenberg did, from photography, film, music, and sculpture.
Oehlen's dialogue with the Rothko Chapel in this body of work consists of no more than matching the scale and size of Rothko's suite of paintings. This is an echo of Tristan Tzara's instruction for making a Dada poem: "Choose an article the length you want to make your poem." There is more traffic between Oehlen's paintings and the source of the motifs that he copies, but his anti-homage to Graham is equally flat. Taken together, we can say that Oehlen has staged a kind of intervention into the history of painting by using these two Abstract Expressionists as a vehicle. These paintings do not merely quote conventional expressionist mark-making in the way that has itself become conventional. And yet these paintings, like all Oehlen's work, revisit the drama of the painterly gesture without adhering to its canonic meanings. It is this emptying out of the emotional content of the gesture that Fredric Jameson dubbed pastiche. In retrospect there is nothing missing. From a posthumanist perspective, the signs of the mythic presence of the human have simply been unmoored from the ideology that once seemed necessary to justify them. Oehlen paints across this divide so that we are left with a modest humanism surviving through the contested specificity of the handmade.
"Albert Oehlen," Serpentine Gallery, London, October 2, 2019–February 2, 2020.