179
Material Futures
Adrienne Ange Rooney on Lubaina Himid at the New Museum, New York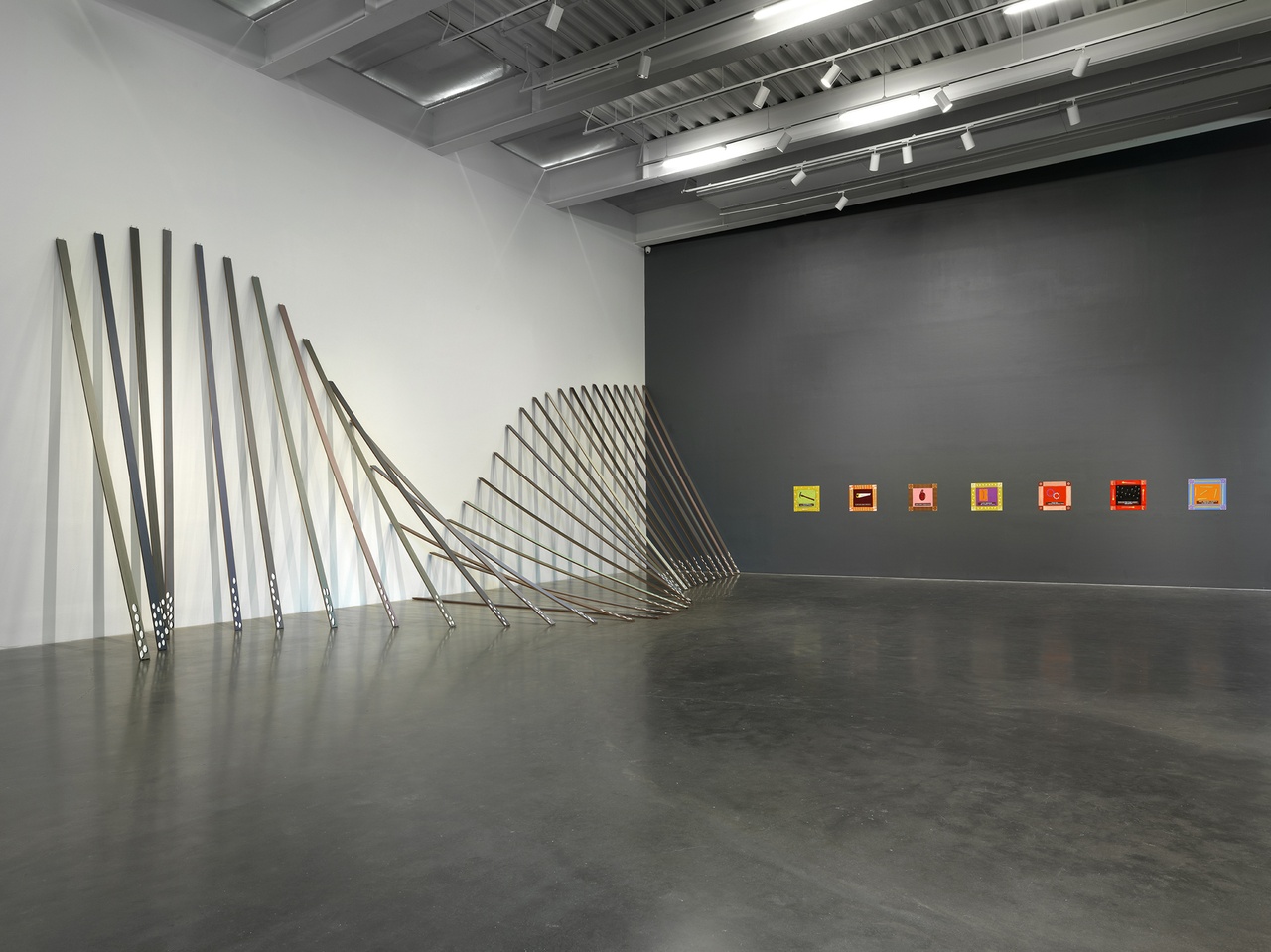 The British artist and curator Lubaina Himid was recently given her first solo show in the US at the New Museum in New York. The exhibition primarily featured new paintings, as well as objects that reflect on the unique and site-specific conditions of the city of New York, and especially its historical relationship to the slave trade. Art historian and critic Adrienne Ange Rooney was in New York to take in the full breadth of Himid's recent work, and to report on what it still stands to teach us about the idea of hope and collective work as a move outside of historical trauma.
Old Boat/New Money greets viewers as they emerge from the elevator. One of the planks, of which there are 32, mostly tilting in different degrees against the main wall of the gallery, lies prone on the floor. Another is flush against the wall. The rest form the slanted edges of a boat, the title tells us, or as Lubaina Himid imagines, a ship-that-once-was, an abandoned ship at sea, decomposing vessels in a shipyard, a hybrid-ship, hybrid-gallery. The work evokes (she hopes) a sense of "not knowing where you are, not knowing what's coming next, not knowing whether you're in the water, just a kind of not knowing." [1] The planks, too, Himid explains, recall the skeletons of buildings, including the one holding them: the New Museum in New York's Manhattan, which hosts the Turner Prize-winning artist's first solo show in the United States.
The exhibition "Lubaina Himid: Work from Underneath" comprises an entirely new body of work made this year: five paintings on canvas, nine paintings on metal, one work on paper, two audio compositions by Magda Stawarska-Beavan, and the centerpiece, Old Boat/New Money. Cowry shells painted up the lower ends of each plank tell part of the story – that of Old Boat/New Money specifically and of the exhibition more generally. Cowry shells were, the wall text notes, currency in the transatlantic slave trade. The gallery lives in its legacy. Though not made explicit in the show (but perhaps supporting one of its arguments), timber from New York, then New Amsterdam, supplied a Dutch shipbuilding industry that was instrumental to the slave trade. [2] It is therefore appropriate that wood decorated with one of its currencies is the first reference to slavery a viewer may encounter in "Work from Underneath." Slavery forged New York into a financial center, a status from which the city and its museums continue to profit. That the greys of the wooden planks match the greys of the gallery walls could signify the following: that slavery, its partner colonialism, and the museum (as a component of contemporary societies) are not mutually exclusive entities. The inescapable steady waves and occasional creaks (a ship, no doubt) in Stawarska-Beavan's soundtrack to Old Boat/New Money – interwoven with museumgoers' chatter, the hum of the ventilation system, and the opening and closing of the elevator – reinforce the point.
Today, New York, like the United States more broadly, maintains what Saidiya Hartman characterizes as the afterlife of slavery: the endurance in contemporary society of racialized violence "entrenched" by the institution of slavery, including for black individuals "skewed life chances, limited access to health and education, premature death, incarceration, and impoverishment." [3] Organizations founded well after abolition were not – are not – divorced from slavery's foundational, incessant grip on the US economy, real estate, education, law enforcement and incarceration, social hierarchies and marginalization, and culture – including the arts, art history, and their related institutions. The New Museum, which opened in 1977, among national Black Power and Third World solidarity movements that actively fought against (the very legacies of) slavery and colonialism, is not excluded from this history. And like many art institutions in New York, the New Museum is currently being called on to reassess its own status as an organization performing and benefiting from such legacies. [4] As Himid articulates it: the legacy of slavery "penetrates a new, or relatively new, building. Wherever you are on this big colonial map, there's still this relentless legacy of that time and that trauma." [5]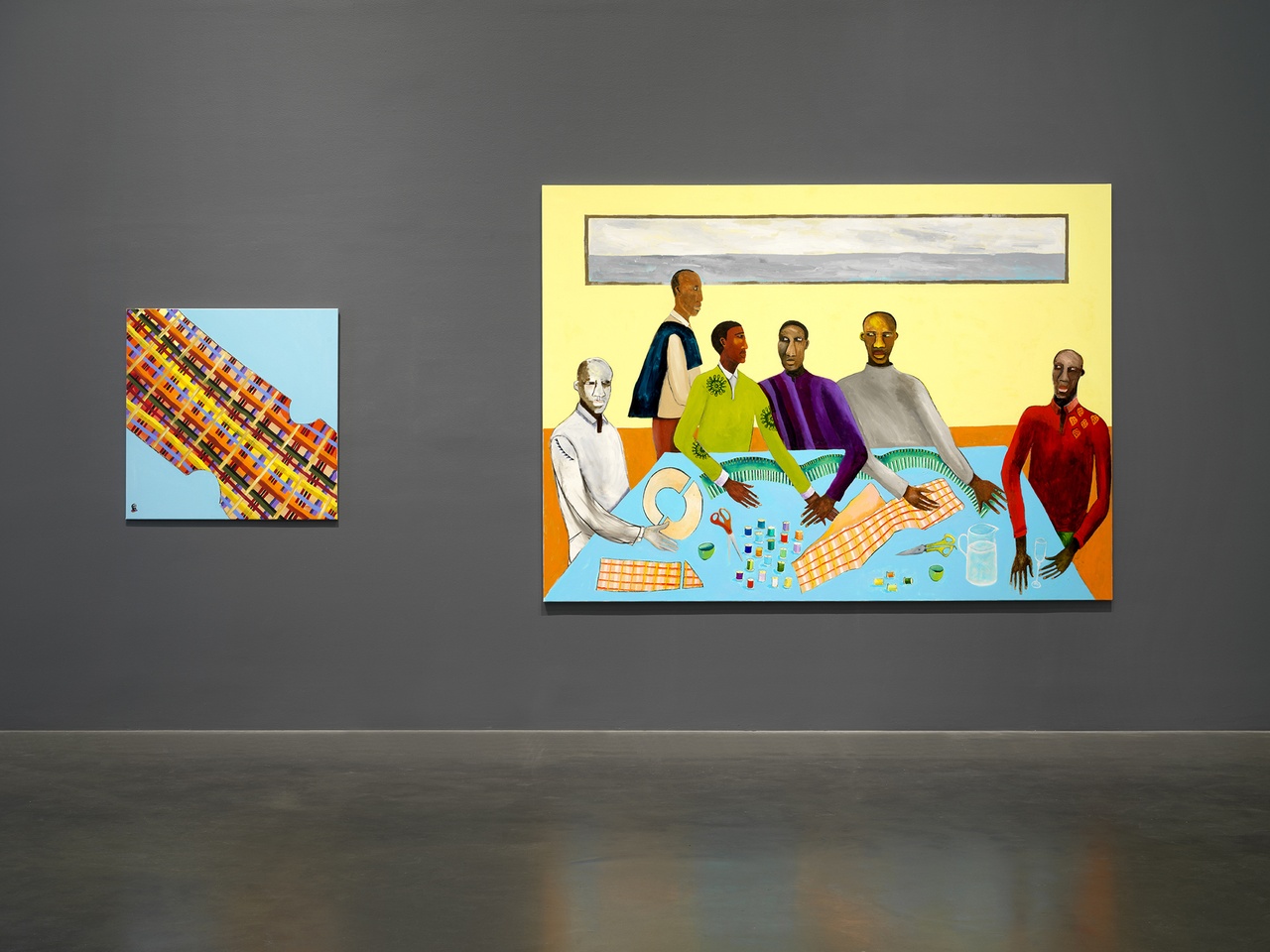 Himid, who moved to the UK from Zanzibar when it was a British protectorate, does not shy away from addressing afterlives of colonialism and slavery. As part of this practice, she has engaged (Western) art history's neglect of artists of the African diaspora. Indeed, as an active member of Britain's Black Arts Movement during the 1980s and 1990s, Himid has tackled institutional and pedagogical exclusion head-on. In "Work from Underneath," Himid confronts a bureaucratic structure she considers to have colonial roots. Metal Handkerchief, consisting of nine works with descriptive subtitles, introduces fragments of texts taken from British health and safety guidelines, such as "give warning of undue strains," into the gallery.
The handkerchiefs, loosely modeled on the East African Kanga and made with acrylic on metal, follow a unified pattern: a thick decorative border surrounding a monochrome square with two signs inside (one visual, one verbal). The signs, their juxtaposition, and their surrounds can be read poetically; indeed, the artist muses about "how rich and varied something practical and useful can be." [6] The texts and tools are painted in bright hues, transforming the mundane into an almost playful composition. For instance, "Work from underneath," also the title of the exhibition, rests below a pulley in Metal Handkerchief – Chisel / Pulley. A light-brown border ornamented by textures mimicking marks made by a chisel with bright flowers in the corners plays with the viewer's expectations of associated objects.
Playful, here, is an act of subversion, perhaps even a mocking of health and safety guidelines, which Himid deems a relic of colonialism lodged in British consciousness, ways of being, and methods of regulation. Such manuals, after all, exist on the one hand to protect laborers and machinery, and on the other to control laborers by honing (or trying to hone) their bodies, movements, and minds in the service of profitability. Himid notes that the guidelines emerge from an assumed need for unambiguous instructions in the face of perilous situations, which she thinks "comes from a colonial present, even, but certainly a colonial past, where the British were busy" – violently, and to the great peril of people of color across the globe – "taking over the world but also needing to keep everything in order." [7] The language and ethos of these guides for, among other things, constructing boats and buildings, she goes on, "becomes part of everybody's way of life. It's how we think … self-policing, in a sense."
Two large paintings in the show productively depict the acts of making clothes and living spaces – two apparatuses that have historically (and into the present) been involved in disciplining the body and its movements. In one of the paintings, three architects work on models for different buildings (perhaps even without the restrictions of the health and safety guides). The women wear distinctly bright clothing – yellows, greens, blue, purple, and orange – made brighter against a grey sky and sea visible through a window in the room, though the latter seems to seep into their workspace. Is the sea (and its history) inescapable, undergirding daily life, or expressly symbiotic with interior spaces, indeed gaining a new hue in this space of making? Three Architects and the other large canvas in the gallery, Six Tailors, speak to the possibility of working together to accomplish something marvelous that perhaps optimistically transforms the weight of the past's presence. In Six Tailors, there's no telling what the six men intimate at work will imagine and concoct with the 20-plus spools of vibrant thread at their fingertips.
Himid posed a question when discussing these two paintings: "Can you make your way out of trauma?" She went on: "Can you collaboratively actually make things and give yourself time to contemplate, time to dream, time to forget, time to remember things that you didn't know you knew in that process of making something from nothing?" [8] Responding to her own inquiries with a tone of hopefulness, she said, "I think you can, I think that it's important." Three smaller paintings on canvas (Close Up – Materials for Change, Close Up – Tools for Movement, and Close Up – Ideas for Development) confirm this sanguine spirit, suggesting potential seeds for the future. In the face of historical traumas that live on – on the surface, in social systems and architectures, underneath – "Work from Underneath" proclaims that there is hope, and that collective creative action ("as opposed to 'individual striving'" [9] ) is not just a salve but a key to thriving.
"Lubaina Himid: Work from Underneath," New Museum, New York, June 26−October 6, 2019.
Title image: "Lubaina Himid: Work from Underneath," New Museum, New York, 2019, installation views
Notes
| | |
| --- | --- |
| [1] | Himid in the exhibition's audio guide. |
| | |
| --- | --- |
| [2] | Ira Berlin/Leslie M. Harris, "Introduction," in: Slavery in New York, New York: The New Press, 2005, pp. 35–36. |
| | |
| --- | --- |
| [3] | Saidiya Hartman, Lose Your Mother: A Journey along the Atlantic Slave Route, New York: Farrar, Straus and Giroux, 2007, p. 6. |
| | |
| --- | --- |
| [5] | Himid quoted in "Coloring in the Gray: Lubaina Himid in Conversation with Natalie Bell," in: LUBAINA HIMID: Work from Underneath, exh. cat., ed. Natalie Bell, New Museum, New York, 2019, p. 26. |
| | |
| --- | --- |
| [6] | Himid in "Coloring in the Gray," p. 29. |
| | |
| --- | --- |
| [7] | Himid in the exhibition's audio guide. |