199
Attitude Becomes Dorm
Mathieu Malouf on Trisha Baga at Greene Naftali, New York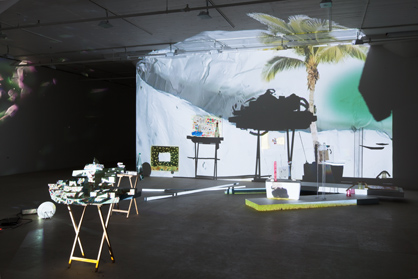 Trisha Baga, "The Biggest Circle", Greene Naftali, New York, 2012/13, exhibition view, Photo: Jason Mandella
Safely nested on the eighth floor of a Chelsea building, Greene Naftali was spared the flooding caused by Hurricane Sandy that destroyed a lot of art in the neighborhood this past fall. Still, some of the trauma found its way back to the surface upon entering Trisha Baga's recent exhibition at the gallery. The projected image of a palm tree on the back wall and a trail of derelict objects (as well as, occasionally, an abstract painting) sprawled across the floor vaguely recalled scenes of destruction on Long Island beaches – with added tropical notes – as well as photos of Chelsea gallerists and their assistants putting wet art on the curb to dry. Baga has been known to feature prominently in her videos and perform amidst her "glamorized messes", so the alienating atmosphere at Greene Naftali – reinforced by the dim lighting required to view the 3D works – marked somewhat of a departure. Still, the lack of human warmth was somewhat compensated for by the visibly hand-wrought quality of the decoration, the generally festive color palette, and a diffuse but still palpable sense of slapstick theatricality.
One finds these qualities in "The Story of Painting" (2012), a 3D slideshow overlaid with quirky digital doodles and complemented with audio narration by an amateur art historian on the subject of Impressionist painting – a stand-in for something like serious culture. "Framed" by the shadows of small objects placed on the ground between the projector and the wall (a can of soda, a canvas employed as a sculptural prop), the piece both filters a canonical art historical reference through a populist lens, and may hint distantly at the work of Baga's former professor and fellow Greene Naftali artist Rachel Harrison. Yet the physical environment of the art-school dorm offers a more potent point of origin for this attitude: A space of semi-precarious existence sometimes used to study, sometimes just to throw parties. The impression is reinforced by the silent presence in the dark gallery of silhouettes wearing headphones as they stare at flickering screens, painted beer bottles on the ground, and a white canvas approximating both the physical volume of a pizza box and the colorful palette of a pie with all the toppings.
Until the provided pairs of electronic 3D glasses and headphones could be made out in the dark and properly activated, "Hercules" (2012), a video projected directly on the wall, appeared scrambled and out of focus, its content not quite discernible yet not necessarily readable as an abstraction either. With the equipment turned on, the body entered a sort of hypnoid trance, and any initial recalcitrance soon gave way to a relaxed state, the eye free to roam across the stuff protruding from the luminescent rectangle on the wall. As is the case with many of the videos in the exhibition, there is a liberal use of digital compositing effects, transitions, and superimpositions, somewhat facilitating the absorption of disparate video clips and sound bites. On the screen, a rapid succession of soundtracks and sequences combine appropriated and homemade material – a computer-generated fire, parties, animals, fireworks, a slowed sequence of an athlete jumping. The film also offers reflexive moments of respite, notably one in which we see the artist at work in her studio, accompanied by a dog. The most effective of these moments may be the sequence in which a cow is seen peacefully grazing in the grass in enhanced 3D. Contemplating this high-tech rendition of masticating, domesticated livestock, we become aware of our own sensory-deprived body sitting in a gallery in passive enjoyment.
Commenting on her work in a short interview published in Mousse, [1] Baga consistently opposes traditionally feminine attributes of softness and fluidity to masculine clichés of hardness and rigidity. Questioned by Jenny Jaskey about the "hyper-Brechtian" quality of the breaks in her video edits, the artist proposes the term "bleeding" as an alternative to "breaking". Later, commenting on her move away from linear narratives, she alludes to "an attempt to curve an abstraction of the arc", concluding that a "straight line is often the least efficient way to get anywhere". The medusan allegory culminates when, opposing her homemade spin on 3D to Hollywood's oppressive, industrial use of it, Baga refers to the "juices of looking" that she tries to preserve by keeping her work "moist". For many artists of the same generation who engage with cutting-edge audio-visual technologies with simultaneous proficiency and playfulness, [2] the act of looking is indeed often associated with juices and liquid environments. [3]
Its title itself evoking water in a vapor state as well as an impending downpour, "Cloud Atlas" (2012) is full of mercurial seductiveness. A single-channel video projection that could elsewhere fit a normal screen is diffracted here by a small clay plate encrusted with shards of a mirror – an artisanal variation on the artist's signature disco ball (found in "Madonna y el Nino" as well as "Flatlands", both 2011, not included in this exhibition). The slowly modulating hues and shifts in luminosity produced by the projection's footage of fireworks approximated the hypnotic flow of a lava lamp and a computer screensaver. Ambient and decorative, it still retained something vaguely melancholic.
And this is perhaps what this exhibition as a whole – more so than its individual parts – achieves most eloquently: Sublimating the streams of trash generated by daily existence into a decor impregnated with personal pathos. If a similar pathos could be the product of, for example, hours working overtime in front of a computer with frequent intervals procrastinating on ­YouTube, Baga's work offers a perhaps more genuinely personal and handcrafted entry point for the experience. What could have easily turned into a lugubrious accumulation of theatrical failures actually becomes a conduit for the transmission of intense feeling.
Trisha Baga, "The Biggest Circle", Greene Naftali, New York, November 29, 2012–January 12, 2013.
Notes
| | |
| --- | --- |
| [2] | Simon Denny's TV aquariums would be but one example; other artists treating the formal motif using other media include Pamela Rosenkranz, Yngve Holen, Josh Kline, and Oliver Laric. |
| | |
| --- | --- |
| [3] | At odds with Baga's protean mode of circulation, "Dickface" is an MS font created by Bill Hayden and Nicolás Guagnini in which letters are composed of small erect penises that can only be seen when "hard" (letters do not appear unless caps lock is on). Rather than "flood" its venues, it penetrates them. |