238
DAN GRAHAM (1942–2022)
Kim Gordon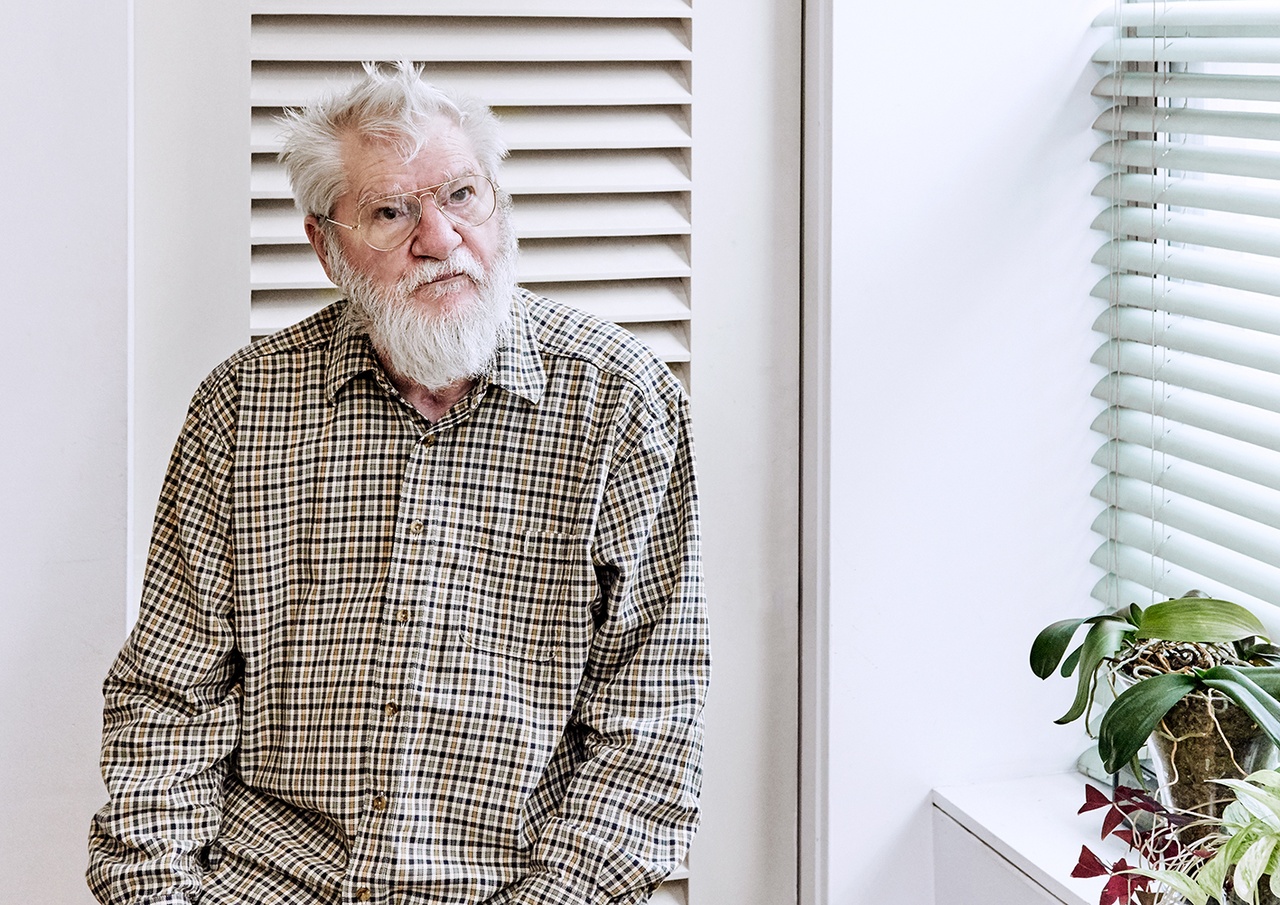 They say the measure of a person is how much they influence or affect the lives of others. I can't think of Dan Graham without thinking of all the ways he altered the course of my life, and that's a powerful thing. This is the story of how Dan changed my life – one of many stories, to be sure. It all starts with John Knight, the LA-based conceptual artist. He was a visiting professor at Otis Art Institute when I was there. John Knight told me to go see Dan Graham give a lecture at CalArts. This is where I met both Dan and Mike Kelley, who were arguing about who invented "punk rock." The argument was never resolved and is still out there for everyone to debate. The Stooges, the Dead Boys, Richard Hell and the Voidoids, Television, Malcolm McLaren, the Sex Pistols? Trying to apply art-world lineage and the formation of the avant-garde to popular culture/subculture, and so passionately, is something I'd never witnessed before.
When I moved to New York in 1980, I looked Dan up. He became my guide, taking me around to various clubs and art spaces to experience "No Wave" music and the downtown scene: Franklin Furnace, Tier 3, the Mudd Club. It wasn't the glam, chic scene upstairs at the Mudd Club, it was downstairs where music and the undefined were happening.
Dan carried around a stereo cassette recorder. It was fairly large and cumbersome, but he would hoist it up on his shoulder and make comments throughout the performances. He always had a chuckle or a ready analysis, such as "Lydia [Lunch] won't move when she performs, she doesn't want to give anything to the audience more than she has to, she's frigid." He loved Lydia Lunch! Since Dan's performance pieces deal in psychology and manipulation, as well as voyeurism, I considered that he knew what he was talking about and ­blinked at what could be deemed a "sexist" remark. I believe he thought of himself as pro-women, and it didn't seem to occur to him that he was ruining the recordings with comments. In addition to his love of music, I think a lot of the appeal of this for Dan was in having a sociological experience. Since my father was a sociologist, I felt a sense of kinship with him.
It was around this time that Dan asked me if I would be into playing guitar in an all-girl band, to be part of his classic piece Performer/Audience/Mirror. He introduced me to Miranda Stanton, a bass player; I already knew Christine Hahn (the Static) from seeing her play around town. We were supposed to take turns interacting with the audience in some manner, with a mirror behind us. I don't think Dan felt that we performed his piece very well, as we were so nervous about playing our first and only show that we kind of spazzed out. Christine thought her interaction was to leave and go to the bathroom in between songs. Regardless of how the performance went, it set me off on an ill-defined path. Thru Miranda I met Thurston, eventually leading to the band Sonic Youth. Years later, I appropriated Dan's mirror idea when I codirected a video for the Breeders.
Dan encouraged me to write. As I wasn't yet making any art, and had no gallery access, Dan said that I should contribute to the community I was getting so much out of by writing about it. He introduced me to Tom Lawson, who was just starting Real Life Magazine. Dan was writing articles about women in music at the time, "feminism and rock," so I decided to write about men playing music as an oppositional move. I wrote a short essay, "Trash Drugs and Male Bonding," for Real Life. Later I realized how much I was thinking of Dan's 1969 work Detumescence, which involved taking out an ad in Screw magazine asking for a clinical language to describe the emotional and physiological aspects of the male postcoital experience, due to not being able to find a description of it in medical literature. When I was researching male sexuality for other essays, Dan pointed me in the direction of John Rechy, who wrote novels set in the gay bar scene in the West Village. It infused other articles I wrote about male desire and the art world, including a piece on the passive-aggressive male artist for ZG magazine.
At that time, Dan talked endlessly about the Shakers (religious sect) and Patti Smith. And Minor Threat. He was writing what was to become his film Rock My Religion, a quasi-documentary in line with his overall pursuit of "alternative historical narratives" (so well put by John Miller in his October piece on Dan). This was a way of thinking that opened up how I came to view popular culture, using an aspect of one subject of popular culture and taking it on as a serious subject matter, subverting the conventional narrative. I remember his editing and writing process, typed pages that had been cut up and scotch-taped numerous times, over and over. Dan was in constant motion and I don't think he had time to rewrite anything, just cut and tape. Tape was used in a few places, actually: his glasses, the record button on his cassette recorder. He approached Rock My Religion the film with a similar patchwork of lo-fi videos, the cassette recorder having been replaced with a video recorder as his instrument. Dan was worried about putting his passion, rock music, into an art context, but it totally compelled him. I'll always remember him so happy at a CBGB's matinee with his video recorder on the edge of the mosh pit while Black Flag or Minor Threat played. He was always talking about the similarities between the psychosexual hysteria of the Shakers' repressed culture to circle dancing and the covert homoeroticism of a hardcore mosh pit, equating the morality of straight edge in the DC hardcore scene to the Shakers' no-sex policy. The straight-edge philosophy was No drinking, No sex, No smoking but as more of an anti-corporate statement: control yr life; don't be led astray by advertising. And, of course, the hardcore scene came out of suburbia, a place of bored teenagers where Dan took so much inspiration from.
Dan loved to reminisce about an early Black Flag gig I took him to in Orange County at Polliwog Park. It was before I moved to NY, and Keith Morris (Circle Jerks) was the singer then. He looked more like a Vietnam vet, wearing a camo jacket and a regular shaggy haircut. Mostly there were families there, as it was a music series put on by the town. Little kids threw empty cans at the band, and when the MC stopped the music and said unless people stopped throwing things the music wouldn't continue, people cheered. It was a conservative Orange County crowd and Dan found it endlessly amusing. It was right up his alley – audience/performer interventions! The whole scene was reminiscent of his favorite movie, Wild in the Streets, where the ten-year-olds rise up against the twenty-four-year-olds.
The truth is, I never really felt like I was a part of the music scene, or a musician, in fact. Perhaps that's something else that brought Dan and me together – we were both fated to live at a remove from the same world we had been drawn in by. Maybe I was always too self-conscious of what the structure is between performer and audience; I was afraid of the power or wasn't sure who had it. The technology (PA) that separates the performer on stage is also a barricade, a protection. Now I realize it's a concerted affair, a symbiotic relationship. I learned to lose myself and accept the control and make something out of the awkwardness of performing. I still have Dan's voice in my ear, and have finally resolved the differences between my two practices, music and art. Dan instilled in me a respect for the importance of writing and moving beyond a solitary studio practice and not being afraid to come up with a different solution. He was so generous with ideas: a veritable font of information that he never turned off. And, of course, his love of using astrology to analyze people, which was, in a dime-store-psychology way, always peppered into the conversation.
As it happens, Dan and I have similar astrology charts. Years ago, when Dan was honored at SculptureCenter, Thurston and I were given the chance to speak about him. We decided to get Dan's chart done by a friend of mine, a writer turned astrologer. It turns out that Dan didn't really know that much about astrology, which is maybe the most ironic thing, given how much he talked about it. That same friend told me that when Dan passed away, Jupiter, a beneficent planet, was over his Venus, which translates to: sending him off on a long journey, and perhaps other adventures! Knowing Dan, this seems right. I know for sure that I will miss him infinitely!
Kim Gordon is an artist, writer and musician based in Los Angeles.
Image Credit: Andrew Boyle