174
GRAPPLING WITH ART AND GRIEF
Ramey Mize on "Elegy: Lament in the 20th Century" at the Philadelphia Museum of Art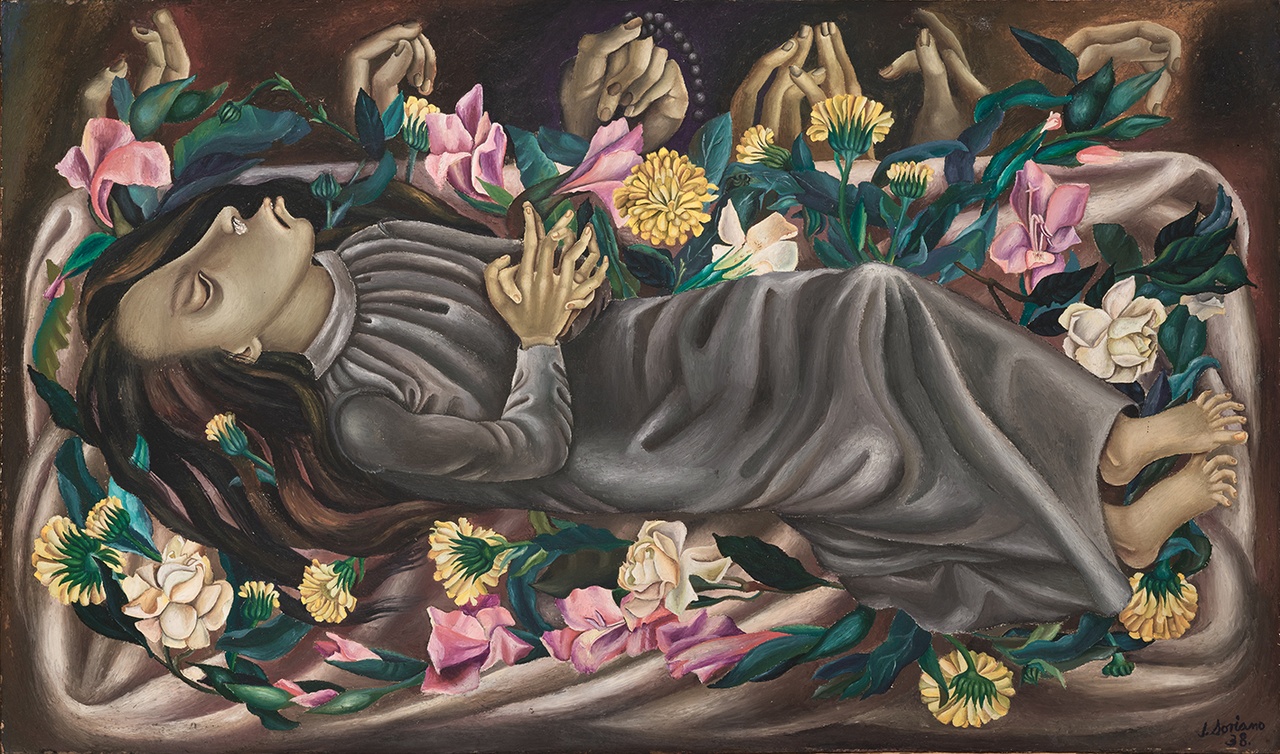 This issue of Texte zur Kunst examines mourning both as a social phenomenon and as it materializes in art. Following the New Museum's 2021 headlining exhibition "Grief and Grievance: Art and Mourning in America," the Philadelphia Museum of Art has put together its own reflection on the topic, namely through the lens of elegy and lament. Though the exhibition is delimited by the 20th century and dedicated to broader human themes, art historian and curator Ramey Mize writes that the works on view inevitably prompt a flood of mental images that are more recent. The exhibition's power, argues Mize, thus lies in opening a space to linger on how loss touches our lives not only universally but also in ways that are profoundly rooted in the systemic racism and inequalities of the United States.
In the last gallery of "Elegy: Lament in the 20th Century," an exhibition that explores art dealing in death and mourning, curator Jessica Todd Smith has devoted an area for "reflection, processing, and contemplation." Several reading chairs offer visitors the opportunity to linger, listen to a guided meditation, or consult a pamphlet containing a Grief Resource List, compiled by the Philly Death Doula Collective. There are also two shelves teeming with books that touch on related themes of loss, for readers of all ages. I pick up Notes on Grief, written by Chimamanda Ngozi Adichie after the death of her father, James Nwoye Adichie, during the first year of the Covid-19 pandemic. In this poignant lament, Adichie ponders the mind- and body-bending impact of a loved one's passing, an experience that both begs and defies description. As she puts it, "You learn how much grief is about language, the failure of language and the grasping for language."
The universal struggle with grief and its artistic expression also represents the question at the heart of "Elegy," an installation drawn from the permanent collection of the Philadelphia Museum of Art (PMA). An elegy is, after all, a work of poetry or song that strives for words to mourn the dead. Smith expands this concept to encompass "visual elegies," or works of art that evoke poetic elegies in their complex engagements with grief, ranging in tone from quiet sorrow to galvanizing outrage.
Arriving in the introductory gallery, visitors encounter a new type of title "wall," one that is a shimmering scrim; in a stroke of quiet brilliance, the fabric's nearly opaque appearance recalls that of a mourning veil or burial shroud. Glimpsing the ghostly forms of museum visitors through its sheen, I was further attuned to the exhibition's first somber theme, "The Elegiac Gesture," which centers on art depicting individuals haunted by "the hardship of loss and the aftermath of catastrophe." Originally proposed by Helen Cahng, the idea for the scrim was further developed and executed by Hanna Karraby and Ridge Chin, along with other members of the museum's design teams, including Natalia Quinteros, Jillian Matthews, and Luis Bravo. This important design element also bespeaks the multitude of people who enable – and strengthen – any installation with diverse expertise. Just beyond the fabric drop is a panel acknowledging this important truth, crediting by name numerous colleagues who contributed to the exhibition. This expansive recognition is a welcome feature in an exhibition that draws so heavily from the diversity of departments at the PMA, especially when many major art museums continue to obscure the full scope of intellectual labor and essential support that buttresses their projects.
Linking works in this first section – including Ben Shahn's Miners' Wives*(1948, tempera on panel), José Clemente Orozco's *Mural Detail (Grief) (1929, lithograph), Hélène Sardeau's Lament (1941, terracotta), and Leonard Baskin's Mourning Woman (1950, woodcut) – are depictions of mannerisms that unmistakably connote heartbreak through a visual cadence of clasped hands, bowed heads, and faces hollow-eyed with grief. The bronze sculpture titled The Widow (ca. 1930–50) by Doris Caesar is particularly striking for its embodiment of a gaunt woman's attenuated form that bears the imprints of the artist's hands – marks that outwardly convey the inner bruise of the subject's anguish. Though accompanied by better-known works such as Nancy Spero's Mourning Women Irradiated (1985, collage on paper), The Widow signals Smith's embrace of the rich depths of the PMA's collection, with over half of the remarkable objects in "Elegy" on view to the public for the first time.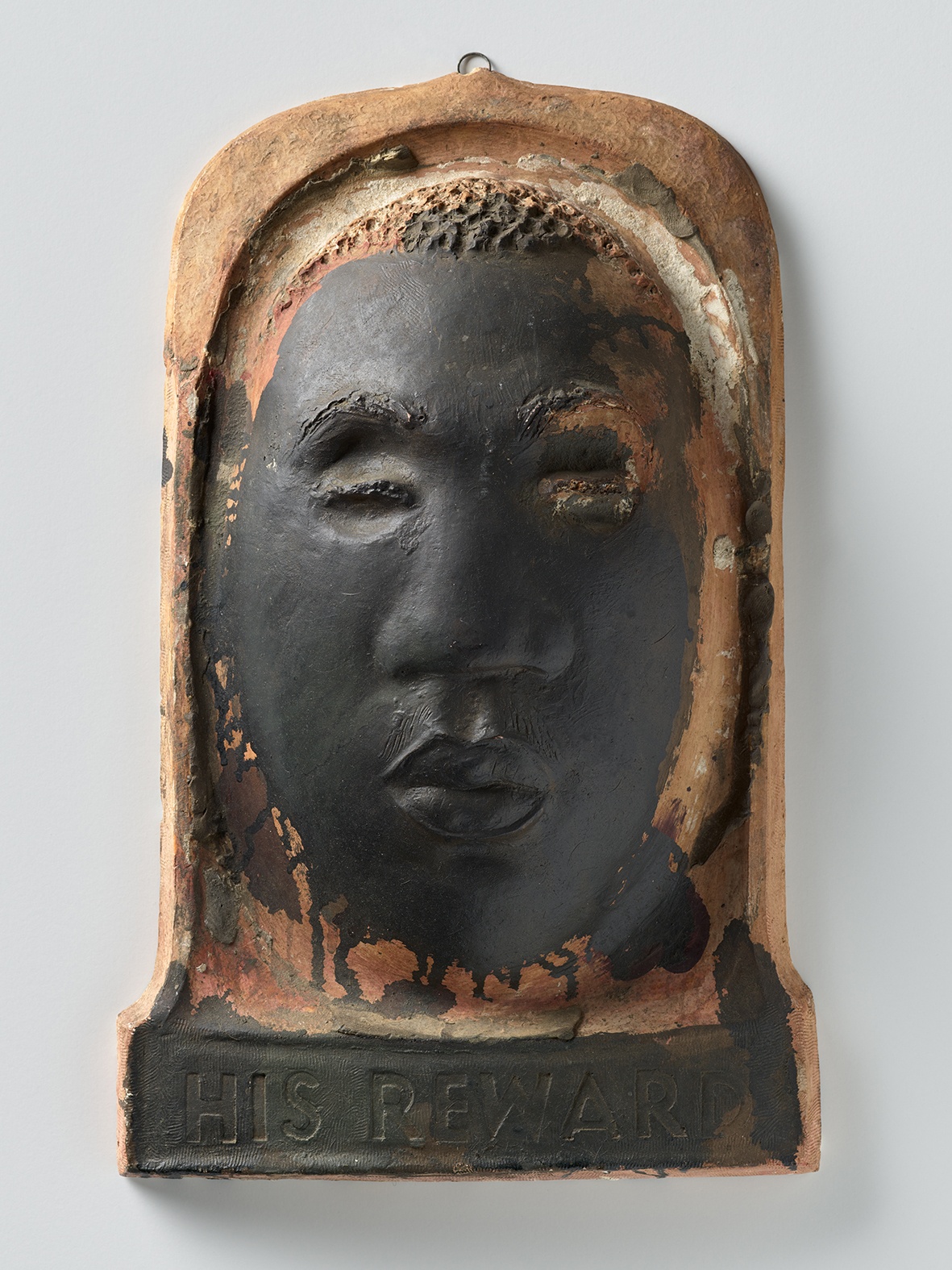 Another debut work – and one that inspired the entire exhibition – is a small plaster sculpture by Clarence Lawson, His Reward, Emmett Till (ca. 1955–60), which anchors the second gallery, "Commemoration and Memory." Emmett Till's infamous, brutal murder by two white men in the summer of 1955 garnered national attention following his open-casket funeral in Chicago. The service was orchestrated by his mother, Mamie Till-Mobley, in order to disclose to the world the unspeakable violence committed against her son. Lawson, a Black artist based in Chicago, may have attended the event, creating this delicate and deeply felt tribute to Till in its wake. In a modern take on ancient funerary portraiture and under a title that references biblical scripture, Lawson renders Till's face quiescent and whole, though the rivulets of black and red pigment across the surface obliquely register the horrific assault that occurred.
Smith acquired His Reward for the PMA in 2018 but knew that the work's presentation required profound care and community input. This understanding sparked the premise for "Elegy," as well as the intention to organize an initial gallery that would set the appropriate tone for visitors to encounter such a sensitive and emotionally charged work, complete with trigger warnings visible throughout the space. The close involvement of advisors, including Benjamin Saulsberry, Public Engagement Director of the Emmett Till Interpretive Center in Sumner, Mississippi, further guided curatorial and programmatic decisions. In this way, Smith and her partners have adopted a conscientious approach to the installation of artwork that invokes traumatic histories – engaging rather than erasing, contextualizing rather than blindsiding.
Till's death reignited the Civil Rights Movement, a fact reflected in two works honoring Dr. Martin Luther King Jr. in the same gallery: a monumental charcoal drawing by John Woodrow Wilson and an explosive multimedia piece by Thornton Dial Sr. While the depictions by Lawson and Wilson are more inward looking, Dial's representation bursts forth with irrepressible, mesmeric energy, swirling around a central tiger figure that the artist used to emblematize the late civil rights leader and other Black men in his early work. Joyce J. Scott's visceral 1991 portrayal of Rodney King's face, disfigured by the beating he endured at the hands of Los Angeles police officers – rendered entirely, and unforgettably, in gleaming beads – bears witness to yet another instance of anti-Black violence in the years following Till's death.
Though "Elegy" is delimited by the 20th century and dedicated to broader human themes (as opposed to the impossible task of enumerating all tragedies that occurred in the period), the works on view inevitably prompt a flood of mental images that are more recent. Among these are the mass protests that followed the police murder of George Floyd in 2020; in Philadelphia, thousands of people gathered outside the very museum housing this exhibition. Many attending that demonstration drew links between the state-sanctioned violence in Minneapolis and other atrocities closer to home, such as the 1985 police bombing of MOVE, a Black liberation group based in West Philadelphia, with consequences and trauma that continue to this day. Part of the power of "Elegy" is the opening of a space to linger on how loss touches our lives not only universally but also in ways that are profoundly rooted in the systemic racism and inequalities of the United States.
The third gallery dwells on "Symbols of Lamentation" through pictorial evocations of woe tied to literary laments, as in Shirley Julian Staschen's 1938 lithograph inspired by T. S. Eliot's poem The Waste Land (1922), as well as more specific visual references to Jesus's crucifixion and descent from the cross, including Bob Thompson's vibrantly virtuosic The Deposition (1961, oil on canvas). A fourth section addresses "Rituals of Grieving," touching on difficult, often unimaginable, subjects such as the loss of children, as seen in Juan Soriano's The Dead Girl (1938, oil on panel), documenting customary funerary display practices in 1930s Mexico, and a heart-wrenching 1938 photomontage by James VanDerZee, Untitled (Boy in Coffin).
The fifth and final gallery is similarly stirring in its consideration of mourning made material. Here, the exhibition considers ways that grief has been captured photographically (as in Scribble #17 by David Lebe, part of an exquisite series of light drawings commemorating AIDS victims) or worn on the body as sartorial markers of loss – including a spectacular bespoke garment by Risë Nagin from 1984 and various Victorian accoutrements donned by widows a century earlier. Further anchor points are found in monumental abstractions such as Robert Motherwell's Elegy to the Spanish Republic (1958–61) and Barbara Chase-Riboud's Malcom X #3 (1969), both of which are part of a broader series. Art historian, professor, and curator Gwendolyn DuBois Shaw, in a recent presentation for The Philadelphia Show, spoke powerfully to the ways these works establish an abstract aesthetic experience that envelops and connects viewers to a "larger commemorative project." [1] And indeed, Chase-Riboud's stunning amalgamation of silk and bronze, posthumously dedicated to another prominent civil rights figure, recalls the reverent abstraction that inflected Lawson's earlier homage to Till.
As Smith has said, death and loss are "themes that are always with us," but they are particularly and unbearably close of late. Though first conceived in 2018, "Elegy" assumes a raw and urgent edge in our present moment, amid ongoing racially motivated violence, waves of virus variants, and Russia's invasion of Ukraine. Mirroring on a broader scale the atmosphere cultivated by the reflection area, "Elegy" offers visitors a much-needed opportunity to pause within the emotional swell of loss that art can channel. In a breathtakingly manifold manner, this empathetic exhibition constellates works that invite us to sit with and hold space for grief.
"Elegy: Lament in the 20th Century," the Philadelphia Museum of Art, February 12–July 24, 2022.
Ramey Mize is an assistant curator of American art at the Portland Museum of Art in Maine and a PhD candidate in art of the Americas at the University of Pennsylvania.
Image credit: Courtesy of Philadelphia Museum of Art
Note
| | |
| --- | --- |
| [1] | Jessica Todd Smith and Gwendolyn DuBois Shaw, "Re(membering) through Repetition: Seriality and Memorial Art," video lecture, The Philadelphia Show, March 15, 2022. |