210
Makeup Collage
Philipp Ekardt on Linder at the Musée d'Art Moderne de la Ville de Paris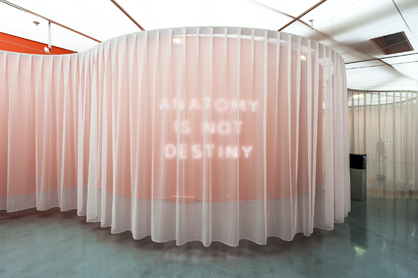 Linder, "Femme/Objet", Musée d'Art Moderne de la Ville de Paris, 2013, exhibition view
Ever since collage's invention in the early years of the past century, one of the artistic technique's central tenets has consisted of refiguring the image of the human body. From Dadaists Hannah Höch and Raoul Hausmann to the Surrealists and onward, the photographed human figure was disassembled and reassembled. Its limbs were severed; its torso was hooked up to machine parts or ordinary material objects; it was conjoined with animal heads or other sections of animal anatomy. Around these aesthetics of rupture, collage produced images of human/machine spectacles in the glory days of Fordist production – the Tiller Girls as reimagined by Höch – as well as images of the technologically damaged bodies of industrial workers (or World War I soldiers), as was the case with Hausmann. [1] Collage also pictured the first prosthetics.
The work of British artist Linder (Linder Sterling, born Linda Mulvey, 1954), recently on view at the Musée d'Art Moderne de la Ville de Paris, also grew from an interest in such refiguration, and in this sense she stands in what can perhaps be called a "collagist" tradition. Collage is indeed one of her primary techniques – her central motif is the female body – and the title of the exhibition, "Femme/Objet", responds to the fact that major parts of her œuvre fall under the umbrella of gender concerns. The show's mission statement takes the form of an aphoristic slogan spelled out in pinstripe-thin fluorescent lights on one of the exhibition space's walls. Set in a neo-Art Deco script, and glowing from behind a curtain of sheer fabric, it reads "Anatomy is not destiny".
Linder's collage works build on image material from three major sources: Print ads, in which women present and function as substitutes for commodities; porn magazines, most of which seem to date from the 1970s; and photographs, in which she herself poses. The show, which functions as a retrospective, embeds these into the full spectrum of the artist's repertoire. In addition to the collages on the walls, vitrines show Linder's work as a graphic designer (she is responsible for a number of Morrissey record covers, like "You're the one for me, Fatty", "Tomorrow", and "We hate it when our friends become successful" – all three from 1992). There are copies of magazines such as i-D, in which her collages have appeared. Her own zines and small-scale publications are also on display ("The Secret Public", from 1978, with Jon Savage), as well as material related to her band Ludus, for example footage from the group's 1982 concert at the Manchester Hacienda.
The collage works containing pornographic imagery feature a fair amount of gay male material, defining Linder's body of artistic interest perhaps more specifically as anatomies designed for male attention. This reliance on the body as a visually exposed, potentially appealing, attractive, or sexed-up entity, and the parallel between its presentation and those of commodities, place Linder beside early Richard Hamilton in a vein of collage art that focuses on design, interface values, and (commercial) transactions. Whereas her modernist predecessors foregrounded aspects of production, like the industrial process of montage, Linder goes straight to the level of the product. "Anatomy is not destiny" does not refer to the segmentation of the body and its reassembly in the factory-focused and mechanistic vocabulary of early modernist collage. In fact, Linder often refrains from cutting into the human physique; the image of the body remains largely intact. Instead, it is the supplements, the attachments, the cover-ups that make for transformation. In this sense, she is a makeup collagist, and it makes perfect sense that some of her earliest works comprise black-and-white photographs documenting the regulars at a Manchester drag club she frequented as a teenager ("We are the kind of people who know the value of time", 1966–67).
In her collages she places, for example, a pair of oversized, deep-red lips in front of a black-and-white beauty shot of a woman, so that they stick out way beyond the outline of her head ("Untitled", 1979). In a more recent work, "Revolutionary hardcore – Formula IX" (2010), Linder uses a warmly colored head shot of a woman smiling widely for the camera, exposing a row of bleached teeth. She sticks out her tongue, which is covered in a film of whitish slime that has also dripped onto her chin. In front of her face float two cutouts, perhaps from cookbooks, namely a slice of blueberry tart and a very dark purple substance in a glass dish that might be a scoop of cassis sorbet, or plum compote. Their haptic appeal and chromatic intensity upstage an erect penis situated behind them – undeniably the source of the spray that has showered the woman's face. The male organ and the tart are placed next to each other, forming an angle that targets the woman's mouth in a funny instance of porno-culinary double-penetration. In other images, bulging blossoms protrude from faces and float in front of bodies. Sometimes hovering pink roses with a cabbage-like solidity even ­function as odd counterparts to an entire nude human figure. In some of her most recent pieces, Linder has stepped up this high intensity even further, by mounting her images on lightboxes.
In Linder's pictures, prettification goes into overdrive, and fleshiness is amplified to an extent where the image blows up. Linder's feminism, then, proceeds by augmenting and escalating the visual endeavors of body modification. The tools for creating a look are so hard at work here that the result often crosses into freakishness. Her earlier œuvre takes a more sober stance toward beautification. An untitled 1982–83 series of black-and-white images, simple photographs from a gym, show Linder dressed in spaghetti-strapped halter workout clothes, exercising her biceps and triceps. And there is a shot of the artist's back, her arms flexed, an impressive landscape of muscles creating ripples of shading and highlights ("Moss Side Gym", 1982). The difference between these images, which exude coolness, and the ebullient colors of Linder's more recent pieces makes it clear that taste and style are not among the categories according to which her works ask to be judged. Looking slick and looking gaudy can be switched on or off at will. What her collages target instead is the very labor of creating a look itself. It is here, beyond these categories, where Linder performs her operations on the image of the (female) body.
Linder, "Femme/Objet", Musée d'Art Moderne de la Ville de Paris, February 1–April 21, 2013.
Note
| | |
| --- | --- |
| [1] | Cf. Brigid Doherty, "'See, we are all Neurasthenics!' or, The Trauma of Dada Montage", in: Critical Inquiry, 24, 1, Autumn 1997, pp. 82–132. |