50
COLLECTIVE SOUL
Jessica Gysel in conversation with Lotta Volkova Adam and Atelier E.B. (Beca Lipscombe & Lucy McKenzie)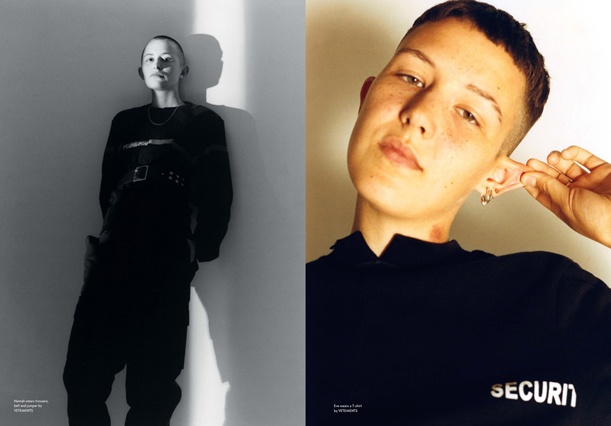 Editorial spread, SSAW Magazine, AW 2015, Styling: Lotta Volkova Adam, Foto: Hanna Moon; models wear Vetements.
Often, this journal has analyzed how the art system has corresponded with fashion even adapting to its logic, e.g., in its celebrity principle, its embrace of luxury. Now in the face of hyper-accelerated cycles, fashion is borrowing from art – be it strategies of system-hacking or a working-method based in friendship networks.
The Paris-based label Vetements registers here, not least in its semi-obscured identity and its willingness to treat fashion as a vehicle for both high-end design and troll-ish memes. Similarly, a project such as Lucy McKenzie and Beca Lipscombe's fashion line Atelier E.B. utilizes both registers, parasitizing the classic gallery painting show as an optimized point of sale. Meanwhile, "Girls Like Us," a magazine published and edited by Jessica Gysel, coheres a powerful, focused readership by, for example, breaking down cults of personality and (fashion) egos in favor of a more collaborative approach. This April, Gysel met with Lotta Volkova Adam (stylist for Balenciaga, Vetements) and Atelier E.B. in Paris to discuss.
The full text of this article is available in print only.