157
DURATIONAL FASHION
Sara Marcus on K8 Hardy's "Outfitumentary"


If the brightest thread running through the many forms of K8 Hardy's art is the evolving likeness of the ­American artist's own feminist self, a second line would be clothes – the staggering array of apparel and non-garments-turned-apparel that Hardy applies to her body, expressionistically, something in the manner of a de Kooning at his canvas slathering on impasto paint.
AbEx or not, it is definitely within some nexus of art and fashion that Hardy's indexical, autobiographical "Outfitumentary" resides. Reviewing the film's 2016 iteration, presented at MoMA this spring, writer Sara Marcus ("Girls to the Front: The True Story of the Riot Grrrl Revolution") gives her take here.
In 2001 the Twin Towers came down, I quit my band and moved to New York, and K8 Hardy began filming her outfits. "Not every day, just, like, when I feel like it," as she tells an off-camera interlocutor near the end of "Outfitumentary" (2001–2012/2016), the 82-minute video that puts together just over a decade's worth of her ensembles. Hardy had grown up in Texas, a state where, according to the copy of the Houston Chronicle that hit my porch earlier this week, "women still understand pretty." Annoyed by her high school's dress code, she built elaborately thrifted identities, rotating among – then quickly exceeding – the preset archetypes kids are supposed to choose from and declare allegiance to. The night I met her, in her senior year of college, she was wearing a T-shirt printed with a life-size photo of a pair of breasts. She and my bandmate went to a party while I stayed in her dorm room watching "Half Cocked," a video she owned that starred raggedy Louisville indie rockers in the role of raggedy Louisville indie rockers. I'd been trying to track it down for years.
Lisa Cohen writes in her book "All We Know" about the forms of cultural production, largely coded female and/or queer, that often go unpreserved – social hosting, witty conversation, and fashion among them. Cohen quotes the writer Sybille Bedford on Esther Murphy, who never published anything: "What's the use of being brilliant, if you sit at a cafe all day and are considered the greatest bore because you don't know when to stop talking and never write anything down?" Hardy, as a 22-year-old newcomer to New York, had already noticed this tendency of queer and women's culture to vanish. "I didn't know what my life was going to be like as a lesbian and an artist," she said. "There were only one or two generations before me, the trailblazers, and I would have liked to see more of their lives." [1] She decided to create a long-term record of her outfits, shooting on a single DV camera, and she gave herself a few constraints: the project would span ten years or more; there would be no real staging; she would include a head-to-toe shot whenever possible. The next generation of lesbian artists might find it interesting as a historical document.
There was another understanding implicit in her plan. Hardy's work as a constructor of personae was already well under way, and the full impact of this work would only be visible durationally. Yet she knew that her everyday sartorial productions would disappear unless she documented herself. Her connection to feminist punk doubtless fed this determination not to vanish: what is DIY if not an insistence that one's cultural practices, however unsaleable, deserve to leave traces in the world?
The first outfit we see in the video is simple: jeans and a pink sweatshirt and a Southwestern-­style belt, pink slouch socks, white velcro sneakers. In the next shot she has added a denim jacket and fingerless gloves, and has pulled up the sweatshirt's hood: she's suiting up, arming for the world. Repeatedly throughout the video she adds or subtracts, emphasizing the strata. First we see a large coat; underneath, a sweater festooned with unicorns. Beneath this mask another mask, as Claude Cahun said.
She's awkward in the early shots. She nearly capsizes while attempting a kick. Trying on poses, she leans coquettishly in a doorway. She gestures toward her shoes with a shrug: Here they are, I guess. If we're doing this. The stereo sits atop an old wood-panel-fronted triad of drawers for audiocassettes. As Pat Benatar sings "We belong to the thunder," young Hardy sashays up to the camera, gazing steadily at her reflection in the flip screen, her movements smoothing out.
At first she puts only slight tweaks on the queer Brooklyn uniform circa 2002 (side-belted jeans, trucker cap, pomade mullet with sideswept bangs), but like a real-time Cindy Sherman she soon goes through a flip-book of types: western­ dame, punk gamine, butch dandy, preppy vacationer, Weimar rebel. Gradually her looks become less categorizable, as if assembling coherent teams of garments had become too easy, and the trick now would be to produce looks that had no precedent at all. "Persona is a reaction to Patriarchy," she would write later, in an artist's statement. "Authenticity is slippery." In the early 2000s, Hardy was one of the only artists in New York continually talking about radical feminism and feminist history. That stuff had been cool for a minute in the earnest '90s but had since fallen out of favor: you didn't really mention it. When she screamed Ready! and did cheerleader moves on a Lower East Side gallery windowsill in 2004 while footage of gay-rights marches and female weight-lifters projected onto her body, it was a deeply visionary act and a challenge to us all. Were we ready?
Through her string of outfits, of course, we see a history of self-fashioning – which is another way of saying subject formation, of glossing both the active and the passive aspects of making a self: both the idea that we get to shape our image and the idea that institutions, forces, etc. affect not just our endeavors but the we who show up to endeavor. Hardy is keenly attuned to all of this. "There is a problem with the male gaze and power and framing," she told Ariana Reines in Bomb, "but if we freeze [those dynamics] then we don't open up new possibilities." [2]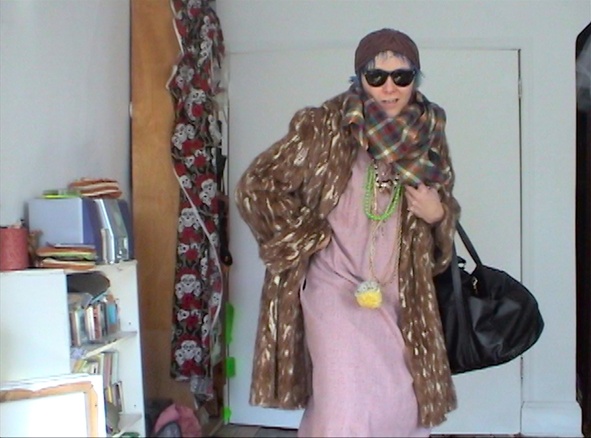 In an age that has fully assimilated the selfie and the confessional YouTube channel, to talk simply about self-presentation is to say something that's been boring for years. But to talk about the long-standing requirement that every woman perform a consumable image of (ostensibly) herself that is concentrated on the surface of her sexualized body – to talk about the intense location of human value in gendered surface, an unequally distributed burden – is to say something that's even more acute now that the ultimate responsibility for producing and promoting that image rests wholly on the individual. Hardy was engaging critically with this knot years before selfie autobiography had become an imperative for digital-age subjects. (Social media is not mentioned until halfway through "Outfitumentary," and then it's a reference, made by an off-camera friend, to the now-ancient networking site MySpace.) She's exploring self-portraiture across the precise period when self-portraiture changes from specialized artistic practice to mass genre. In the early shots, which set the tone for the whole project, she experiments broadly with ways of approaching the camera, seemingly more interested in her present process than in any future viewer. She has said she didn't initially imagine that the footage would ever be shown in public. Although women know we're always being looked at, we're also expected to perform our manipulations subtly. Isn't that the definition of femininity? It's still unseemly to suggest that we didn't wake up like this.
Hardy is always the only one in the frame. "Can I be in the frame?" wheedles the unmistakable voice of filmmaker Matt Wolf, probably still an NYU undergrad at this point. "No!" It's part of the structuralist constraint that girds the project. But though hers is the sole body on screen (other than the occasional cat), a chorus of unseen human others are present at first: roommates yelling in from the kitchen, friends asking questions about the project, or the unheard voice on the other end of the phone call, whoever Hardy is telling that she'll stop by her studio en route to an opening, whoever she's reassuring in a kind voice that "No one is ostracizing you." This community becomes more and more implicit as the film goes on: the voices become rarer and more distant, replaced by friends' silent artworks scattered around a bedroom, and by the end the camera registers just Hardy in her studio, surrounded by the images she's made.
Even as voices fade, the sound track remains robust: lots of indie rock (Erase Errata, Cat Power, and the Knife are all heard multiple times), up-to-date hip-hop, Gaelic divas Sinead O'Connor and Enya – twice!, radio commercials addressing a desperate and debt-ridden listenership in the depths of the recession, talk radio ranging from generic-sounding ruminations on Bush and wartime to, later, Amy Goodman's deadpan leftism, a flat counterpart to Hardy's playful radicality. Meanwhile, a Columbo-style suit-trenchcoat-fedora combo gives way to a flowy pink skirt and silk polka-dot blouse, which gives way to a fluorescent dress, running shoes, and a hat with mourning veil.
If the inexorable demand to perform an image, and the project of hacking out something uncoerced in the face of that demand, is one major theme of this video, temporality is the other one. The talk-radio snippets sketch the historical parameters of a decade that starts with shock and awe before plummeting through gilt toward economic meltdown. But it is Hardy's body that wears time most affectingly as it traverses the stretch from 22 to 33. "Outfitumentary" is kin to Caouette's "Tarnation" and Linklater's "Boyhood": a work that collapses biological time into narrative time. The passage of years is physically present, visible amid the strata. Here the slim young artist, peacock-proud of her lithe physique, grows older, gets a new tattoo, travels through illness and recovery, and passes from post-college awkwardness into an assured and eccentric grace. We can choose some of our physical changes, but not all of them.
Eventually the DV camera, having rendered a decade of devoted service, starts to stutter. The audio cuts out first; the image outlasts it, but not by much. It feels fitting that a sonic breakdown augurs the project's end, since sound has played a major formal role all along. Myriad editing cuts fracture most of "Outfitumentary"'s outfits, giving us discontinuous snippets – three seconds, then another two – of scenes that were originally shot in single takes. These visual jumps are often subtle, though, and it's the audio that, with glitchy lurches from mid-chorus to mid-verse, amplifies how produced these shots really are, how carefully they have been worked over. How much control of our own image resides in our individual acts, and how much in the structures – political, biological, technological – that frame these acts? Hardy's durational self-portrait movingly stages this conundrum. Her multiple cuts accentuate the fissures that run through any self-presentation, even the most self-conscious and deliberate.
K8 Hardy, "Outfitumentary," 2001–2012/2016, digital video, color, sound, 82 minutes.