130
Last Night
by Calla Henkel & Max Pitegoff

[1]
How will the '00s be remembered? One guess might be: through the untold terabytes of culture industry party photos – i.e., the data caches of Purple.fr and 032c, among other sites that, together, harbor a seemingly exhaustive index of the art-fashion network's core. But what to make of this seemingly glamourous impulse of micro-celebrity production, when this is precisely what bio-capitalism requires us to do? Here, artists Calla Henkel and Max Pitegoff take stock of the evolving strategy of communicating "last night," finding in the fog of realtime posting and the Berghain-stickered lens, that the locus of glamour resides less in attractive young bodies than in the fantasy of what goes on where one is prohibited to shoot.
Clicking through a half-dozen years' worth of event photos posted to 032c's Facebook, one finds a rhythm of faces within a singular aesthetic favored by the Berlin-based contemporary culture magazine. The look is characterized, almost always, by a certain type of social space: sharp flash and shallow depth of field, filled by bodies tressed in glossy hair, beaming trustful gazes toward the photographer (often Maxime Ballesteros but sometimes others – e.g., Lukas Gansterer, Kate Bellm), who shoots them at close range, their faces no more than a meter away. The bright shots, clearly taggable, support the process of local celebrity cultivation, offering no real narrative other than the most essential one: who was in the room with who. Clicking through the evenings, one can process the timeline of orange-lined bomber jackets, layers of Berlin black, sheer mesh tops, sportswear shifting into nightwear, pieces by Nhu Duong, Vetements, Gosha Rubchinskiy, and the more recent peppering of 032c-branded sweatshirts. Time passes, spaces change, people enter and exit. Meanwhile, the near-invariable photographic aesthetic conserves the faces of the late '00s and early '10s like amber.
When reading a single evening through bulk albums of images, as Facebook leads one to do, nostalgia becomes sticky. The 032c party photographs – and those published by similar outlets (Purple.fr, or the earlier, more sexed up iterations such as LA's Cobrasnake or New York's LastNightsParty) – preserve something that now feels dated, something that arguably is connected with the shift that both fashion and photography networks have undergone in the past decade: the need for an individual, a "creative," or even a particular garment to be documented, effectively tagged, and broadcast as existing within a certain representation of sociality. The rise of this particular kind of branded, cultivated, social geolocation can be generally linked to the early-to-mid 2000s and the rise of social media platforms. Key for this model was the delay: #lastnightsparty was always at least last night, if not several nights ago; and it was always a singular, specific party, the documentation thereof having been edited into a body of photographs with a specific vision. And so despite the image format being tied to Web 2.0, the content's delayed release is, rather, reminiscent of analogue photography, with memory resurrecting itself through stacks of prints – particularly Polaroids, the pre-Internet nearly-instant gratification of presence.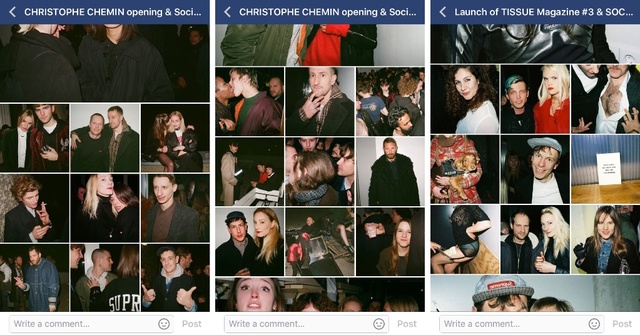 Party photos by Maxime Ballesteros for 032c (via Facebook), 2016, screen shot
A night read through Instagram, however, becomes fogged in real time. Too much content is uploaded – or not enough. And as no edited, coordinated impression is given, no palpable nostalgia, no fomo, ever really builds. This live image-abstraction, it would seem, is coming to replace 032c's carefully considered, calculatedly haphazard look of a night. Rather than the selected stack of Polaroids, last night – or rather right now, tonight – is increasingly all one aesthetic smear. The dominant form of documenting going out is increasingly a janky collective effort that becomes irrelevant after the initial viewing, everyone their own model, playing Jenga with the stream.
This kind of image fogging is particularly compatible with Berlin's ethos of image rejection in the name of protecting the night – and the night's subcultures. Take the colored stickers Berghain places over the lenses of club-goers' camera phones upon entry, and the subsequent slew of abstract monochrome photographs people then take with sticker still on lens. Tagged #berghainsticker and shared on Instagram as proof of entry, this abstracted picture sustains the fantasy of what things might be happening inside the club. This ethos of image-rejection, though, is also largely image-control, a type of branding that is more effective than the (arguably no less regulated) iconography of the party photo. Berlin's Soho House, which opened in 2010, also exercises a no-photo policy. In theory, this is to protect the celebrities who go there, as well as the numerous artists whose works, traded for memberships, now hang in the club. Like at Berghain, Soho House's no-photo policy serves to abstract what happens inside, even standing as a kind of negative proof that who and what these spaces contain are so special that they must be guarded, protected from circulation, and capitalization. Safe space is maintained through the control of release: Wolfgang Tillmans (whose photographs hang in Berghain's Panorama Bar) is often at Berghain with his camera; one of the very few people allowed to photograph the club. Such restrictions ensure that the images that might seep out are not just shit iPhone photos from the bathroom stalls, but a Tillmans photograph, which is perceived as both much more valuable and much better at maintaining a desired image, existing both inside and outside of fashion.
Antek Walczak's text "Party Photo Value," published in Les Cahiers Purple (a cousin of Olivier Zahm's Purple Fashion), considers the circa-2010 New York version of this type of photo as encapsulated by a jpeg on a Condé Nast website, wherein, as he sees it, the photographed it-girls enact a kind of aspirational iconography. Half a decade and several new photo platforms later, we can begin to measure the half-life of these aspirational jpegs. Which leads one to ask: How have aspirations changed?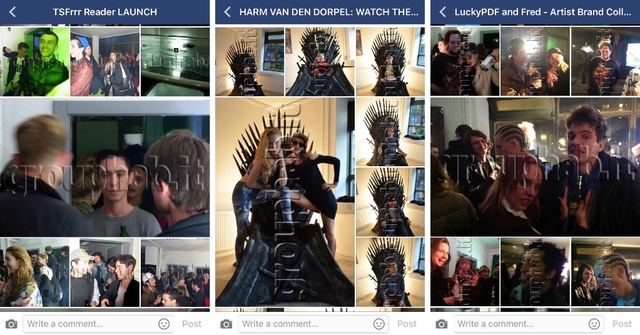 Party photos by Julia Burlingham for grouphab.it (via Facebook), 2016, screen shot
Perhaps a transition could be located in grouphab.it, the short-lived Berlin project space opened and closed in 2012 (and much informed by Berlin's post-Internet moment). Taking place when Facebook albums were still (just barely) respectable homes for documentation of art exhibitions, grouphab.it chose this social networking platform as its exclusive outlet for documentation. Arguably, this strategy worked against or even subverted the logic of the 032c images. Active at a time before the rhythms of Instagram had taken hold, grouphab.it overloaded each batch-posting with an excess of photographs, featuring openings that seemed to fall apart as the night went on. These images, shot by photographer Julia Burlingham, were typically dark or slightly unfocused, depicting people posing stupidly, drinking beers, and obscuring artworks. Each upload to the narrative cavern of Facebook's was then further stamped with an absurdly large watermark. grouphab.it's second show, "Watch the Throne" by Harm van den Dorpel, was built specifically with this sort of remediation in mind and involved the ornately goth throne of swords from Game of Thrones. This sculpture effectively facilitated mall Santa-style photo-ops, with people at the opening taking turns to pose, the photographs getting progressively blurrier. As a physical space, the venue lasted just a few months, and likewise the images feel like they should have been entirely disposable; but given the resilience of the tag, they continue to resurface, embalmed in Facebook's albums.
There is something in all of the aforementioned image types that deal with waste, or maybe rather with what is disposable – whether money or time wasted while drunk or designer clothes soaked in cigarette smoke, or even one's own image or privacy, which is wasted in the concession to smile – and it seems like the structures themselves are quickly catching up, à la Snapchat hosting images for only seconds before they disappear. And maybe this is where aspirations have changed, and app platforms are realizing control. Instagram threatens to phase in a new algorithm-derived feed, which would stream images based on popularity, bringing a branded image hierarchy to what is now a collective, chronological stream. This is essentially value production on the one hand and waste removal on the other, waste being that which is unpopular, not worth our attention, excessive – or sub – what Petra Cortright clickbaitingly described as "the gentrification of the Internet."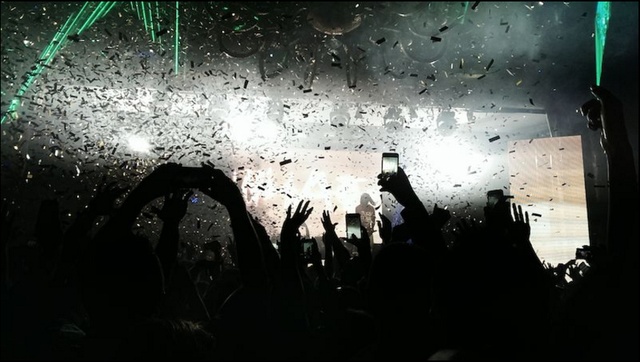 Stock photo offered on EyeEm
In the same vein, Berlin-based photo platform EyeEm feels like a daytime version of Instagram where the social has been inverted toward the intimacy between photographer and their world, the website drenched in images of robust outdoor activities and Caspar David Friedrich-esque meets Ryan McGinley-esque moments of lone figures facing the great beyond. EyeEm considers itself the Instagram for professional photographers and has teamed with Getty Images in order to promise its users the possibility of their photographs being licensed for commercial use: $20 bucks a pop, or $250 for an extended license. EyeEm effectively creates an image feedback loop; one in which brands like Airbnb and Uber need images that are as fast as the people who consume them. But there is a paradox to this business concept. As someone from EyeEm once described it to us, how can the EyeEm feed be perpetually interesting, given the fact that its users know that the images that sell best are ones that are so bland they often border on abstract: blue skies, photographs of feet, a blurry dog running through grass. The millennial-friendly companies themselves want the monochromatic image, the #berghainsticker, with just enough room for the fantasy of the brand. And until EyeEm can figure out an algorithm to choose what images to offer to Getty, they've hired Berliners with an eye for what's cool or content-open to cull selections from the thousands of photographs submitted each day.
The EyeEm stream of emotionally blank, inclusive images, where meaning ostensibly arises from the color and heavy saturation, almost entirely escapes nostalgia beyond the status of current technology – i.e., the types of filters and curves possible to make a moment pop in 2016. The EyeEm images hold value on a large scale. Bland and inoffensive, they throw into relief the smallness of the cage of the 032c photo album, where meaning is gleaned from extraordinary detail: zippers, beer bottles, proximity; from the tagging of only specific people within the feedback loop between party and platform where micro-celebrity is performed. There is honesty within this loop, within the unabashed celebration of the aspirations of the millisecond that are destined for Facebook's tombs; where there is nowhere to hide, no faces turned toward the sunset, just the reality of performing for the camera in a flash of light.
Notes
| | |
| --- | --- |
| [1] | Party photos by Maxime Ballesteros for 032c (via 032c.com), 2016, screen shot |