206
BLUNTLY SPEAKING
Harry Burke on Dean Blunt at Arcadia Missa, London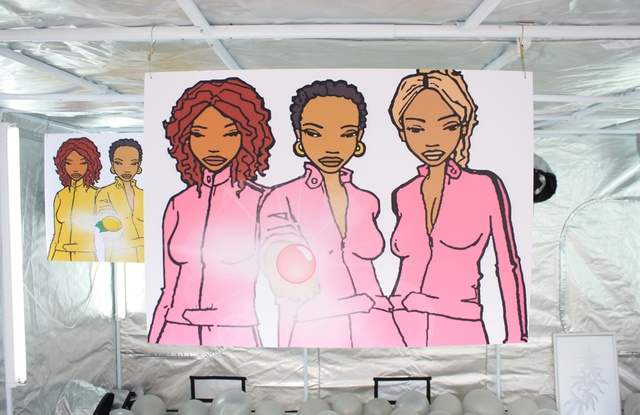 "Dean Blunt: W44VEY," Arcadia Missa, London, 2016, installation view
On May 11, 2016, user pollyjacobsen uploaded a 42-second video to YouTube: a montage of cash stacks, the back end of a PayPal profile, handwritten notes with dates scrawled next to usernames (such as @PAY_PALL and @Make_Money111), and a FedEx logo humorously stylized as "HedEx," set to the abrasive sound of a metal grinder. Titled "W44VEY," the video functioned as a trailer for Dean Blunt's exhibition of the same name that would open May 20 at Arcadia Missa in London. Not mentioning even so much as the artist's name, the video gave away little regarding the content of the show – that is, assuming that the exhibition wouldn't be constituted of piles of freshly milled pound sterling.
The word "cryptic" is often utilized in the reception of Blunt's work (the name Blunt is one of the artist's numerous pseudonyms), and in light of promotional strategies such as this, one can see why. The music press (Blunt is a noted musician as well as artist) referred to his recent solo exhibition at Cubitt Artists, London – which featured a single stock photo of a laughing mixed-race couple and a triggered crowd dispersal alarm – as one of the artist's greatest pranks. [1] And yet the London-based artist's work, notwithstanding this critical gerrymandering, can be as stark and uncompromising as his name suggests.
Blunt's artistic and musical output is perhaps most often described as "difficult." This is language that rankles when you consider his work as, equally, strikingly easy. Another recent action saw Blunt list on eBay a set of 1:18-scale Mini Coopers emblazoned with the logo of UK estate agents Foxtons, each reportedly containing "1g UK Cheese" (eBay removed the post; it later resurfaced on Craigslist). If a pattern for his work was to be offered, one might approximate it as: blending stripped-back gestures of Pop appropriation within a coma of avant-garde abstraction. Difficulty, then, would be located not in these moves but at the intersection of Blunt's output and the institutions that repeatedly attempt to make sense of it – e.g., via the friction created by the liberal-left art sphere's own intransigency toward coding that doesn't easily, legibly fit its matrix. This is especially true when a portrayal of a publicly racialized subject is involved – in Blunt's work, his persona and personhood as a black British male.
In this vein, "W44VEY" provided a generous re-up of the artist's practice to date, ­continuing his longstanding strategies of confrontation and withdrawal yet revealing a side of the artist that's bubbly and contagious – more ecstatic than introspective. Entering through the wall-length entrance of Arcadia Missa's railway-arch gallery space, the viewer was enveloped by the sparkling interior of a grow tent (an urban farming device often repurposed for growing weed), which obscured the existing white gallery walls; the floor, meanwhile, was littered with discarded nitrous oxide canisters and inflated silver balloons. Overhead, four digital prints hung from the ceiling featuring flattened cartoons of three women, each print identical save for the colors of the figures' tracksuits, which corresponded to the color suggested by each work's title (flavor) – "Lemon," "Bubble," "Apple," and "Grape" (all 2016). A silver pen on whiteboard drawing depicting marijuana leaves with the word "W44VEY" was leaning against one wall of the tent's interior. And the press release was printed and placed on a metallic, z-shaped presentation stand, while an empty, standing-height table (which wouldn't look out of place in a South London nightclub) occupied one corner.
Who or what is "W44VEY" – party host or party product? Blunt has long encouraged slippage between the real and fake of his persona – a tactic explored to various ends in recent art history, from Duchamp's R. Mutt and Rrose Sélavy to ­Lorraine O'Grady's Mlle Bourgeoise Noire, to much contemporary hip-hop mythology. The notion of fluid artistic identity grounds Blunt's engagement with the institutional art world. The implicit provocation within this context is whether identity can be so fluid as to transcend race? Blunt's "piss-taking" is often a foil that reveals the gatekeeping surrounding the postmodern legacy of virtuality and play.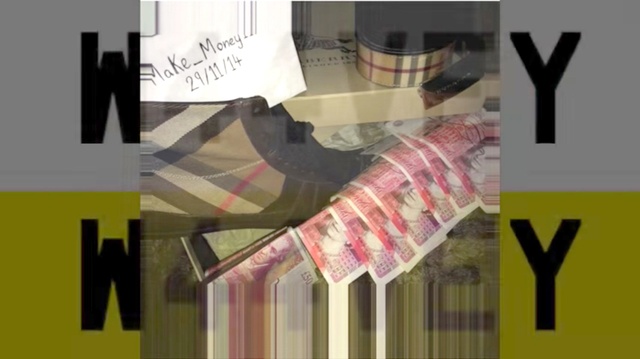 Screenshot of @pollyjacobsen, "W44VEY," 2016
Similarly capricious is the role of metaphor in his work. Conflating the gallery with a grow tent could be seen as a wry comment on the ability of the white cube to accelerate cultural capital into financial capital, one that is calibrated shrewdly for austerity Britain: the emergent artist's hydroponic incubator contra Andy Warhol's studio-as-factory. Blunt humor. Yet perhaps to intellectualize this gesture is to codify – read, arguably, colonize – it within the parlance of the institution. Perhaps it's just a grow tent, perhaps this is a fundamentally political gesture. Perhaps "weed" has wider connotations, too: a weed is a plant taking root that grows where it's not wanted, often in competition with cultivated species. Cannabis culture is often spoken of disparagingly vis-à-vis class prejudice; "W44VEY" revels in an aesthetic that celebrates one-piece tracksuits, the tanginess of synthetic apple flavor, and the iconography of marijuana itself; homegrown Bubble, [2] in joyous antinomy to the bubble economy, produces an unlikely yet liberating image of resistance in the face of an art system that often serves to reproduce the assets of the ultra-rich in an economy predicated upon (to name one ill) the aggressive displacement of lower income populations. I'm reminded of a 1997 Kathy Acker piece for the Guardian wherein she interviews the Spice Girls, introducing them as "the biggest, brashest girlie group ever to have hit the British mainstream," and celebrates the public image of non-university-educated women having fun. [3] Ackers's conclusion, that the Girls are "transforming society as society is best transformed, with lightness and in joy," seems redolent vis-à-vis "W44VEY," sprinkled as it is with hedonism, reinforced as it is with a subtext that demands a necessity for institutions – art and otherwise – to be fundamentally grassroots.
Of course, aesthetics produced on the margins of power are often fetishized and appropriated by cultural producers operating nearer to the center, awarded value as an "authentic" other and often, thus, stripped of the agency to self-affirm this value. A recent artist book by Blunt, "Cîroc Boyz: vol 1," comprised exclusively of VIP nightclub receipts often running into the tens of thousands, pinpoints an uneasy awareness and complicity within this cultural bind, on the part of the institution as much as the artist – who here is profiting from whom?
It is in historicizing rather than answering this question that Blunt's work becomes most incisive. In one corner of the tent, easily missed, was a round, red Comic Relief (a UK charity) sticker that read "Buy British." A recording of Craig David announcing "This makes me proud to be British" as he won the MOBO (Music of Black Origin) award for Best R&B Act in 2000 is sampled for three and a half minutes during the opening track of Dean Blunt's latest album (released under the name Babyfather), "BBF: Hosted by DJ Escrow" (Hyperdub, 2016). Through the clouds of Blunt's irony and evasiveness, one thing is clear: to be recognized as an artist in the UK (not least a black artist) – a state that built, and continues to establish, wealth and power upon the genocide of those it perceives as other – ignites a politics surrounding a wider institutional complicity: that of the modern conflation of identity with the nation state. This is a problem that much transcends art, and a growing list of news tragedies this year attests to the violence and instability mired in this equation. That Blunt seeds this conversation in the art world, however, provides vital opposition to a prevailing mood of globetrotting celebrated in the fair and biennale circuit: the ability to buy out of Britishness (or any nationalism) is as problematic a consumer desire as that of buying British, and is dependent upon significantly more access. A part of me can't help but ask, not least in a grow tent in Peckham: what does a green alternative look like?
"Dean Blunt: W44VEY," Arcadia Missa, London, May 20 – June 25, 2016.