171
Anti
Steven Warwick on Morag Keil at Eden Eden, Berlin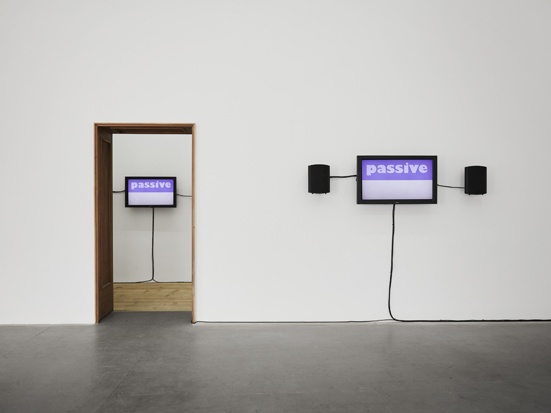 [1]
In the 1960s room of MoMa's fourth floor collection galleries, a full size Jaguar E-Type Roadster automobile, an icon of this Swinging period; in the next room, Kenneth Anger's early film "Kustom Kar Kommandos" (1965). I saw both on a recent visit, seeing Anger's film for the first time since my adolescence and was lulled by the dreamy pink technicolor images bathing the denim & leather-clad teenage boys whilst they probe the exhaust pipes with their hands and obsessively buff the body of their prized automobiles. Anger's original intent for "Kustom Kar Kommandos" was to create a feature-length film centering on the role of cars as fetish objects among young American males. In the film, the machismo of the automobile and the male subjects are diffused with a highly camp, fluffy feather-dusting cloth that hovers above.
On the open road to capitalist freedom, the car and motorcycle have long been cherished symbols of individuality. In Anger's film, we are presented with a double fetish object of the automobile and also the homoerotic male sex subject as object. Upon entering Morag Keil's recent exhibition, "Passive Aggressive" at Berlin's Eden Eden, one is confronted with a video loop of several parked motorbikes filmed on the streets of Berlin. The camera obsessively gazes over the contours of each vehicle in a manner similar to a killer with its victim. It reminds me of the protagonist of Michael Powell's 1960 film "Peeping Tom" in which a voyeuristic director is so driven to capture his subjects' expressions of fear, he documents himself murdering them. However, there is no subject here in Keil's loop, instead we only see objects. The gaze is not sensual; but rather, aggressive and clinical. This objectifying survey is interspersed with candid shots of the camera poking through various holes and exhaust pipes of each motorbike in a comic fashion. The mood shifts quickly from mildly disturbing to banal and back again. I go into the next room to find the same video, synced with the first; I go on to find the same video installed (all playing in synchronicity) in each of the venue's six rooms. Is this a passive aggressive act? Is it the titular one? According to the press release, the title speaks to "a balance of two approaches in the video, bouncing from passive to aggressive and not sticking with either one." So is it more a fluid exchange between these binaries?
To my mind, the installation of the show is totally "passive aggressive" but in this it is also abjectly humorous. Walking into the exhibition to see a video only to see it repeated all over the space at first makes one feel mocked. The work itself has an oppressive glance (which is enhanced by its installation). There is no escape. It teases one for bothering to show up. However, then the humor calls again, enough to make one feel it was worth visiting after all. Descending to the basement and realizing that, sure enough, two more videos await, you cannot help but giggle. The repeating gesture is a pose, albeit a self aware one – and it plays with this position. Not only is the experience of viewing made pornographic in a sense, with the repetition and ubiquity of screens, but the content of the video plays with the codes of 'sexy,' too. Focusing on the bike's curves and tracking its contours with the lingering camera shots or wandering hands, this sexually charged kino-eye presents the motorcycle as a slick hardbody but is in fact utterly sarcastic and banal. The dramatic filming of such a sexually branded object is borderline camp in its approach. It mocks this "sexiness" asking where it really is, if it exists at all. The motorcycle (like the video itself as "work of art") is here placed on the voyeur's peep-show pedestal only to be knocked back off. "Passive Aggressive" reminds me of the "Happy Slap," a 2005 camera phone craze in which a user would go up to an unsuspecting victim and slap them while simultaneously filming the act, usually uploading the clip to YouTube or otherwise sharing it among peers.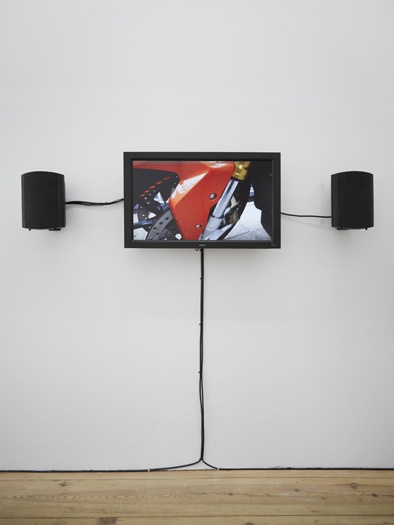 "Morag Keil: Passive Aggressive," Eden Eden, Berlin, 2016, installation view
The loop is repeatedly interrupted by advertising memes – a winking female eye, cutesy animations implemented for banking, investment, and energy adverts – intended to seduce the viewer into making a relation with their brand (Zuckerbrot & Peitsche or sugarbread and whip). Other interstitial clips include shots of phallic trains going into tunnels and Super Mario Mushrooms at accelerated speeds. It is the gaze of advertising, of a social media feed constantly looking with an endless appetite processed by Keil's gaze as it simultaneously isolates a fetish object so cherished by macho culture. (Indeed the clichéd, female winking eye is thus sarcastically used against its original meaning.) In his essay "Posing,"[2] Craig Owens discusses the male gaze and voyeurism in relation to the peep show booth images in Victor Burgin's 1978–79 "Zoo 78" photo series. Referencing Freud, Owens notes how the activity of the drive is making oneself seen. "The subject in the scopic field, insofar as it is the subject of desire, is neither seer nor seen; it makes itself seen. The subject poses as an object in order to be a subject."
In "Passive Aggressive," Keil juxtaposes the images of the motorcycles with audio recordings of an argument from Big Brother (the British TV series in which contestants, required to live communally despite being pitted against each other, play roles in order to be liked enough to stay in the house so that they can win the big cash prize). The communal food budget is to be divided into multiple smaller, personalized ones and we hear the contestants bemoaning their desire to share. The show's logo is a huge eye beaming back at you – a gaze that you, in turn, can share in as you watch, callously judging the contestants as they play out their struggles on TV. Cue Theresa May's scrapping the EU Human Rights Act in favour of a Snooping Bill, heightening the current climate of paranoia and insecurity.
In "Passive Aggressive" you are not invited but, rather, confronted by "Motorcycle Emptiness."[3] Meanwhile, the interruptions that articulate each new cycle of the show's incessant run throw a banana skin in its path, slipping up its flow. In a sense, what Keil gives us is a confrontation with the spectre of self-realization and it's not a pretty sight.
"Morag Keil: Passive Aggressive," Eden Eden, Berlin, September 13–October 29, 2016.
Notes
| | |
| --- | --- |
| [1] | "Morag Keil: Passive Aggressive," Eden Eden, Berlin, 2016, installation view |
| | |
| --- | --- |
| [2] | Craig Owens, "Posing," in: Beyond Recognition: Representation, Power, and Culture, University of California Press, 1994, p. 215. |
| | |
| --- | --- |
| [3] | "Motorcycle Emptiness" is a song by the UK indie band Manic Street Preachers from their 1992 debut album "Generation Terrorists." |