64
Fake Left, Punch Right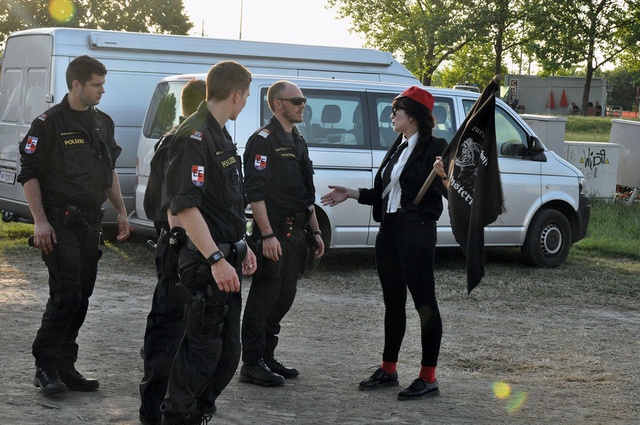 Christian Kern ate Leberkäs in Vienna's Simmering district again today. He peddled there on his bike in a suit … one look at a well-dressed Austrian man and suddenly everyone is confused. "And how much does a designer suit like that cost?" one journalist ventured. "I don't think it's a question of money so much as taste." Boom. Sunglasses on, Instagram team pulling up the rear, not a chance. Last photo on his Facebook profile as Austrian Federal Railways' CEO: selfie from a Muse concert. Austrian Chancellor Kern in his office in front of a painting by Esther Stocker (Capricorns love structure); Chancellor Kern at a talk with economist Mariana Mazzucato at the Bruno Kreisky Forum for International Dialogue, Kern's provincial English dazzlingly charming – I mean his pronunciation, not his vocabulary. It makes sense that Kern, our model start-up socialist, quoted Mazzucato in his speech, Mazzucato being the author of "The Entrepreneurial State," which tries to break the black-and-white dichotomy of state and market, showing that the cliché of public sector torpor v. "dynamic" private economy is false even in America, where many successful products like the iPhone depend on "basic research" from state-funded institutions like NASA, for example. But then those same manufacturers balk at the idea of paying more taxes. The cliché isn't true in Austria either: the galleries here receive "trade fair funding," which is to say their booth at Frieze, etc. is mostly paid for by the Austrian Federal Chancellery. Their clients at those fairs might also be Austrian museums, buying things with acquisition subsidies from the Austrian Federal Chancellery. This isn't a criticism; after all, Austria only has two collectors. So of course the state has to jump in to avoid international embarrassment.
Why do I write that? To be "Right" or right-wing essentially means to consider the state obsolete and patronizing, to want to dismantle it piece by piece (Steve Bannon); to be "Left," meanwhile, is to oppose the market, etc. But millennials have decided that "Right" and "Left" no longer mean anything to them anymore. The Right now co-opts leftist aesthetics – e.g., the Identitären (identitarian) movement with its polo shirts, New Balance sneakers, and Greenpeace-banner style at the Brandenburg Gate or Burgtheater, protesting the "Great Replacement." Recently, the new young [Austrian] conservatives known as NEOS made a video clip opposing excessive bureaucracy and tax burdens affecting the so-called "new self-employed," criticizing the fact that there is no unregulated, unfettered market here [in Austria]. The clip shows a young "creative," a Bobo with a beard and a woolen beanie, being pursued by Anonymous mask-wearing figures wielding SVA (social insurance institution for the self-employed) and WKO (chamber of commerce) flags, that is, until he collapses along the Danube canal to heavy metal music and finally awakens from this nightmare, lying on his desk, to gasping sounds and the hashtag #exhale, the campaign slogan. So who is this clip addressing? Conservatives often stress that, in Austria, the real "high achievers" are invariably put down. I can still remember one Austrian People's Party poster: "I want a city where success brings recognition and not envy." And yet envy is the most honest of all feelings. In 2017, the Social Democratic Party accordingly declared that "high achievers […] are not the ones who live on assets and dividends, but the middle class." Does the middle class even still exist?
"Thanks to politicians, useless artists can shamelessly live out their egomaniacal self-representation at the expense of others while beating the taxpaying electorate over the head with one moral stick after another." That's the kind of thing people post in the Austrian online forum on the subject of travel grants for artists. Actually, it's a fantastic job description; perhaps someone should write it in the "Applications" section of the art academy's website? Many artists in this country appreciate conservative politician and former governor of Lower Austria Erwin Pröll for his generous art grants. It seems many collectors in America are Republicans. I have heard that one refrains from direct criticism of Trump in front of them. Everyone depends on something.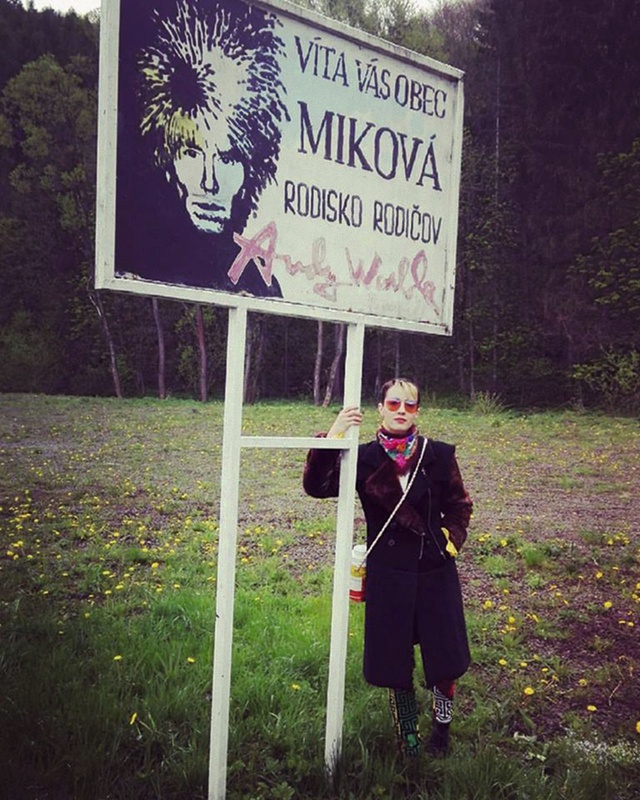 Verena Dengler, 2017. Facebook update
I grew up in the real, old-school Red Vienna. I always get along with East Germans better than West Germans; we have a similar sense of humor. The Secession had a show of East German art in the 1980s. Some years later I wrote in my diary: "2/7/1995 Aja. I was there on Saturday: 'T-Shirt-Batik' by the Socialist Youth, Club Morgenrot, free with Jugend-in-Wien (Youth in Vienna) voucher." Jugend in Wien – they still have that, a City of Vienna-sponsored youth program for the advancement of such and such … to us, it meant cheaper concert tickets subsidized by the state. The program stems from the idea of a public educational holiday substitute for children of low-income families who stay in Vienna during school breaks and cannot go on vacation. I did it a lot – it was my first university education, you could say.
Many Austrian state offices are held by fraternity members who know each other through the university students' societies known as Burschenschaften . The oldest fraternity is the Burschenschaft Hysteria. They and the Freemasons surreptitiously divvy up the top Austrian art and cultural life positions among themselves.
And then 2016 came along, with a challenge to the results of the federal presidential run-off election. The Green Party candidate, Van der Bellen, tried to steal the homeland card from the Right by constantly wearing a Trachtenjanker (Austria's traditional lambswool jacket) and making cameos at a string of traditional folk festivals. "VdB on the campaign trail: Marillenkirtag in Spitz (Lower Austria), Seefest in Mondsee (Upper Austria), Kräuterfest in Sprögnitz (Lower Austria), Italian Night in Voitsberg and Schilchertage in Stainz (Styria). Now he's heading to the duel at Neustifter Kirtag in Vienna!" (Facebook 8/19/2016) People only kind of bought it. Several of his election posters had the words "Baltic Jew" smeared over them.
In 2000, my senior year of high school (the same year as Schlingensief's "Container"), [1] French camera crews came to our school to interview us and ask if we'd had any kind of history lessons – right-wing Austria and its blue-black (far right-conservative) coalition government was a political pariah and concerts of the Vienna Philharmonic Orchestra were being boycotted all over Europe. We demonstrated in the streets every Thursday; on vacation we put a sticker on our car that said "I didn't vote for Haider." And that was considered normal! Everyone depended on this stereotype; it made the world nice and simple. We are the people (i.e., the Nazis) in need of constant personal and external controls, etc. And now suddenly we're the leftist, green rays-of-hope applauding the European parliament while fascism has come to America? A topsy-turvy world indeed! We really didn't need to export all of this to the United States, though – psychoanalysis would have been enough.
Translation: Amy Patton
Notes
| | |
| --- | --- |
| [1] | "Ausländer raus! Schlingensiefs Container" was a TV show, created in 2000 (following the election of the Freedom Partry's Jörg Haider to the National Council of Austria) by Christoph Schlingensief, filmed in the style of "Big Brother," within the confines of a shipping container in Vienna. |