215
Katie Serva on "The Overworked Body: An Anthology of 2000s Dress" at Ludlow 38 and Mathew Gallery, New York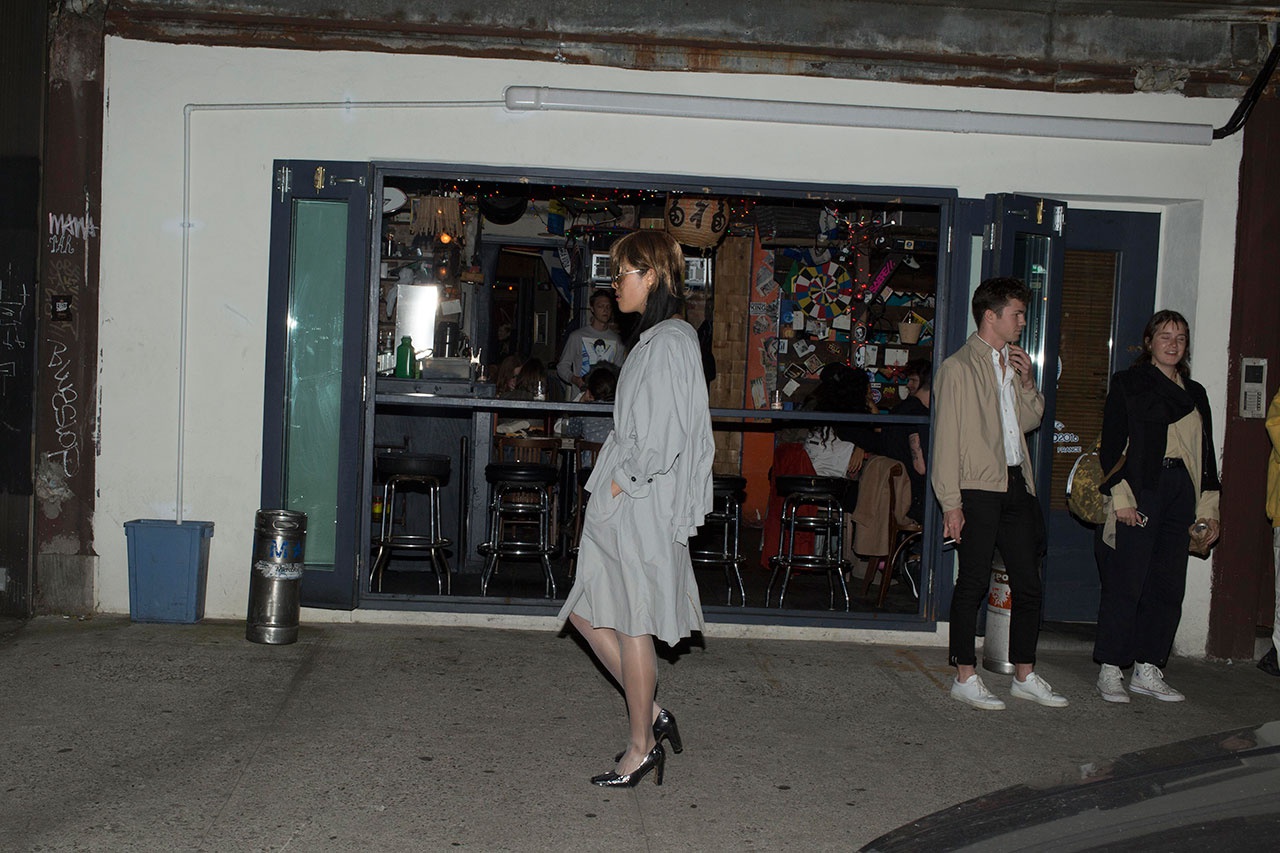 View "2000s Runway" performance, NYC, Oct. 18, 2017, for "The Overworked Body: An Anthology of 2000s Dress." Foto: Dillon Sachs
As the millennial turn fades from our ideation of "now," the way we dressed in the early 2000s is coming into view. Unlike past moments, however, which could be quickly summed by such style hallmarks as the power suit or grunge, fashion of the aughts is perhaps better characterized by the changing status of the body as social-professional activity shifted, seemingly overnight, from a more or less analog register to hyper-connected post-Fordist screenspace.
This fall, curator Matthew Linde took a stab at framing aughties style with his two-part New York exhibition "The Overworked Body." Here, Katie Serva, having lived and worked in New York's fashion channels since the '90s (and with, and around the material on view) gives her take on this show.
Before I graduated from design school in 2000, I would rush to the city's better newsstands to pore over the oversized (and expensive) "collection magazines" as soon as they came in, some weeks after the shows had finished. Neatly organized, with names like Collezioni and Fashion Show! , these imported tomes provided partial access to the runway looks and obscure labels withheld by the industry's stingy image release practices, a precious resource to a fashion student in a time before every look was immediately uploaded in high resolution, made searchable, swipe-able, tag-able, downloadable, and printable (not to mention the pool of bloggers, celebs, and buyers posting intel in real time). The transition from one mode to another was almost imperceptible: the channels of media quietly realigning as phones became cameras and paper gave way to the screen, until the garments (along with the ways of presenting them), which were likewise evolving in turn, could no longer be sufficiently represented by the once seemingly comprehensive "collection magazine." From the vantage of today's media ecology – where sites such as style.com and the like, functioning as live portals to full collections, feed fast fashion consumption and visual production – this '90s format now appears as the niche, curated object it always was.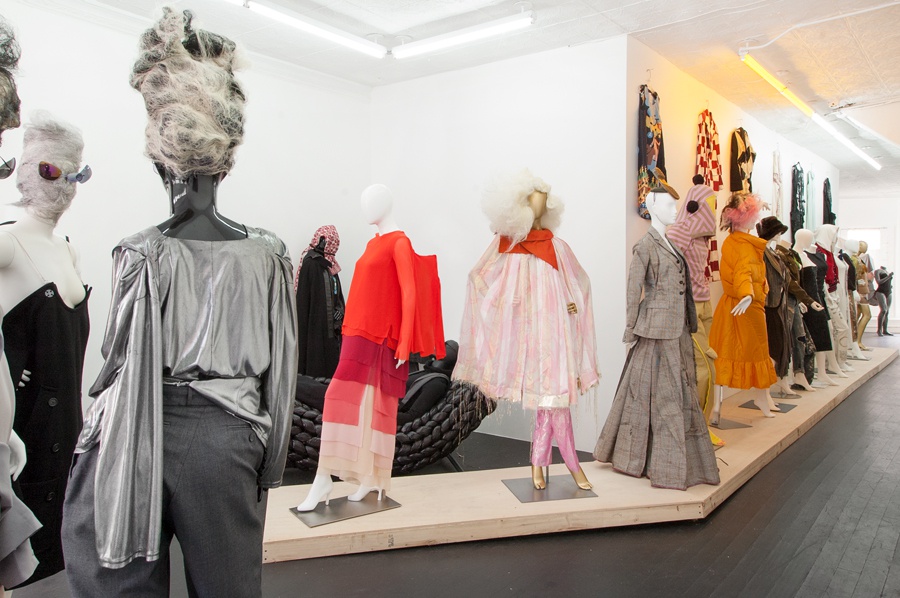 "The Overworked Body: An Anthology of 2000s Dress," 2017, Mathew Gallery, NY; installation view
But what about this transitional decade? How can this confused early post-millennial interval, when the printed fashion tome lost relevance, this era of media dispersion and the aesthetic mash-up it at least in part engendered, be circumscribed – much less from such close historical distance? A pioneering attempt was offered in New York this fall by curator Matthew Linde (founder of the Melbourne-based fashion exhibition space Centre for Style) in the form of "The Overworked Body: An Anthology of 2000s Dress," a two-part exhibition at Mathew Gallery and MINI/Goethe-Institut Curatorial Residencies Ludlow 38. Citing Cecil Beaton's 1971 "Fashion: An Anthology" at London's Victoria and Albert Museum, Linde presented his personal interpretation of the ambiguous styles of the "aughts." Inclusive but leaning toward the avant-garde, it included actual items by over 50 designers, [1] as well as show footage, various publications from the '00s, and live performances, to form an aptly schizophrenic take on what Linde describes as "an overloaded and overworked" period in fashion.
More accurately, that description might be qualified as the arrival of such a time. The fast-fashion micro cycles of H&M and Zara, soon mirrored by the jump to as many as eight collections a year generated by more upmarket brands, have yet to slow, even if destabilizers such as Vetements signal an impending shift with a "see now buy now" model. What is different about the present in contrast to the early to mid-aughts is that fashion must now always and instantly be "image ready" for short attention spans, often trading subtlety for maximum visual impact. Much of the work in "The Overworked Body" was made before the advent of social media, which is to say at a point when such quiet concepts as brand anonymity and the decomposition of clothing could claim viral power contra Versace or Prada as they circulated on slow burn through the oblique editorial of Vogue alternatives such as Purple , Self Service , A Magazine , and Bernadette Corporation's Made in USA . Martin Margiela (whose namesake house is now helmed by Galliano) in particular was a brand shrouded in secrecy, its nuanced output being the work of a man who never gave interviews or showed his face (contrary to the ubiquitous, publicly exploited "creative director" role of late). The seldom-seen video collaboration between Margiela and artist Marina Faust (sourced by Linde for this show) is a greyed, languid pastiche of pieces from 1999–2004 shot simply against a white wall. When the camera's unwavering focus lingers on a simple brown corduroy vest, it feels almost defiantly mundane. The straightforward demonstration of the Belgian designer's brilliant "duvet" coat and its series of convertible covers – repeatedly changed like a bed – unfurls more methodically than current appetites might prefer; and yet to watch it again, it still completely transfixes.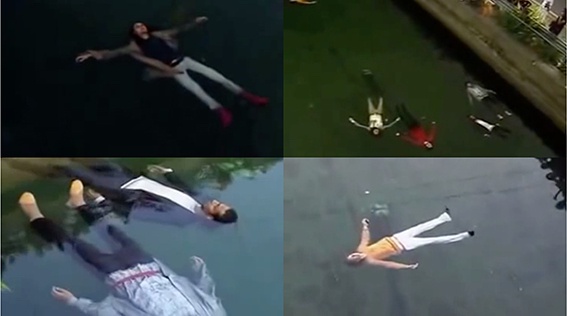 Carol Christian Poell, SS 2004 presentation "Mainstream-Downstream"; video stills.
While the exhibit managed to pack in an impressive number of physical garments within the two modestly sized Lower East Side venues given over to this show, it was the extensive video program that, making apparent the social context in which this clothing emerged, made it all gel. Showcasing high-concept alternatives to the traditional catwalk, some of these videos could now be seen, here, as real-time precursors to the "fashion film." This is true of the video for the SS 2004 "Mainstream-Downstream" presentation of revered Austrian menswear designer Carol Christian Poell, who floated his male models motionless (as if dead bodies) down Milan's Naviglio Grande canal to the sound of intermittent chatter from confused onlookers above. A comment on what Poell saw as the homogenous state of menswear, the luxury fabrics that clothe them are ruined by the polluted water as they drift mindlessly and powerlessly with the current. Or take the military-themed AW 2004 show for Belgian duo A.F. Vandevorst, wherein models emerge from black limousines pulled up to the back end of the runway, evoking secrecy and executive power; or the poignant video of Alexander McQueen's SS 2004 performance, which reimagines the ultimately tragic "They Shoot Horses Don't They?" as a Michael Clark-choreographed piece, featuring both models and professional dancers performing frantic, dislocated movements. Arguably most arresting to watch, though, was Hussein Chalayan's watershed 2007 collection of remotely controlled robotic dresses that unzip and change shape, dramatically self-adjusting their silhouettes. It's quite the memorable trick, given that the motors and pulleys throughout these garments are practically invisible despite being sewn into the lightest of fabrics. This show remains one of the most storied fashion moments of the time and left stunned critics to wonder if this was in fact the future – though a decade later, it would seem that wearable technology has still yet to catch up.
But then a 2001 Imitation of Christ film comes on and breaks me from my reverie. The label's reworked (but not enough) vintage aesthetic and celeb-heavy casting hinted at the fame-obsessed climate to come; and when Reese Witherspoon and Selma Blair enter the frame, it feels decidedly like an invasion. Of course, New York fashion has always had a vital social undercurrent – from Susan Cianciolo's Run restaurant at Alleged Gallery, which functioned as a meeting place and actual restaurant ($10 meals!), to the downtown following of the late, beloved Ben Cho. The electricity of Ben's spirit and ingenuity (a dress that uses knitting needles and mannequin arms at the shoulders to create the illusion it's crocheting itself comes to mind) also spilled into the city's nightlife: "Smiths Night," the weekly Sunday night party he co-founded at Sway, perfectly encapsulated the '00s NYC scene.
What captivated me most in this exhibition were Linde's less familiar choices (no doubt the fruits of some arduous Tumblr research), and how pieces from the graduate collections of Central Saint Martins and The Royal Academy of Arts Antwerp now appear to sit seamlessly beside the likes of Issey Miyake, Jean Paul Gaultier, and Raf Simons, or Rodarte's collaboration with Target (the merging of designer and "high street" gained prominence in the early 2000s and remains ubiquitous in today's retail strategy, a phenomenon recently taken further by Telfar Clemens, who, of his own accord, designed the new uniforms for American fast food chain White Castle, which 10,000 employees will wear). With Annalisa Dunn's freeform patchwork of knitted stripes or Hideki Seo's cartoonish stuffed horns, Linde shows us the student work that represents mostly pure, fleeting moments free from the concerns of mass production or catering to a market. And yet he doesn't deny us such institutionally ordained efforts as French couturier Adeline André's immaculate 21-armhole chiffon dress. Yards of sheer single-armhole panels are reminiscent of paper dolls when unfurled, but as each pass of the diaphanous material wraps around the body, the layered garment grades darker in color and shorter in length. The result is a slim ombré gown with delicately built-up shoulders that requires assistance to put on (the designer herself was in attendance at Mathew gallery for a single demonstrative performance). Pivoting off this, Linde also included runway footage of KEUPR/van BENTM's play on the carnivalesque clichés of couture, the obscure Dutch duo contradicting their minimalist millennial peers with outlandish "hybrid" garments of one pant leg, half a gown, or a portion of a jacket, worn simultaneously to appear as completely different configurations depending on the angle of the viewer. In both galleries, the video's chopped-up soundtrack (an early collaboration with famed sound designer Michel Gaubert) played as if an exact audial equivalent to the designs: the catchiest snippets of "Funkytown" and "Careless Whisper" mixed crudely together, echoing sickeningly through the space.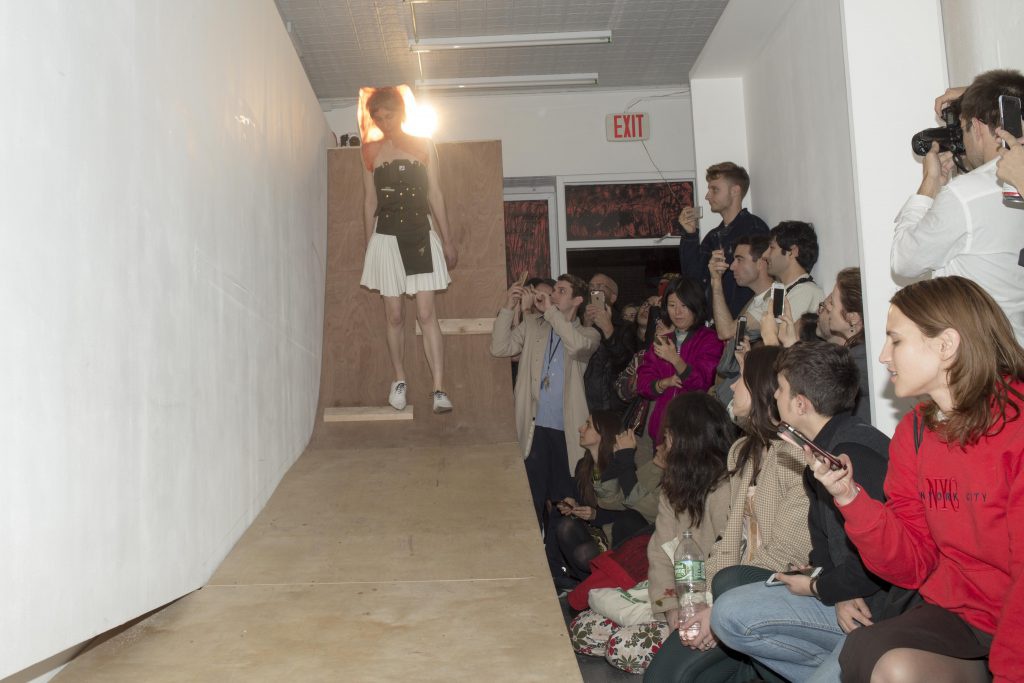 View "2000s Runway" performance (Oct. 18, 2017) at Ludlow 38, NY for "The Overworked Body: An Anthology of 2000s Dress." Foto: Dillon Sachs
For a final closing performance, models styled in looks from the exhibition walked the short distance from Mathew to Ludlow 38, where they gleefully utilized the catwalk ramp that took up most of the latter's narrow space. Unwitting passersby could not have guessed what unified this parade; would it have been so hard to tell had it been any other decade being reenacted through clothes? Very likely, no. What makes the fashion of the aughts so distinctive is its lack of distinctive qualities – or at least as could be employed to describe a certain silhouette or set of dominant material preferences. Rather, style, in the age of image proliferation and microtrends, would seem to move so quickly it can't yet really be seen, or at least not so easily named. Perhaps with a greater range of hindsight, other qualities will at some point become visible, much in the way that '90s fashion trends, however disparate, can now be understood vis-à-vis the shift to globalized production and their "no logo" backlash to the performative consumerism of the '80s. For now though, it could be just fine to let '00s style circulate without fixed narratives. Linde didn't bring cohesion to this period, but that's hardly a failing. Indeed, the rush of indeterminacy and the plurality of ways in which '00s aesthetics were represented felt both right – and right on time.
"The Overworked Body: An Anthology of 2000s Dress," MINI/Goethe-Institut Curatorial Residencies Ludlow 38 and Mathew Gallery, New York, September 10–October 15, 2017.
Notes
| | |
| --- | --- |
| [1] | Including works by 20471120, A.F. Vandevorst, Adeline André, Alexander McQueen for Target, Andrea Ayala Closa, Andrew Groves, Anke Loh, Ann-Sofie Back, Annalisa Dunn, Arkadius, As Four, Benjamin Cho, Bernadette Corporation, Bernhard Willhelm, BLESS, Carol Christian Poell, Christophe Coppens, Comme des Garçons, Cosmic Wonder, Dorothée Perret, Dutch Magazine, FINAL HOME, Helmut Lang, Hideki Seo, House of Holland, Hussein Chalayan, Imitation of Christ, Isaac Mizrahi for Target, Issey Miyake, Jean Paul Gaultier, Junya Watanabe, KEUPR/van BENTM, Kim Jones, Koji Arai, Kostas Murkudis, Lutz Huelle, Maison Martin Margiela, Maison Martin Margiela and Marina Faust, Miguel Adrover, Number (N)ine, Organization for Returning Fashion Interest, Proenza Schouler for Target, Purple Fashion, Rodarte for Target, Shelley Fox, Sophia Kokosalaki, Stephen Jones, Susan Cianciolo, Tao, Telfar, Undercover, Victoria Bartlett (previously VPL), Viktor & Rolf, Viktor & Rolf for H&M, Walter van Beirendonck, Wendy & Jim, Yohji Yamamoto, and ____fabrics interseason. |