186
Canon Fodder
Julia Pelta Feldman on Charline von Heyl at Petzel Gallery, New York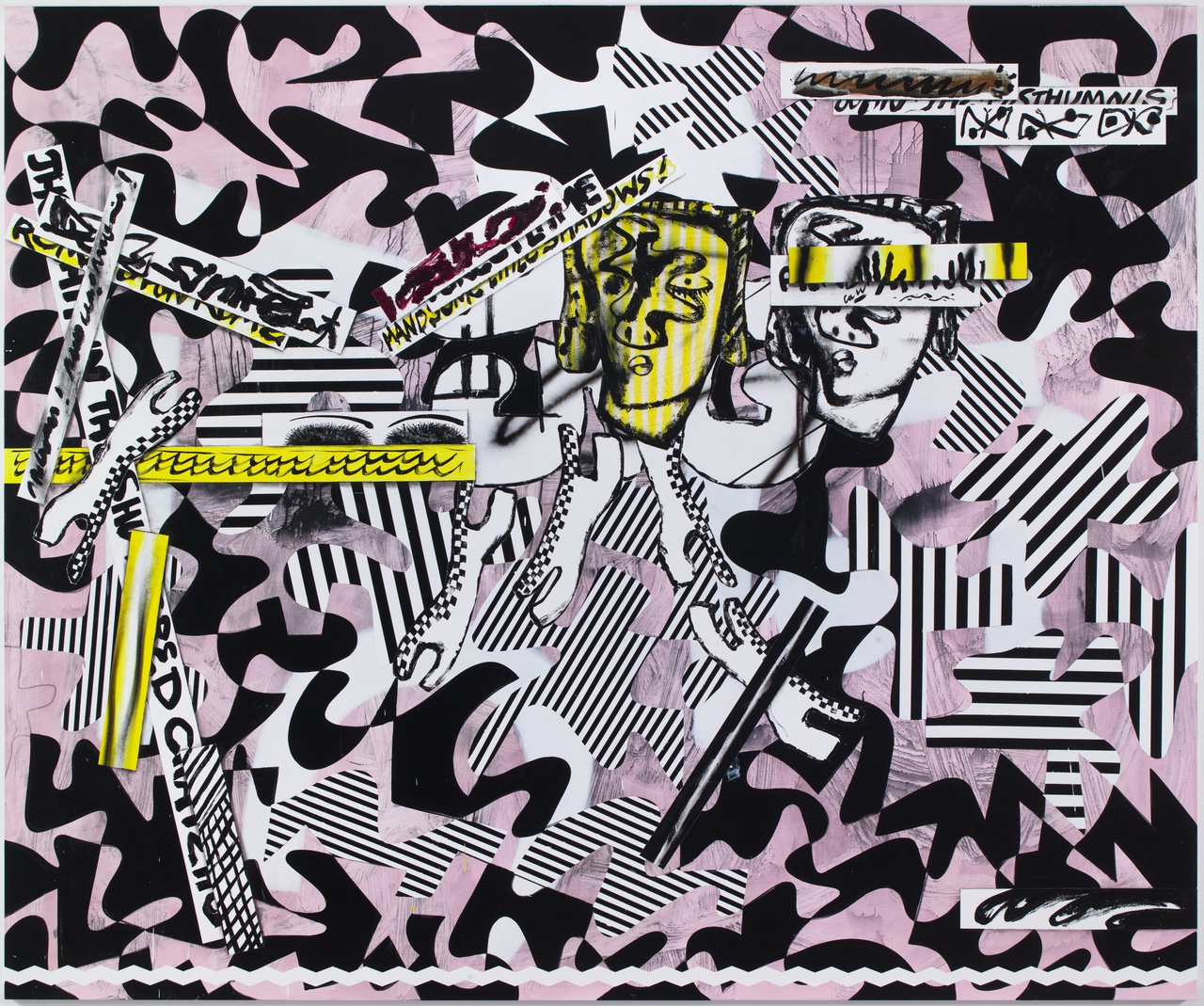 Charline von Heyl commands a formidable arsenal of painterly gestures − an array of styles, techniques, and textures that she uses to construct her unique take on the medium. Within this variety, a consistent thread runs through her work, and is an ongoing source of its power: the ability to effectively combine multiple idioms on a single canvas. Her works anthologize the history of painting's devices and maneuvers, juxtaposing resolute flatness with realistic modeling, the colorful with the monochrome, the gestural with the hard-edged, abstract forms with figuration, acrylic with oil. The recent paintings on view at Petzel look like many different paintings, cut out and layered on top of one another; sometimes they are precisely that. In "Mana Hata" (2018), fire-engine red dots a rabbit-shaped background of bright, shiny white, a cut-out of canvas that has been applied, with all the subtlety of amateur Photoshop, to a moody composition of desaturated metallics, purplish and greenish, interwoven with sharp black. The effect is one of shocking unity. Visually, the difference between a collaged piece of canvas and a shape determined by painter's tape can be subtle, but it is indeed perceptible. Von Heyl appears to wield her scissors impatiently, so that instead of the smooth, continuous curves of the paintbrush, the appliqued forms are composed of short, straight lines, as if their curves had been pixelated − yet another contrast that von Heyl profitably exploits.
Instead of insisting on their collaged flatness, long rectangles of canvas stuck onto "The Language of the Underworld" (2017) are given soft shadows, like captions in a comic book. The point is reinforced in the partially obscured text, "Handsome little shadows!" The paintings are neither narrative nor literary, though the cheeky titles and occasional bits of text suggest von Heyl thinks of them that way. Faint script on "Vandals without Sandals" (2018), in which figural fragments are scribbled onto a hazy brown veil overlaying pink patterning, reads "Gelbe Hose Blauer Frack" − the clothes Goethe's Werther wore to take his own life. The literary reference feels extraneous; though the titles are evocative, the paintings themselves evoke nothing so much as painting itself.
No canvas adheres to any one style, but a few seem to nod to particular moments in painting's history: "5 Signs of Disturbance" (2018), black over white on brown linen, has a 1980s graffiti look, while in "Dial P for Painting" (2018), a vintage-style rotary telephone sits beneath a de Kooningesque cloud; both elements, along with the Hitchcockian title, contribute to a '50s feeling. Because she uses so many different techniques, von Heyl's own style is not easy to summarize or pin down − often something of a liability in the blurb-driven art market, though the artist feels that "every one could only be a von Heyl painting." [1] Nonetheless, many of the works in the Petzel show bear a family resemblance, and there is something satisfying in seeing them all together.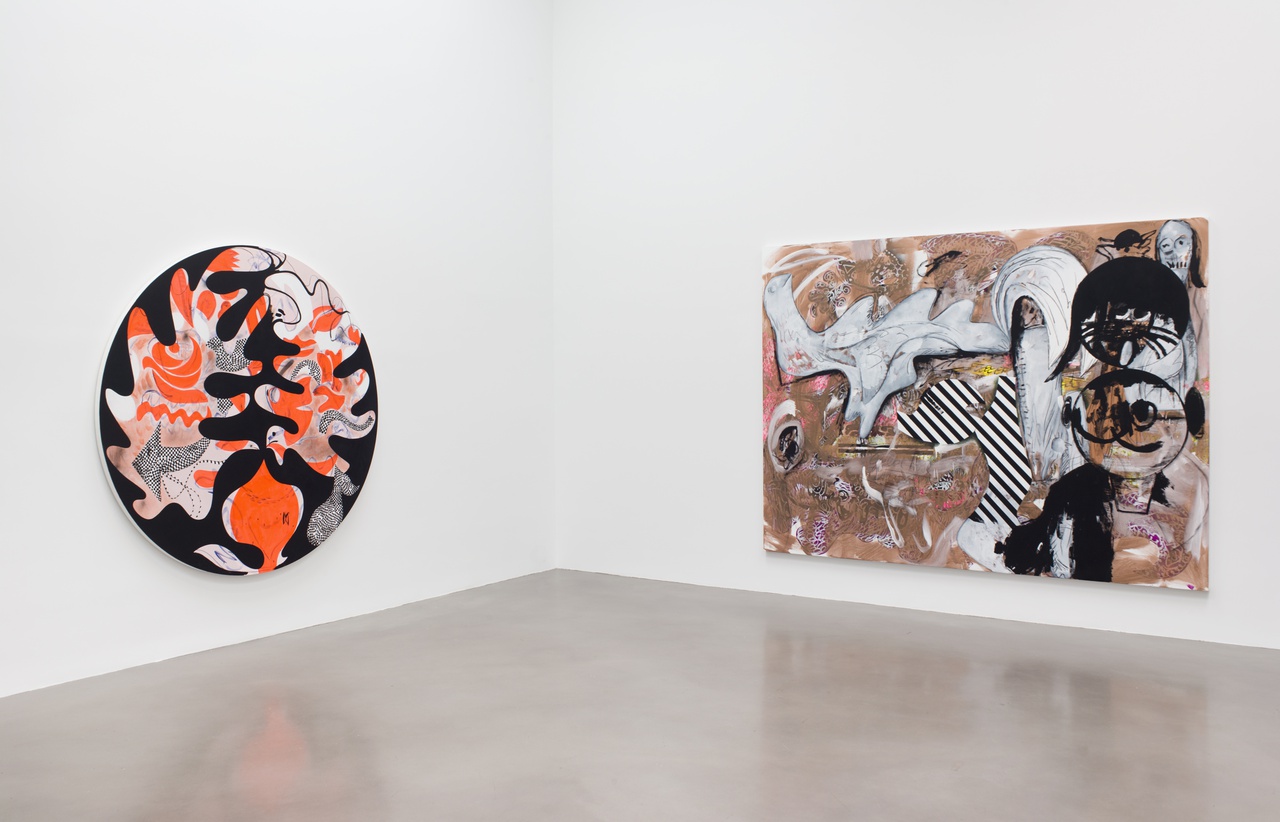 Most of the paintings here feature a common grammar, and even common forms. But for von Heyl, repetition is a form of invention. Matte black teardrops and hearts appear like bats hanging from a cave or holes in the canvas. The blobby appendages of the Picassoesque doves in "Vandals without Sandals" and "Tondo" (2018) recur as oak leaves in "Corrido" (2018) and abstract patterning in "Poetry Machine 2" (2018). All three "Poetry Machine" paintings include the silhouette of a woman's head, filled in with orange scribble and topped with a chignon. Von Heyl has prosopagnosia, the inability to recognize faces. It's tempting, therefore, to read the image of the effaced face as autobiography − which amounts to another notch on von Heyl's belt.
Despite the accretion of painterly tropes, the work is hardly academic; it is evident that von Heyl proceeds not by checking boxes off of a list, but by continuous, ruthless experimentation. Each canvas's dense accumulation of layers attests to this. "I will run with the painting, like it's a dog on a leash," von Heyl explained, "chasing and almost falling behind it." [2] It's not only the viewer she hopes to catch off-guard, but also herself.
If painting is a language, then von Heyl's complex paragraphs − pastiches of conflicting genres, passages in styles cribbed from canonical voices − will be best understood and appreciated by those who are fluent in that language. "I have an alphabet of tricks, an alphabet of color," says von Heyl. [3] I am not a painter; looking at von Heyl's work, I feel keenly that I would see still more if I were.
Yet I do not think that von Heyl, for all her intelligence, skill, and feeling, and for all the truth there is in the pronouncements that she is among the finest living painters, will change the mind of anyone who believes − and there are many of them out there, whether they cop to it or not − that painting as a medium is essentially exhausted. It's not that she's preaching to the converted, exactly; it's that one must already love the language she uses in order to be persuaded by what she's saying in it.
Still, von Heyl claims that her painting is not about painting. By this she means that she paints in pursuit of a "new image," [4] rather than to demonstrate her materials and process. Indeed, in order to ensure that her paintings are not read too materially, she sands them down if the paint grows too thick. And to be sure, while evidence of her process is there to be found, much more has surely been destroyed or buried in pursuit of the final picture, and it is impossible to forensically reconstruct the development of any canvas, as one is sometimes tempted to do with Jackson Pollock. But imagery, too, is part of painting − at least it was before Pollock − and what von Heyl shows us is just how much "painting about painting" can actually be about.
"Charline von Heyl: New Work," Petzel Gallery, New York, September 6−October 20, 2018.
Notes
| | |
| --- | --- |
| [1] | Claire Barliant/Christopher Turner, "Painting Paradox: Interview with Charline von Heyl," in: Modern Painters, Summer 2009, p. 46. |
| | |
| --- | --- |
| [4] | Farago, "An Interview with Charline von Heyl." |