120
CINEMA WITH/IN HISTORY
Techniques of Affect, Strategies of Mediality, and Processes of Multidirectional Memory in Contemporary Art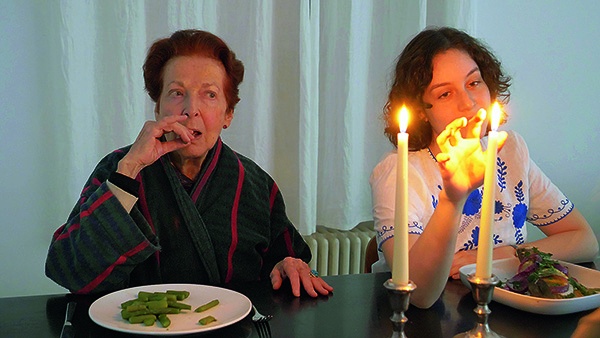 Multidirectional memory, the historian Michael Rothberg has argued, is an affective process of collective remembering, over which no homogeneous community exercises sole ownership. Polyvalent and empathetic perspectives on perpetrator–victim relations then supplant the futile battles for discursive hegemony. The problem of the representability of the Holocaust thus appears as being, in part, a matter of whether alternative narratives about it are conceivable: a question concerning the improbable, the imaginative, that retrospectively endows what went unrepresented with possibility. Discussing films by Dani Gal, Keren Cytter, and Roee Rosen, the art historians Noit Banai and Sabeth Buchmann show how ties of solidarity between diverse forms of trauma and recollection necessitate intersections between different histories.
I.
The artistic confrontations with historical and contemporary forms of anti-Semitism examined in the present essay refer to cinematic modes of perception that link the aesthetics of memory associated with the Shoah to broadened conditions of aesthetic reception and to possibilities of participation in cinematic representations. In doing so, they are reminiscent of Adorno's verdict, which identifies a turning point for modern aesthetic discourses. Formulated in 1949, and still highly controversial, it asserts that "to write poetry after Auschwitz is barbaric" [1] . However, the reassessment of poetry, which Adorno demanded two years later in his 1951 essay "Cultural Criticism and Society," was not intended as a plea for its abolition. Moreover, it addressed in a fundamental sense every form of thought, that is, "also the knowledge of why it has become impossible to write poetry today [after Auschwitz]." [2] Against this background, our examination of exemplary works is guided by the assumption of an awareness of the need to question the pre-conditions of commemorative forms of knowledge within the framework of "autonomous" art genres – an inquiry that typically uses the cinematic nexus of documented testimony and fictional narrative and that exposes the opaque, determined, and limited aspects of modern epistemologies and aesthetics.
In this regard, Alain Resnais's documentary Night and Fog (Nuit et brouillard) [3] is a highly emblematic example of the importance of aesthetic theory for the imaginability of Auschwitz, which has since either been negated or, as in the case of Georges Didi-Huberman, regarded as constitutively imaginable [4] . In 1956, premiering seven years after Adorno's dictum (despite German resistance to its release), the film represents a cinematic initialization that is still effective today, not only with regard to the issue of whether the barbarism of the Holocaust per se calls into question the canon of values of modern art, but also whether and in what form the crimes committed against Jewish or non-Aryan people can at least be presented as a didactic document. This debate continued not least in response to Didi-Huberman's 2007 book Images in Spite of All, first published in French in 2003, in which photographic records [5] made by members of the Sonderkommando in Auschwitz-Birkenau concentration camp are analyzed with the claim that they are to be regarded neither solely as "icons of horror" [6] nor as mere visual information, [7] but rather as "actions" manifested in images. [8] As is well known, Didi-Huberman's book represents in the eyes of his critics an aestheticization and fetishization of those images of horror, which Claude Lanzmann's multi-part documentation Shoah (1985), for example, rejected for being an expression of a "line of reasoning" [9] .
This contrasts with positions such as those of Marie-José Mondzain, whose essay "The Shoah as the Question of Cinema" (2010) recognizes answers to the cruelties of the Holocaust as inscribed in cinema's images, identifying in them an "ethics of passion" that is understood in terms of aesthetic reception. [10] Similar to Mondzain, Griselda Pollock's sustained engagement with the relationship between the image and our contemporary "post-traumatic culture" has led her to analyze diverse visual artifacts through the framework of psychoanalysis. For Pollock, this designation encapsulates a wide range of artistic practices in a post-Holocaust world that is characterized simultaneously by its prolific image production and negotiation of diverse historical events (i.e., settler colonialism, Irish famine, Rwandan genocide, 9/11). Specifically, she claims that the theories of affect associated with different strains of psychoanalysis might be employed as transformative political tools in relation to historical legacies of political violence, economic dispossession, slavery, and colonization and that aesthetics can help us to access trauma as that which "lies beyond graspable knowledge." [11] In a collaboration with Max Silverman, Pollock extends her analysis more pointedly toward a novel form of "concentrationary cinema" – a distinctly European cinematic form of representation that emerged between 1945 and 1955 – whose uncanny ability is to make visible a "concentrationary system" designed by the Third Reich and Nazism. [12] For Pollock and Silverman, the "concentrationary system" is both a historical and conceptual tool: it "relates to a specific space and to the problems relating to both the representability of that space and the legibility of the images created as its witnessing and archiving" and to "a system, enacted in a historically specific time and space, but not identical with that moment alone." [13] Though not specifically employing the language of psychoanalysis, they nevertheless foreground cinema's radical techniques (i.e., disorientation and counterpointed commentary), which have the power "to expose invisible knowledge hidden by a normalized, documentary presentation of a real that could become bland and opaque unless agitated by disturbing juxtapositions and prolonged visual attentiveness." [14] In this form of concentrationary cinema, they locate a new politics of representation.
The concepts, which are only roughly outlined here, represent the programmatic leitmotifs of artistic-filmic productions within the context of contemporary art: as will be demonstrated, their common ground lies in a shifting of the problem of production associated with Adorno's dictum to the process of reception, whereby the ethics of empathy articulated in Shoah cinema connect with and affect contemporary rhetorics of agency – rhetorics that attest to a discursive climate characterized by intersectional and postcolonial perspectives, in which, despite all of the historical and theoretical differences, Adorno's doubts about knowledge as a basis for aesthetic production seem to persist.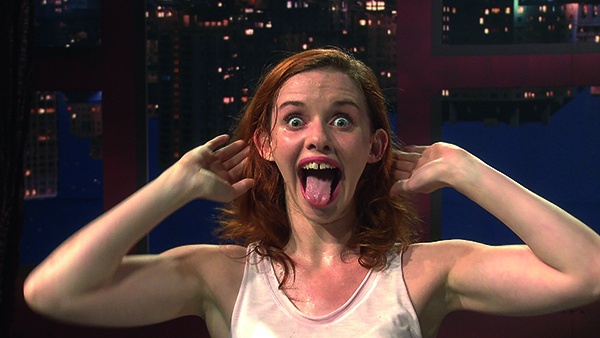 II.
In his film trilogy Night and Fog (2011), As from Afar (2013), and White City (2018), Dani Gal imagines what might have happened in the pivotal "blind spots" of history and suggests that articulating them aesthetically can lead to a "comparative imagining" that is at the basis of what historian Michael Rothberg has termed "multidirectional memory." [15] This intercultural model counters public articulations of collective memory that are premised on an already-established public sphere and competitive or "zero-sum struggle for pre-eminence." [16] As an affective process of recollection that moves away from unique ownership toward a transversal, collective process, multidirectional memory "…is subject to ongoing negotiation, cross-referencing, and borrowing; as active and not private." [17] Coming into being through dialogical interactions between diverse times and places, which are often imaginatively and creatively linked, it is thus perpetually open to reconstruction. In the trilogy, Gal gives form to unlikely historical episodes that have become the basis for the production of multidirectional memory, including Adolf Eichmann's cremation and the scattering of his ashes at sea; a meeting between Holocaust survivor and Nazi-hunter Simon Wiesenthal and Nazi architect Albert Speer; and an exchange between the German eugenicist Hans F. K. Günther and Zionist leader, sociologist, and founder of Jewish settlement Arthur Ruppin. In these constellations, Gal suggests a reciprocal relation connecting the structural and affective legacy of the Holocaust, Palestinian traditions of remembrance surrounding the Nakba, and similar historical traumas and tragedies whose memories pervade the present.
Gal's interest in ambiguous perspectives on perpetrator-victim relationships is evident. In the initial scene of his Night and Fog (Nacht und Nebel), [18] for example, we see actors who portray the Israeli police officers in charge of clearing Eichmann's ashes in front of a crematorium oven – a scene that recalls Jean-Luc Godard's not unproblematic claim that the perspective of the perpetrator is a prerequisite for the "only true," but "never filmed, because the film about the concentration camps is intolerable." [19] Gal's film lets us imagine exactly this unimaginable perspective, but from the point of view of Israeli police officers whose job it is to collect Eichmann's ashes. By way of high-angle shots at the beginning of his film, which correspond to the views from the camp commanders' watchtowers, this appears as a counterpart to the panoptic perspective, and its fragmentary character is revealed in a subsequent, horizontal camera shot of the same scene. The manner in which Gal allows us to take the perpetrator's perspective of the depicted scene, as it were, does not speak of a revisionist relativization, but rather of the replacement of conventional perpetrator-victim relationships by positioning their gaze and the memories attributed to them. The shift in perspective carried out by Gal is based on the disposal of Eichmann's ashes, an event that went undocumented until 2011 and is only corroborated by Michael Goldman, a Holocaust survivor and former Israeli police officer. In the scenographic enactment of the historical and publicly unknown events of the "night and fog action" described by Goldman, an action that the Israeli government under Ben-Gurion undertook in order to rid itself of the remains of one of the worst "criminals against humanity" (Hannah Arendt), one is reminded of Arendt's book Eichmann in Jerusalem: A Report on the Banality of Evil (1964), which reports how Adolf Eichmann's trial took place in a theater. [20] According to Arendt, it was the stated desire of the first Israeli Prime Minister to allow the public to witness a historic event in which the victims were provided with the opportunity to testify for the first time. As we can read from the opening credits of Gal's film, the trial judges ordered the footage taken by Resnais in the camps and the documentary recordings made by the British Army to be shown with no sound – that is, without Jean Cayrol's commentary,– and be projected onto the back wall of the courtroom. Resnais's Night and Fog thus appeared as a silent film with the testimonies of the victims called up as witnesses as a voice-over. [21]
The entanglement of the court, theater, and cinema hall, and consequently of dispositives of testimony and fiction, thus appears in Gal's re-enactment as a condition of empathetic yet cinematically fragmented memories of what is not depicted, made possible by the "re-enacted" perspective of the perpetrator. Gal's re-enactment therefore implies multiple perspectives, given that it involves a cross-fading of court-documented pictorial and oral evidence. This corresponds to the insurmountable impossibility, according to Godard, of portraying the perpetrator's perspective – an impossibility that Gal confronts with the memory of Goldman as one of former victims: if the non-representability of the perpetrator's perspective is based on the ban imposed by the Nazi criminals on documenting everyday camp life, and consequently the bureaucratic-industrial murder of victims and the dematerialization of their corpses, as Godard claims, this structurally impossible perspective is imaginable in Gal's film by virtue of the Holocaust survivor's testimony to "Eichmann's Auschwitz" (Gal), inaccessible to the collective memory, that tells of the removal of Eichmann's ashes, transported in a milk jug to the Mediterranean beyond Israeli waters.
The way in which Gal portrays the silent, stealthy boat trip, by night and in the fog, bathes the sea in black light. Moreover, this depiction is reminiscent of the topos of the "black milk" associated with Paul Celan's "Todesfuge" (1944/48), representing a metaphor for the murderous horror in the concentration camps. The motif of the milk jug also suggests the container that likely held the camera used to clandestinely take the Auschwitz-Birkenau photos later analyzed by Didi-Huberman. Additionally, the jug is a reference to a famous archive of the Warsaw Ghetto, created by a group led by the Jewish historian Emanuel Ringelblum and code-named Oyneg Shabbos (Joy of the Sabbath) whose documents were hidden in milk jugs.
The motif of the milk jug as a multidirectional signifier, on the one hand, invokes the notoriously undervalued Jewish resistance. On the other hand, it reveals a "monument" that has been withdrawn from official memory: Once serving as an urn, it now enters cinematic memory as a prop that shifts the focus of attention from the "leading figure" of Eichmann, immortalized not only through Arendt's report, to "supporting actors" heard and seen for the first time in Nacht und Nebel. Take, for example, the Palestinian fishermen who come into the picture for a brief moment, as accidental witnesses of the secret operation, and who make reference to the Arab-Jewish constitution of Israel. The concept of * (com)passion* corresponds to a dialogical montage that, in contrast to either identificational or provocative rhetoric, pursues a multi-perspective expansion of conflicts of representation by confronting divergent perceptions.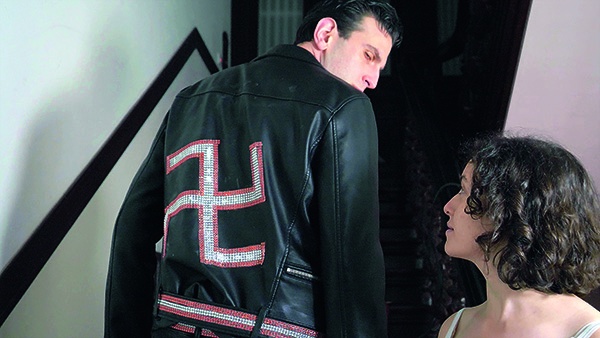 III.
In Keren Cytter's film Fashions (2019), produced for the exhibition "Tell me about yesterday tomorrow" [22] in the Munich Documentation Center for the History of National Socialism in Munich, incompatible yet inherently connected modes of perception also meet. Here, however, they occur with a recourse to a form of coping with the present, torn between moral claims and political agony. Like her earlier French Film (2003) and The Victim (2006), Fashions is also characterized by a meta-narrative interweaving of reproduced script, performative enactment, and media representation, which Cytter once again localizes in the sphere of the private and the intimate. More precisely: in a space permeated by social and erotic affects, which at the same time serves as a resonance medium for fragmented outside worlds connected by television, Instagram, and mobile phones. Filled with obsessive actionism, apathetic participation, and abrupt changes of mood, the coexistence within the film of a white coming-of-age girl, a busy mother, and a stoic grandmother resembles a female Oedipus complex variant to which the "past," embodied by the old woman, falls victim. Between sometimes-excitedly, sometimes-casually consumed TV shows and news feeds, the "content" shared by us, the viewers, consists in the more or less systemic consumption of horror images: for example, in the form of reports about the meat industry, or about Chinese prisoners serving as a "human resource" for international organ trafficking, or in the form of a TV interview with Ramzan Akhmadovich Kadyrov, the Chechen president, in which he demonstrates his homophobia with arguments compatible with the language of anti-Semitism ("gays contaminate the people"). Appropriated from various platforms, the picture-in-picture montages constitute a shift from Pollock and Silverman's "concentrationary cinema" into the economies of attention and affect of their recipients. As such, the disruptive montages give rise to connections and interruptions between the perspectives of the images and the gazes, and thus between "seeing and knowing" (Siegfried Kracauer). Comparable to the essay films of Chantal Akerman and Yvonne Rainer, we perceive the actresses as archetypal characters, shaped by identity, milieu and generation-specific interests and affects, but who also dissect and alienate their lifestyles (nutrition, outfits, animal protection, sex, relationships, etc.). As much as they define themselves by virtue of their moral beliefs, they do not combine to form a shared social reality. While the mother, a canteen cook specializing in fish and meat dishes, is a Falun Gong enthusiast, the daughter is a vegetarian and appears to find negative satisfaction in repetitively recalled slaughterhouse images. Simultaneously, mechanisms of social segregation come to light in Cytter's mash-up of narrative, TV coaching, and performance video genres, such as in the attempts made the daughter and mother to get rid of the grandmother, who has become a nuisance to them. The first shot of the film shows a pithy body-building performer named Daniel Plum, who gives instructions to viewers of his Morning Exercise Show: "look at my face," "now turn your face," and so on. A benevolent Falun Gong-like gesture, in which Plum exercises his biceps and grips the neck of a cast member with an iron stranglehold, tilts into a threatening scenario that becomes obvious toward the end of the film, when the grandmother is cast onto his show and he repeats the grip on her, serving as a literal repression of the past.
As striking as Cytter's Entertainmentfake appears, its form proves to be recursive, for example, by virtue of a semantic reprogramming through user guides and operating instructions (in the case of the mother, this takes the form of obsessive collections of cooking recipes into biopolitically coded life, sex, and death drives. Inasmuch as we observe the protagonists constantly exciting themselves and/or calming themselves down with new footage, we experience them in a prosumistic mixture of "acting and being acted upon." [23] The presented acts of representation and speech appear just as ambivalent as Plum's physical exercises, namely, as a gradual oscillation between the power to act and the exercise of power that threatens to turn into violence at any moment. Hard cuts between images and glances, dialogues and actions, resemble disparate plug-ins from internalized and externalized perspectives of perception. This is characteristic of the swastika symbol that appears in two places – first, on the promotional brochure of the Falun Gong sect, forbidden by the Chinese government, which the mother brings home, and a second time on the back of a jacket, worn by the neighbor who the young woman unsuccessfully attempts to woo with underwear eroticism, and to whom she confesses her "passion." "It's just fashion": that's his answer to her question as to what the symbol is supposed to denote. In the seemingly succinct gesture, in which a ridiculous rhyme downplays the most significant symbol of hatred against Jews to the point of nullification, it is not so much about articulating Mondzain's ethical viewpoint. Instead, it focuses on yielding insight into the dynamic contradictions between seeing and knowing, affect and consciousness, that the concentrationary cinema has inscribed in the perception of images oscillating between horror and spectacle.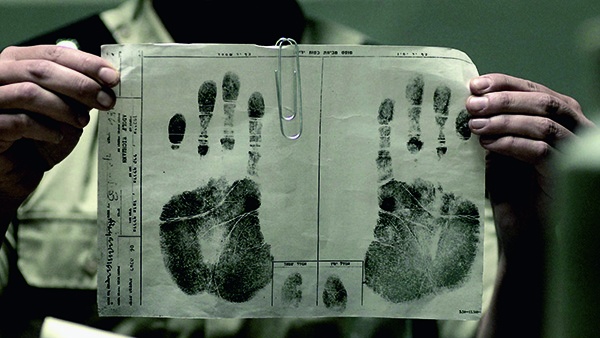 IV.
Roee Rosen's multimedia practice broaches the relations between European modernity and modernism and the contemporary complexities of the Israeli public and private spheres. Notably, he has been giving form to the ways in which processes of subjectivization in Israeli society are connected to a spectrum of intellectual and artistic vectors, histories, and myths and the still-active intergenerational burdens of the Holocaust. It is no accident that Rosen chose Franz Kafka – and specifically The Metamorphosis – as the framework for a multipart performance Kafka for Kids for the festival Steirischer Herbst (2018). The story of the salesman Gregor Samsa, transformed overnight into a "monstrous vermin" – an English translation that does not capture the full complexity of the German "ungeheures Ungeziefer" – has been the subject of prolific analysis since it was published in 1915 during the twilight years of the Habsburg monarchy. [24] Exceeding one signification, the vermin metaphor has nevertheless been understood as a "a symbol of modernity par excellence" [25] and Gregor's "opaque body" as a form of formlessness through which to maintain him "without speech or intelligible gesture, in the solitude of an indecipherable sign." [26] Writing to his publisher, Kafka stipulated that the vermin should never be depicted: "the insect itself cannot be drawn. It cannot even be shown at a distance." [27] The trope of the "Jew parasite," which can be traced back to the 18th century and has its precursors in the medieval notion of the "usurious Jew," [28] became one of the most obvious allusions to anti-Semitic stereotypes in Kafka's work and resonates with the contexts, practices, and discourses of his day, including rising nationalism, emergent Zionism, and a wave of anti-Semitic events across Europe. [29]
What does it mean to revive this genealogy today? Couched within the ostensibly straightforward premise of transforming Kafka into a plot for a children's television series, Rosen delved into some of the most potent issues permeating our contemporary public sphere: racism, anti-Semitism, and the Israeli Occupation. While the supposedly "juvenile" public eased into the evening's "entertainment" with a musical performance by Igor Krutogolov and his Toy Orchestra that transformed specific episodes from Kafka's Metamorphosis into ditties (Apples, The Merry Vermin, and What Is a Child?), it is the next two parts that I would like to foreground: the live comedy act Hilarious and the video Military Occupation and the Legal Constitution of Childhood. In these two works, Rosen draws on the indecipherability of the sign and its ongoing instrumentalization to mark and materialize specific bodies as "othered" in a public body. The phantom signifiers of racism and anti-Semitism continue to flow and mutate through the body of the nation-state – conceived as a nervous system – and erupt both erratically and erotically in public and private in various moments and situations. [30] Though they have no intrinsic meaning, the signs around which racism and anti-Semitism consolidate continue to accrue potency as they attach themselves to other discourses and fortify national feelings of belonging. Following Foucault, we know that the constitution of the nation-state depends on the social fabrication and distribution of race as a mechanism of exclusion that maintains hegemonic power relations. What Rosen achieves in these performances is an articulation of the ways in which biopolitics captures, transforms, and disciplines the sensorium of the individual and collective body through iterations of racism and anti-Semitism.
With Hani Furstenberg in the role of a stand-up comic, Hilarious (2010) was first produced as a video work in front of a local audience in Tel Aviv. Performed live for the first time at Steirischer Herbst, it was transposed from a media form to a public forum with the situated audience now advised to view the routine as if it were part of a television sitcom. Building on a sitcom's generic conventions, which traditionally relies on a separate soundtrack of "canned laughter" or a live studio audience that laughs on cue, Rosen directed the public to follow specific instructions appearing on a screen behind Furstenberg (including prompts to "cheer," "laugh," "say ooh" or "clap"). What followed was a string of alternately flat-footed and inflammatory non-sequiturs, stories, and claims that targeted and elided between Jews, Arabs, Germans, Swedes, 9/11 victims, Barack Obama, death, money, sex, and the Israeli Occupation. These gaffes were accompanied by a lexicon of bodily gestures in which Furstenberg tickles her ears, strokes and gyrates her behind, and skirts across the stage in a crab-like fashion. [31] Under the aegis of humor, this "equal opportunity" routine of everyday racism, bad taste, and articulation of taboos builds on stereotypes ("Jewish doctors"), weaponization of skin color ("…and how about Barack Obama? Schwarz! * That's funny because *Schwarz means Black in German."), and political polemics like this:
It's improper conduct, for instance, to compare the Israeli Occupation to the Nazis. That's just plain wrong – plain wrong. I mean, you may not like the Occupation, but the Nazis were much, much worse… so you see, you better avoid that. Simply saying the word Nazism and the Israeli Occupation in the same sentence is already obscene, it's not even funny – Nazism and the Israeli Occupation – the Israeli Occupation is much better than the Nazis […].
According to Rosen, Hilarious examines "the possibility of dysfunctional humor and laughter stirred when there is no reason to laugh." [32] As this performance makes evident, the thin line between funny/not funny is linked to mostly implicit collective norms and agreements yet has far-ranging implications about the instantiation and legitimization of biopower through the production of race. The silent consensus is laid bare in this double public forum – a live event and television sitcom – as it reproduces a mediatized logic of becoming a public through a set of contrived social conventions of identification and disidentification. During each of Furstenberg's gags, the public is directed to react according to the scripted cues, yet as the stream of racialized humor continues, each person has to decide what it means to participate actively, visibly, and vocally in supporting or denouncing the given trope, stereotype, or political situation. Will you clap or laugh when directed to do so? Will you judge your neighbors if they do or don't? In the thrall of a collectively experienced spectacle and its affects, do you let yourself be "carried away" – telling yourself that it's not "real life" and that you are not a racist or anti-Semite?
With comedy's inbuilt "permission to laugh" functioning as a safety valve through which to enact and reflect on social codes and structures, Hilarious touched on Austria's problematic history regarding its participation, repression, and denial of its role in the Holocaust while also tapping into contemporary iterations of racism and anti-Semitism. By including Military Occupation and the Legal Constitution of Childhood as part of the performance, however, Rosen insists that the nervous system of all modern nation-states fabricates forms of racism as a biopolitical technique of discipline. Delivered by Furstenberg in the role of fictitious legal scholar Dr. Ada Binyamini, the lecture is based on the real case of a twelve-year-old Palestinian girl interned in an adult prison after a knife attack in the settlements. Citing various orders, we understand that the legal category of "childhood" under the military occupation has a different status from childhood in civil Israeli society. [33] Following Frantz Fanon's writings on colonialism, we might extend this observation to consider whether the occupation itself, much like childhood, is constructed as a vague interim state mandated by the paternalistic guidance of the colonizer and its legal apparatus. [34] Framed as if it were communicated to "Kwame Ashanti, a young man from Ghana, seventy years from now," Binyamini's legal analysis is punctuated by lustful heaving, erotic fantasies, and an attempt to understand whether the scents in the air are emanating from her body or the surrounding environment. Here, too, the singular, performative body makes visible the structural link between biopolitics, racism, and the nation-state-cum-nervous system. According to Rosen, and as was already diagnosed by Yeshayahu Leibowitz in the 1980s, the structural racism that permeates the nation-state of Israel not only transforms the disenfranchised Palestinian population and the large community of undocumented African foreign workers into racialized "others," it also infects and mutates within the body of the colonizing Jewish population. [35] Indeed, in the intense spectrum of affects performed by Binyamini and her public, we witness the nation-state exposing its own mechanisms and moments of internal constitution, regulation, and excess.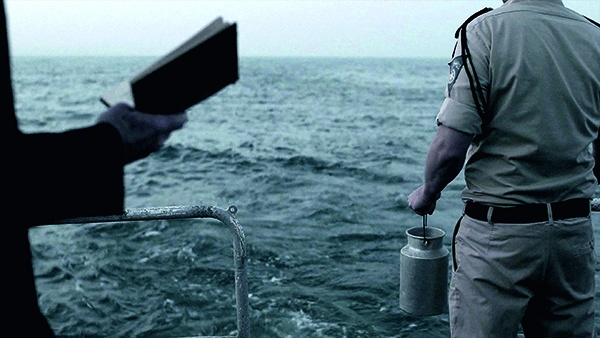 V. Conclusion
While contemporary forms of racism and anti-Semitism are varied – with some publicly active and others dormant or concealed – the structures and processes of post-memory are also decidedly at work. Indeed, if the experiential memory of those who lived through or witnessed the Holocaust may be dwindling and the temporal distance from the system of terror that made it possible may be increasing, ways and channels of affective, communicative, and cultural memory are being produced, for instance, by Cytter, Gal, and Rosen. Underpinned by a "concentrationary media complex" that exposes the problems surrounding the representability and legibility of images of the "concentrationary system" of the Nazis while provoking active resistance within the viewing subject to new iterations of the "concentrationary universe," these practices function as constitutive links in an evolving transgenerational, multidirectional process. Significantly, Cytter's and Gal's filmic reflections and Rosen's multimedia practices bring to the fore a nervous system emerging from (Western) modernity and modernism in which capitalism, anti-Semitism, fascism, and colonization continue to permutate and generate new images, typologies, and bodies of the "other." Today, the paradoxical task of the practice of memory and of knowledge is to confront a symbiotic mandate, namely to continue the work of "coming to terms" with the Nazi genocide of European Jews while remaining attentive to its intersections with other histories that constitute our present.
Translation: Michaela Dudley
Notes
| | |
| --- | --- |
| [1] | Theodor W. Adorno, "Cultural Criticism and Society," in Prisms, trans. Samuel and Sherry Weber (Cambridge, MA: MIT Press, 1981), p. 34. Originally published in German as "Kulturkritik und Gesellschaft," 1951. |
| | |
| --- | --- |
| [3] | The film was created on the basis of research by and in the context of an exhibition from historians Olga Wormser and Henri Michel as well as by the poet Jean Cayrol, who was kidnapped and taken to the Mauthausen concentration camp. |
| | |
| --- | --- |
| [4] | Georges Didi-Huberman, Images in Spite of All: Four Photographs from Auschwitz, trans. Shane B. Lillis (Chicago: University of Chicago Press, 2008). Originally published in French as Images malagré tout (Paris: Les Éditions de Minuit, 2003). p. 75. Page numbers in citations taken from the German edition: Bilder trotz allem (Munich: Wilhelm Fink, 2007). |
| | |
| --- | --- |
| [5] | One of these pictures can also be seen in Nuit et brouillard. |
| | |
| --- | --- |
| [6] | Didi-Huberman, Images, p. 58 and p. 65. |
| | |
| --- | --- |
| [9] | See Sylvie Lindeperg, "Nacht und Nebel". Ein Film in der Geschichte (Berlin: Vorwerk 8, 2010), p. 139. |
| | |
| --- | --- |
| [10] | Marie-José Mondzain, "The Shoah as a Question of Cinema," in: Cinema and the Shoah: An Art Confronts the Tragedy of the Twentieth Century, ed. Jean-Michel Frodon (New York: State University of New York Press, 2010), pp. 9–16. Thank you to Dani Gal for the reference. |
| | |
| --- | --- |
| [11] | Griselda Pollock (ed.), Politics of Psychoanalysis: Art and the Image in Post-Traumatic Cultures, (London: Bloomsbury, 2013), p. 13. |
| | |
| --- | --- |
| [13] | Griselda Pollock and Max Silverman (eds.), Concentrationary Cinema: Aesthetics as Political Resistance in Alain Resnais's 'Night and Fog' (Oxford: Berghahn, 2012), p. 8. |
| | |
| --- | --- |
| [15] | Michael Rothberg, Multidirectional Memory: Remembering the Holocaust in the Age of Decolonization (Stanford, CA: Stanford University Press), 2009. |
| | |
| --- | --- |
| [18] | The title of Resnais's film makes reference to the Keitel decree "Nacht und Nebel" (literally: night and fog), the so-called NN procedure introduced in December 1941. According to Sylvie Lindeperg, Keitel "planned to bring the resistance fighters arrested in their country of origin to Germany, where no one would have known of their fate, so that they would disappear without a trace, in Nacht und Nebel." See Lindeperg, Nacht und Nebel, p. 94. Additionally, and especially relevant to Gal's film title, a Nacht-und-Nebel-Aktion denotes a secret operation, especially at night. |
| | |
| --- | --- |
| [19] | Quoted by Ralph Buchenhorst, "Der Fotograf in der Gaskammer. Zu einer Debatte über die bildliche Darstellung der Shoa," Zeitschrift für Ästhetik und Allgemeine Kunstwissenschaft, vol. 53, no. 2 (2008), pp. 231–258, here p. 237. |
| | |
| --- | --- |
| [20] | Hannah Arendt, Eichmann in Jerusalem: A Report on the Banality of Evil (New York: Viking, 1963), in particular Chapter 1: The House of Justice. |
| | |
| --- | --- |
| [21] | The film had previously been shown to Eichmann the night before he gave his testimony. |
| | |
| --- | --- |
| [22] | The exhibition, curated by Nicolaus Schafhausen, ran from November 28, 2019 to August 30, 2020 in the Munich Documentation Centre for the History of National Socialism. |
| | |
| --- | --- |
| [23] | Brian Massumi, "The Birth of the Affective Fact: The Political Ontology of Threat," in The Affect Theory Reader, (eds.) Melissa Gregg and Gregory J. Seigworth (Durham, NC: Duke University Press, 2010), pp. 52–70, here p. 52. |
| | |
| --- | --- |
| [24] | Kafka composed The Metamorphosis between November 17 and December 6, 1912. See: Richard T. Gray et al., A Franz Kafka Encyclopedia (Westport, CT: Greenwood Press, 2005), p. 281. |
| | |
| --- | --- |
| [25] | Iris Bruce, "The Cultural and Historical Context of Kafka's Metamorphosis: Anti-Semitism, Zionism, and the Yiddish Plays," in Critical Insights: The Metamorphosis, ed. James Whitlark (Pasadena, CA: Salem Press, 2012), p. 54. |
| | |
| --- | --- |
| [26] | Stanley Corngold, "Kafka's The Metamorphosis: Metamorphosis of the Metaphor" in Franz Kafka, The Metamorphosis, ed. Stanley Corngold, Norton Critical Editions (New York: Norton, 1996), p. 89. |
| | |
| --- | --- |
| [27] | Franz Kafka in a letter to Kurt Wolff publishing company, 1915, in Franz Kafka, The Metamorphosis, ed. Stanley Corngold, p. 70. |
| | |
| --- | --- |
| [28] | Alexander Bein, "Der jüdische Parasit," in Vierteljahrshefte für Zeitgeschichte, vol. 13, no. 2 (1965), pp. 121–149. |
| | |
| --- | --- |
| [29] | Most notably, the Zionist poet Chaim Nachman Bialik wrote the poem In Schchite Stot (In the city of slaughter) (1904) – as a response to the Kishinev Massacre in Russia (April 1903): "antlofen, wi die majss, bahalten sich, wi wanzen / un, wi di hint, gestorben" (they ran away like mice / they stayed and hid like vermin / and they died like dogs) (Bruce, p. 73); Not only did Kafka know the poem, he also knew that Bialik himself had translated it from the "original Hebrew [...] into Yiddish" as a call for resistance (Franz Kafka, The Diaries of Franz Kafka, 1910–1913, ed. Max Brod (New York: Schocken, 1948), pp. 101–102). All three animals – mice, vermin, and dogs – appear in Kafka's work; vermin, bedbugs, and cockroaches would become some of the most dominant anti-Semitic tropes in Nazi propaganda. |
| | |
| --- | --- |
| [30] | Michael Taussig, The Nervous System, (New York: Routledge, 1992). |
| | |
| --- | --- |
| [33] | Military Order 1651 "sets the age of majority for Palestinians at 16 and divides Palestinian children into three different categories – those under 12 are considered children, those between 12 and 14 are considered 'youth' and those between 14 and 16 are defined as 'young adults.'" See: "Israeli Military Orders Relevant to the Arrest, Detention and Prosecution of Palestinians," Addameer Prisoner Support and Human Rights Association, July 2017, https://www.addameer.org/israeli_military_judicial_system/military_orders. |
| | |
| --- | --- |
| [34] | Frantz Fanon, Black Skin, White Masks, trans. C. L. Markmann (London: Paladin, 1970); French original 1952. Erica Burman, "Fanon and the Child: Pedagogies of Subjectification and Transformation," in Curriculum Inquiry, vol. 46, no. 3 (2016), pp. 265–285. |
| | |
| --- | --- |
| [35] | Yeshayahu Leibowitz and John P. Egan, "Yeshayahu Leibowitz: Liberating Israel from the Occupied Territories," in Journal of Palestine Studies, vol. 15, no. 2 (Winter, 1986), pp. 102–108. |