212
ON THE CONDITION OF BLACK LIFE AND BLACK DEATH
Coco Fusco on "Grief and Grievance: Art and Mourning in America" at the New Museum, New York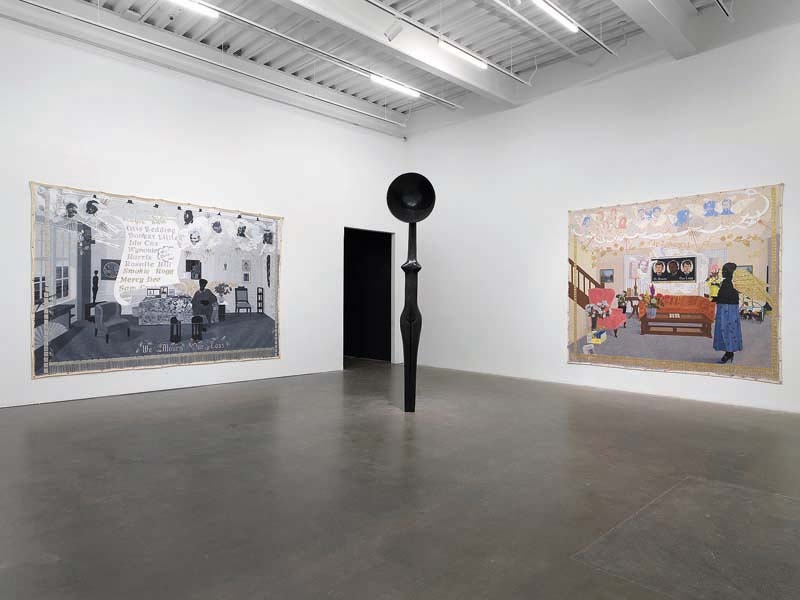 The much-discussed exhibition "Grief and Grievance: Art and Mourning in America" seems as though it may have been destined for the moment in which it materialized earlier this year. Conceptualized and planned by the late Okwui Enwezor, the exhibition reflects on Black life and death in the United States. Artist and writer Coco Fusco reports on how the exhibition has the esteemed and beloved curator's marks all over it. Although the show succeeds in conveying Black artists' eloquence in contending with grief and mourning, Fusco finds that the conceptual thread gets lost at moments, particularly when it comes to what the show leaves out. As Fusco notes, racial strife has not subsided over the decades, nor have Black artists declined to respond to its persistent presence in American life.
Having known Okwui Enwezor since he co-founded Nka: Journal of Contemporary African Art in the 1990s, I am sure that he would not have wanted to leave this earth without making a definitive statement about his adopted country, the United States. Unlike many immigrants that see America as a refuge, Enwezor observed our politics, our habits, and our customs with the critical eye of a cosmopolitan intellectual. He envisioned curating as a form of intervention in debates not only about the nature of art but also, and more importantly, about history and current affairs. He always sought out art that could introduce complicated and disquieting views of social realities. He chose to focus on racial strife for his last project not simply because he experienced the US as someone born and raised in Africa, but because he understood that this was America's Achilles' heel, the undoing of its democratic promise. "Grief and Grievance: Art and Mourning in America" offers an extended reflection on Black cultural responses to what Enwezor characterized as the "national emergency" of "Black grief in the face of politically orchestrated white grievance." [1]
Though it was put together after his untimely death in 2019, the exhibition has Enwezor's marks all over it. Enwezor was the art world's most eloquent advocate for aesthetic endeavor that does not retreat from the social but rather embraces, reframes, and interrogates the many discourses that make up our historical record. "Grief and Grievance" showcases art as a form of reckoning with politics. The tone of the exhibition is one of high seriousness and the scale is grand, featuring works by 37 artists and occupying four floors of the museum. The communicative thrust of the exhibition is toward the public life of the imagined community of the nation rather than autobiographical or domestic concerns, which Enwezor rarely took on. Scattered throughout the exhibition are documents: photojournalism, newsprint, political speeches, and government records, which are incorporated into art as material and points of reference. Finally, the exhibition catalogue features eleven essays that do the heavy lifting in contextualizing the works in the exhibition. Notable among those contributions are the searing analysis of Donald Trump as a white president by Ta-Nehisi Coates and a very thoughtful consideration of Black artists' responses to documentary photographs by Naomi Beckwith. It's highly unusual to find an art show catalogue in the US in which the majority of texts are authored by political scientists, philosophers, and cultural theorists, but that social turn was characteristic of Enwezor's approach to art as a practice enmeshed in the phenomena and processes of society beyond the art world.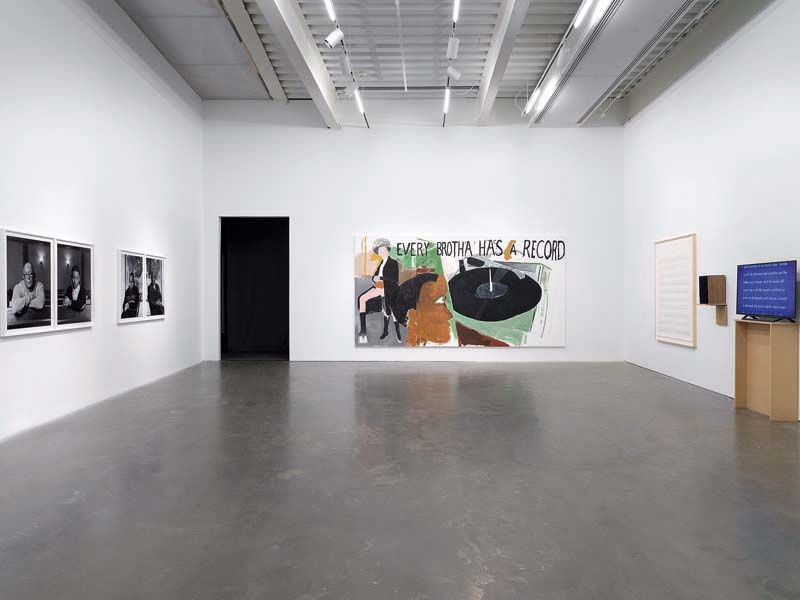 There are, nonetheless, some aspects of the exhibition that are unlike his other curatorial efforts. All the artists in the exhibition are based in the US even though Enwezor championed Black artists from Europe, such as Steve McQueen, as well as artists from Africa. And only Black artists are included in this exhibition. While one of Enwezor's goals as a curator was to give the Black artists he respected their due, he was not an essentialist and he never excluded artists from other racial or ethnic backgrounds from his vision of how to address subalternity. It is unclear whether the exclusively Black checklist was his choice or that of the committee that completed the exhibition in the midst of heated public debates about whether white depictions of Black suffering were legitimate.
The exhibition explores Black grief at many levels: visually, aurally, and anthropologically. With few exceptions, the prevailing palette is a somber mix of black, white, and gray. In some works, such as two majestic paintings by Kerry James Marshall of people in homes that have been turned into shrines to fallen martyrs, the elimination of most colors suggests an effort to restrain overwhelming emotion. Terry Adkins's black-and-white X-ray photos of memory jugs – folk-art memorials to the dead found in African American graves in the South – evoke the spectral presence of ancient ancestors. Sable Elyse Smith floats small photo portraits in front of idealized backdrops taken during family visits in prison atop swaths of black suede, juxtaposing one attempt to mask the trauma of incarceration against other forms of obstruction. Blackness takes on texture and allusions to bodily violation in the assemblages by Daniel LaRue Johnson and Nari Ward. Both employ tar, the resin used for the torture of human beings, including many Blacks in the American South. Responding to racial violence of the 1960s, Johnson immersed artifacts gathered in the South during the Civil Rights movement – a mousetrap, hacksaw, dismembered doll, and Freedom Now button – in the murky resin as if to bury them. Nari Ward covered a hearse with tar, and then he adorned it with peacock feathers and enclosed it in a cage-like structure with multiple exhaust pipes suspended above it and scattered below. An effort to honor the dead is met with countervailing forces that deface, dismember, and arrest the vessel designed to carry souls to rest.
Sound spills into nearly every space of the exhibition, and aptly so, considering that mournful hymns make up a sizable portion of the gospel tradition that emerged from the Black church. That cultural origin is alluded to most directly by Arthur Jafa's use of Kanye West's gospel-inflected rap music in Love Is the Message and the Message Is Death, as well as in Theaster Gates's haunting video shot in the ruins of a church, where two men repeatedly throw down unhinged doors, unleashing clouds of dust and echoing thuds that blend with chants by the Black Monks choir. More oblique forms of musicality emerge from Tyshawn Sorey's three-hour-and-fifty-minute experimental jazz collage and Charles Gaines's elegantly minimalist scoring of texts by Martin Luther King Jr. and James Baldwin.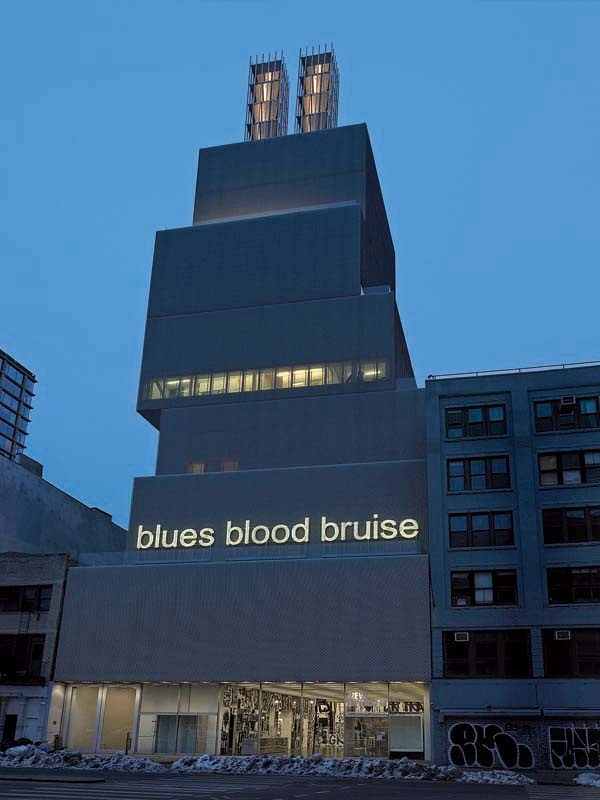 There is an abundance of highly accomplished work in the exhibition. Dawoud Bey's Birmingham Project, which commemorates the racially motivated murder of two teenage boys and the killing of four little Black girls in a church bombing in the Alabama city in 1963, is particularly arresting: the subjects in his diptych portraits stare out at the viewer with a powerful combination of stoicism, candor, and moral clarity. Although they are unfortunately blocked by Rashid Johnson's oversized and overwrought installation, the abstract paintings by Mark Bradford and Julie Mehretu transform documentary sources in startling ways through layering, color, and gesture to evoke the rage of the 1965 Watts Rebellion and the collective sorrow provoked by the 2017 Grenfell Tower fire in London.
Although the exhibition succeeds in conveying Black artists' eloquence in contending with grief and mourning, the connection of some of the works to the curatorial theme is quite attenuated or seemingly nonexistent. Photographs of crowds celebrating J'Ouvert by Deana Lawson, a sculpture of a partial pelvis by Julia Phillips, a black-painted cattle squeeze chute by Tiona Nekkia McClodden, and an abstracted ceramic figure by Simone Leigh seemed like odd choices, particularly in light of what was not included in the show. While the racial violence in Birmingham is referred to in several works, I found no reference to the beating of Rodney King in 1991, an incident that inspired numerous artworks and performances. That was the first police beating of an unarmed Black man to be captured on a camcorder by a concerned citizen, and it was aired on television, sparking national outrage and widespread rioting in Los Angeles in 1992 when the police involved were acquitted. Adrian Piper, an artist Enwezor worked with on more than one occasion, made a video installation entitled Black Box/White Box in 1993 about King's beating. Although the ethical dilemma and psychic effects of witnessing lynching were discussed in Elizabeth Alexander's catalogue essay, Pat Ward Williams's 1986 Accused/Blowtorch/Padlock, a classic work on the subject, was absent from the exhibition. So was Faith Ringgold's 1969 painting Black Light Series #10 Flag for the Moon: Die Nigger, which comments on the racist implications of governmental neglect of living conditions in Black communities. Indeed, the historical timeline implied by the selection of artists in "Grief and Grievance," which jumps from the 1960s to the present with little in between, is puzzling, given that racial strife has not subsided over the decades, nor have Black artists declined to respond to its persistent presence in American life.
"Grief and Grievance: Art and Mourning in America," New Museum, New York, February 17–June 6, 2021.
Image credit: Courtesy New Museum, photo Dario Lasagni
Notes
| | |
| --- | --- |
| [1] | Okwui Enwezor, "Grief and Grievance: Art and Mourning in America," in Grief and Grievance: Art and Mourning in America (New York: Phaidon/New Museum, 2020), 7. |