160
I JUST WANNA MAKE YOU SWEAT
Eric Otieno Sumba on "Sweat" at Haus der Kunst, Munich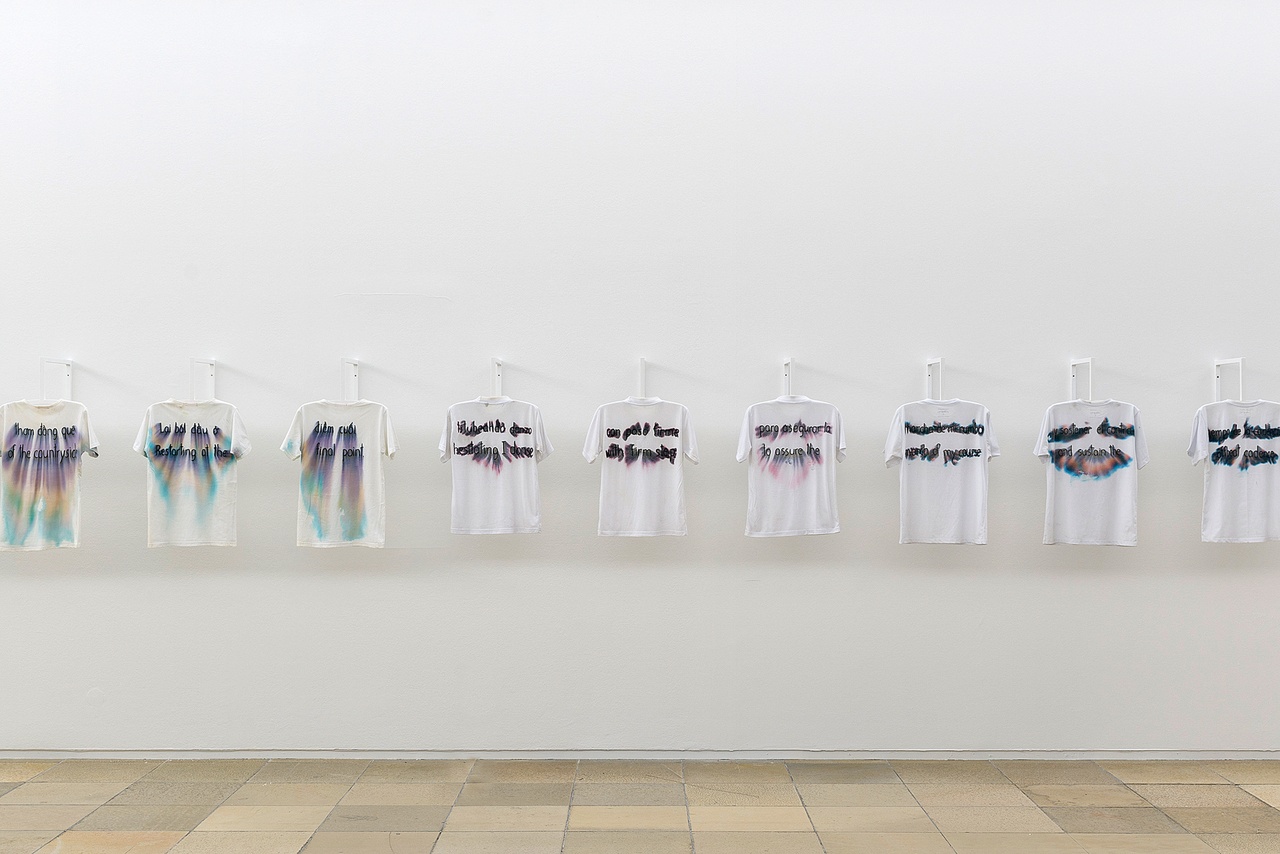 Last summer was indelibly marked by the protests for racial justice. This summer, Haus der Kunst installed an exhibition succinctly titled after and dedicated to sweat. Operating as a symbol and byproduct of political action, as well as appearing in more literal forms, sweat is made a pendant to resistance. As writer Eric Otieno Sumba reports, this odd and risky conceptual pair ultimately succeeds in making the body legible as the preeminent site of contestation in our time. For a seemingly niche theme, the exhibition brings together an impressive and wide-ranging group of artists and works whose relationship to the slippery substance is neither obscure nor contrived but decidedly political.
The cultural footprint of sweat is paradoxical given its objectionable status in many societies. Sweat is a constant adversary, though it is now on the losing end of a battle with ever more effective deterrents to perspiration. Since the 1920s, after enough people were convinced that this common bodily function was a grievous embarrassment, underarms have been accosted with aluminum salts with a half-life of 24 – recently even 48 – hours. The obliteration of sweat is now the boon of a billion-dollar deodorant and antiperspirant industry. This pervasive anti-sweat sentiment might explain why sweat's last notable cultural moment was over a decade ago, when the Californian rapper Snoop Dogg, supported by French DJ and producer David Guetta's electronic beats, heavily referenced sweat in their chart-topping, innuendo-driven song of the same name.
In stark contrast, sweat's current cultural moment is a reflection of the changed times. The idea of sweat invoked in the title of an eponymous group exhibition at Munich's Haus der Kunst is still objectionable, though appropriate for a summer run, and loaded with socio-political significance. [1] The sweat of the exhibition's title highlights labor that, in an ideal society, would not be necessary at all: the thankless work of resisting nefarious societal attempts to control the body along the unmistakably contemporary fault lines of culture, gender, origin, social class, and sexuality. Expelled in reaction to emotive, physical, and climatic stimuli such as stress, fear, repulsion, excitement, sexual arousal, and heat, sweat is the designated conduit through which the aforementioned labor is examined via 30 artistic positions, ranging from the 1970s and 1980s to the present.
Awkward sweating was seemingly anticipated by several artists in the exhibition, judging by the way some of the work plays with the male gaze as it pertains to women's bodies and their ubiquitous pornocratic distortion. This is especially evident in several works exhibited in close proximity to each other by Tabita Rezaire, Tschabalala Self, and Natalia LL. In BBHMM (2016), one image from Rezaire's five-part series Inner Fire (2016–17), the French artist is dressed in a long fur coat and a fitted bodysuit, with a sparkling leash around her neck. She is flanked by images of gold bars, coins, jewelry, and a golden Motorola Razr phone, the best-selling flip-phone model of all time. This "bling" is interspersed with various tools and metal artifacts used during the Atlantic slave trade, including what appears to be a branding iron. The Diasec print, overlaid with text – "ANTI CAPITALIST BAE CHASING THE MONEY," "FUCK YOU BUT PAY ME," "DESCENDANT OF A COMMODITY," and "#REPARATIONS" – is a playful take on activist claims that have become commercialized in pop culture. With Inner Fire, Rezaire simultaneously addresses the ambivalence and the emotional and material implications of commonly cited reparative claims within the capitalist heteropatriarchy.
Dreamer 1 and Dreamer 2 (both 2021), specially developed for this exhibition by Harlem-born artist Tschabalala Self, each show a body whose parts are pieced together via collage (of paintings, prints, and recovered textiles) and sewn onto large rectangular canvases painted brown, red, and yellow. Based on their exposed and exaggerated genitals, the figures could be male and female bodies respectively, or simply appear as such to a heteronormative audience trying to decipher these composite, hypersexualized bodies. Though they face each other, they are oblivious to one another due to their closed, dreamy eyes. At the center of the room stand three of Self's sculptural forms. These Loveseat Prototypes (2020) are reminiscent of exaggerated buttocks and vulvas and criticize the way in which women's bodies are reduced to a function of the male gaze. Tellingly, smaller "male masturbators" not unlike Self's prototypes are widely available online.
Admittedly, such criticisms of the male gaze are not new, as various feminist art movements have been challenging the gaze for decades. An example of this comes from Polish artist Natalia LL, whose retouched photo series Post-Consumer Art (1975/2020) shows a sequence of images of a young, attractive woman in close-up, with milk dripping from her mouth. Suggestive of pornography through the performer's gesturing and posing, it also transcends this categorization by interrupting its own consumable parlance: the woman's wink in an image indicates self-awareness and a subversion of the performance of docility. Chameckilerner (the US-Brazilian artist duo Rosane Chamecki and Andrea Lerner) employ a similar tactic in SAMBA#2 (2014), a video work that zooms in on the extreme slow-motion hip movements of a samba dancer. The dancer's muscles seem to be severed from her bones, crashing into each other beneath her undulating skin. The video disorients the male gaze by mundanely foregrounding the physicality of tissue, muscle, and skin.
Collectively, these works subvert the self-referential male agency often egregiously reproduced and perpetuated in (pop) culture as demonstrated by the song "Sweat." As a counterpoint to the ideas underlying the song, these artists implicitly ask: Who actually makes whom sweat? On whose terms? Under what conditions? They reclaim the agency to "make (insert object pronoun) sweat" by exposing the mechanisms through which the normalization of such heteropatriarchal propositions is sustained.
Other artists explore divergent connotations of sweat in different ways. Ecuadorian artist Santiago Reyes, for instance, renders the act of sweating conceptually, while still finding use for sweat as actual perspiration in his work. The documentation of his performance piece Dancing Southward (2016–) occupies an entire wall in one of the galleries of the building. Thirty white T-shirts line the wall in one row, each shirt featuring a few words written with a marker, collectively forming a story. At the end of the row, a screen shows the artist dancing on the streets of Munich. As in Hanoi, where the series began, the artist set out from the exhibition site, moving southward through public space, dancing for eight days to a compilation of music playing on his headphones. Each day, he wore a new T-shirt with inscriptions such as "What is danced / no one takes it from me / pledge my rhythm / towards the south […]." As the T-shirts become drenched in sweat, the ink begins to run, creating various degrees of illegibility.
In contrast, a work that metaphorically speaks to the exhibition's theme is French artist Mohamed Bourouissa's Le cercle imaginaire (2008/2021). In the large-format image, positioned high up in the stairway and best viewed from the first floor, a man stands in the middle of a raging circle of fire. The circle is large enough to guarantee his safety, yet small enough to induce anxiety. Due to his cautiously calm pose, it is not clear whether he is feeling the heat. Like this image, all of Bourouissa's images from the series Périphérique are staged and set in the Parisian banlieues – those spatial stand-ins for how the French state acquiesces to the disenfranchisement of some of its citizens, then "ghettoizes" them, allowing racialized tropes about the "infamous" Parisian suburbs to take root in (inter)national consciousness. Read through the image, sweating is evidently an appropriate reaction to standing in a circle of fire. But then, is it merely the heat or rather the existential angst of being burnt that induces perspiration? The ring of fire can represent multiple things: the barriers faced by banlieue residents seeking to participate as full citizens, or the literal walls of fire and fury they encounter when they attempt to reclaim their dignity from the fangs of ongoing stigmatization.
Generally, the exhibition delivers on its premise. Occasionally, connections made between artworks, current affairs, and the exhibition's theme feel misleading and cumbersome. An example of the former is Jacolby Satterwhite's We Are In Hell When We Hurt Each Other (2020), which is linked to "current and historical civil rights movements," an admittedly creative euphemism for the movement for Black lives, or Black Lives Matter. An example of the latter is Zadie Xa's installation of five individual works, some cocreated with Benito Mayor Vallejo, which feel like an embedded solo exhibition that is slightly disconnected from the overall theme: a disservice to Xa's otherwise brilliant work. The primary strength of "Sweat" is its topical and largely coherent thematic presentation of work ranging from video to sculpture and painting to performance across more than four decades; the exhibition also taps into a countercultural moment with a nascent documentary intent. Sweat and resistance, an odd and risky conceptual pair with which to frame an exhibition of this scale, ultimately succeed in making the body legible as the preeminent site of contestation in our time.
"Sweat," Haus der Kunst, Munich, June 11, 2021–January 9, 2022.
Note
| | |
| --- | --- |
| [1] | Magnus von Horn's 2020 film Sweat, whose protagonist, played by Magdalena Kolenik, struggles with the ambivalence of social media influencerdom, is also part of sweat's latest cultural moment. |