235
Final Girl
David Bussel On Paulina Olowska At Cabinet Gallery, London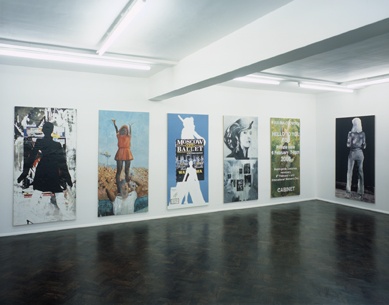 "Hello To You Too" features a charged photographic detail culled from a pastoral scene in a Polish impressionist painting, where a young woman sits on the shoulders of a man, picking fruit from a high up branch of a tree. The image is charged in that, Renoir-like, it portrays a carefully choreographed vignette of idealised country life- two lovers pictured in their shirtsleeves surrounded by foliage in full florescence, stopping for a brief interlude, symbolised by the picking of fruit, under the hot summer sun. (The scene is formally echoed in "Black Cheerleader" (2005), which is also an enlarged photographic detail of an image of an African-American cheerleader standing on the shoulders of a young man at a football match.) This sylvan idyll is, however, effaced by the presence of text painted over the image announcing Paulina Olowska's exhibition itself: Hung amongst the other eight paintings in the gallery space - they are all uniform in size and vertical format - the work looks like an advertising poster or an invitation to a society event with the artist's name, show title (the same as the painting), time of the private view, attire requirements ("Avant-garde Costumes necessary"), exhibition dates ("8th February - until International Women's Day"), and the gallery's name. The work slips between registers of the pictorial and the imagistic such that it becomes the structural logic that underpins the entire show. Indeed, one could argue that in Olowska 's work on the whole, this play of semantic registers is foundational and generative, in that it allows her to free up history without de-materialising it.
And history for Olowska is the history of women artists in particular, and the arts, architecture, fashion and design in general. For example, in her show at Kunstverein Braunschweig in 2004, one entered a room filled with large mobile paintings on wheels, portraits depicting figures such as Vanessa Bell, Romaine Brooks and Virginia Woolf - a conjuring of or homage to Modernist greats assembled like a salon. Olowska often makes the correspondence between artists and workers, collapsing their respective practices as the source of women's agency and liberation. A second correspondence is suggested in "Hello..." between the clothes requirement for the opening -"avant-garde" - with the show's finish date -"International Women's Day" -, where the avant-garde is aligned with artistic labour and women's work, engendering new potentialities for the artist to work in and from.
Self-fictionalisation is an elemental trope in Olowska's practice, evinced by her interest in the modernist avant-garde of the early 20th century and the fantasy terrain of fashion. Display and presentation also play a significant role in her installations as they become theatrical scenarios through aggregations of historical styles and places. Another kind of self-fashioning employed by the artist is found in the physical manifestation of her work, its techniques. "De-skilling" has become a contemporary way to negotiate art making, to deal with the problem of technical proficiency and authority. Olowska, although technically adept, employs "anti-painterly" skills to not only dissolve her "authority" but to formally invest her work with other histories, picking apart the role of painting today and its interpretative models: the always already "dated" qualities of her paintings and found objects reflect the faded histories she conjures up.
This is also evident in her choice of found images, the posters, advertisements and texts used in the show. A work such as "Mieszkanie 629-83-36" utilizes a kind of affichiste technique of torn billboard posters that are painted over, emphasising their textual layering and highlighting once again this slippage between picture and image. Over layers of rough-hewn posters and private announcements, "Mieszkanie..." (The address of a Warsaw apartment to let) depicts a silhouetted figure of a woman, with arms out to her sides and legs apart, frozen in motion, painted black except for her white knee-high high-heeled boots. She is a cosmopolitan figure, assured, anonymous and statuesque, selected from the pages of Vogue magazine, a composite type often found in Olowska's retro-modern image repertoire. Her likeness is found again in "Cigarette Break", this time painted entirely white yet scaled down and stationed between the legs of another white-silhouetted figure centred on the canvas, of a man carrying an arm or tool on his shoulder in military-fashion. Obscuring his torso is a found poster announcing a recent appearance of the Moscow City Ballet in Warsaw, where the artist lives, and to the lower left corner a painted image of Vogue cigarettes. Here, the pairing of techniques - collage, paint - with the soldier-like figures is set against a background, mapped onto it, of post-Communist urbanity, the cigarettes and everything its name implies, with the "historicity" of the Russian dance troupe and the way it suggests international modernism before the rise of Communism. Again, what's a stake here, and for the exhibition in general, is an evocation of the living ghosts of collective histories, figures, and the mis-en-scène of places and moods, a kind of critical nostalgia.
One ghost is the figure of Pauline Boty. Boty (1938-1966) was a British Pop artist, a contemporary of David Hockney, Allen Jones, and Peter Blake, part of a circle of artists coming out of the Royal College of Art in the late Fifties and early Sixties, and the only recognised woman by the establishment at that time (with the exception of Bridget Riley, who was older). Like the other figures Olowska invokes in the show (or in her past shows), Boty is now overlooked or forgotten: think of Bell or Brooks, the fictional composites of yesteryear or some of the female Polish artists Olowska has reanimated in her "archaeological" practice. Boty, who died tragically of cancer aged twenty-eight, could also be a stand-in for the artist herself: She too understood the difference between picture and image and used her work and herself in a dizzying play between worlds and roles. "Pauline Boty Acts Out One of Her Paintings For A Popular Newspaper" is literally and figuratively a palimpsest. It is made from reproductions of a British tabloid article on Boty, showing her in a state of undress in front of one of her canvases; photographic colour views of the Manhattan skyline; and a (painted) female artist, sporting a cropped haircut, zebra-print dress, and leopard-skin shoes, holding a paintbrush and palette. The work "re-exposes" Boty as an artist and a sex symbol, a performative initiative that Boty took on board to challenge her legibility as a female artist. Olowska's complicates this historical narrative with the Eighties-style, "ironic" figure of the New York postmodern artist, quoted from an image in an old copy of Art in America, who twenty years later is more enabled by society to perform those roles; and finally there's Olowska herself, who, from our vantage point in history, has the ability to invent her own potential worlds and roles.
"Paulina Olowska", Cabinet Gallery, London, February 8 until May 11, 2006