American Surrealism as Asylum
Critique and glorification in goth and other shadowy movements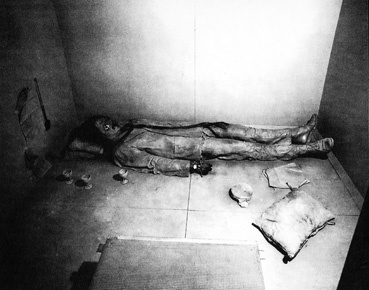 Paul Thek, "The Tomb - Death of a Hippie", Stabel Gallery, New York, 1967, installation view"
Any enlightenment in art, any demystifying, critical, and conceptually vigorous movement is trailed by the highly imagistic sludge of irrationalism. Thus, the pseudo-Asianizing Hippie esoterica of the sixties are to the New Left what the early eighties' Goth culture is to Punk, to its anarchisms and radicalisms. But of course enlightenment's esoterically inclined successor has been around for much longer (Romanticism!?), and on occasion he can be a good ally precisely because, under favorable conditions, he attacks, and compensates for, the specific exclusions and repressions of a blind and tainted rationality. In most cases, however, he is too much of a believer.
Yet the decisive point about this interrelation of critique and glorification is not their dissociation and occasional complementarity but what each dreamer shares with the critical culture he follows: a fundamental and historically specific consensus about the sensual character, the taste, of the ultimate goal or good-less in the form of an explicit program than as an intuitive notion of what constitutes the good life, in the respective communism or paradise: the specific sound of salvation. Political and religious minds often thought in similar and specific utopian imagery, only the political minds (if they were smart) concealed them behind conceptual screens: the others showed them off, which made them consistently more attractive to young generations and the culture industry. Of course, there are (unsavory) reasons why that is so. The movements in question are, after all, the children of a (false) world in which (old) class relations are structured also around the difference between the abstract and the concrete. It is nothing new that one side is disconnected from abstract knowledge, the other, from sensual truth. True, there have been isolated cases of the synthesis I hinted at, or at least of conciliation. When Jimi Hendrix asked, "Are you experienced?," we were certain that he spoke of an experience (Erfahrung) deserving of this name: a sensual-political one. By now, one wouldn't want to say with the same certainty that he did not in fact speak of the psychedelic struggle as a thrilling inward experience (Erlebnis). Usually, the movements oriented toward the political-conceptual and those seeking the thrill of the sensual drifted apart more quickly, even if both parties again and again articulated their longings for the other side. Still, there has not been a (leftist, political) movement since Surrealism that would have attempted to systematically put precisely this problem front and center.
Nor could Surrealism succeed in this, of course. But the attempt is palpable in many of its varieties: its malice, its obsession with sex, its sarcasm, its unclean thinking that yet never ceases to be thinking and to want to be thinking; the Bataille faction's strange attempts to establish the community and the tribe as alternatives to fascism and socialism, the insistence on the Communist Party on the one hand and the abject on the other. No wonder that Surrealism's phone rang again and again when someone had lost sight of what it in fact it was that Jimi Hendrix had asked about. Unfortunately, the historical Surrealism over time disappeared behind personal styles and reified sensibilities. In European cultural memory, it is affixed to a few painters and manifestos. The mechanism of the foreseeable disintegration of each new rebellion remained in effect. Most recently, during the nineties, the constellation of techno, feminism, and deconstruction was trailed by its imagistic dark side. Not only the resurgence of existentialist currents and religiously tinged aestheticism-often in queer encodings-under titles such as Industrial, or its revival, took on the familiar function, but also new digital psychedelia.
Yet two developments have been conspicuous since the demise of the New Left and the Frankfurt School. Each new movement on the demystifying side had absorbed skepticism toward enlightenment in increasing doses. However, this did not lead, for instance in Punk, to a peculiarly systematic synthesis of leftist radicalism and skepticism toward rationality comparable to that of Surrealism, but only to shifts in the formation on the field of intellectual history. The old mechanism was not suspended; and so Punk was matched by its own irrational-and in comparison to its predecessor: more irrational-variant.
Still, this irrational, dreamy, imagistic, and shadowy movement, known primarily as the shifting adversary of the critical-rational movements and attitudes since the War (skepticism, existentialism, the New Left, Punk, Techno/feminism/post-structuralism) by now holds sway over the entire field of most cultures. For a residual critical culture that it would follow and confront, antagonistically or as compensation, exists only at the academic margin of the visual arts and cinematic cultures; everywhere else it has almost disappeared. The shadow movements, in turn, deprived of the hegemonic and argumentative critical counter-cultures they formerly related to, have embarked on their own small progress.
What has developed in the meantime-that is to say, as the critical movement grew weaker and, in this decade, disappeared altogether-from the energies of sensibilities typified by Goth and Industrial, is not only a complex tangle of varieties but slowly establishes contacts with non-dreamy cultures: partly by openly adopting rightist or conservative language, obviating the need for the hermeneutical and ideology-critical operations that used to be necessary to isolate and identify such ideas in earlier stages of these cultures; partly by pulling itself up by its own bootstraps and generating its own critical potential.
But this strange, derelict, imagistic irrationalism, this slowly arising and awakening world of dreamers' subcultures is not entirely left to its own sadisms and masochisms, its drastic and its visions. When the historical Surrealism disintegrated, during and especially after the war, into particular projects, artistic careers, and fetishized styles, its strange internal logic went into exile, preserving its tensions and its synthetic idiosyncrasies. This asylum was the U.S., not only as a literal refuge for a "Boatload of Madmen" (Dickran Tashjian) from Europe but more importantly by virtue of American Surrealism. The latter was at first not immediately political, and the critical-political modernists brushed it off with grand gestures.
Yet it was long-lived, not susceptible to fetishization, and inaugurated a minor cultural current and over the course of decades produced aesthetic nuances that seemed derived equally from the arbitrariness of imagistic dreams and from a sharp and determined rejection of the present state of affairs, at least hinting at the presence of specific and critical ideas. Joseph Cornell, who was touted as a poetic-eccentric version of Duchamp; the gay poets Charles Henri Ford and Parker Tyler; middlemen to the Harlem Renaissance such as the "Black Proust," Jean Toomer, and the collector of sensibilities Carl van Vechten; the early poetic film avantgardists Maya Deren, Kenneth Anger, and especially Ken Jacobs, the eclectic teacher of Jack Smith and others; the eccentric painters Pavel Tchelitchev and Florine Stettheimer; the queer-political stylistic revolt of the early sixties with Jack Smith, the Ridiculous Theater, some Factory episodes, the first buddings of Hippie culture: there was a continuum of individuals from different generations, many of them friends with each other, who followed a path independent of Greenbergian modernism on the one hand and the culture industry on the other hand, a path that was not only the youthfully enthusiastic shadow movement of this modernism but also kept alive-if under entirely different conditions-the lost synthetic achievements of French-Spanish-Belgian Surrealism.
It is to this "American" Surrealism, which John Zorn, for instance, claimed a few years ago as his specific heritage (giving almost all names listed here), that a number of public activities in recent years have been referring more or less consciously and more or less openly; thus with special ostentation and varying success last year's biennials in New York and Berlin; essayistic exhibition projects at institutions ranging from the Neue Gesellschaft für bildende Kunst (Berlin) to the Museum Ludwig (Cologne); but also recent pop music from Antony and CocoRosie to the poetic-tribalist and radical wacko collectives of the New Weird America.
The recourse to American Surrealism and its filiations appears in two ways in these projects, most of which are not determined by strategies of cultural and discursive politics but in fact by business cycles and the market's as well as participants' personal aesthetic politics: on the one hand as an improved, more developed, more political irrationality, an interventionist shadow movement; but also, on the other hand, as a compensation for the demise of critical culture-as it were, as the belated next stage (finally!) of a critical culture that is no longer only self-reflexive but now skeptical of itself: or at least, as its promise.
Unfortunately, this new old cultural richness, and its affiliation with an anti-normal homosexual culture of resistance, has taken on also the false functions of its irrationalist predecessors among the shadow movements. For it is adopted as a nostalgic and escapist glorification of subjectivity by today's coddled narcissists, who stage a thoroughly conformist celebration of limitless individuality and the cuteness of an eternal sheltered and bourgeois childhood. Politicization appears in this context at best as the updated continuation of the highly seductive romanticization-whose appeal I will not dispute-of the sixties and their inexhaustible imaginary. Yet its roots in the anti-normal and the associated critical position, effortlessly manifested by the specific beauty even of Jack Smith's most ephemeral poses, and even the productive intellectual dearth of some of this American tradition's "Surrealist" projects, undeniably undergird this other line. The cornucopia of its imaginary, by aggressively contrasting the "free person," as Stefan Brecht wrote, against the "authoritarian phony," becomes a reservoir of anti-normal individualism's critical ideas; though the latter have, on the conceptual level, long been annexed and rendered banal by the neo-liberal discourse of management. And of course its images, like all images, are in principle indefinitely liable to fetishization: yet their documentary character contains the truth of a political conflict between the norm and the person and thus denounces the specious solution of this conflict in the claim of neo-liberal ideology that the market rewards opposition to the norm. It rewards only the production of fetishes (which may at times be helpful) and objects that speak of this conflict; it installs a false notion that careerism and an anti-normal attitude are indistinguishable.
This complex and its explosive energy appear with increasing frequency of late, under different names and with varying heuristic intentions. That includes regulars of this journal such as Albert Oehlen with his project "Offene Haare, offene Pferde-Amerikanische Kunst 1933-45" (Kölnischer Kunstverein, 2001), in which contemporary artists engaged the Russian-American painter and theorist John D. Graham (1880-1961), a friend and role model of Arshile Gorky and the curator of Jackson Pollock's first show in New York, who was himself influenced by Breton and French Surrealism, an influence to which he returned-while giving the reflective screw a few more turns-in his painting, especially in his last years. Mike Kelley also always drew a connection between Surrealism and the provincial, subcultural, proletarian, Goth-spiritist and political-activist artistic productions (mostly in the US) that he documented, analyzed, and was in many ways inspired by. And Dietmar Dath's theory of the drastic, with its analyses of (e.g., Italian) Horror and (e.g., Norwegian) Death Metal, evinces strong parallels to the complex phenomenon sketched here of an (anti)modern, spiritual and radical leftist, anti-normal, and non-bourgeois constant in Surrealism-which, the author hopes, will suffer from his divulging its structures no more than it already has from the fleeting attention of a few spoiled brats.
(Translation: Gerrit Jackson)