Gentle Vandalism
Sarina Basta on Michaela Meise at Greene Naftali, New York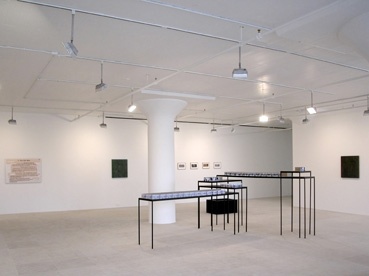 Michaela Meise, Ceremony of Carols, Greene Naftali Gallery, New York, 2006, view of the exhibition
Michaela Meise's first solo exhibition in New York inaugurates the newly configured, very wide and very bright new space of "Carol's" as it is usually referred to in New York. As I get over my initial surprise and my eyes get used to the light, I realize how well the dark legs of silhouetted table sets, centrally placed, gently articulate the relative nudity of the space and creates a sort of milky ether around the pieces in the show.
Anyone who has had to consider the display of flat works knows that vitrines and display tables are a tricky thing to deal with. They are usually under- or over-designed and hardly satisfactory as objects in themselves. For centuries they tried to conceal their complicit relationship with authority under a cloak of neutrality or coquettish transparency; now, they usually dwell in a state of apologetic and mediocre realism. Haim Steinbach was pivotal in considering modes of display and their capacity to confer to an object the status of artifact. Today, artists like Rachel Harisson further these experiments in provocative sculptural gestures. Those of Michaela Meise also call attention to themselves: in this particular case, the extended scale and the glass surfaces intersecting in parallel and perpendicular planes act as an announcement that the display apparatus has developed the theoretical and visual complexity of a work in itself.
Over the glass surfaces unfold a series of leporelli capturing - sequential stills from the film by Milos Foreman as I learn upon reading the title of the piece ("Hair", 2006). The images don't really stick with me. Maybe their sizes are deliberately wrong, maybe the imagery, upon first glance, seems almost trivialized in relation to the means deployed in the piece. Still, the inversion between the relative importance of the display system and the "works on paper" of inconsistent production quality leaves the viewer intrigued. This unconventional inversion between quality of object and support is also echoed in one of the other free-standing pieces of the show, "Britten" (2006).
Knee height, a photograph, style affiché of a scan and/or a computer print pasted against a vertical surface of glossy Bauhaus blue, and I have to admit that I blush upon seeing Benjamin Britten's fine features on the portrait. This amalgam between hard form and appropriated photographs is also recognizable as part of Meise's ongoing approach to structure and image, volumes and planes. In the case of the sculptures, Meise operates a sampling from modernist architecture and sculpture's formal elements, while subverting their initial relations to form and function. This transposition of variable modernist "citations" or on the opposite, the deconstruction of what was to be perceived as generic, un-authored and reified modernist constructions shaping public space or governmental and industrial quarters become material in the hands of Meise. Her new sculptures both critique and play with these inherited relations while creating a surprising set of new ones.
In "Britten", the sheets of wood emulating metal form a fanning-out structure of surfaces as the viewer's gaze meanders into the rigid intersections of the object that mimics an Anthony Caro, Bauhaus furniture or minimalist sculpture. Yet, both image and structure are tainted by a temporal distance - and this is when Siegfried Kracauer's text on photography comes to mind, and this is where the modernist object's aspiration to an eternal present dissolves into a dialogue on perception, historicism and history.
I linger upon this piece because it seems that these image-structures are prominent in Micheala Meise's work from 2001-2002 onward and act as formal and cultural explorations of the qualities of an object, of a surface and those of an image. Oscillation of functions that transform the perception of the structures - from sculptures in their own rights to bases, pedestals or surfaces for affichage. The gesture of affichage itself is a performative element, one of gentle vandalism that suggests street culture and the political, anonymous tactics of an activist introducing an autonomous voice within the situations at hand. The figurative element of the photograph in this particular case also further subverts the smoothness of the support that poses as "blank". But nothing remains blank in the work of Meise for very long. The swapping of industrial materials for more modest ones such as wood for example, is an approach that can also be found in the work of the young Swiss sculptor Valentin Carron. Carron also operates as a critic of historical symbols, and in particular, humorously critiquing what could be seen as the vacuity of Swiss history, that has conveniently been whitewashed of its alarming historical associations while attempting to bring together in its vernacular cultural productions a disactivated nationalism tempered by a hoax of neutrality. Both artists are adept at a cosmetic approach, in the case of Meise, "Britten" seems it would be composed of steel when in fact it is made of wood coated in glossy veneer. Carron replaces stone and steel with materials such as MDF and resin - his sculptures also "pose" for a short while for those they riff-off - in his case however, the leaning is less towards an entirely new set of relations that Meise creates, and an opting instead towards a sophisticated form of grotesque. Rosemarie Trockel's activist approach might also come to mind when examining some of Meise's methods. Trockel often starts with materials associated with the functional and transposes them into the ornamental, a quasi-inverse approach of Meise, yet both artists combine vernacular with high-end art language, forming a whipping critique of the underlying structures of paternal languages of art and power.
Meise like Trockel introduces decipherable figurative elements that both work as subject or ornament - but Meise's sampling technique relates her to another genealogy of artists who use 2-dimensional imagery, such as Martha Rosler's collages or Erik Steinbrecher's selection of displayed archives from photo magazines. Images of "divas", pop or show-biz icons, archeological sites, anonymous, softly erotic body portraits of the Weimar and Post-Weimar era, and finally, images taken from international reportage are part of Meise's repertoire, but never delivered all at once. In Meise's case the appropriated imagery is usually two-tonal, as in black and white or sepia - which introduces a historical distance - and engages with various typologies that can be related to those of Kracauer in his notorious essay on photography's impact on modern consciousness: "The images of the stock of nature disintegrated into its elements are offered up to consciousness to deal with as it pleases. Their original order is lost, they no longer cling to the spatial context that linked them with an original out of which the memory image was selected [...]. It is therefore incumbent on consciousness to establish the 'provisional status' of all given configurations, and perhaps even to awaken an inkling of the right order of the inventory of nature." [1]
In Meise's repertoire emerges a careful construction of discourse through the interrelation between the works in each of her solo exhibitions. They seem to narrate the artist's own perceived and constructed position at the moment of the intervention. "Ceremony of Carols" is no exception. Meise establishes herself as "visiting artist" and assumes a role of potential anthropologist [2] in the way she invites us to contemplate a common other, and even incorporates would-be stereotypes of how we could perceive her own Germanicity. If in Kracauer's terms, photography is alien to memory through the loss of significance, Meise reconstructs a narrative that is somewhat readable, while defying historicism towards a history of chosen significances. For example, Britten's temporary status as asylum seeker in 1942 when he wrote "A Ceremony of Carols" during a visit to the US, to avoid the war is given as clue (this information is provided in the press release). This establishes a connection to Milos Foreman's personal history as a Czech expatriate who arrived to the US in the late 60s, and the artist's own status as visitor in the US for the setting up of this exhibition in 2006.
A second level of narrative is created by Meise's powerful series "Bones" (2006) that addresses the excavation of African American cemeteries in New York, originally dating from the seventeenth and eighteenth centuries. This is when I am convinced, and impressed by, Meise's anthropological approach to some of the material. Meise's take - here again - on Kracauer's positing of photography as establishing an artificial "spatial and temporal continuum" would also be relevant, and marvelously so at that: the excavated sites include an in situ caption giving scale, current location and date of the shots (the early 1990s). The ignorance of proximity and the history of our immediate surrounding plunge the viewer into confusion as to what the images are about. Are these holes contemporary construction sites?
This reflection on the medium and the valuable information disclosed by the photographs initially took precedence in my mind over any reference to Gordon Matta-Clark's measuring devices and his study of site and location in the early 70s. In fact, on second thought, the reminder of Matta Clark's own work becomes almost crucial as it creates a third historical referential point in the reading of the piece, one that acts as intermediary between the moment the tombs were created (the grandmother in flesh and bones - still alive and naughty in Kracauer's text), and the moment of the photograph (the Diva subject to photographic scrutiny).
The DVD projection on the lion statues of the Greek island Delos ("Delos adelos Samos ammos Rhome rhume", 2006) I wish I could skip - perhaps because it bored me in its mimic of structuralist film - perhaps because there was already a lot going on in the show, perhaps because the element of German and Hellenistic marriage present in the various thematic references to the lions of Delos by Meise is something to which nuance is lost on me in contrast to the critical Marxist films of Jean-Marie Straub and Danièle Huillet. However, the recurrence of the imagery of the lions in Meise's work invites me to tackle them from the perspective of the monogram [3] and in this respect can be related to the more enigmatic hearts that punctuate the show. These heart-shaped cut-outs on what look like shutters of rough, pigmented wood somehow recall the window panes of a house from a German fairy-tale that has met the heart of "I ¤ NY". Besides suggesting a non-existing space behind them and one they could potentially open up to, the hearts almost become a prompt for what could be our own stereotypical views on what being German means, or a misled perception of Germanic vernacular architecture and design. Yet, their fictional quality also adds a light-hearted colorful motif to the show.
By and large, Meise's works embody a complex take on history, historicism and medium and absorb the viewer into a dense web of connections that activate each piece in the exhibition. Dancing through and around the hard-edged extremities of the show, the unfolding narratives and nuanced overtures produce the resonance of a carefully constructed melopée.
Michaela Meise, "Ceremony of Carols", Greene Naftali, New York, October 6 - November 4 2006.
Thanks to Trevor Smith for his recent, informal conversation on Haim Steinbach, and to Benjamin Buchloh who introduced Kracauer to us while he was working on Richter's "Atlas".
Notes
| | |
| --- | --- |
| [1] | Siegfried Kracauer, "Photography" (1927), in: The Mass Ornament - The Weimar Essays, Cambridge, Mass. 2004, p. 62. |
| | |
| --- | --- |
| [2] | I was impressed by Meise's choice of text in her catalogue "Bank und Bleibe" published by Koenig Books London (2006). The text "Special relocation projects at the Bülowplatz in the 1930s" by Ulrike Steglich shows the bureaucratic fascism that surrounded one of the Jewish ghettos in Berlin under real-estate speculation at the time. The publication also documents the elegant and terrifyingly efficient public sculpture "Bank" (2006) that Meise built in a small Berlin plaza, as well as her research on and activist embrace of the development of women shelters. All this to say that her "artist as anthropologist or ethnographer" approach is far from superficial and has an admirable consistency so far. |
| | |
| --- | --- |
| [3] | "This history is like a monogram that condenses the name into a single graphic figure that is meaningful as ornament." Kracauer, "Photography", loc. cit., p. 51. |