168
Toward A New Solidarity
Ania Siwanowicz on Polish Socialist Conceptualism of the 70s at Orchard, New York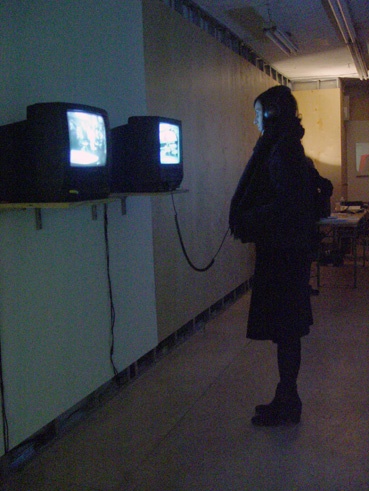 Polish Socialist Conceptualism of the 70s, Orchard, New York, 2007, view of the exhibition
It is hard to look at a few salvaged crumbs and not wonder about the whole pie - especially when you come off feeling like you've just been handed a selected slice. Such was the case with the recent exhibition at Orchard in New York's Lower East Side, titled "Polish Socialist Conceptualism of the 70s". The show, curated by Lukasz Ronduda in collaboration with Barbara Piwowarska, presented film and video work by four individual artists and two teams from Poland. More Op-ed than encyclopedic, the show traced a compound arch which both linked the 1970s to today, as well as, brought forth contradictions concerning the idea of documentation in general.
What does it mean to re-present history, and how is this done? Though often warped or blurred at the point of creation by the various purposes of those in power, primary source documentation is here employed retrospectively as a kind of mythic common denominator, or establishing ground for the show. Countering these works-as-artifact from the period itself, the exhibition then also presents contemporary "histories", that is to say recent archival and referential projects made from outside the period looking in. Possibly due to the fact that time-based image recording is also in-itself a way of looking forward and backward at the same time, the counter-play between these two set-ups conceptually alludes to sealing oneself in a state of a permanent now. This synthesis into a permanent now is a neat match to the power and resonance of socialism's call to collective action. In the case of artists such as the duo KwieKulik (Zofia Kulik and Przemyslaw Kwiek), Pawel Kwiek, and Pawel Althamer, this idea of now is an apparent basis of the process and product of artmaking and critique.
"Variants of Red", from 1971, is a collection of hundreds of slides chosen by KwieKulik, which take a long stadium look at a formal element, the color red. Through the different instances of this color in photographic images, as cloth, architecture, text and so forth, the overwriting of ideological symbolism with relative context prefaces a plea toward personalized associations. Displayed next to KwieKulik's "Edward Gierek's Path" (2006), a slideshow of the Polish leader on a political PR tour of the bureaucratic factory landscape, "Variants of Red" comes full circle defining the center between reflexive and reflective.
Nearby Pawel Kwiek's start of a lifelong dedication to the people and place of a small village can be witnessed in "Niechcice" (1971-73), a part of his greater project "Objective Documentary of Man". Kwiek mobilized the young population of the village to make short films with his help and, acting strictly as cameraman, allowed for a collaborative verité to reveal an objective place as an entity greater than judgment and ego.
A continual desire for participatory practice can also be seen in the recent video by Pawel Althamer "Bródno" (2000). Made during the time leading up to the new millennium, Althamer organized and documented a mass-cooperation, the projection of the number "2000" out of a monolithic block housing project in the Warsaw Bródno neighborhood from planned lit and unlit windows of over 3000 residents.
Although the translation of socialist ideologies into practice often results in grim daily sacrifices, it is still met with an outlook full of enthusiasm for the future. The exhibition brings forward these contradictions by simultaneously exposing the radical actions taken to destroy the system in Igor Krenz's "Solidarity TV" (2006), as well as those taken to nurture its existence in Marysia Lewanowska and Neil Cumming's ongoing "Love" film program. The first, a recreation of a group of university astronomers' brilliant usage of television transmitters to overlay Solidarity-promoting anti-repression slogans with the national evening news during the broadcast in 1985, is as direct a statement as we can dare to ask for. "Love", on the other hand, requires greater inference. The collection of films in this program brings to light the multitude of amateur attempts made during a golden age of local film clubs that incidentally depicts the daily hardships of life as the practical backdrop for love stories by a population in need of expression and communication. As chance would have it, a purely functional consideration became a quite literal floating signifier elsewhere in the exhibition.
Flanked over the gallery's front window a bright red drape fit perfectly into the scenery of the Lower East Side's Chinese façade signs and shop decorations. Left over after Barbara Piwowarska's pre-exhibition performance, the fabric was used pragmatically to keep out the light and help enhance the contrast of the film projections inside. Obliquely, no documentation was displayed as a reminder of the original purpose of the sheet.
Conflating memory with souvenir can stifle productive thought if we hold too tightly to a narrative history instead of thinking with one. Fortunately after getting past the inherent beauty of the images found in the video and film work of "Polish Conceptualism of the 70s", nostalgia seems like a thing of the past.
This article was written from a conversation with Adam Kleinman, curator at Lower Manhattan Cultural Council.
"Polish Socialist Conceptualism of the 70s", Orchard, New York, January 7 - 28, 2007.