Ever get the feeling you've been cheated?
Adam Kleinman on "Beneath the Underdog" at Gagosian Uptown, New York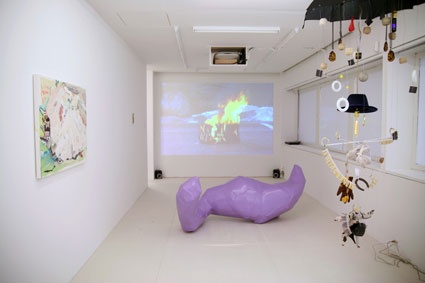 "Beneath the Underdog", Gagosian Gallery, New York, 2007, installation view
Unlike a solo exhibition, a convincing group show is characterized by a curatorial agenda in which the artist's skill at presenting his/her own approach is replaced by the curator's ability to articulate a clear and certain argument – be it theoretical, art-historical or ideological. Yet, a common pitfall occurs when too much cleverness is invested into making an attractive thesis and the selection of artworks is used primarily to support the concomitant claim as illustration. Not surprisingly, a disjunction between the underlying thesis of a group show and the constituent artworks can occur. Adding fuel to the fire, commercial galleries have recently taken to commissioning curated group shows for sale. Herein the curatorial statement is transformed into a press release secretly aimed at elevating the lot through borrowed criticality; call it high-end back-story. "Beneath the Underdog", a group exhibition curated by New York-based artists Nate Lowman and Adam McEwen, is one such example of press release curation; what the show appears to be on paper sounds good, but the work that is physically placed in the gallery is heavily mismatched. Furthermore, the celebrity curator-as-guest model, imported possibly from the world of galas and society events, plays like an invited host adding yet another name cachet promotion to the exhibition – over the idea of a critical exponent of an issue.
Purportedly the curators tell us that show is about the "alienation and marginalization" felt by the "individual's relationship to the towering vertical landscape of late capitalism". As protagonist, the curators presented a rather reductionist antidote to this towering landscape by evoking the postwar artistic movement toward horizontality in studio practice. Much of the show harks back to Leo Steinberg's symbolic accumulations and other processes of development à la "The Flatbed Picture Plane" rather than to Rosalind Krauss's notion of horizontality in her "Sculpture in the Expanded Field" essay – especially since most of the sculpture in "Underdog" is of the pedestal variety and the painting of the framed and mounted sort. This is no new territory for McEwen; his previous solo show at Nicole Klagsbrun Gallery (2006) mixed photographs of the LeFrak City housing development in Queens, New York, with a series of chewing gum agglomerations on monochrome canvases. Unfortunately, much gets lost in the metaphor as equating the layering of detritus on an image and the complex sociological strata involved in construction, the politics of city government and high finance is glib at best. Carrying these traces into "Underdog", the curators assembled a vast array of work that attempted to delineate some historical genealogies between a select group of today's artists and a handful of canonized artists of the past. Some of this seems to fit into the horizontality argument such as a smashed glass sculpture by Barry Le Va, but most of the historic work leans more toward appropriation such as a torn poster assemblage by Raymond Harris and neo-Dadaism as in a Bas Jan Ader photo series comprised of a rich man in a business suit being successfully trapped inside a large cartoon-esque box and stick device with a tea setting serving as bait.
Thrown into this mix is a multitude of new works by "emerging" artists such as a Tauba Auerbach piece wherein all of the letters of the alphabet are illegibly typed onto the same spot, a canvas fashioned into a car bumper lavished by a painted Free Tibet Campaign "bumper sticker" by Kaz Oshiro, and omnipresent one-liners like Matias Faldbakken's display of ceramic baseballs on pedestals labeled "Sometimes You Just Have to Play Hardball" and the "readymade artist" Claire Fontaine's squashed 25-cent piece with fold out mini-hook-weapon called "In God They Trust". Maybe the artist-curators themselves are trying to make a slick pun between the vertically of tall buildings and the social mores of "uprightness"? Whatever the case, it comes off a little "flat" as chiding slogans, self-reflexive paeans to the art making process and the juxtaposition of a totemic bust of urban mega-planner Robert Moses by George Gach with photographs of housing projects isn't the most concentrated study of the backroom deals that foster zoning allowances, tax abatements and other top-down incentives which dictate New York's "towering landscape of late capitalism".
Although writing oneself into the history books is a trick at least as old as Dante's use of Virgil, "Underdog's" rehabilitated adaptation of horizontality in art practice and neo-Dadaist nostalgia upsets any academic preconception of being faithful "to the letter". There is little referential valance here between the old and the new work other than stylistic messiness and irreverence so that a Warhol "Oxidation" (piss) painting becomes the obvious potty mouthed progenitor of Joe Bradley and Dan Colen's fashioning of four various sized canvases into a armless stick figure named "Shithead". In place of rigor, the curators have substituted a contrary idea of being faithful to the "spirit" of an edgy avant-garde that masquerades insouciance as protest. In this form of mythic campaign building, does paying stylistic homage eschew one's own contemporary situation with that of a romanticized past – what happened to this "towering vertical landscape of late capitalism" we are meant to be looking at? More importantly, what is at stake when a personalized mood is presented as a historical world view?
For one, the system of subjective equivalences presented here is an attempt to change the tone and meaning of the historical work. Deliberate effort is being made to force a similarly gray épater le bourgeois super category in order to foster an instant lineage and gravitas for the newer work. Are these "emerging" artists the self-proclaimed torchbearers of La Ve, Harris, Ader and so on? Are the few Pop art smatterings in the show meant to be the ancestors of Lowman's own signature bullet hole graphics replete with Benday dots and thick outlines? Not only do these questions turn the historical subjects of the study into objects, they betray the show's actual agenda: fabricated precedents as authority for contemporary actions and value. Coupled to this strange contradiction of purpose, the show itself is housed in one of the most high-powered art clearing houses in the world – and the former site of Sotheby's galleries before that. Since "you can't have it both ways", the curators simply said one thing and did another.
It has been said that the curator now holds the power in the art world and no longer the critic, but the question is: what happens when the curator is an active commercial artist? In the case of "Underdog", it would appear that these curator-artists are not actually critiquing the duplicitous and oligarchic tactics of real-estate developers and other gang/lobby practitioners, but mirroring them.
Public Relations aside, there are some strong works included such as Monica Bonvicini's decimated yet cushy installation of smashed Sheetrock over sponge flooring running throughout most of the space and Michael Joaquin Gray's orange plastic cast of Rodin's "Balzac" hung upside-down from the ceiling. Yet, one of the biggest detractors of the show is that there are 54 artists on display – one on top of the next – in a handful of small gallery rooms. It could be said that this ambitious scale alludes to the density of New York itself, yet on closer inspection, it is more a kissing cousin to the salon style display of conspicuously consumed adornments if not simply a supermarket of endless choices – remember where we are after all. Although the show included a Douglas Huebler piece, the curators should have taken heed of his most famous statement: "the world is full of objects, more or less interesting; I do not wish to add any more."
"Beneath the Underdog", Gagosian Gallery, New York, April 27 – June 16, 2007.