Stirred or shaken?
Kiron Khosla on Vincent Tavenne at Galerie Hammelehle und Ahrens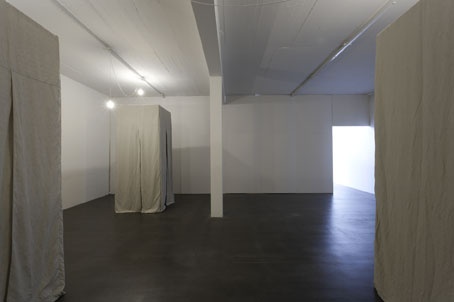 Vincent Tavenne, "Illusion und Simulation: Trois Machins, Un Truc, Deux Bidules", Galerei Hammelehle und Ahrens, Cologne, 2007, installation view
Walking into Vincent Tavenne's recent solo exhibition "Illusion und Simulation: Trois Machins Un Truc Deux Bidules", one sees a large gouache tentatively hanging on a wall. This work is made up of many A3-size pieces of paper stuck together to form an image that spans 240 x 180 cm. On its black background there are a few white and blue squiggly lines. This poster painting, produced in 1993, can be conveniently folded into a gray cardboard box like an article of clothing. On the other side of the wall, there is the same image but constructed out of wire in 3D in a glass-fronted wooden cabinet spanning 200 x 150 x 30 cm dated 2007. This piece you definitely cannot tuck under your arm pret-à-porter style.
These two artifacts could come under the subheading "Deux Bidules". We find this out by referring to the invitation card, which is incidentally printed on the most fragile of papers. Although Mr. Tavenne is a Frenchman living in Germany some twenty years, it's still no surprise he resorts to French slang to express himself. Loosely it is translated as "two whatsits, thingies, what-d'you-call-its?" etc. The motifs are circular and loosely based on and abstracted from medieval cosmic maps and charts that he has often over the years sourced and referenced in many of his smaller formatted gouache paintings and prints. There is his varied use of materials and their weight, solidity and flexibility. Of course there is the question of repetition and translation that mutates the secret as it passes from one form to another, like the game of Chinese whispers where the original message is lost and we are left with a trace, and the trace of a trace.
What are Tavenne's views of the universe and life – the ancient problems of "who am I?" and "why am I here?" Is he celebrating the absence of an originary radiating centre from which a presence beyond presence presides? Is he blithely selling us the many connotations of a circle, which is often used to symbolize some sort of universal truth? Is he cynically laughing at all who are looking to find the meaning of life? Is he parodying the human desire to fix the origin of species, by indefinitely multiplying the choice of possible origins? Is he caught up in the metaphysical conundrum he seems to be playing with, just by referring to its existence? Or is he proposing that there is an ahistorical and apolitical, abstract and emotional, op-art world of experience available to humanity which can bypass (con)text?
As one begins to read Tavenne's (s)cript, which seems to be grounded in a Socratic questioning, he indirectly proposes that taboos are de facto transgressable; that there are many solutions to the spirit, or the origin of species. One can commit adultery and, heaven forbid, start smoking again. All this arises from addressing the ontological symbolism of the circle. By varying the motif indefinitely and multiplying the possible interpretations, and by slight shifts that take place when one translates or transcribes an image from one medium into another, he keeps us waiting for his death when we can at last pin him down. He is weary of the aesthetics of human research which often seems to be predicated on a jumble of metaphysical presumptions that give birth to religious and political dogma. Here, he neither trusts in the promise of resurrection and eternal paradise that the businessman-politician-priest wants to sell us, nor the romantic nihilism of the bohemian artist who would like to convince us that all is lost. You won't find a self-exploiting hedonist dandy called Tavenne in your local tavern.
Head in the clouds contemplating the mysteries of the universe and other dissimulating conundrums, you might stub your toe on "un truc". This sculpture is like the short ledge you often find yourself tripping over when entering Zen monasteries. It's there to remind you to come back to the present and leave the speculation behind, and like the monastic ledge you don't see the offending object straight away. Is it another masculine trick or thingy, a lost soul? This dingsbums is a bronze button perhaps 100 times larger then we would usually encounter in our everyday lives. About 2 cm high and 13 cm across, it could also be used as a door stopper. We know Mr. Tavenne is fond of enlarging everyday things to play with our cozy perceptions of reality so here size does not scare us – though there is probably a pun or some such word play in there somewhere.
The whole time we were vaguely aware that there was something being cordoned off and we now veer toward the darkened opening and enter the maze. Then, like a Venus flytrap we realize we were already in it since Tavenne had sectioned off the gallery with a thin cardboard wall so as to lure us to the slippery center. Here hanging on frames "Trois Machins", to be translated as three contraptions or thingies. We could also go for a phonetic reading and say three machines. And machines indeed they are; each being about the size of a British red telephone box. What from the outside looked like small, dull grey sentry box tents, on entering suddenly gives way to room and manifold experience.
These three machines are squarely in the great tradition of tent making, and Tavenne's artistic oeuvre which is (almost) always ready to be dismantled, folded up and moved on. They are nothing short of a sensual and colossal triumph of imagination and craft. With all their allusions to the nomad, itinerant worker, ambulant refugee and camping architecture, they have over the years developed into an answer to all those hundreds of questions we like to trip ourselves over with. We are confronted with a humorous light-footed playfulness that dances through the dangerous jungle of love. Somehow parody and irony are gently bypassed, and we enter a touching world of color and form, muted sound and the smell of cotton and linen. We can't help chuckling at the precision of the work, both from the labor-intensive clarity and the resulting experience. One could say mindful experience, or mindless, there is no difference really in this gap. We are between time, in the interval, a haptic cartography between the walls of chronology and geography. This is a place of wandering and exploring.
As we let go of our addiction to reason we realize that we were born a desiring nomad secretly influencing rationality with our hunger and dreams. This is after all what Mr. Tavenne is tickling us to remember. On the one hand we have the hidden signifiers and symbolism of "Deux Bidules" implying its own delusion of grandeur, radiating utopic concentric circles, and on the other the sober, almost illiterate, haptic, cramped spaces of "Trois Machins" where we are directly confronted with a body politic; one veers out of control, the other is sober full of dry quiet unassuming humor. By shuttling back and forth between the doomed central motif which is continually replaced, and the "other" rather secretive politics of desire, where the ideal is displaced and subverted by a multiplying swarm of anomalies, we begin to see, feel and appreciate how things mutate in a marginal and site specific world full of "illusion and simulation". All this is hinged on "un Truc" that couples the speculating contemplator with the fresh breeze of here and now.
Time to leave this trickster's house and get a very dry martini.
Vincent Tavenne, "Illusion und Simulation: Trois Machins, Un Truc, Deux Bidules", Galerie Hammelehle und Ahrens, Cologne, April 18 – May 16, 2007.