169
Rebel Yell
Kiron Khosla on Ina Weber at the Kunstverein Kassel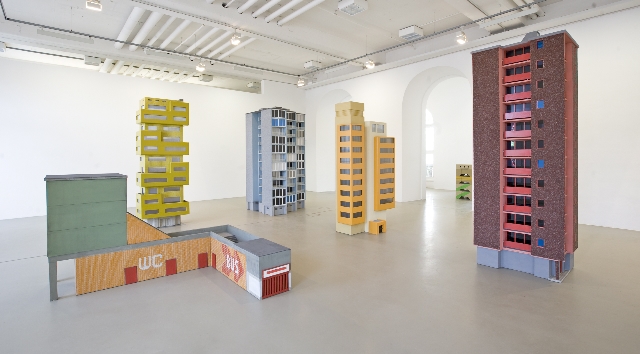 Ina Weber, "Von Bauhaus zu Real über Lidl und Minimal", Kasseler Kunstverein, 2008, Ausstellungsansicht
Looking through the catalogue for the exhibition of Ina Weber at the Kasseler Kunstverein I came across the piece of work that hooked me when I first saw a show of hers. It is on the last page of the book as if it is a discontinued model that yet wants to stay on the shelves, or as surplus stock remains there by default. It is a cross- stitch embroidery of a becoming obsolete Tdk audio-cassette which has as its title "Washing Instructions" (2003). This small wall piece exemplifies many of the mundane themes which run through the work of Weber invoking, among other things, a bygone age of craft and (re) production, rebellion and teenage kicks all through the night. The exhibition in Kassel concentrates on architecture, though.
Entering the recently renovated Kunstverein the visitor gets to see four three meter high models of nine to eleven story modernist looking buildings that might have come out of the fifties. Ideals of bright, chic, intelligent living spaces somehow work contrary to their intention. The plot of land it is constructed on is so small that the wish for compact spacious apartments turns out to be cute doll houses. Indeed Weber does herself say these buildings in real life look like large sculptures, but small living quarters – a philanthropic desire to create a sort of miniature luxury apartment for the less financially endowed.
They remind me of a Le Corbusier Unité d'Habitation complex that I once chanced to visit in Firminy, a suburb of Saint-Etienne in France. Situated on top of a hill and full of wonderful utopian ideas, it somehow did not conform to the benevolent idyllic uses it was intended for. Pragmatically it tended to be a haven for petty crime and confusion that comes from low income housing in the less gentrified parts of town. It was half emptied to reduce the feeling of overcrowding and prevent subsequent anarchy. Here in the Fridericianum, where the first German parliament once met and now the Kunstverein is located, these sculptures have a faint air of nostalgia for a bygone age; a kind of wish that they had in parts succeeded in their utopian machinic dreams of serene space and light built to regenerate the spirit after a long days work. One can't help admiring too, the elegance of the various forms, a far cry from the distinctly disinterested low income social housing that popped up everywhere in the seventies and eighties. And of course the mega- polises round the world today – or the fantasy cities of Dubai catering to a population explosion unimagined even twenty years ago – just don't have any illusions of a social conscience to squander on the poor.
The "Tankstelle" (2003) sits squarely in the second room hiding four little models of Bauhaus, Real, Lidl and Minimal shopping centres neatly lined up in the rear and cordoned off by a security wire. I was told by Ina Weber that each object is an amalgam of elements from different structures. In this space, the five together look like an archaeological site of a temple complex that once housed some forgotten Greek or Roman antique god. Looking abandoned and forlorn, they had the aura of a multi functional party site for delinquent good and bad times. One could imagine all sorts of dubious, wild, anarchic scenes taking place on this stage as its original function recedes into history. The "Tankstelle" seems to be constructed at approximately a one to three scale, though it clearly varies – some of the fittings are one to one and the doors are of different sizes. The elements being smaller then one would encounter on the streets and yet still very corporeal, it creates a hallucinatory mixture of déjà vu and toy town perversions. As in the other sculptures one is never sure what is made of concrete or cardboard. This confusion is added to when one encounters one of her benches, bollards, dustbins or flower pots which are "real". Sitting on the concrete bench with the other sculptures around you there is also a surreal ambiguity of space as if one is caught up in a computer game. Am I here waiting for the bus with these structures in the distance, is this a sculpture park, a 3-d city planning map, a stage set of "Waiting for Godot"?
In an alcove off the main hall there is a plywood collection of packing crates set up as a kind of temporary wall that creates a loungie chill out feeling where one can sit on other boxes with crosses printed on them. Rest your feet and contemplate another piece of Miss Weber's: a psychedelic mosaic advertising "Drippin' Ego" (2008) in the corridor between the two main rooms. Just for fun I would like to have seen the guitar effect pedals too: Knee tremble, Lady Killer, Out of order, Inshallah, Headache…
In the third room we encounter all sorts of anomalies this time painted on what might be architectural tracing paper. At first glance one sees the horizon on each of these images is tilted in one way or another as if slipping off the earth. Then one notices that the motifs, as in the sculptures, are taken away from their milieux. In each one of the framed pictures there is a secret joy of the one off. Sometimes it verges on the kitsch like the images of power lines converging on a traffic island; or an absurdly beautiful taut solitary cable providing the foreground for a funky swishing market hall roof – perhaps a banal couple of rickety chairs and a table under a very high overhang on a side street. Or pop hip-hop PSY graffiti of ambiguous meaning painted on a public staircase. One series of works contemplate the various architectural appropriations and interventions, both mundane and innovative, of houses in the Cite Fruges a suburb of Bordeaux designed by Le Corbusier for a local industrialist in the mid 1920s.
Indeed all the architectural pieces tend, as a side effect, to express a melancholic sadness, lamenting the missed chances and contemporary disinterest of the architect and city planner to engage in a dialogue with the communities that are intended to inhabit and work in these spaces. On the other hand the myriad possibilities enumerated by the artist to both appreciate and engage in rogue town planning veritably celebrate the slippage and bastardisation of the cityscape.
Ina Weber's work is a rebel yell, a punky proclamation that reinoculates the viewer with active looking so we don't forget, with all our cynicism and resignation, that sometimes just the act of pouring a cup of tea can, too, be a powerful wake up call. She shows us by staying alert how to wait for the little combinations that ignite the joy and humour in us. Her work inspires us to find the energy to grab the initiative to redirect our environment back into the unknown. As we notice how chaos mixes with our desire for order, our spirit develops the strength to keep space open, no matter how much circumstances might try to control and close it down.
Ina Weber, "Vom Bauhaus zu Real über Lidl und Minimal", Kasseler Kunstverein e.V., Fridericianum, September 5 – October 19, 2008.