145
The Mummy Returns
Ben Carlson on Daniel McDonald at Broadway 1602, New York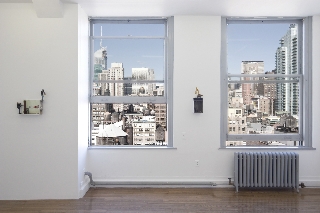 Daniel McDonald, "Bohemian Monsters", Broadway 1602, New York, 2008, Installation view
The meaningful combination of two quite different phenomena seems to be carried out without frictions in the work of the American artist Daniel McDonald. However, what exactly Hollywood monster figures have to do with the excessive lives of artists-stars only becomes apparent when you approach the detailed works of the artist with a magnifying glass.
In his sculptural miniature scenarios, McDonald, who was closely associated with the circle of the legendary New York gallerist Colin de Land and the gallery American Fine Arts, Co., develops bizarre narratives that make you laugh even if they are actually no longer funny.
The funniest thing about Daniel McDonald's tragicomic tableaux? —?readymade action figures posed in meticulously constructed, dollhouse-like interiors??—??is how literally they illustrate the all-too-typical struggles with gentrification described by their titles. Flat-footed details?—?the tiny "cancellation of service" notice in "Rising Cost Of Utilities Limits New Media Practices (The Salem Witch)" for example?—? leave the work, like the inadequate punch-line to a bad joke, strangely incomplete. Expecting more, one finds amusing slippages between McDonald's classic horror movie collectibles and the new roles in which they've been cast. The Salem Witch is perfect in the part of a hard-up video artist; as she reads the electric bill by candlelight, her evil laugh appears instead as a look of surprise, comically exaggerated.
Exacerbating the frisson between the performative role of the artist and the more mundane reality of "making ends meet", McDonald's painstakingly constructed dioramas prod at our nostalgia for something other than the post-MFA professional. Depicting a giant green painter in a studio so small he can't even stand up, "Inadequate Studio Space (Frankenstein's Monster)" melds gothic romance with the more banal limits of economic marginalization. When artists' personas become as saleable as their work, what are the consequences of refusing to build a coherent, desirable brand name? Boris Karloff's struggles with typecasting don't seem too far off. Pigeonholed and literally in shackles, Frankenstein's Monster has just finished a very funny new painting?—?the only one there is room for in his shoebox-size workspace. It reads, "Stop Arresting Artists".
How then should one negotiate the demand for a compelling biography? Through previous projects McDonald has already experimented with a few unruly possibilities. In the Art Club 2000 he joined six other art students, along with gallerist Colin de Land, in rehearsing collective non-identity as one option. Their tongue-in-cheek "Night of the Living Dead Author" most pertinently twisted that tendency by which artworks misshape our phantasmagoric image of their maker. Mended Veil, the line of wickedly absurd costume jewelry McDonald has made from the comfort of his own home since 1995, has its own fictitious author: "Mindy Vale was born in a cave […] part woman, half wolf. She made her first jewelry with one of her mama's broken tooth [sic]." The doppelgänger jewelry further presents its own set of inversions?—?conceptual vs. decorative, costume vs. luxury, handmade vs. mass produced.
But the exhibition "Bohemian Monsters" also suggested the possibilities for this parodic performance to slip into cynical life stylizing. With his boho-chic leather jacket and scraggily facial hair, the Wolfsman looks like a real downtown artist. His theatrical antics, like the action of a creature feature, create a screen onto which audiences might be tempted to project their own transgressive fantasies. Exploiting these vicarious pleasure-seekers, certain galleries have already adjusted their marketing strategy. Press kits are heavy with lifestyle profiles and fashion portraits yet light on criticism of the work itself. In the case of "Bohemian Monsters", as viewers, or possible buyers, the joke was on us. McDonald's cartoon-like narratives, "Low Light And Lack of Cross-Ventilation (The Wolfsman)" among others, so preposterously fold the fantasy of the beloved misfit together with the anxieties of ramshackle living that all you can do is laugh. However, "Forced To Sell Works From A Private Collection In Order To Offset Living Expenses (Wicked Witch Of The West)", shows that, once the tide turns, it isn't always so funny; the Wicked Witch furtively looks over her shoulder before heading into "Resale Gallery" to pawn her own Warhol celebrity portrait. When an artist trades in her own image (and what other choice does she have?), there is always the risk of being sold short.
Hardship is not a virtue. Among McDonald's best sculptures are those works with a healthy sense of humor about their own posturing. Again, the accomplishment is in the way McDonald's toy figures, taken from his own personal collection, awkwardly slip into the narratives he has constructed. The melodramatic frown of a soon to be homeless writer in "In Demolition of Affordable Housing (Phantom Of The Opera)", is hilariously over-the-top and yet not even adequate for the situation. The crumpled wad of paper he holds in his little hand is a pitiful sign of resignation. Stranger is the (seemingly) unintentional correspondence of the Phantom's yellowed skin and the decrepit walls of his studio. Likewise, the assorted undead in "Restricted Access To Medical Care (The Mummies)", unified by their head-to-toe bandages, gracelessly spell out the pitfalls of going freelance?—?although it doesn't seem like there's much that modern medicine could do for them at this point. As a pun, it's almost as dumb as, but quite a bit more amusing than the privatized, for-profit health care system it jabs at.
The wisecracking doesn't stop even as situations turn grim. There's the cliché of the artist-alcoholic portrayed in "An Experiment in Self-Medication (Doctor Jekyll as Mr. Hyde)". Add a few daubs of color to the mad scientist's lab coat while he guzzles a bottle of cheap wine and he's a painter. Broken relationships also require a sense of (black) humor. The Wolfsman, in "Not Yet Titled (The Wolfsman and Frankenstein)", kicks down the front door, roses in hand, just as his lover is about to leap head-first out onto to the street. The suicide note simply says GOOD-BYE, spelled out à la Jack Pierson in found sign letters. But, for artists, self- destruction can take many forms. Installed in the office at Broadway 1602, "Artists Under Consideration" showed another place careerists bury themselves. Among the drawers of this miniature filing cabinet there is a fiend frantically labeling a CD of images, a zombie holding a 35mm Installation Shot, and a skeleton gripping his portfolio.
The current crisis of confidence will almost certainly affect the speculative habits of collectors, and, by extension, how "emerging" artists are perceived. On view amidst the recent economic unraveling, "Bohemian Monsters" satirized clichés of the avant-garde artist that have lived on well past their usefulness even while this outmoded role receded, if only for the time being, into the background. With the pressure to perform (for the market) temporarily alleviated, we can only hope that some will take this as an opportunity to experiment with their narrative. More importantly, we hope that they will do it with as much wit as Daniel McDonald displayed here.
Daniel McDonald, "Bohemian Monsters", Broadway 1602, New York, September 13 – October 25, 2008.