107
Live in your head: A wish list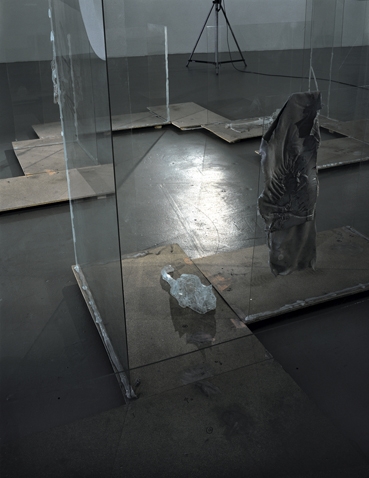 Urs Fischer, "Glaskatzensex – Transparent Tale", 2000
"Live in Your Head" was the subtitle of Harald Szeemann's 1969 exhibition "When Attitude Becomes Form". The show assembled materially incongruous works – including Eva Hesse's ephemeral materials and Sol LeWitt's smooth minimalist surfaces – in a mixture that would be no less explosive today than it was then: a curatorial position that has been lost in recent years because of the smoothness of what is being produced for the market, and is now reemerging from the shadows.
Tactile surfaces the visitor can touch or merely gaze at, fractures in surfaces or the material itself, even fingerprints and traces of manual labor are important and effective strategies of seduction. So are ephemeral materials that have been arranged to no other end than for the moment the show opens, and are then left to decay, as in the works of Karla Black. Her art is ambitious precisely because it fuses physical and visual pleasure with historical references: thus in "Punctuation is pretty popular: nobody wants to admit to much" (2008), a sculptural arrangement on the floor that consists of a crude mixture of materials – chalk, cloths, plaster powder, duct tape, cellophane, saran wrap, paint, dish soap, anti-bacterial hand lotion and body lotion – and takes up the subject of entropy, as discussed by Yve-Alain Bois and Rosalind Krauss under the rubric of the "informe", only to counteract the issue with its powdery-pretty pastel colors.
Others, by contrast, have in recent years loved something not unlike the minimalist aesthetic, have loved polished values, good productions and good sales, which were symbolic representations of social surplus value and, hence, a means to achieve distinction. Unfortunately, really good artists likewise fell victim to this tendency when their galleries only too willingly granted them unlimited capacities for their productions, and the artists used these capacities for no purpose other than to present themselves in direct correlation with the general economy, for instance by readjusting their production values with materials such as bronze or aluminum.
One of many examples for this fetishistic materialism, or the unquestioning implementation of the unending money supply, is a sculpture that seems naturalistic at first glance, Andro Wekua's "Interlude" (2007); it appears to consist of wooden pallets, a cable reel, little tables, decorative objects and a seated figure – but is in fact cast in aluminum. Has the art gained by this move? Does the use of this material produce an intellectual ennoblement, or is it merely an affirmative contribution to the economy? Another example is Urs Fischer's series of sculptures (2006–2008) whose titles are the names of ladies, such as "Miss Satin" or "Marguerite de Ponty". Here, too, the production apparatus has been switched into high gear. Fischer took a modeling clay object measuring little more than an inch in diameter and used 3-D software to blow it up to a size of ca. ten feet. The whole thing was then likewise cast in aluminum, a highly sensitive material that is not suitable for outdoor installation. Here again an artist shamelessly conforms to the economy, and his work reflects a distinctly financial aesthetic. But to what end? What used to be so captivating about Fischer's work were his very crude materials, such as the broken glass he glued together to produce cheap cat objects. They were evidence of his wit, which was coupled with a processual but also very excessive method of working that left almost physical traces in the viewer. For the materiality of things, by invoking memories and experiences, gives rise to suggestive interrelations. This is the case in Andro Wekua's use of everyday objects, which is why it is so hard to see what need there was for the artificial enhancement with economically valuable materials. More generally, works that rely on processual materiality invite an extended engagement that accompanies the changes they undergo; this sets them in opposition to an economic logic. Their material is something the viewer must return to again and again, something that continues to captivate him.
Fortunately, there was always also different art, developing in parallel but at a distance from the economy; be it the performative works of Mark Leckey or Spartacus Chetwynd, memory-works made of ephemeral materials such as Cathy Wilkes's or Robert Kusmirowski's, or invocations of modernism as in Aleana Egan and Nairy Baghramian, to give only a few examples. What matters here is that material and historical contradictions are acknowledged, that art keeps an open and attentive mind rather than sliding into short-term perspectives and simplistic readings. Adam Szymczyk's and Elena Filipovic's 5th Berlin Biennale (2008), for instance, assembled such artistic positions, positions that played on a different, positively unglamorous and marginal stage and gave reason to hope: back to tactility, restraint, and intellect! "Live in Your Head" is a motto that could well serve to guide a revival of interest in processes, for the latter remain inconclusive, continually opening up new possibilities of interpretation. I should add the following keywords to my wish list: intellectually stimulating materials, forms and ideas. I hope to see little pieces of a mosaic, of a memory-work, ferreting out the traces of each decade in this society, accompanied by the necessary deceleration that makes new dimensions possible and moves somewhere in the realm of Jorge Luis Borges's labyrinths.
(Translation: Gerrit Jackson)