166
Think Local, Act Global?
On "Silberkuppe" at the Hayward Gallery Project Space, London by David Bussel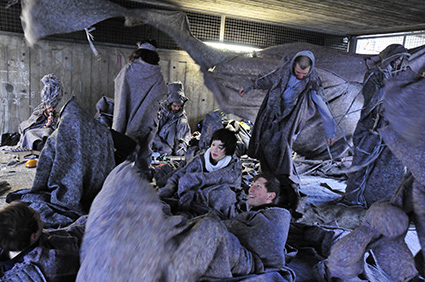 :caption: basso, "ISO", 2009, Performance, Hayward Gallery Project Space, London
After its beginnings at basso, the project space "Silberkuppe", founded in 2008, now resides in a former keeper's lodge in Berlin Kreuzberg – and increasingly also in renowned institutions like the Staatliche Kunsthalle Baden-Baden and the Museum of Contemporary Arts in Basel. The attraction of independent contexts to institutions seems indestructible. For the welcome guest, the question remains how to deal with such well-meaning invitations.
At the end of last year, "Silberkuppe" was invited to the London Hayward Gallery in order to reflect, according to the press release, on the history of collective cultural production in Berlin since the fall of the Wall. The exhibition and the accompanying performances, however, would demonstrate that the guests in the concrete wasteland of South Bank had more in mind than to deliver an alternative way of city marketing.
What is an "independent space"? This not so simple query raises questions about Silberkuppe's emergent identity, from its status as a "local" project space in Berlin to its current manifestation as an itinerant curatorial initiative hosted by institutions and organisations across Europe including Staatliche Kunsthalle Baden- Baden, Museum für Gegenwartskunst, Basel, Bergen Kunsthall and Art Cologne.
Conceived in early 2008 by Dominic Eichler and Michel Ziegler, Silberkuppe is named after the chrome dome found on a light bulb and, like its namesake, actively diffusive. As a self-organised platform, Silberkuppe collaborates with an extended ensemble of participants including Nairy Baghramian, Danh Vo, Till by Turning, Julian Göthe, Susanne Winterling, Kirsten Pieroth, Shahryar Nashat, Mathilde Rosier, Alice Creischer, Andreas Siekmann amongst many others, presenting "exhibitions, performances, screen-ings, talks and social evenings", one situation often melding into another organically, lending it the texture of an uninterrupted set of distinct propositions despite it now conventional structure. These propositions in turn form a profile or identity, not unlike other venues that have opened in Berlin over the past 20 years, based upon the organisers own predilections, tastes, idiosyncrasies and sensibilities, balanced on a shoe-string budget and unfettered by the bureaucratic demands of a publicly funded institution.
"Rooms Without Walls" is the title of Silberkuppe's recent iteration at London's Hayward Gallery Project Space, a "guest- curated" exhibition by Eichler and Ziegler featuring artists Juliette Blightman, Martin Ebner, Isa Genzken, Matthew Lutz-Kinoy and Nicolas Siepen, as well as designer Janette Laverrière. Aside from the participants of the show, the Berlin art collective basso was invited for a weekend residency and the pop group Motherland performed on the opening night. The show occupies the first floor space of the extended foyer of the building incorporating Dan Graham's Waterloo Sunset Pavilion as well as the space below one of the galleries outdoor sculpture terraces for basso's participatory performance. According to the press release, the expanded physical occupation of the space "re-imagines the institution as a city-in-miniature, analogous to the patchwork, multilayered urban structure of Berlin". Apart from the fact that most of the participants are based in Berlin, the display seems more consonant with the ethos of Silberkuppe itself than of the city. With its cross generational, interdisciplinary, multi-format character, the exhibition is more suggestive, more engaging, on a curatorial and experiential basis as a set of complementary yet nomadic aesthetic strategies reflecting less about the tain of East German socialism and the city's reformation since the fall of the Wall than to a particular, even "signature", subjectivity mobilised by the curators themselves: its titular sense of bring down the walls, inviting in guests and making oneself at home.
"Hair that grows as it will" (2002/09) is the title of Isa Genzken's contribution, which, although shown previously at Galerie Meerrettich in Berlin, the Venice Biennale and most recently at Malmö Konsthall, still imposes a playful site-specific disruption: Situated on the gallery's roof, visible to travellers who cross Waterloo Bridge, it turns the building's 1960s brutalist architecture into a funny face with vertically sprouting hair. It is also the sole work in the show that transforms the structure of the site rather than occupies or inhabits it as a container. Inside the gallery Juliette Blightman's work makes reference not to Berlin but to a more local sense of place, the Clock Tower, otherwise known as Big Ben, of the Palace of Westminster across the River Thames. "At midnight, which is 1am, although it is midnight again" (2007) is a silent, three minute 16mm film projection placed centrally in the space that literally attempts to capture the temporal shift when the clocks turn back every autumn ending daylight saving time. This seemingly occurs at 10?pm when the four clock faces of the tower are stopped and their hands are repositioned to midnight, which ''should" be 1?am, etc. The time the film was actually shot and corresponds to its being screened every thirteen hours incorporating wintertime's 60 minute afternoon absence of light.
The symbolic focus of the exhibition, however, its "room without walls", is articulated around centenarian interior designer Janette Laverrière's installation comprising two oblong, low-standing wooden table/seating configurations ("Untitled", 2009), strewn with pillows and reading material, each part cut on one side with a double curve to accommodate matching black, almond-shaped tables ("Black Eye", 1990/2009) and anyone wishing to recline. This "social island" internally mirrors itself through its aggregate parts, creating another face, a mischievous inversion of polite sociality (the "black eyes") contrasting with its refined manufacture and presentation. Encircling Laverrière's display are Matthew Lutz- Kinoy's "Sie hat ein Bouquet" (She has a bouquet, 2009), dance- inspired gestural notations in peach, mustard and lavender coloured paint applied directly to the wall leading into the space and opposite, "Bright Line Extending" (2009), a suite of engagingly mysterious prints by Martin Ebner, co-publisher of the magazine Starship.
Occupying another wall and part of the floor space is Nicolas Siepen's helter-skelter accumulation of posters, declamatory signs, publications relating to bbooks collective of which he is a part of, cobblestones, sand and other "soixante-huitard" detritus accompanied by a video monitor showing a film by the artist as well as the Dziga Vertov Group's 1969/70 film "Le Vent d'est", a translation of which provides the title for Siepen's own work, "Wind from the East" (2009). In a statement, the artist/theorist writes how "strange" it is that once politically engaged art passes into history, it can only exist indexically as a vestige. Yet stranger still, he asserts, "is the beauty of the void in which its presence in vain exists". Encountering the work, despite the melancholic beauty of Siepen's own expression, one sees familiar, composite, remains of a once radical and collectivist emancipatory call to politics. But no matter how occluded or impotent those past potential futures might appear, it is arguable that in part they can be reclaimed, re-signified and reactivated, against the fantasy of some authentic origin, by another altogether different social imaginary in and for the present.
Returning to my opening question, how-ever, I would like to append it with some others: What's at stake when the conditions of a self- organised practice are institutionalised by proxy? What happens when the distinct, informal social networks, discursive acts, knowledges, pleasures, convictions, affects and atmospheres that engender such a local situation become surplus value and are instrumentalised for their immateriality when it becomes global? Silberkuppe, who have existed for a relatively short period of time and whose future is by nature of its independent status unknowable, have created a successful kind of "curatorial brand", which, in tandem with the rise of information, knowledge or event economies, is desirable and therefore exchangeable. Perhaps the valuable lessons of Nicolas Siepen's "Wind from the East" could be used to safeguard Silberkuppe's own autonomy against this unforeseeable future.
"Silberkuppe – Rooms Without Walls", Hayward Gallery Project Space, London, 25. November 2009 bis 17. Januar 2010.