143
Terms of Use
On "2010: The Whitney Biennial" at the Whitney Museum of American Art, New York by Lanka Tattersall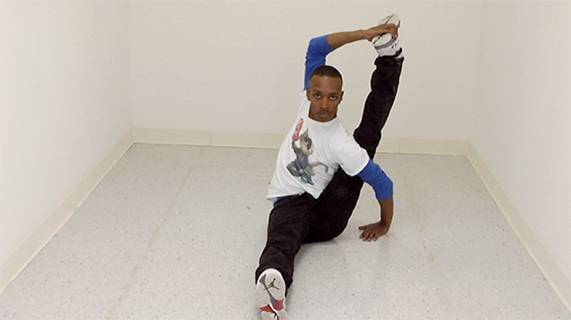 Rashaad Newsome, "Untitled (New Way)", 2009, Filmstill
The same procedure every two years: The Whitney Biennial opens its doors in the eponymous New York museum and its claim to present the definite US-American contemporary art immediately gets disputed. Same this year, even though the catalogue's cover in quite a unsubtle manner suggested this edition of the venerable show would herald "Change". No wonder only few works could live up to that grand promise beyond empty rhetoric.
Upon closer inspection, one could however find one work that was able to dismantle the apparatus of the institution in times of political and aesthetic crisis.
It is hardly surprising that Michael Asher is the recipient of this year's Bucksbaum Award, awarded bi-annually to an artist in the Whitney Biennial based on "the excellence of past work as well as present work in the Biennial", which includes a $100,000 stipend and the invitation to present a solo-exhibition at the Whitney Museum. With a stunning economy of means, Asher's contribution to the Biennial concisely articulates the manifold conditions and tensions that define the production of a large-scale biennial exhibition in a climate of economic turbulence. What is slightly astounding, however, is that this is the first Biennial that Asher (born 1943) has ever participated in, despite the length of his career and the concision with which he has addressed the contingent relationship between the production and reception of art and the spatial and institutional structures of exhibition. This points both to the belated institutional recognition of Asher's pioneering role in the development of institutional critique, as well as the phenomenon that art institutions especially welcome and enjoy being critiqued in moments when their cultural relevance and economic viability is thrown into question. [1] For while the Whitney has avoided recent art-world financial "scandals" – the specter of bankruptcy, de-accessioning of key artworks, salary cuts for museum directors – the modest scale of this year's edition of the museum's long-running Biennial of contemporary American art is, at least in part, a reflection of the economic climate.
Asher's contribution consists of a proposal to keep the Biennial open twenty-four hours a day during the exhibition's final week. Nondescript wall labels located near the entrance to each floor succinctly convey the content of Asher's proposal. A second wall label is appended below, which reads: "Note: The duration of this work has been shortened from the artist's original proposal. Due to budgetary and human resources limitations, the Museum is unable to remain open to the public twenty-four hours a day for one week. As a result, this work has been shortened from seven days to three days." Asher's proposal is remarkable, not least because it is a minimal gesture that requires and produces an epically complex effect. It engages the entire architecture, economy and infrastructure of the museum, and by extension the museum's audiences and socio-geographic position, foregrounding the cost of labor (security, sanitation, ticket sales, audio-guide maintenance, food etc.) necessary to maintain the museum's daily operation. It also highlights the negotiation process between artist and the museum's administration, that is to say, the bureaucratic and unglamorous side of the relationship between artists and museums. Indeed the work resolutely resists spectacularization: it literally cannot be photographed or filmed; even the verbal description of the work rings with banality. If the notion of open-ended, around-the-clock accessibility to the museum evokes the quasi-discursive "hang-out" cliché of relational aesthetics, Asher's proposal crucially anchors this vague notion of "accessibility" within the real constraints of the museum's capabilities.
Asher's presence in the Biennial is all the more striking since the Whitney's selection of Francesco Bonami as curator of the Biennial seemed, from the outset, to be a risky choice. Bonami's edition of the Venice Biennial in 2003 was maligned by the press as sprawling and unfocused, and his more recent exhibition "Italics: Italian art between Tradition and Revolution, 1968–2008" at the Palazzo Grassi was also controversial. [2] In contrast, co-curator Gary Carrion-Murayari (whom Bonami choose to work with), was a relative newcomer whose primary curatorial accomplishment was a tightly-edited, cogent group exhibition held at the Whitney entitled "Television Delivers People", comprised of works that address the form and content of television.
The problems begin with the exhibition catalogue, whose cover features a green and white image of Barack Obama casually wearing a cowboy hat and holding a Sharpie pen, presumably for autographs, inset within a grainy black-and-white shot of the Whitney's lobby and the exhibition's title ("2010"), repeated en-abyme, suggesting that the Obama presidency is the defining theme of this year's biennial. Inside the catalogue, one finds a meager essay by the curators, which reads, in places, more like a fan letter than a serious essay. "With the election of Barack Obama", the curators write, "the clouds broke and the rain of renewal poured over the entire country. The presence of a reassuring and inspiring political figure allowed people to focus on their intimate concerns again. Traditional forms of protest and resistance were no longer needed […] The year 2010 marks a time when art seems to have gone back to certain basic aesthetic rules of what could be called a kind of self-modernity or personal modernism." [3] This statement is as disturbingly inane as it is simply historically and critically incorrect. [4] Brief entries on each of the 55 artists in the Biennial follow. The entire second half of the catalogue is devoted to documentation of previous Biennials (installation views, New York Times reviews and lists of artists), which is interesting historically, but provides nothing in the way of additional discursive material that might productively raise questions about the artworks displayed in the present.
While there are a number of mediocre moments throughout the exhibition (including the organization of works on the second floor, which Bonami described as having a "suburban" motif), [5] there is one curatorial misfire that is worth mentioning in more detail, namely the inclusion of two suites of photojournalistic images: Stephanie Sinclair's "Self-Immolation in Afghanistan: A Cry for Help" (2005) and Nina Berman's "Marine Wedding" (2006/2008), which documents the uneasy return to civilian life by severely disfigured United States veteran of the Iraq war. These projects aestheticize trauma in a manner that is ideologically troubling, in that theatrical narratives of personal victimization are substituted for a critical analysis of the structures of power that produce these scenarios, reinforcing the separation between "us" (museum spectators) and "them". It suffices here to repeat Martha Rosler's analysis of the limits of documentary photography as she described it nearly 30 years ago: "Documentary is a little like horror movies, putting a face on fear and transforming threat into fantasy, into imagery". [6]
Antithetically, Sharon Hayes, in her multi-channel video installation "Parole" (2010) presents a series of scenarios in which witnessing, listening, and what Hayes terms "re-speaking" are interwoven in a work in which the structure of performative public speech is used to trace lines of connection between solidarity, solitude, love and the desire for political agency. The work's title refers to Saussure's distinction between langue and parole, or language and speech; its protagonist is an androgynous and silent sound recorder who moves from domestic to public spaces in a host of urban centers (New York, London, Istanbul), taping speeches delivered by a broad range of queer speakers (some anonymous, others such as the critical theorist Lauren Berlant are more well-known) who variously lecture, read, and give speeches, merging the rhetoric of love letters, queer manifestos and historical addresses. Hayes uses a direct and vulnerable language; participants make declarations such as "I love you entirely" and "I am not afraid to communicate to you through other people", at times over a loudspeaker, in public spaces in a manner that is simultaneously moving and embarrassing. The work articulates the ways in which today's public sphere is defined by indifference, hostility and, occasionally, empathy.
Parole is haunting, and one of the Biennial's strengths overall is the selection of film and video, primarily gathered on the third floor. Connective themes emerge between the works, most notably an interest in dance or task-based gestures which use the human body as both a physical medium and the carrier of a loaded set of psychological and historical significations, mediated by video's circular and repetitive qualities. In Kelly Nipper's "Weather Center" (2009), a masked dancer interprets Mary Wigman's pathos-laden yet geometrically rigorous 1914 "Witch Dance", while a voice over coolly counts from one to ten. Rashaad Newsome, in "Untitled" and "Untitled" ("New Way") (both 2009) filmed vogue dancers in his studio, transferring a stylized form of dance developed by the gay black underground ballroom scene in New York (where it is competitively performed) into the austere white-walled space of Newsome's studio. Newsome then reedited these performances, and asked the dancers to learn and perform his edited versions, generating a silent study in form and plasticity that merges the language of abstraction with the seductive virtuosity of the dancers. And in the video "Ärztliche Zimmergymnastik" (2008), Jesse Aron Green films 16 male performers, clad in neutral tones and arranged on a grid of square platforms, as they quietly execute a series of exercises prescribed in the 1858 text by German physician Daniel Gottlieb Schreber. Schreber's doctrine of sexual restraint and physical discipline possibly contributed to his son's neurosis (Daniel Paul Schreber, author of "Denkwürdigkeiten eines Nervenkranken") and contains principles that point to the mechanisms of totalitarianism. [7] In Green's video, a camera mounted on a circular track voyeuristically circles around the men, making a complete circle in 80 minutes, the length of the work; the result is somewhat like an ominous re-casting of Felix Gonzalez-Torres's 1991 "Untitled" ("Go-Go Dancing Platform"). Green intentionally draws attention to the legacies of structural film and minimalism, and the way in which the cool restraint of these movements produces a particular kind of aesthetic seduction. These artists' shared interest in the tension between "authentic" gestures versus citation and repetition transfers the whole question of "appropriation" to the register of the human body, significantly, at a moment when representations of the body are fragmented and diminished (for example, miniscule Facebook "profile" images and time-delayed webcam conversations). This is not to reduce these works to mere products of the new media era, but rather to draw attention to ways in which, for these artists, the performing body (both individually and collectively constructed) remains a crucial locus of critical inquiry.
Two series of enigmatic photo-based works by Emily Roysdon, "Impossible Always Arrives" and "The Piers Untitled" (both 2010) also share space on the third floor. Described by Roysdon as visual scores for future events, both works depict peripheral urban spaces as sites for collective gathering and movement. For "The Piers Untitled", Roysdon photographed the disintegrating piles of the Chelsea Piers, a legendary site of gay cruising and social collectivity before the AIDS-crisis, which stands as an anti-monumental lodestone for a younger generation as a site in which desire, loss and activist history cohere. Crucially, Roysdon alters her images of this symbolically-loaded site, disrupting the melancholic romanticism of the landscape photographs; in one instance, she overlays the photograph with the cut-out shape of a crumbling pile, an abstracted form that both interrupts the image's perspective and suggests a bodily surrogate. In the Biennial catalogue essay, the curators rely heavily on Roysdon's term "ecstatic resistance" in order to partially define their own curatorial premise. Roysdon herself has defined her neologism "ecstatic resistance" elsewhere: "[Ecstatic resistance is] about pleasure in the domain of resistance – sexualizing modern structures in order to centralize instability and plasticity in life, living, and the self. It is about waiting, and the temporality of change". [8] Ironically, the Biennial curators invert Roysdon's concept, misinterpreting it as a rush of "ecstasy" following Obama's election. This underscores the principle pitfall of this year's Biennial – a rush to forget about the recent past and embrace a return to an (already outmoded) notion of individualism (such as the misguided idea of "personal modernism"). Rather, as the most convincing propositions in this exhibition suggest, "change" is an extended temporal process, marked by an active negotiation between aesthetic demands and institutional legitimization.
"2010: The Whitney Biennial", Whitney Museum of American Art, New York, February 25–May 30, 2010.
Notes
| | |
| --- | --- |
| [1] | See Benjamin H. D. Buchloh, Editor's Note, in: Michael Asher in collaboration with Benjamin H. D. Buchloh, Writings 1973–1983 on Works 1969–1979, Halifax, N.S.: Press of the Nova Scotia College of Art and Design, 1983, p. VII. Thanks are due to Matt Jolly, my colleague in the Department of the History of Art and Architecture at Harvard University, whose insights into Asher's project inform my discussion here. |
| | |
| --- | --- |
| [2] | See, for instance: Scott Rothkopf, "In the Bag", Artforum, Sept. 2003, http://artforum.com/inprint/id=5330 (Accessed 3 May, 2010). On the "Italics" exhibition see Georgina Adam, Francesco Bonami defends his "40 years of Italian art", The Art Newspaper, Nov. 2008, -http://www.theartnewspaper.com/article.asp?id=16489 (Accessed 3 May, 2010). |
| | |
| --- | --- |
| [3] | Francesco Bonami/Gary Carrion-Murayari, "The Fence and the Bridge, or Regeneration Through Art", in: "2010: The Whitney Biennial", exh. cat., New York: Whitney Museum of American Art, 2010, p. 11. |
| | |
| --- | --- |
| [4] | As just one example, immediately following Obama's election in 2008, Judith Butler argued: "It becomes all the more important to think about the politics of exuberant identification with the election of Obama when we consider that support for Obama has coincided with support for conservative causes. In a way, this accounts for his 'cross-over' success." Judith Butler, "Uncritical Exuberance?", 5 Nov. 2008, http://www.indybay.org/news-items/2008/11/05/18549195.php (Accessed 3 May, 2010). |
| | |
| --- | --- |
| [5] | "The second floor will be more suburban […] More related to 'American-ness'", Francesco Bonami, interview by Dan Fox, in: Frieze (Jan./Febr., 2010), p. 97. |
| | |
| --- | --- |
| [6] | Martha Rosler, "In, Around, and Afterthoughts (on Documentary Photography)" (1981), reprinted in Rosler, Decoys and Disruptions: Selected Writings, 1975–2001, Cambridge: mit Press, 2004, p. 179. |
| | |
| --- | --- |
| [7] | "Jesse Aron Green", in: "2010: the Whitney Biennial", ibid., p. 60. |
| | |
| --- | --- |
| [8] | Emily Roysdon, "Ecstatic Resistance", exh. cat., Kansas City: Grand Arts, 2009, n. p. |