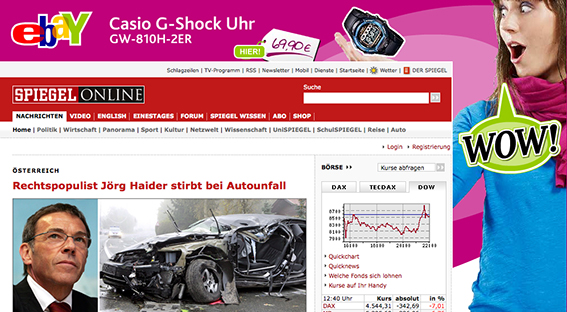 Spiegel Online
I had my difficulties with that question mark in "Political Art?". Put this way, the question invites prancing and posing, and so I felt tempted to offer a snotty and/or smart-assed answer – for example, that political art is art that is of interest to the police. Or, of course, an answer with a lot of Rancièrebadiouagambenžižek in it, a lot of negotia-, concilia-, explora-, and conversation, a lot of intervention, participation, and even contextualization. That would serve the reader an etymological feast on the funny double meaning of the German word "gemein" (both "common" and "mean"). Put this way, the question, if it is one, is very catchy indeed. And if we don't just answer "yes, please" or "no, thanks", or "don't know", if we try to put it more fully, it can mean at least two things: (a) "Is there (today, tomorrow) such a thing as political art?" or (b) "What is a political art supposed to look like in (today's, tomorrow's) world, or how else is it to manifest itself?" Question (b) already sounds a lot like a consumer survey (Do you prefer your political art live, on vinyl, on a cd, or for download?), but then that is what I am, a consumer. I am unfortunately also one of those who defend the lame view that most forms of art can be art and even remotely political only when people (can) perceive it and try it out, appropriate, reinterpret, or dismiss it on an aesthetic, conceptual, heuristic, amorous, or again artistic level. That art – yawn – even when it is instructive, witty, compassionate, cool, educated, ontherightsideofthefence, can become political only to the extent that it enables a community to mess with meanings that voting, representation, and steadfast insistence alone could not or only with much greater difficulty allow to emerge. Even speculation about whether art that is not perceived is, or can be, political may be justifiable, especially since such speculation points up the problem of the dimensions and the reach of political action in the field of art.
No one likes to be dragged onto the slippery ice of conceptual or personal specificity by a predicateless question. My very limited idea of a political art I would be interested in is based, to be honest, on a fairly well-sorted rejection of the Universal (except for significant moments like this one). But neither can I give a meaningful description of it in the form of a list of names put up for a yea-or-nay vote. Much of it is linked, that is hardly surprising, to the terrarium the esteemed family enterprise Texte zur Kunst keeps in the basement. For a few years now, I have closely studied historic conceptions of artistic work, primarily from the 19th and 20th centuries – more precisely speaking, the industrial differentiation of the fields of work of artists and other producers of imagery, a phenomenon post-operaism and theories of "immaterial labor" have not even begun to exhaust. Oh really? A subjective approach to the issue, hardly representative. Maybe take a look at William James Linton (1812–1897).
Refreshing though "hit lists" and "shit lists" can be, of course they change from day to day, and they make it difficult for me to draw sufficient distinctions, let alone arrive at useful conclusions in this particular context. The claim that some art lacks political relevance, to be sure, almost always makes me angry when it is advanced with sufficient insistence. Because it takes me, who looks at the art, for a fool. In this sense, Josephine Meckseper, Minerva Cuevas, Renzo Martens, Deimantas Narkevicius, and John Bock are of course eminently political, especially when in the same room. Loraine Leeson, Stephen Willats, Allan Sekula, or Luis Camnitzer are clearly artists with long "shelf lives" and perhaps limited use-by dates. Relativizing concepts is more fun than relativizing people. Identifications of "political art" with "critical art" or "activist art" are annoying. Or with the "Context Art" or artistic research, watered down for the academic taste, that various outlets (most recently, the Süddeutsche Zeitung) have lately taken to serving up with the smug self-satisfaction – you know the kind: reading lounges. Or with the hold-it-there video stuff, quite possibly motivated by noble intentions, fit for amusement arcades, a picture from life's other side, yes, sure, but for more than two hours and in an Art Basel booth, when the noshes are calling out to me? And yet this art is, to my mind, politically relevant, very much so. Do I prefer an art with hollow political aspirations to one without any such ambition? Always, at least to the extent that it documents the scant lifetime allotted to my friends and myself, that it has discursive significance for what I might call my "community", or that it even just provides a serviceable clarion call or wailing siren in the smoggy air of the political (one of my most persistent recurring typos is that I keep writing "poltical" instead of "political", as though I meant the satirical cabaret artist Gerhard Polt). Sure, among close acquaintances I talk all the time about the dullness of certain artists who see themselves as political and the sweaty odor of constant effort they give off; I defend (unnecessarily) ambivalent people against being subsumed under an "artistic position"; and I am (that's usually my intended role) annoyed by a general tendency to employ free-floating allegory, to take certain political claims to be self-evident, to produce one-liners founded on an attitude of pessimism regarding perception, public education and ultimately democracy (the format, whose origins are in the historic "new museums", found its way into the production of art after the fall of the Wall). But how dull is that? I have never taken greater interest in political questions than in the past few years, never paid more attention to public debates (though I admit: that's still not a lot). What usually promises a lot of improvement, what leads to (self)empowerment, what brings enlightenment, what fosters solidarity and community, what lays claim to historicity, what calls power and roles in question: we know well that it can tip over into the demonic register at any time. Right now, I personally am conducting a very general experiment about hybrid getting-off-my-ass; first positive results are on the horizon. My community is way out ahead.
(Translation: Gerrit Jackson)