174
The Power to Style
David Joselit on Bernadette Corporation at Artists Space, New York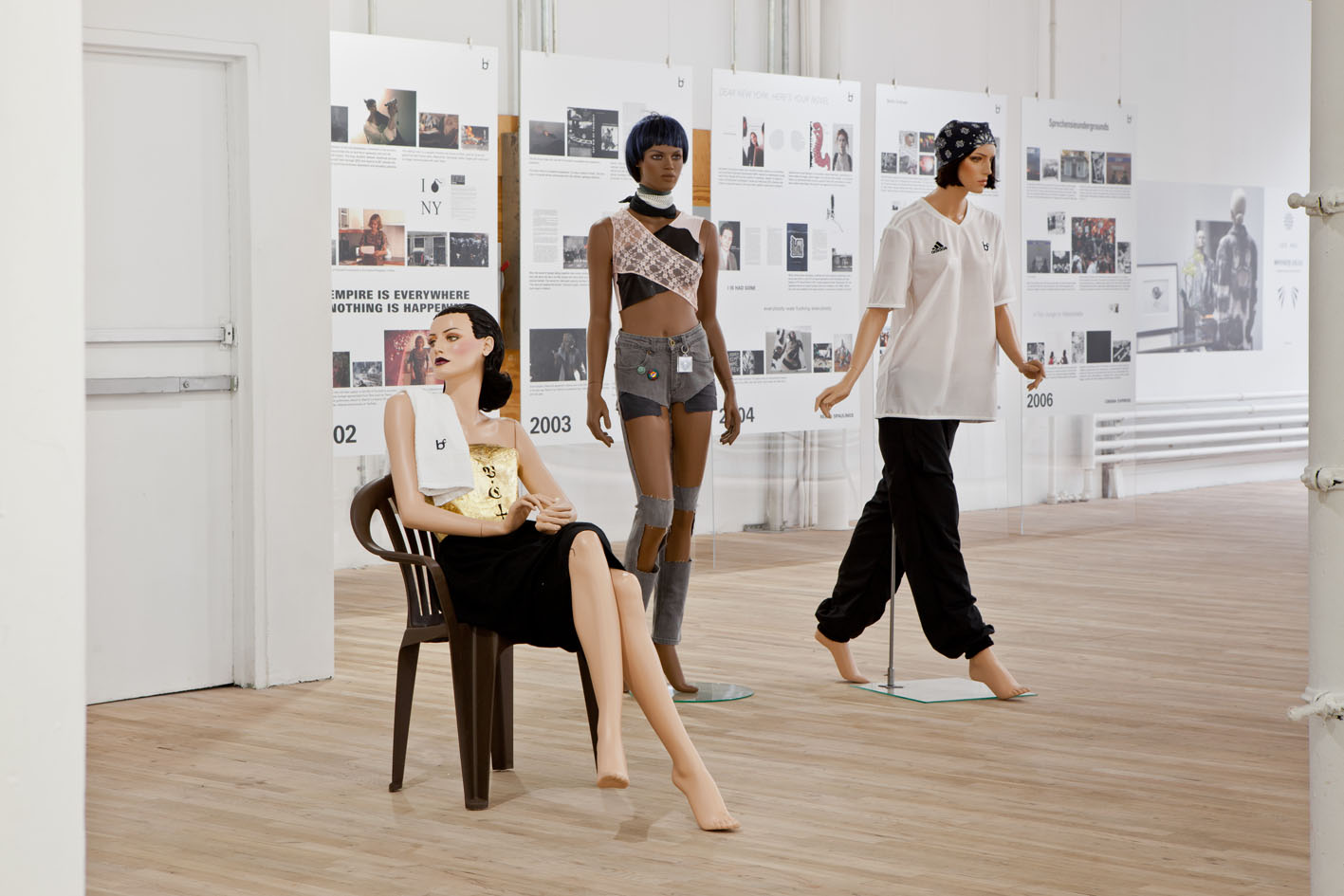 "Bernadette Corporation, "2000 Wasted Years", Artists Space, New York, 2012, exhibition view, photo: Daniel Perez
Today's Soho looks nothing like the Soho of the 1990s, when the founding members of Bernadette Corporation started designing fashion in the image of their now-renowned alternative neighborhood. But Gideon Ponte / Magnet's exhibition design for "2000 Wasted Years" at Artists Space looks an awful lot like the high-end clothing shops that now line the district's streets.
Similar to the rest of the work in the show, there is a critique implicit in the exhibition architecture as well, an underhanded styling of given forms of display, an investigation of their ability to arbitrate cultural consumption – such as through the metropolis's infrastructure of retail shops.
"Style" is a noun. It names networks of aesthetic practices and combines them into art history. In the absence of documented historical identities, "style" may inspire proper nouns too, like the Master of "Y" or the "Workshop of X". Although styles are "discovered" through inductive research aimed at projecting labels onto regularities of motifs and forms, they typically claim natural origins, growing organically out of a place and time. In archeological studies where the individual identities of artists are often unknown, style is regularly adduced as evidence of historical periodization. But when it comes to contemporary art, "style" is a bankrupt concept. It's not only conservative but practically meaningless. Thinking about style is even more old-fashioned than obsessing about "medium" or "postmedium".
But style remains alive as a verb. "Styling" rather than "styles" has been the objective of art since the "postmodern break" of the mid-1970s (if you prefer a broader temporal horizon, consider Dada, or the Return to Order, or, further back, nineteenth-century European historicism as an instance of this rupture). Since 1970 we have witnessed a dramatic shift in emphasis from "style" as a noun to "styling" as a verb, but style (n) and style (v) have always coexisted in the dance of art and history. The real question is, "Who styles and who is styled? Who has the power to style?" Styling (as opposed to style) offers distinctive opportunities for artists. While the noun was linked to a set of fairly stable practices, the very purpose of styling is to manipulate and transform the status quo. Styling is the creature of fashion and consumerism not because it is inherently corrupt, but simply because consumerism requires creativity and perpetual change, and that is what styling does – it is dynamic rather than inert. But styling is also the stuff of politics: We've seen frumpy Ms. Merkel encounter suave M. Sarkozy, and we've seen Ivy League Obama lift his nose at one percent Mitt Romney. In the age of media democracies, politicians, like policies, are designed for consumption.
The exhibition "Bernadette Corporation: 2000 Wasted Years" at Artists Space in New York offers a history of Bernadette Corporation (BC)'s adventures in "styling" spanning its 1993 origins in club culture in New York and its DIY fashion practice, half drawn from street culture, half drawn from Situationist theory (of course, the whole idea of the latter was to enter, and even to style street culture). After the 1997 dissolution of the group (which has always enjoyed a dynamic and shifting membership) BC experienced a hiatus, eventually restarting in 1999. Since then it has pursued a successful art career among cognoscenti and beyond, culminating in this show. The question for Bernadette Corporation in 2012 therefore might be: How do you "style" success?But I'm getting ahead of myself. The group's gesture of "incorporation" (including spin-offs like the gallery Reena Spaulings Fine Art on the Lower East Side of New York) is precisely the structural format appropriate to an art of styling as opposed to the individual artist's production of a personal style expressed in objects. Corporations are platforms for action, but also interestingly, they are both targets and agents of intentional and intensified branding (which is what styling is called in the context of advertising). And here is the crux of the shift I've been teasing out. Style as understood by the pioneers of art history like Alois Riegl, was a kunstwollen, or according to Walter Benjamin and later Rosalind Krauss an "optical unconscious" or for Michael Baxandall, a "period eye." Styling, on the other hand, is an opportunistic tool directed at claiming power in the present (whether such power be categorized as financial or political really makes little difference, since they are structured alike). Bernadette Corporation's important insight is that the corporation offers the infrastructure of the will-to-style. Whether doing business, your hair, or a demonstration, whether doing a magazine or doing art, what matters is your styling.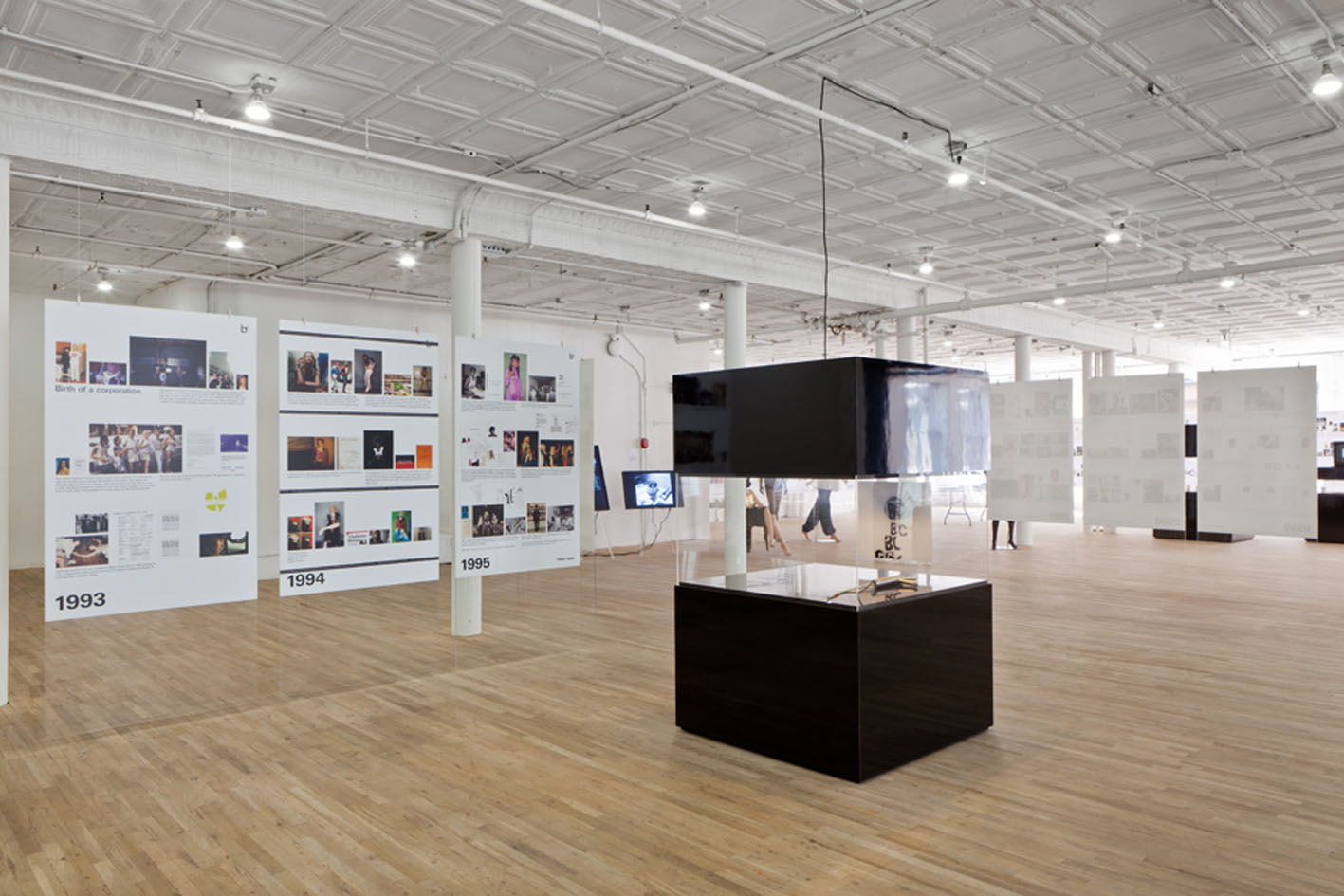 Bernadette Corporation, "2000 Wasted Years", Artists Space, New York, 2012, exhibition view, photo: Daniel Perez
Since it's an exhibition, "2000 Wasted Years" assumes the style of an exhibition – sort of. Another way of saying this is that BC seizes the gallery or museum's infrastructure. Institutional Critique pioneered a shift from the aesthetics of objects to the aesthetics of infrastructure by making visible the deeply meaningful subliminal messages of the museum's styling. When entering an art space – even one ostensibly "alternative" like Artists Space – BC styles it accordingly. But unlike earlier practices of Institutional Critique its objective is not to reveal the museum's style in order to unveil its ideological presumptions, but rather to speculate on the power of the museum and its techniques of display. Consequently, in "2000 Wasted Years" there are text panels that tell BC's supposed story with just the right amount of variation within the grid of documentary photographs and texts, video presentations to display archival documentation of BC fashion shows (three of which are held on transparent easels and two mounted on columns), mannequins that look like they were drawn from a tragic (but also tragically cool) Lower East Side discount store to display reconstructions of outfits from the 1990s, and most arresting, a system of black vitrines as well as a matching pavilion reminiscent of a Star Wars set. These vitrines all have the same footprint, and they occlude easy visibility by placing the glass low, at crotch level, but their heights vary, with one vitrine doubling as the pedestal for a monitor playing the so-called early self-portrait "The BC Corporate Story" (1996). Everything on the text panels and mannequins and everything in the vitrines is a "product" of Bernadette Corporation.
The look of the exhibition is sinister, with a lot of shiny black gloss Formica sheathing the vitrines and the pavilion, with floating transparent planes of suspended text panels, and the crisp angular postures of the mannequins that populate the space even when it's empty, with a "multitude" of shady characters, all brought together in an aural ambiance of sound bleed emanating from three different videos. It felt like a Black Bloc trade show and indeed such a paradoxical fantasy captures the special ambiance of BC's art; an intimate encounter between fashion and radical politics. The viewer is seduced by a kind of styling that whispers of expensive perfume, only to be blasted with shrapnel. That, it seems to me, is the flavor BC aims for. But the combination is volatile: It is absurdly vulnerable to accusations of radical chic, of political posturing. I suspect many will launch such accusations against the exhibition, and in certain moods I concur. But even at my most skeptical, I appreciate the ambition to "style" the intersection of fashion and violence in order to demonstrate their imbrication in one another. Indeed, as with the craze for garments and accessories decorated with camouflage patterns, fashion may conduct an implicit public relations campaign for war and other sorts of police actions. Just because it's hard to get this explosive combination right (and not many artists have the courage to try), doesn't mean we should dismiss the effort. I think few themes are as important as this one because it both transgresses the ostensible (though absolutely permeable) boundary between "state-sponsored" capitalism and state-sponsored violence, and it demonstrates the transgressive capacity of styling, which may capture media attention and generate politically efficacious memes or viruses. This approach seems especially crucial in an art world that panders to billionaires whose vast accumulations of capital are inevitably based on actual or "laundered" acts of violence.
BC has moved away from its origins of producing clothes and fashion shows, but its model for creating objects remains firmly rooted in the haptic character of garments. Art objects conventionally withdraw from touch (that's why they are displayed in vitrines, and surrounded by barriers and invisible alarms when they enter museums). But, like the stuff we wear, BC's artworks not only solicit physical intimacy, but are designed to accommodate it, to conform to the body, while addressing its needs for sustenance and maintenance. The vitrines in "2000 Wasted Years" contain "Mug Stanzas" (2012), plain white mugs (the kind you might get as promotional swag, or buy as a souvenir) imprinted with passages from BC's trenchant poem "A Billion and Change"; they house a series of 2010 works in which luxurious Dornbracht plumbing fixtures are etched with nasty little texts drawn from the Internet about the leaking of nude photos of pop star Rihanna (e.g. , "omg!!! thatz all! Rihanna u knw ur famous don't take dirty pics of course it's gonna get leaked!"). And they include "Retrospective Scarves" (2012), silk scarves inkjet printed with pages from the novel "Reena Spaulings" (2004) and documentation or publicity for some of the Bernadette Corporation's recent projects. These things are designed to be picked up and drunk from, turned on and washed with, or tied nonchalantly around your neck. But text and image make them into time bombs when seductive surfaces reveal offensive content. They are "Happy Slaps", as BC titles a 2011 piece consisting of two appropriated cell phone videos showing minor acts of violence that may or may not be jokes. These objects whisper in your ear, but before you know it they've delivered a happy slap. More often than not it's text that packs the punch and in this sense the Corporation, which has functioned as a kind of publishing enterprise since its revival in 1999 with the magazine "Made in USA", delivers on its promise to merge seduction with violence. As in "The Complete Poem", exhibited at Greene Naftali Gallery in 2009 and published as a book in 2010, big ideas meet the excruciating sweetness of photographer David Vasiljevic's professional fashion shoots. One is left wondering if such combinations are a genuine expression of political praxis, or just a naughty thrill. This unsettling question hangs over "2000 Wasted Years" like a cloud of poison perfume.
Bernadette Corporation, "2000 Wasted Years", Artists Space, New York, September 9–December 12, 2012.