211
Working Mothers of Invention
Avigail Moss on My Barbarian at Susanne Vielmetter Los Angeles Projects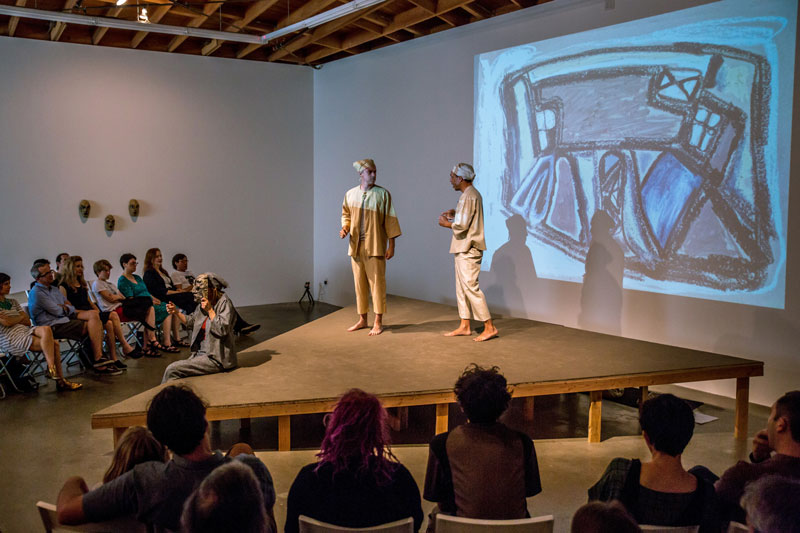 My Barbarian, "The Mother", performance at Susanne Vielmetter Los Angeles Projects, 2013
"If the mothers are revolutionized, there is nothing left to revolutionize."

—Walter Benjamin, "A Family Drama in the Epic Theatre"
The American experimental art collective My Barbarian – composed of Malik Gaines, Jade Gordon, and Alexandro Segade – have worked together and in collaboration with other artists for more than ten years. Their practice combines musical theater and visual art, and they engage theatrical forms like Augusto Boal's "Theater of the Oppressed" with a decidedly queer, campy vigor. In recent years they have produced installations and performances integrating subjects as diverse as biblical narrative, Greek drama, and contemporary Socialist Critique.
With their latest exhibition at Susanne Vielmetter Los Angeles Projects, My Barbarian presented a witty, intergenerational assemblage exploring the psychological and political resonances of the mother-child relationship. In a new video entitled "Universal Declaration of Infantile Anxiety Situations Reflected in the Creative Impulse" (2013) (also the exhibition's title), Gaines, Gordon, and Segade perform a series of short episodes with their own mothers as well as with Mary Kelly and Eleanor Antin, two artists known separately since the late 1960s and early 1970s for their large-scale interdisciplinary works concerning feminism, history, and collective memory. The exhibition also included an installation of objects constructed for My Barbarian's adaptation of Bertolt Brecht's 1931 play, "The Mother", which was performed twice in the gallery on the exhibition's opening night.
For the show, My Barbarian created a densely textured, highly referential pastiche of material that addressed motherhood in general. In two episodes from the video, entitled "Mary" and "Eleanor", Mary Kelly and Eleanor Antin don period costumes as the nineteenth century painter Mary Cassatt and Eleanor Roosevelt. Set in a psychoanalyst's office, "Mary" has My ­Barbarian and Kelly/Cassatt performing a piano number about how the mother serves as a creative catalyst in subject formation. In "Eleanor", Antin plays a magisterial Roosevelt at work drafting "The Universal Declaration of Human Rights" from a Depression-era woodshop. She composes on behalf of her brood of woodworkers (played by My Barbarian) and is spurred on by a cardboard cutout of a nameless robber baron, which she menaces with sharp objects between sentences.
In My Barbarian's adaptation of "The Mother", the artists recast Bertolt Brecht's Lehrstück ("learning-play") about Vlassova, a Russian mother who becomes politicized by her revolutionary factory-worker son. Paying homage to Brechtian minimalism, the three members of My Barbarian performed the play on a triangular stage against a digitally projected backdrop of oil-stick and charcoal drawings, and rotated between characters using a series of evocative papier-mâché theatrical masks. Relayed through twinkling song-and-dance numbers and the group's occasional fourth-wall-demolishing demands for audience participation, the message here seemed to be a lively petition to reconsider motherhood's revolutionary potential.
The legacy of 1970s feminist praxis infused the exhibition, particularly in sections of the video where Gaines, Gordon, and Segade appeared with their own mothers. The episode entitled "Victoria" presents a succession of black-and-white contemporary snapshots of Victoria Gordon (Jade Gordon's mother) in tandem with a voice-over selection from Victoria's 1977 diary. She describes her frustrations with motherhood, her own erotic desires, and her longings for solidarity with other women. In "Irene", Irene Segade (mother of Alexandro Segade) gives a topical motivational speech concerning the legal and political importance of combating bullying of LGBTQIA grade-school students. Here, Alexandro emerges in drag as his mother's assistant and arranges a humorous abstract teaching aid. In "Barbara", Barbara Gaines (Malik Gaines's mother) performs in a "white trash" talent show with her girlfriends. Seemingly still in character, she describes the early challenges she faced in an interracial marriage. By mixing autobiography, consciousness-raising, and fictional scenarios, these sequences recall early feminist filmmaking (for instance, Laura Mulvey's and Peter Wollen's 1977 landmark work, "Riddles of the Sphinx"). The elements of drag make it clear that My Barbarian do not aim to reinstate some iconic ideal of motherhood. Rather, drag and performance have infiltrated matriarchy. Role-playing becomes a means for establishing and inverting filial relationships, and maternal figures proliferate.
In one of the final sequences of "Working Mother", My Barbarian appear on an empty stage in street clothes and sunglasses. They sing a haunting rendition of The Shangri-Las' song, "I Can Never Go Home Anymore", which has been reduced to the anguished refrain "I can never go home anymore … Mama!" In Melanie Klein's 1929 essay, "Infantile Anxiety Situations Reflect in a Work of Art and the Creative Impulse" (to which the show's title also refers) a child's first cry of "Mama!" inscribes it within the linguistic social order. Thus, having evoked the socialization process through the medium of pop music, the artists proceed to take turns performing the iconic gesture of the Virgin Mary and the dead Christ in Michelangelo Buonarroti's "Pietà". As they prostrate themselves upon one another's laps – an apparently enervating task, as evinced by a few theatrically bored expressions and one member's deep sigh – My Barbarian remind us that maternity has long ceased to be a question of biological (and perhaps even generational) essentialism. It is instead a fundamentally social contract, renewed in each act of (re-)inventing one's mother.
My Barbarian, "Universal Declaration of Infantile Anxiety Situations Reflected in the Creative Impulse", Susanne Vielmetter Los Angeles Projects, Los Angeles, July 13–August 24, 2013.