196
Killing in the Name
Tess Edmonson on Amalia Ulman at James Fuentes, New York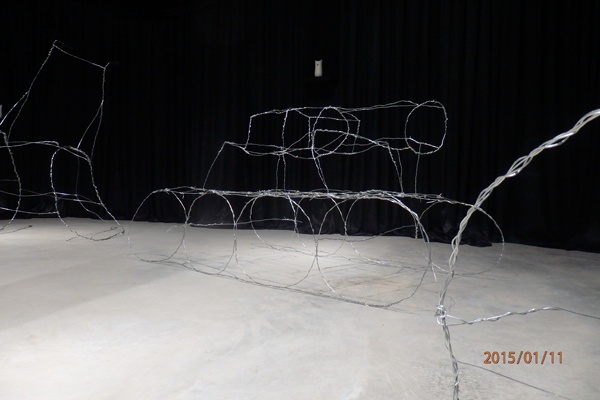 Amalia Ulman, "Stock Images of War," James Fuentes, New York, 2015, installation view
At Amalia Ulman's "Stock Images of War," an immersive installation surrounds twelve simple wire-frame sculptures, each titled after a different month of the year – "War in January," "War in February," etcetera, (all works 2014). This zodiac of fragile vehicles – wheelchairs, tricycles, military tanks, a bicycle, and a car – marks both a departure in Ulman's practice and her first solo show in New York.
The sculptures' thin wire frames, ranging between two and six feet in height, form irregular, silvery outlines of recognizable shapes, rendered as they might be by a child. The misshapen wheels supporting "War in August" – the figure of a wheelchair roughly the size of a fridge – tilt inwards, while the deformed chair they bear slumps to the left. With "War in October," another wheelchair has a hard time keeping itself upright; its chairback leans precariously backwards toward the floor. In their helplessness, we find these vehicles nonthreatening; in their impotence, we find them cute.
As an aesthetic category, "cuteness," writes American cultural theorist Sianne Ngai, is premised on an asymmetry of power between the subject and the cute object. This relationship "hinges on a sentimental attitude toward the diminutive and/or weak, which is why cute objects – formally simple or noncomplex, and deeply associated with the infantile, the feminine, and the unthreatening – get even cuter when perceived as injured or disabled." [1] Our attraction to the miniaturized tank ("War in May") or the floppy bicycle ("War in February"), and the pity we feel for their fragility, is bound up with an eroticization of the powerlessness of these objects. And as long as powerlessness – for the contemporary artist as for the feminist – is understood to be embarrassing, cuteness will be in bad taste. [2] (Taste is an interesting vector in Ulman's work; her 2014 Instagram performance "Excellences & Perfections" is, among other things, a careful study of how taste structures and mediates expressions of female experience.) For Ngai, however, that the cute thing makes affective demands (i.e. it makes us laugh or cry or desire) "is already a sign that 'cute' does not just denote a static power differential, but rather a dynamic and complex power struggle." [3]
Ulman's sculptures are staged in a sort of diorama of sensory elements: 24 pedestaled Air Wick air fresheners deploying, at automated intervals, a sickly sweet Apple Cinnamon Medley™ aromatic mist; an eight-song soundtrack of anthemic American nu metal, rap metal, and heavy metal released between 1990 and 2003 (excepting The Clash's platitudinous "Rock the Casbah," from 1982) looping at a considerable volume; and black drapery expertly scalloped around the perimeter of the room, the length of which fully covers the gallery walls. In contrast to the amateurish craftsmanship of the sculptures, these elements are all professionally, commercially, or industrially produced. The temporary architecture of the wallcoverings gives the exhibition a gothic, dramatic backdrop, but is recognizable as event décor – the sort of nice-but-not-that-nice aesthetic that Ulman regularly puts into play in her ongoing investigation of class signifiers and the middlebrow. In performing the mainstream, Ulman works to uncouple it from the ahistorical normalcy it enjoys.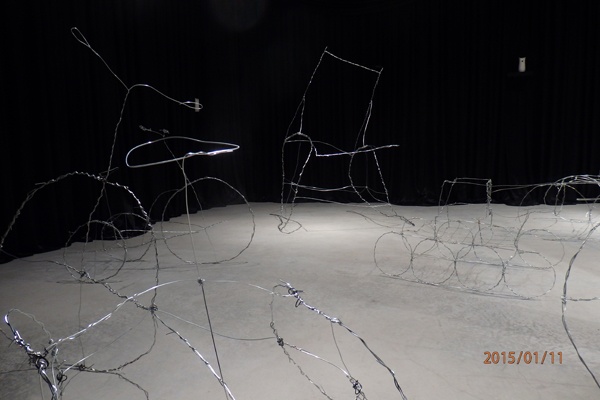 Amalia Ulman, "Stock Images of War," James Fuentes, New York, 2015, installation view
The exhibition's soundtrack is composed of songs that played a special function in the first Iraq War: All have been used by American soldiers – either as psychic preparation for combat missions or, played at very high volumes, as an aid for torturing detainees in Iraqi prisons. Some songs, reportedly, were used in both capacities. Metallica and Limp Bizkit make their requisite appearances, as does the familiar lyric "Let the bodies hit the floor" of Drowning Pool's 2001 song "Bodies." The intersection of pop culture and twenty-first-century warfare in "Stock Images of War" is surprisingly uncomfortable; it feels deeply disorienting to confront the knowledge that historic geopolitical events are being actualized to the sound of Top-40 rap-rock.
Just as commercial cultural production is exploited in the waging of war, so are images of war exploited in the selling of cheap commercial products. A recent marketing campaign for Air Wick features an American soldier stationed eleven months in Qatar where he is missing his wife and their six beautiful white children in suburban North Carolina. As a tribute to this sacrifice, Air Wick sends him candles scented to match samples from around his home – the fireplace, apple-pie baking, an heirloom baseball glove. Home, the ad tells us, is in the air.
At James Fuentes, so is Apple Cinnamon Medley™. Maybe the most remarkable thing at work here is how novel it is to enter an exhibition thematizing war without the support of a techno-conceptual apparatus. Ulman avoids the tacit register for addressing contemporary warfare with drone photography and surveillance art, and the conceit that the solemnity of violence uncouples it from the embarrassing realities of poor taste or popular music.
In spite of the exhibition's title, "Stock Images of War" lacks images almost altogether, but not Ulman's signature consideration of how they circulate in networks: The exhibition's opening was prefaced with a YouTube trailer and concluded with a set of fuzzy, black-and-white documentation photos. More accurately reflected in the title, though, is Ulman's interest in drawing out the connections between twenty-first-century warfare and a commercial, caricatural, indexical representation of it.
Amalia Ulman, "Stock Images of War," James Fuentes, New York, January 11–February 8, 2015.
Notes
| | |
| --- | --- |
| [2] | Ulman's biography, given in the exhibition's press release, includes "She is a feminist," noticeably offset from the body of the text in italics. It reads as a retort to the unnamed "senior curator" of Christopher Glazek's Artforum article about DIS and its collaborators who is quoted as having asked "What about Amalia Ulman? […] Do these girls know anything about Marxism or feminist theory?" The visual language of cuteness is so at odds with what we have come to recognize as criticality in contemporary art that some would assume that, rather than appropriating this vocabulary strategically, Ulman produces her work in obliviousness to two of art's most influential schools of critical theory. Online at: http://artforum.com/slant/id=47107. |
| | |
| --- | --- |
| [3] | Adam Jasper/Sianne Ngai, op. cit. |