201
Human Behaviour
Tess Edmonson on Björk at the Museum of Modern Art, New York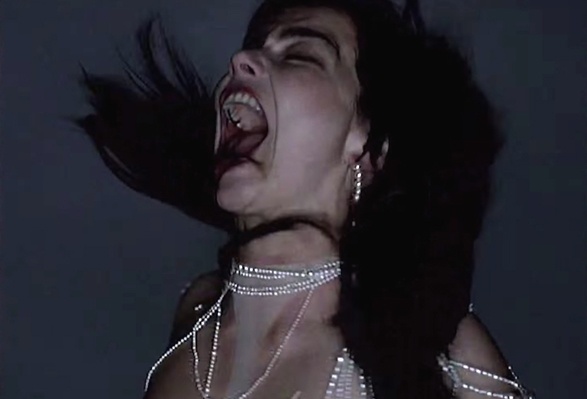 Björk, "Pagan Poetry," 2001, dir. Nick Knight, video still
All, it would seem, was not full of love at MoMA this spring, when the museum's Björk retrospective opened to clamorous disfavor. But what or who, in this, was really being subjected to critique? The musician who, in her own right, has generated some three decades of high-caliber multi-faceted work? Her status as pop singer and position within the mass cultural sphere? The show's celebrity-minded curator, whose program, some say, is wearing on the Modern's hallowed halls?
Reflecting on this spectrum of dynamics, Tess Edmonson, here, gives her thoughts, finding in the exhibition and its execution something that, surprisingly, few have bothered to note – the Icelandic musician's own position within it all.
Nearly every review of MoMA's "Björk" exhibition – and there have been many since its opening in March – has parroted the same apocryphal departure from museum's press text: when, more than ten years ago, curator Klaus Biesenbach first approached Björk to do an exhibition, she declined; later, upon the suggestion of her friend and collaborator Antony Hegarty that an exhibition might be a chance to learn something new, she acquiesced. And while it's rare to see unanimity among art-world egos, everyone seems to be in agreement that it was a mistake. It's a recognizable narrative: the reptilian curator, the virginal artist, the temptation of knowledge, the fall from grace.
After a lengthy process of collaboration (including the suggestion, at one point, that the exhibition simply be released as an app – a perhaps more elegant conclusion, if a less ambitious one), the resulting retrospective read like a mediocre compromise between a number of actors whose desires are at odds, an awkward and inchoate endeavor possibly better defined by what it was not. So it is worth noting that the exhibition didn't treat Björk's material production (her songs, albums, videos, or images) as discrete and autonomous artworks; it did not function as a historicizing display of these works alongside archival materials, didactic panels, and ephemera; it did not see Björk amateurishly adopting the role of visual artist; nor did it adapt the channels by which popular music is typically disseminated – live performance, broadcast, retail – to the conditions of the gallery space. These curatorial choices seem, to me, to have been the right ones. Though when undoing convention, one would typically have something to offer in its place.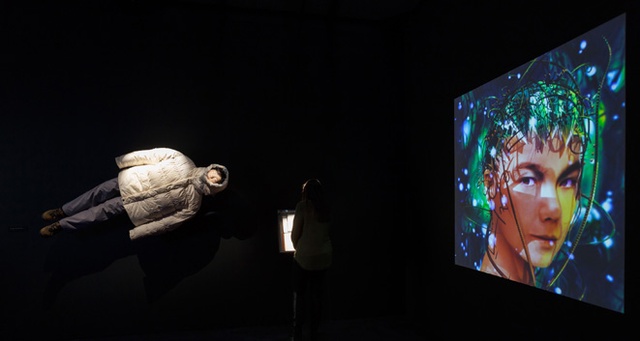 "Björk," Museum of Modern Art, New York, 2015, installation view
In Misha Glouberman and Sheila Heti's 2011 book of collected writings "The Chairs Are Where the People Go," the eponymous essay outlines some basic practical suggestions for how chairs should be set up at different social or cultural events. Although it seems like a straightforward exercise, Glouberman and Heti note that it's often done poorly, reflecting a "thoughtlessness in how people consider their audience." [1] They use a literary event as an example: "Leaving space for people to stand in the back at a reading is ridiculous. Who wants to stand through a reading? You're pretty much intentionally designing things so that a lot of people will find the reading boring, because it's incredibly hard not to be bored when you're watching someone read from far away and you're standing." [2] The given production is rigorously conceptualized, but only to the point where the proscenium ends; in the space beyond, the viewer's body – never mind her pleasure – is an afterthought.
"The Chairs Are Where the People Go" has become, for me, a sort of shorthand for the imperative of the cultural producer to make logistical concessions to her audience: if the chairs aren't right, people will dislike the work regardless of what it is. MoMA's "Björk" did not make such concessions. Navigating the exhibition, one grew impatient, confused. This was particularly true of "Songlines," a series of immersive installations that constituted the better part of the show. To enter, one had to stand in a long line – very likely made all the longer by the publics Biesenbach has been accused of courting. Once at the front, you received an iPod Touch with headphones and, along with a limited number of others who had made it through the wait, would be admitted to a cluster of small galleries. In all, there are seven rooms in "Songlines," each dedicated to one of the first seven albums Björk released as a solo musician, excluding the self-titled LP she recorded in 1977 at the age of eleven; "Selmasongs" (2000), the soundtrack to Lars von Trier's musical "Dancer in the Dark" of the same year; the soundtrack to Matthew Barney's 2005 film "Drawing Restraint 9"; as well as her most recent release "Vulnicura" (2015).

From left: Björk, "Pagan Poetry," 2001, dir. Nick Knight, video still; The Sugarcubes, "Birthday," 1987, dir. Kristin Jóhannsdóttir, video still
While in most multi-sensorial exhibition environments the visual is paramount, with audio components performing a supplementary or annotative role, "Songlines" reverses this hierarchy, privileging the medium in which Björk most frequently works (song) over the creations that complement and propel its circulation (images, fashion, videos). Accordingly, the visual materials for this show were sparse while its audio elements were immaculate. The sound from the headphones was precise and clear; and, with geolocation matching sonic content to gallery, the transitions between rooms were seamless. Further, the iPods even supported induction hearing loops for sound amplification, a technology that transmits sound directly to a viewer's hearing aids or cochlear implants. My father, a Björk fan who increasingly depends on the use of hearing aids to navigate public space, would be able to experience the exhibition in the same way that I did.
But these technical accomplishments were easy to overlook in light of the patience required to access them. The audio track consisted of music overlaid with a voiceover narrative – a sort of lyrical text charting the movements of a girl: not Björk, exactly, but rather the character from whose position she writes her lyrics, who ­transmogrifies from album to album. Written by Icelandic poet Sjón, a longtime friend and collaborator of the musician, the narration by far outlasted the length of time needed to see the contents of each gallery – a notebook, a dress, a recognizable prop or two from a given music video. Expecting something more to look at, viewers found themselves standing awkwardly, listening, waiting. Perhaps it was an intentional provocation, but one that deeply distracted from the viewer's pleasure in looking, which is, after all, what the Museum of Modern Art was established to do, and, many would argue, the only thing it consistently does with success.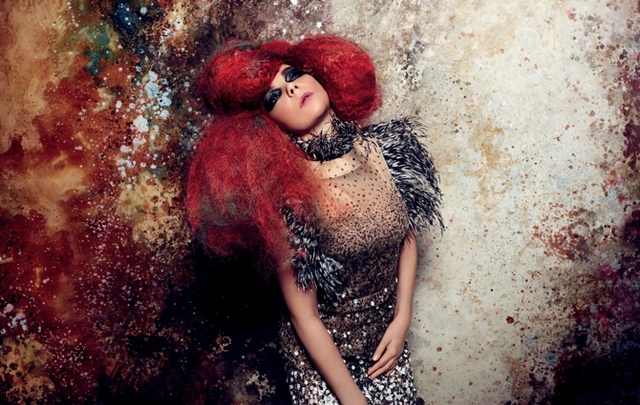 Björk, 2012. Photo: Warren du Preez & Nick Thornton-Jones
This inversion is especially tragic given that that pleasure of looking is so integral to Björk's visual cosmos, a body of work that mirrors her music in its capacity for containing aesthetic experimentation in popular forms. These visual elements were, however, largely absented from this exhibition, positioning her as a musician first and everything else – performer, actor, designer, producer – second, a strategy not particularly well-suited to a climate in which the ocular is paramount. Whose decision was this? Why use the museum to celebrate Björk's discography but not the opulence and heterogeneity of the images that are delivered so effectively into the register of pop culture?
Abstracted from the body for which they were designed and by which they were animated, a few select garments and props instead hung on or around bizarrely corny figurines made in Björk's likeness. In a screening room on the floor below, a single-channel projection featuring the majority of Björk's music videos played on a loop. It was only there, relieved of "Songlines'" strict and unusual conditions of viewing, that the power and beauty and urgency of these objects were apparent or even accessible. Collating over twenty years' worth of music videos into a single, focused viewing experience also made the continuity and development among the themes at play in the videos apparent, as well as Björk's scope as both a musician and performer: we see her body extended through technology ("Hunter," 1997, dir. Paul White), transformed through animation ("I Miss You," 1997, dir. John Kricfalusi), obscured with prosthetics ("Oceania," 2004, dir. Lynn Fox). We see her perform the sexual body ("Pagan Poetry," 2001, dir. Nick Knight), the ancient body ("Joga," 1997, dir. Michel Gondry), the political body ("Declare Independence," 2007, also dir. Gondry), and, in a new MoMA commission presented in an adjacent room – a two-channel video to accompany the 11-minute song "Black Lake" (2015, dir. Andrew Thomas Huang) – at the heart of her new album, the wounded body in the process of renewal. The videos' formal explorations, which encompass CGI graphics, cartoons, musical theater, stop-motion animation, and narrative storytelling, characterize Björk's production as equal parts poetic and playful. In her specific and affective delivery, the lyrics range from microcosmic, human, and planetary scales of time and space to love and abjection, love and compromise, love and death. The wealth and breadth of the material is a lot to take in. That said, aside from the large scale at which this work was projected, the cultural relevance of these videos is something that the publics of MTV and YouTube could have already registered independently of this show. 2005 film "Drawing Restraint 9"; as well as her most recent release "Vulnicura" (2015).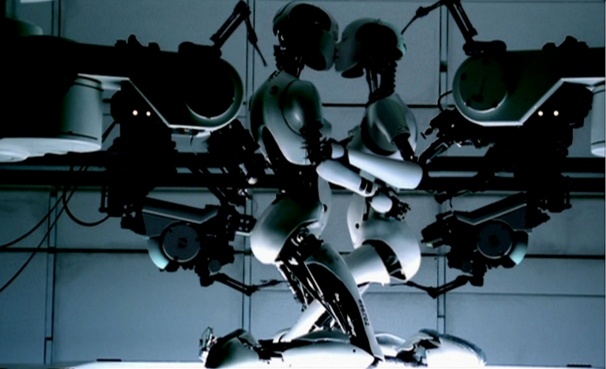 Björk, "All is Full of Love," 1999, dir. Chris Cunningham, video still
These missteps, to me, seem to speak mostly to poor exhibition design in a "Chairs Are Where the People Go" sort of way – though the work is interesting and maybe important, its presentation suffers from a miscalculation of viewers' interests, values, attention, or resolve, leaving them standing at the back of the reading, so to speak, too bored or annoyed to even care about what they're hearing. In the days after the opening, a suspiciously uniform media narrative emerged. The critics, in their "generosity," were ready to do away with the justifiable prejudices they had against MoMA exhibiting the work of an ambitious female polymath. They had hoped, or so they intimated, perhaps too "optimistically," too "naively," that the rich and varied 30-plus-year-long career of this musician and iconoclast could meet the standards of an institution in the crisis of gracelessly re-evaluating the modernist narratives on which it was founded. They were not, of course, defending the museum's modernist birthright, the privileging of certain cultural forms over others; in "Ladies and Gentlemen, the Björk Show at MoMA is Bad, Really Bad," Ben Davis wrote for Artnet that "nothing in principle is bad" about "a little pop-culture populism," while in "MoMA's Björk Disaster," Jerry Saltz, writing for New York magazine, let it be known that "museums and pop culture are fine together." And while both critics emphasized, parenthetically, that they liked the Icelandic singer's music videos, neither made her work a significant focus of his review – not relevant enough to the discussion at hand, apparently: the focus instead being on Biesenbach's shaming of the hallowed institution by worshipping at the altar of celebrity.
Considering how central Björk's celebrity figured in these assessments, its treatment noticeably lacked complexity. Almost uniformly, the critical claim read: culture is good, celebrity is bad. Yes, Björk is a celebrity, but so too is Lady Gaga, for example; so are Kim Gordon and Rihanna and Yoko Ono and RuPaul. Perhaps if we are really to seriously engage with the premise that artifacts of popular culture can be shown in the museum next to those of high modernism, we must also make certain distinctions among the producers of these artifacts. Björk's relationship to celebrity is arguably more complicated than, for example, Biesenbach's. Whereas Biesenbach's celebrity is one of proxy and proximity, Björk owes hers in equal parts to the idiosyncratic pop music she released in the nineties and early 2000s and to the videos that brought her image into distribution. Meanwhile, she gained mainstream attention both because of and despite her non-conformity to gendered standards of celebrity.
Björk, "Army of Me," 1995, dir. Michel Gondry, video stills
What role did Björk's celebrity play in the exhibition? The swan dress – designed by Marjan Pejoski – that she notoriously wore to the 2001 Oscars made its requisite appearance, likely the exhibition's most potent symbol for the singer's rejection of the terms of her own fame that, in turn, cycled back into making her even more famous. But I would argue that in the case of Björk, an artist whose production exemplifies the late-twentieth-century dissolution of mainstream and avant garde, the notion of "currency" is a more generative framework for considering this exhibition than celebrity, and that it is Björk's currency – the ongoing relevance of the work she creates, and the connection it solicits from people with wildly divergent relationships to institutionally-sanctioned culture – rather than simply her popularity, that Biesenbach hoped to exploit at MoMA. Though it might seem like an arbitrary or outdated distinction post-Instagram, her cultural production and her creative volition drive her status as an icon rather than vice versa. She's not the most famous or successful or well-liked person in the world or even in pop music; rather, what she can contribute to MoMA is the ability to engage publics to reconsider the norms of creative production by simply putting forward an attractive alternative. And maybe her body is consciously absented here, unlike those of Marina Abramovic and Tilda Swinton in their MoMA appearances, to make the possibility of this contribution even more distinct.
In a press conference marking the exhibition's opening, Biesenbach said that he would have loved to have seen this exhibition as a teenager. It's both a sentimental and laughable imperative – curating for teenagers – but he seems at least to acknowledge the hugely influential role Björk has had on younger musicians (especially female ones) just in offering up her uncompromising way of existing in the world as a model. This exhibition came in short succession after the rushed digital release of Björk's newest album, "Vulnicura," in late January of this year, which only further renewed her relevance among a younger generation of artists and musicians, positioning her as a figure at once critical historically and very, very present in the now. Co-produced with 25-year-old Arca, the album credits in its liner notes – among other key figures currently shaping music – DJ Total Freedom, rapper Le1f, and singer Kelela, all of whom the record seems very much in conversation with. Björk recently co-curated an episode of Tri Angle Records' Rinse FM podcast, sharing some of the music she listened to during the creation of ­"Vulnicura"; it included an original track from Kablam and a Björk remix from Lotic, both DJs from Berlin's Janus crew. On Twitter, Jerry Saltz posted an image of his MoMA press pass on fire in an act of protest against … what, exactly? The growing irrelevance of the cultural institutional apparatus that makes his life possible? Back at MoMA's "Björk" exhibition, Total Freedom, someone arguably more important to this new generation than any number of contemporary artists that have been featured in its galleries, performed at the opening.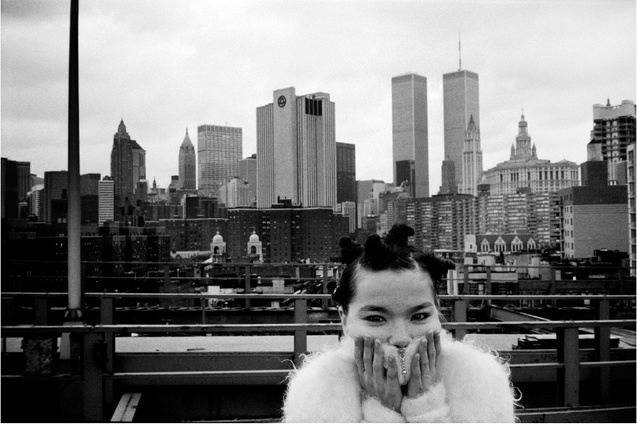 Björk, on break while filming the video for "Big Time Sensuality," 1993, dir. Stéphane Sednaoui. Photo: Stéphane Sednaoui
I'm suspicious of how quickly the ways in which this show failed were attributed to Björk's celebrity, a non-sequitur that feels deeply gendered in the lack of agency it affords the artist. The Matisse, Picasso, and Warhol shows that MoMA mounts in alternating perpetuity rely at least as heavily on these artists' fame as the Björk exhibition does on hers, and yet the value of these shows is understood to be determined by the value of the work. Is it naïve to think that Björk's body of work merits critical examination not because of her celebrity but in spite of it? Perhaps Björk's lack of concessions to her MoMA audience, as annoying as this might have been to regular museum-goers, could also be understood (if indeed this dynamic was prescribed by Björk) as a not-totally-tasteless resistance to her own subsumption into the art world.
"Björk," The Museum of Modern Art, New York, March 8–June 7, 2015.