RELATIONS TO VISCERA
Alice Blackhurst on Carolee Schneemann at the Barbican Art Gallery, London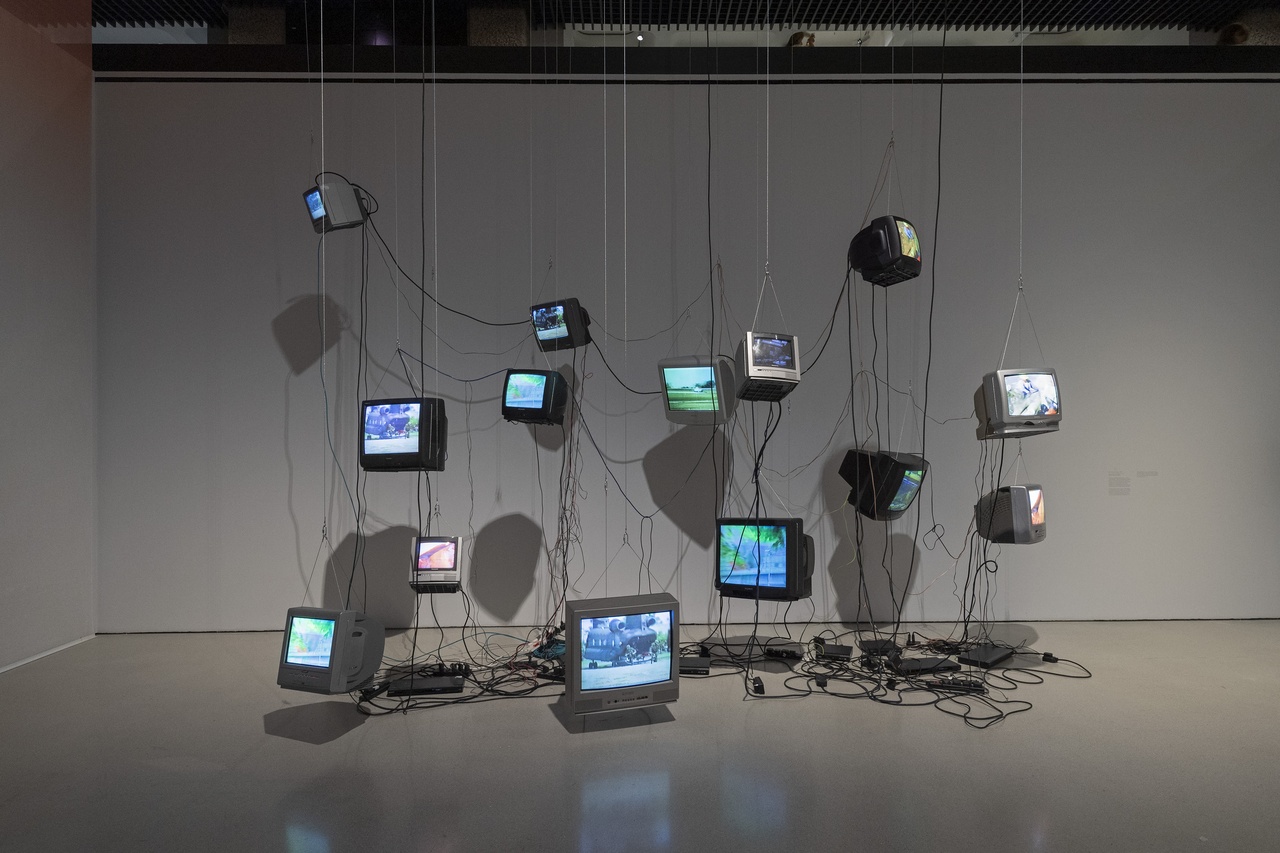 Carolee Schneemann placed the possibilities of her own corporeal existence and the socio-political structures that conditioned it at the center of her work. Simultaneously, her art transcended the physical form of the female body through a multimedia practice that never sacrificed medium for message. In line with Schneemann's insistence on not reducing the sensual to the vulgar, a comprehensive retrospective at the Barbican Art Gallery refrains from monumentalizing the artist's oeuvre and frames it as an ongoing feminist undertaking, as the art critic Alice Blackhurst notes. Blackhurst underscores the continued relevance of Schneemann's engagement with the subject/object binary, which points toward new pathways for female representation in the arts and beyond.
The risk of any major retrospective is that the artist's work in question gets compressed: simplified and flattened into a digestible "overall narrative." With the potential to obscure the early wild experiments but also the near-misses and blunter failures of a career, the retrospective often packages the artist as a commodity, able to be taken in and consumed over the manageable course of a few hours, or a vacant Sunday afternoon.
The multifaceted, interdisciplinary, and both rigorously formal and defiantly embodied work of the late Carolee Schneemann flouts the standard retrospective's risks of reduction. Magisterially unclassifiable (sometimes to the artist's despair, as she was never fully recognised or sufficiently compensated for her output during her lifetime), Schneemann's art lucidly affirmed women's corporeal experience, and the materiality of the physical body more broadly, as both cerebral and erotic: as both an unapologetic site of pleasure and a conceptual laboratory of sorts for the forensic exploration of the limits of endurance, empathy, and intersubjectivity with others. Yet, deftly rooted in the technicalities of painting, drawing, and, later, the manipulation of celluloid film footage, Schneemann's oeuvre – as it cycled through genres as diverse as the visual diary, live performance, collage, expanded cinema, and her self-coined category of "kinetic theatre" – never sacrificed medium for message. Rather, inspired by her close contemporaries Stan Brakhage and Andy Warhol, it showed how form can function as a bridge soldering the body proper to a more collective, social, and shared "body politics" (also the judicious title of the London Barbican's current generous display of her career).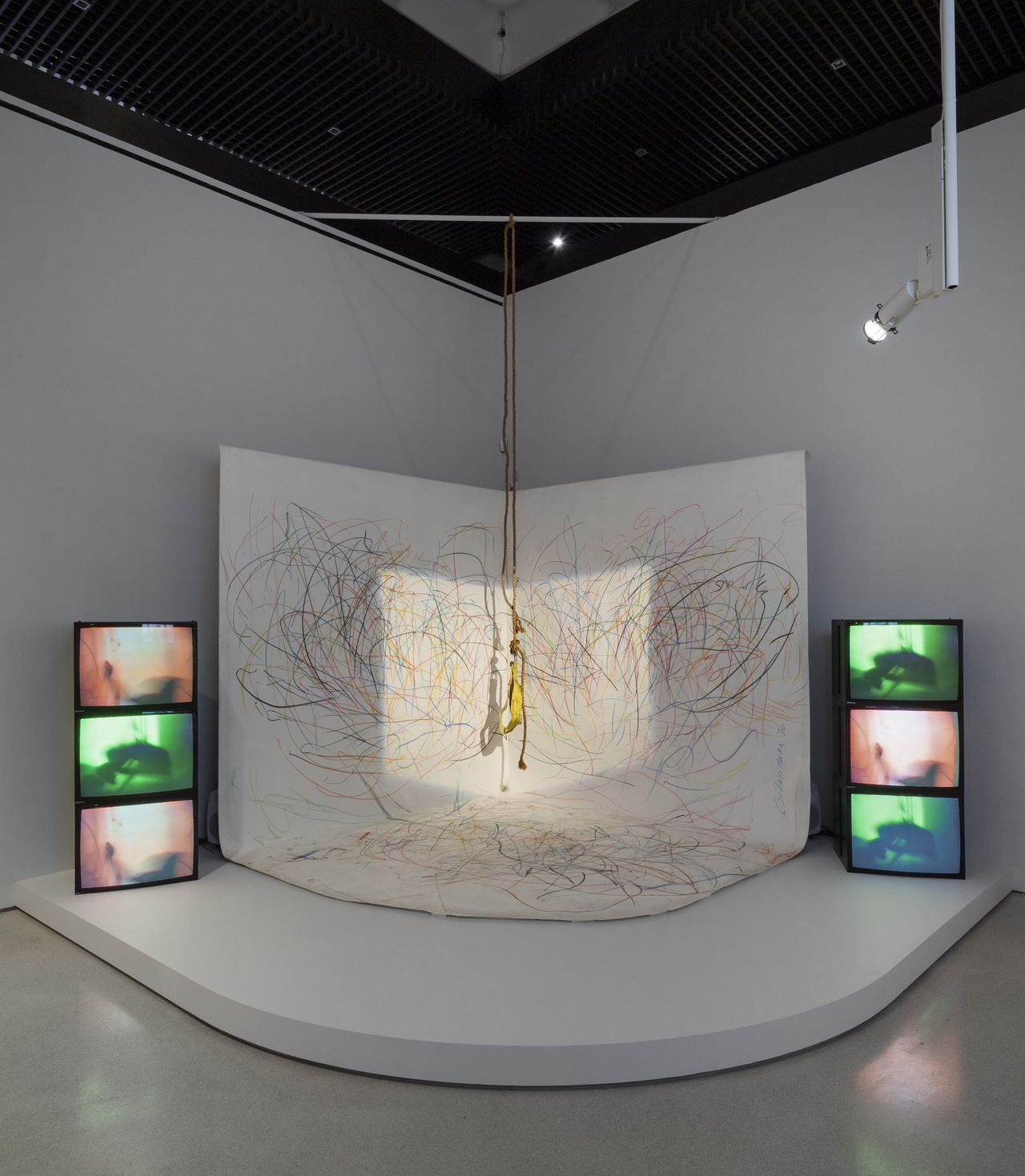 The spatialisation of Schneemann's work at the Barbican – carefully collected into small, intimate side chambers, as opposed to projected onto stark white walls rehearsing the retrospective's usual fetish for exteriors and surfaces – reflects the artist's origins as the daughter of a country doctor, used to encountering the recesses of the body, and familiar with the enmeshed interior of things. "There was always physicality around us" [1] Schneemann attested of her medical, atypically unsqueamish family, yet it took the mid-century American society in which she came up as a student – even metropolitan New York – much longer to catch up to Schneemann's ease with the in extremis outposts of corporeality. In 1955, Bard College's prestigious fine arts program forbade students from learning anatomy from actual live human bodies, and so Schneemann drew from looking at herself naked in a mirror, marking the beginning of her radically simultaneous approach of being both "image-maker" and "image" at the same time. This insistence upon straddling the subject/object binary was deeply controversial, earning Schneemann an expulsion from Bard (though she later returned to graduate in 1960), rankling what was then a predominantly puritanical feminist culture that sanctioned a strict separation between women's everyday reality and its aesthetic representation. ("The politics of self-determination seems like a luxury import!" [2] noted Schneemann, wryly, in a journal entry from a trip to London taken in 1967).
"Body Politics" teems with the iconic works for which Schneemann is most famous. Not only the incandescent Interior Scroll (1975), in which the artist employed "the wisdom of a vulvic epistemology," [3] in Elena Gorfinkel's words, to unfurl from her vagina a piece of paper etched with blistering takedowns of the patriarchal art world, but Up to and Including Her Limits (1971–76), a performance piece involving bodily suspensions, harnesses, and hanging poses, and Infinity Kisses (1981–87), a diaristic collage of hazy and oneiric photographs documenting Schneemann's morning ritual of physically embracing her long-term pet cat companion, Kitch. Yet curator Lotte Johnson refuses tropes of linear progress, neat artistic trajectories or career "breakthroughs" by placing these most infamous pieces not in the upstairs portion of the Barbican's gallery, where they might be visually construed or interpreted as "peaks" of Schneemann's dizzyingly wide-ranging portfolio, but in the lower downstairs rooms of the exhibition space, where the viewer, far from gazing up at them as lofty monuments, is invited to encounter them on a more grounded, intimate, and indeed more human level. The presentation of Up to and Including Her Limits avoids any sensational or spectacular display of acrobatic virtuosity by choosing to instead show videos, on period-specific blocky television monitors, of Schneemann yowling in pain while attempting this performance. The soundtrack telegraphs something of the heft and hard physical labour of the task, as Schneemann rails against the entropy of her body's centre of gravity.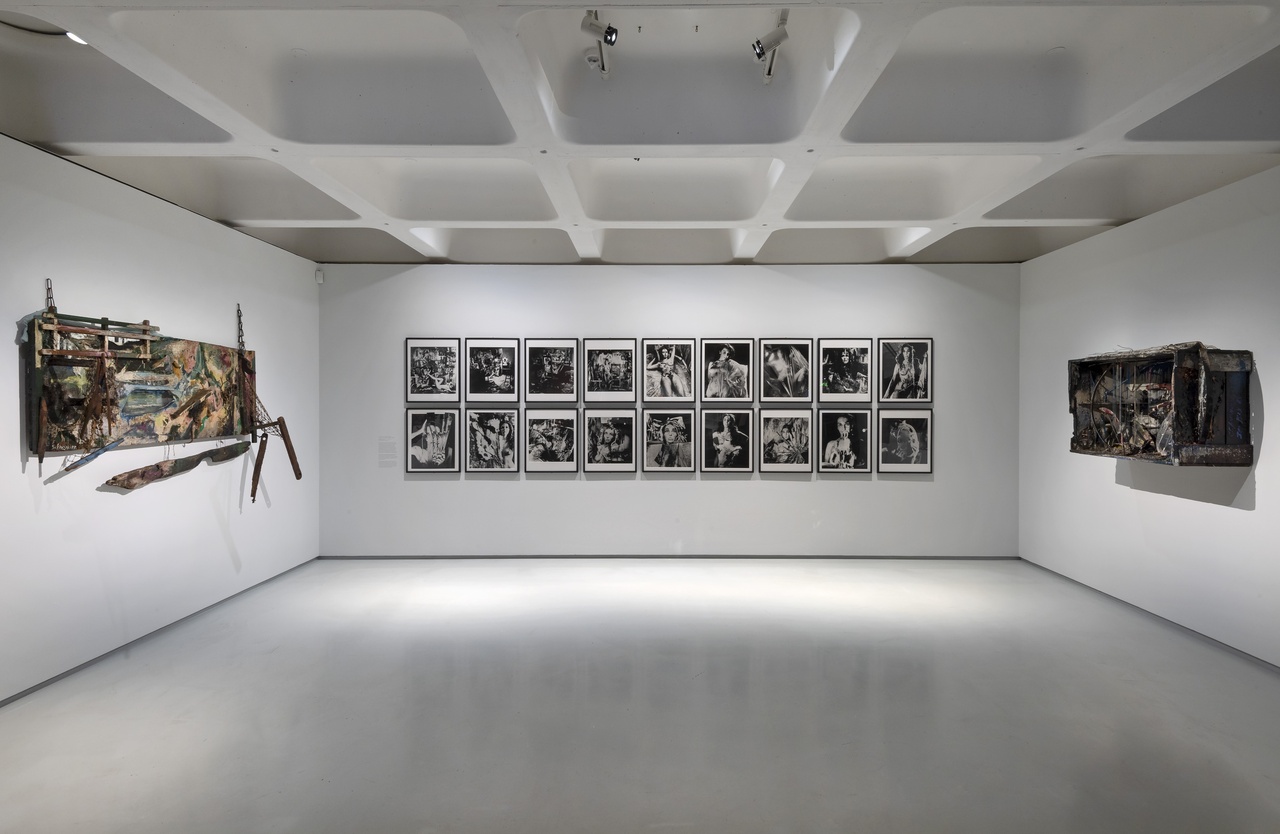 Interior Scroll, a landmark work of feminist art-making, is given similarly three-dimensional and complex treatment. Undoing stereotypical views of conceptual art performances as one-off, unrepeatable occurrences, it is presented at the Barbican as an ongoing, living archive of photographs captured from multiple perspectives and angles, which are set against a panoramic sweep of Schneemann's own notes and media's reactions to the piece. Such expansive curation resists the (still too frequent) essentialization of Schneemann's oeuvre as the one-dimensional exhibition of a "beautiful body." It gestures to how Schneemann's best work incites intimate collaboration – not only with the work of her direct peers but with new generations of engaged interlocuters encountering her art for the first time.
Perhaps Schneemann's most notorious collaboration was Fuses (1964–67), a film made with her then partner James Tenney, which screened the couple having sex in a joyful variety of conjugations in attempts to capture the contours of the heterosexual "love-fuck" (in Schneemann's own words) hitherto underrepresented on celluloid. When Fuses was screened at the 1969 Cannes Film Festival, dismissive male spectators slashed cinema seats with razors. Such misogyny was indicative of the period's hastiness to conflate sensuality with pornographic modes, especially if such sensual depictions were pioneered by women artists. (In 1975, similar reactions awaited Chantal Akerman's iconic film about a housewife and sex worker, Jeanne Dielman, 23 Quai du Commerce, 1080 Bruxelles). Fuses was an organic extension of Schneemann's lifelong quest to render something of "the body's energy in motion," [4] and to propel painting off the canvas and into the boundless, spatial dissolve of sensory and tactile lived experience. It therefore felt a little disappointing that "Body Politics" chose to loop the piece in a separately cordoned-off cinema room. The work's originality is, conversely, in expanding the fixed boundaries of representational narrative cinema, or in showing how the generic fault lines between home movie and big studio production, between sensual experiment and adult film, are tenuous – and better when they're not contained within the staider conventions of the medium. The presentation of the filmic montage Viet-Flakes (1962–67), made by Schneemann in outraged response to the brutalities waged upon the Vietnamese people by the US government's military invasions of Vietnam, felt more successful. Screening amidst other works in the downstairs portion of the gallery, such as Kitch's Last Meal (1976), another film piece about Schneemann's cherished feline, or War Mop (1983), a structural assemblage featuring a motorized cleaning mop to comment both on the unceasing conflicts in Lebanon and the unyielding pressure for women to "clean up and start over" in the aftermath of devastating violence, the in medias res placement of Viet-Flakes spoke to war's encroachments into the most banal, quotidian of moments, relevant to the bleak normalization, in our current ceaseless news cycle, of the starkly harrowing events in Ukraine.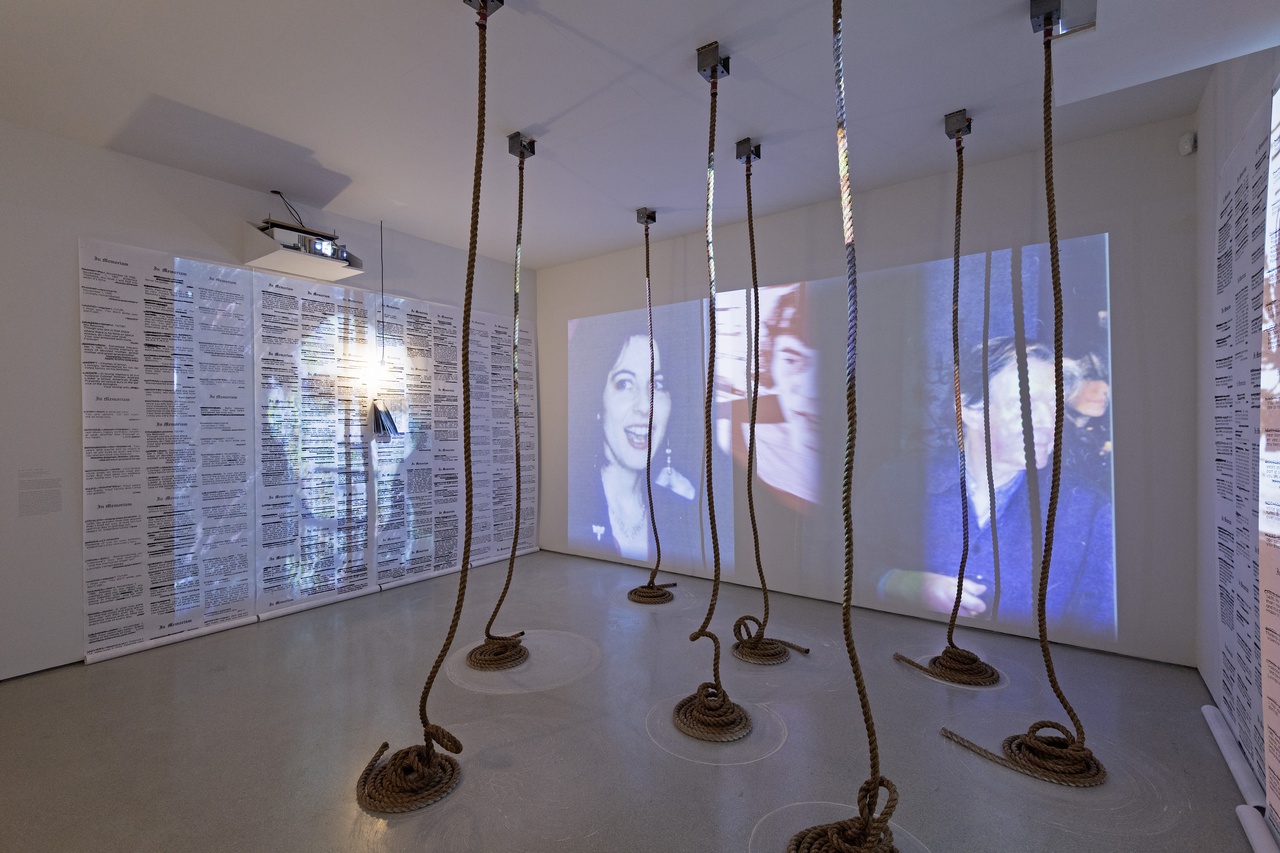 "Body Politics" succeeds, over an engrossing sweep of more than 300 works, in making the monumental intimate, or in infusing what may in other hands have calcified into stony relics of feminist art-making, with dynamic urgency. Yet its concluding note is not triumphant nor definitive and does not suggest any emphatic victory of a woman over the conservative male biases of 20th-century art. One of the final works that "Body Politics" presents the viewer with in its route through Schneemann's work is Plague Column (1995), a part-textual, part-sculptural, and part-filmic work in which Schneemann layers her own diagnosis with breast cancer (and refusal, trying out a range of alternative methods instead, to conform to aggressive Western prescriptions for its treatment) amidst more philosophical meditations on the ailing body in society; hanging collages of orange fruits punctured with syringes; and filmed footage of both surgical procedures and ongoing sexual encounters with lovers. Plague Column stages an unflinching and multimedia examination of the vicissitudes of the vulnerable and mortal human body, yet it fiercely clings, in quintessential Schneemann style, to the body's status as emphatically sexed and sexual until the very end. Recording her refusal to go ahead – despite her doctors' advice – with an invasive double mastectomy, Schneemann writes in one of the textual captions making up Plague Column, "My breast is an erotic organ. I'm keeping it with me." It is easy to dismiss such fervid self-possession as shallow and regressive narcissism. Yet in keeping certain things back for herself, Schneemann made space, and loosened the constraints, for many others, inspiring a communal "body politic" that complimented an exhilarating body of work.
"Carolee Schneemann: Body Politics," Barbican Art Gallery, London, September 8, 2022–January 8, 2023.
Alice Blackhurst is a writer and art critic and the author of Luxury, Sensation and the Moving Image (2021).
Image credit: all photos © Marcus J. Leith
Notes
| | |
| --- | --- |
| [2] | Notes related to Round House and London, 1987. Printed paper with ink annotations, 27 x 9 x 21.7 cm. Carolee Schneemann papers, Getty Research Institute, Los Angeles (950001). |
| | |
| --- | --- |
| [3] | See Elena Gorfinkel, "Energetics and Erotics: On Schneemann's Cinema," in Carolee Schneeman, Body Politics, ed. Lotte Johnson and Chris Bayley (New Haven, CT: Yale University Press, 2022). |