Sabeth Buchmann and Rike Frank on Lucinda Childs's "Available Light"
Available History
John Adams, Lucinda Childs, Frank Gehry, "Available Light," 1983, original production. Photo: Tom Vinetz
Just like Lucinda Childs's new production of her "Dance" (1979) – shown as part of Berlin's "Tanz im August" dance festival three years ago and which featured music by Philip Glass and film clips by Sol LeWitt – "Available Light" revives or re-imagines [1] an earlier choreography. The original "Available Light" was commissioned by curator Julie Lazar as part of LA MOCA's inauguration in 1983 to launch the museum's series of public programs. Teams of choreographers, architects, and designers were invited to programmatically address the "stage" in performances for various locations throughout the city. No fixed venues were assigned. Rather, Childs, working with architect Frank Gehry and the composer John Adams, [2] eventually settled on the museum's "Temporary Contemporary," a former hardware store and garage in Little Tokyo being converted at the time, under Gehry's direction, into an interim LA MOCA location.
The stage design reflected the venue's provisional character with a vaguely constructivist series of cubic scaffolds: a row of five tall metal cages with vertical and diagonal bars defined two dancefloor tiers connected by lateral stairways. At the same time, the architecture corresponded to Childs's fairly minimalist choreography: approximately an hour long, it presented vertically and diagonally structured arrays of units, series, lines, and multiphase sets. Sometimes centered, sometimes off-center, the twelve dancers' movement sequences recalled serial art's preference for mathematical sets by obeying a rigorous geometric structure. In keeping with the Minimalist credo, it infused frontal alignments with dynamic energy and simultaneously lent them spatial, three-dimensional depth.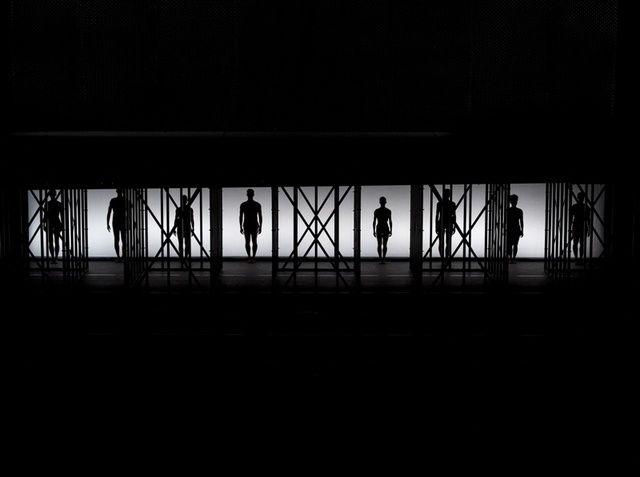 John Adams, Lucinda Childs, Frank Gehry, "Available Light," 1983, revival, "Tanz im August", Berlin, 2015. Photo: Vitali Wagner
The revival of "Available Light" at the Haus der Berliner Festspiele in August 2015 provides fodder for the ongoing debate over methods and strategies of reconstruction, but it also raises the question of whether and how the original production, created during the heyday of postmodernism, was different from Childs's choreographies of the 1960s. After its premiere in LA, the piece traveled to New York, where it was presented as part of the Brooklyn Academy of Music's "Next Wave" festival later that year. In a rave review, Anna Kisselgoff wrote that it combined the "integrity of [Childs's] mathematical rigor" with "a new juicier density." [3] One could say that in "Available Light," the audience encountered a 'wavy' version of geometric abstraction that was ostensibly more accessible than her choreographies of the 1960s but still hewed to a strictly structural aesthetic – eschewing a narrative turn of the sort Yvonne Rainer's work took in the early 1970s, when she decided to abandon dance for film. [4] In other words, the production rejected (and rejects) both the modernist fixation on innovation, and referentiality as a critique of modernism.
The choreography thus oscillated – characteristically for minimalist postmodernism – between fragment and totality, between formal elegance and the exposition of its production. It ultimately also hinted at the dystopia of deconstructivist aesthetics epitomized by Gehry's work in architecture of the 1970s and 1980s, where the grid (that was the hallmark of the 1960s) was replaced by the diagonal's expressive edge: both in Gehry's 'cages' and in the choreography, the production substituted a more dynamic-looking zigzag pattern for the minimalist balanced antithesis. In more than one way, the project seemed to take the "Next Wave" quite literally: "Light over Water," the title Adams chose for his composition, may be read as referring not only to the changing light over the sea outside his studio's windows, but also to the coupling of electric and magnetic waves in visible light – which "Available Light" in turn seemed to emulate in the choreographic coupling of motion, sound design (by Mark Grey), and lighting (by Beverly Emmons and John Torres).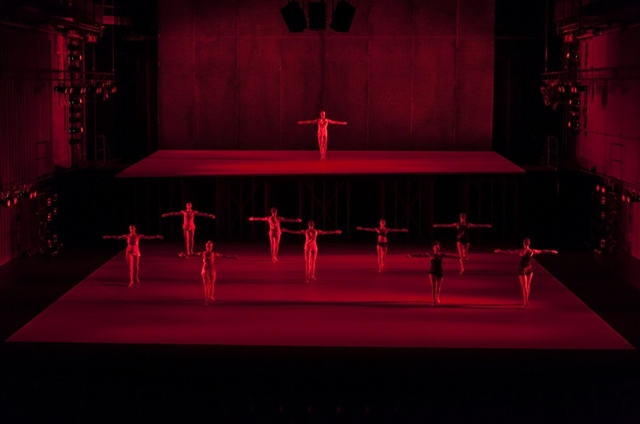 John Adams, Lucinda Childs, Frank Gehry, "Available Light," 1983, revival, "Tanz im August", Berlin, 2015. Photo: Dajana Lothert
On an abstract level, then, the contributing disciplines – dance, architecture/design, and music – concurred in the cinematic principle of moving light. Yet unlike in "Dance," where LeWitt's stage projection served to duplicate and enlarge the dancers and transpose their movements into a quasi-cinematic temporal mode, "Available Light" employed the medium of film not as an explicit register but instead as an implicit "interface" between the visual and performing arts. Childs was evidently interested in film; she played a leading part in "Giro turistico senza guida" by Susan Sontag, who, in turn, contributed to the catalogue accompanying "Available Light" (alongside Jeremy Gilbert-Rolfe and Ingram Marshall).
The principle of interfacing visual and performative art extended to the costumes (by Kasia Walicka Maimone): garments in single elementary colors (red, white, black) inspired by classical cotton underwear cuts and decorated with individualized sashes. By transmuting this tricolor scheme into 'bicolor' light-dark and even black-and-white contrasts, the changing illumination brought out two additional aspects that were not readily apparent at first glance – the genesis of color out of light and its wavelike nature ("light over water"), an echo of the central motif of the choreography. Figuring as a programmatic nexus between theatrical space and California architecture, "Available Light" also recalled the eminent role film played – during Childs's early years as a choreographer – in the crossovers between dance and the visual arts in minimal art and the Judson Church movement. [5]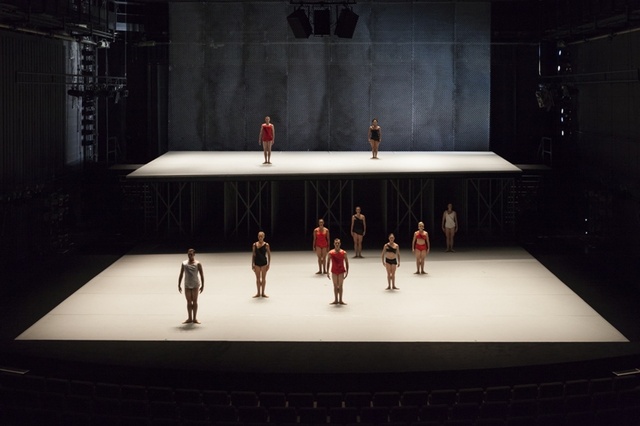 John Adams, Lucinda Childs, Frank Gehry, "Available Light," 1983, revival, "Tanz im August", Berlin, 2015. Photo: Dajana Lothert
The interest in 'non-illusionistic' movement that drove these selections is evident, moreover, in the form of Childs's collaboration. It was the early 1980s, when techniques of 'referentiality' and 'hybridity' became popular that have informed fusions between visual and performing arts ever since. "Available Light," however, invokes a historical genealogy that is at odds with the modernist ideal of purity as much as with postmodernist multimedia aesthetics. In their stead, Childs's choreography proposed a gradualist extension of structural principles that are apt to translate the postmodernist credo of plurality and heterogeneity into a more complex system of interrelations. Each of the twelve dancers operated as a distinct unit within the ensemble, and characteristically, it was the underlying beat count that tied their modular movements together – it even seemed to determine the rhythm of their breathing. [6] The lower stage, located at the audience's eye level, functioned as the scene of the collective, while one, two, or three dancers at a time moved to the upper platform atop the five metal cages to demonstrate the basic elements of each movement sequence.
Compared to the opulent aesthetic of Robert Wilson and Philip Glass's opera "Einstein on the Beach," which premiered with a choreography by Childs in 1976 (seven years before the premiere of "Available Light"), this later work thus made for a considerably less 'juicy' – to again use Kisselgoff's term – audience experience. That was presumably due not only to the austerely formalist stage design but also to Adams's composition, whose rhythmically swelling and subsiding music hovered between construction and composition. Although the otherworldly ambient-like synthesizer sound softened the edges of the minimalist industrial aesthetic, Adams's interest in the machine-generated mechanisms that control modern life seemed to inform the dancers' movements.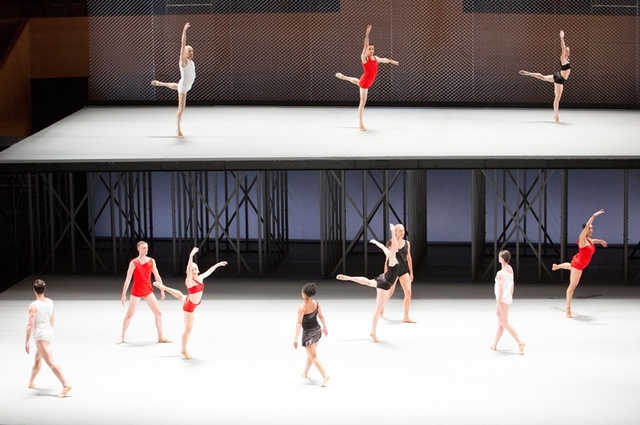 John Adams, Lucinda Childs, Frank Gehry, "Available Light," 1983, revival, "Tanz im August", Berlin, 2015. Photo: Craig T. Mathew
Childs chose to rehearse her choreography with dancers of different height and stature, another indication of her particular attention to the interplay of multiple differences and her quest to devise a counter-normalizing or anti-normative stance and method. Without following in the footsteps of, say, Wilson, "Available Light" challenged Childs's own principles of production; in that sense, the revival of a thirty-three-year-old piece also illustrates trajectories of contemporary history that are of great interest today. It is telling that, as the choreographer notes in an interview with Verena Lueken for the Frankfurter Allgemeine Zeitung, [7] her work did not play especially well with audiences. And further, it was hobbled by changes in tax law introduced under the Reagan administration, after which funding for the arts dried up and made any continuous work with an ensemble difficult.
"Available Light" was created during Reagan's first term, which is to say, in the middle of a brutal shift toward a neoliberal economic order. It is encouraging to see "Tanz im August" deciding to bring it back now: the revival suggests that some institutions are prepared to brave a cultural climate that privileges big events for mass audiences over the steady creative labor that builds lasting structures. With "Available Light", the festival presented a work that, incorruptibly, stands on the primacy of artistic quality.
Translation: Gerrit Jackson
"Available Light", 1983, choreography: Lucinda Childs, music: John Adams, stage design: Frank Gehry. Revival for "Tanz im August", 27. Internationales Festival Berlin, August 13 - September 4, 2015.
Notes
| | |
| --- | --- |
| [1] | That is the term used in a sketch on the website of the Pew Center for Arts & Heritage, which supported the new adaptation with a grant. |
| | |
| --- | --- |
| [4] | Rainer returned to dance thirty years later. |
| | |
| --- | --- |
| [5] | Members of the Judson Dance Theater besides Childs included Trisha Brown, Simone Forti, and Yvonne Rainer. |
| | |
| --- | --- |
| [6] | See "Mein Tanz ist abstrakt und deshalb völlig unpolitisch," Lucinda Childs in conversation with Verena Lueken, Frankfurter Allgemeine Zeitung, August 5, 2015. |