NATURES MORTES, TABLEAUX VIVANTS
Catherine Chevalier on Anne Imhof at Palais de Tokyo, Paris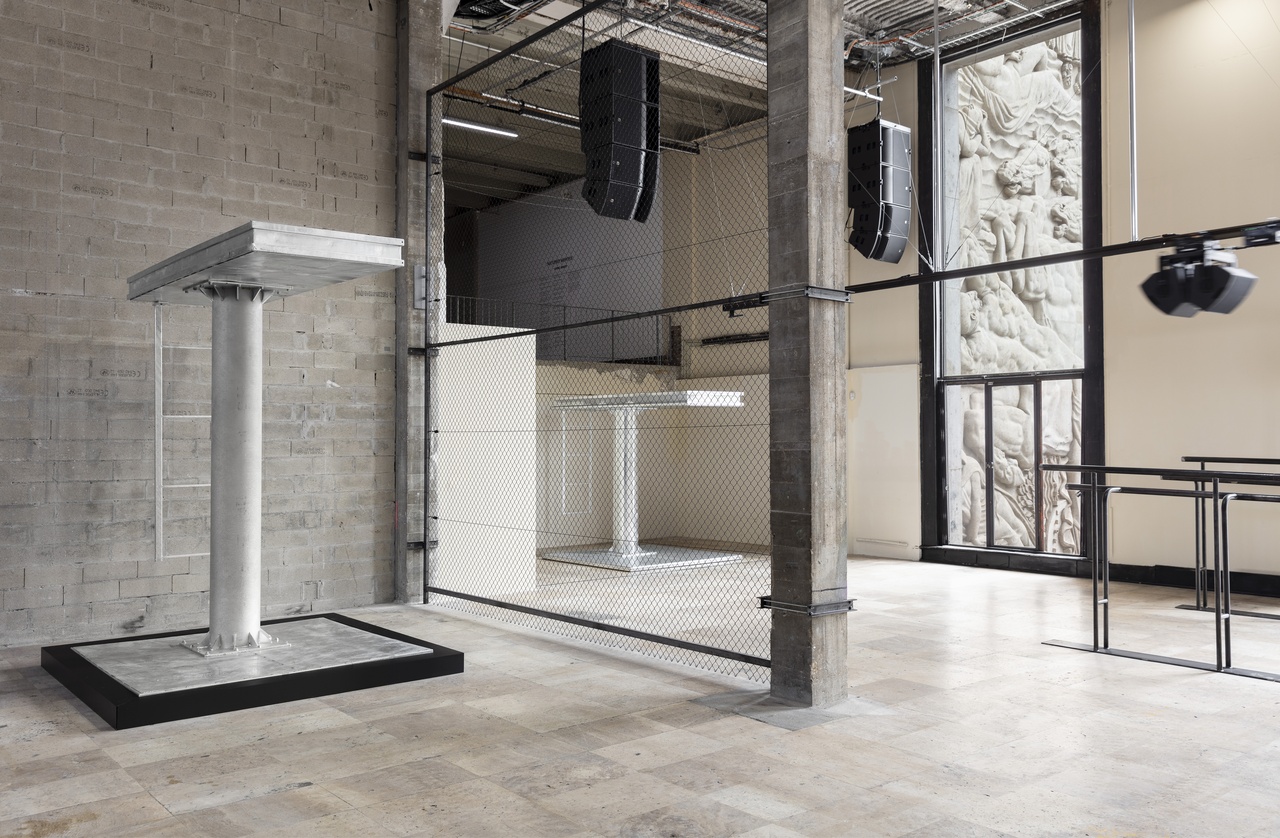 Anne Imhof – best known for large-scale performances with troupes of collaborators – responded to the Palais de Tokyo's carte blanche invitation without engaging a single live body. In her current exhibition, Imhof reminds visitors that she is a painter first, creating an exhibition that treats the space as an all-encompassing stage. Including a wealth of artistic references – art historical predecessors, teachers, friends – and artifacts from performances past, the exhibition gives new meaning and use value to words, works, surfaces, architectures, in favor of staging a directly effective artwork, argues editor and writer Catherine Chevalier.
As though in reaction to the proliferation of online promotional materials that have been circulating to the point of saturation during the recent closures of cultural institutions due to the pandemic, the long-awaited Anne Imhof exhibition at the Palais de Tokyo introduced itself in a preliminary space, like a concrete teaser. It begins with a long passage made of dirty and tagged partitions taken from an abandoned office in Turin, a ruin from the pre-Covid service industry, following the characteristic curve of the building. The visitor first walks "against" the running dog in Sturtevant's Finite Infinite (2010) projected on a wall, and then encounters through the brown partitions a series of large paintings by Imhof that evoke twilight. These open onto an entire room left empty except for two moving speakers suspended from the ceiling. In response to the Palais de Tokyo's carte blanche invitation, the artist articulates two leading ideas: first, an architectural and scenographic transformation of the exhibition space, and second, a curated exhibition by the artist, including works by other artists and friends, as well as symbolic markers and sources of inspirations.
As soon as I entered the exhibition, I thought of the inauguration of the Palais de Tokyo in January 2002, and the way in which this exhibition situates itself within a series of similar transformations. The building – constructed in 1937 for the Exposition Internationale des Arts et Techniques – was cleared for the first time of its monumental and neoclassical ornaments in 1988 by the architect Franck Hammoutène, exposing the raw materials for the Palais du cinéma. [1] Later, in a more radical move, the architects Anne Lacaton and Jean-Philippe Vassal returned the building to its "original" wasteland state (and also expanded it) in 2002 and 2012 for the Palais de Tokyo – Site de création contemporaine. Imhof resumed the laying bare of the building, installing a scenographic infrastructure of her own, in collaboration with a design studio, that choreographs the visitor's movements through a series of alcoves, walls – the brown partitions – and a ramp. Multiple observation points offer the possibility of framing the visitor's perspective. For example, one of the building's original windows has been uncovered, opening onto a view over the "street."
Perhaps this exhibition was conceived in response to Benjamin Buchloh's analysis, in Artforum in 2017, of her position in the history of conceptual American performance. As he wrote: "Until recently, it still seemed totally unthinkable for radical artists, from Asher to Fraser to Sehgal, to attempt to unify the spheres of art with the languages of corporate architecture, the fashion system, and industrial music production – yet all these fusions are obviously integral to Imhof's project." [2] In her current exhibition, Imhof avoids situating performance as either the constitutive element of the exhibition or its horizon, as was usually the case in her work, modeling her practice on a dance company or a touring band. But like a return of the repressed, her performance practice is expressed here through other forms: through the traces and remnants of performances (mattresses, diving boards, elevated beds, metal stage-like sculptures, etc.) and through reminiscences in the artist's drawings and even in the voices of the soundtrack, which, playing throughout the building, are meant to incarnate the voices of the performers.
A chrome microphone on a minimal stage near the entrance is the signal that the exhibition space has actually been transformed into a giant multilevel concert stage – which comes as no surprise: before attending art school, Imhof started performing in concerts and was a DJ at the Robert Johnson, a nightclub in Frankfurt. She felt that it was her first space of creation. As she put it, sound is "the core of my aesthetic and practice, my way […] not to feel paralyzed by an idea of art." [3] Like her music, the global Imhof's aesthetics in this exhibition are largely inspired by Berlin club culture, punk, grunge, and noise, and also by the nineties underground, all of which she recycles. This time, the music is completely composed by Eliza Douglas, her partner; Imhof only participated vocally and conceived, in collaboration with Douglas, a system of moving speakers on rails. This sound installation structures the metaphoric, all-encompassing stage, and most of the works included in the show seem to be at its service. The sound of David Hammons's film (Phat Free, 1995/1999), the noise of a metal bucket on the streets of Harlem, seamlessly blends with Douglas's sound composition. At a distance, the installation of Sigmar Polke's large translucent paintings (Axial Age, 2005–07) looks like the walls of the alcoves, which are made of transparent brown partitions.
Pictorial references are present all over the exhibition: in the selection of work, mostly paintings, but also in the idea of "framing" the perspective. In an interview for Le Monde, Imhof mentions that she is "above all a painter, since always." [4]
Moreover, the exhibition's press release underlines that the title is a reference to a lost Francis Picabia work, Natures mortes (Still lifes), which only survives through one photograph. Along the painting's borders is written "Natures mortes, Portrait of Cézanne, Portrait of Rembrandt, Portrait of Renoir," and a stuffed monkey holding its tail is fixed to the middle of the canvas, a failed attempt to "present a living creature, a live monkey, as a work of art, escaping thereby the paralysis of representation, the inert lifelessness of the aesthetics for the immediacy and movement of life itself." [5] In much the same way, Imhof tried to recreate the "movement" of life, and the exhibition is a futile exploration of different ways to transmit or trigger the movement itself rather than to represent it. This is demonstrated through a succession of artworks more or less melancholic or full of vitality, and sometimes very directly so, such as a grave-like setting (a mattress on a marble base) positioned to face a painting by Joan Mitchell that is full of life (La Grande Vallée XX (Jean), 1983).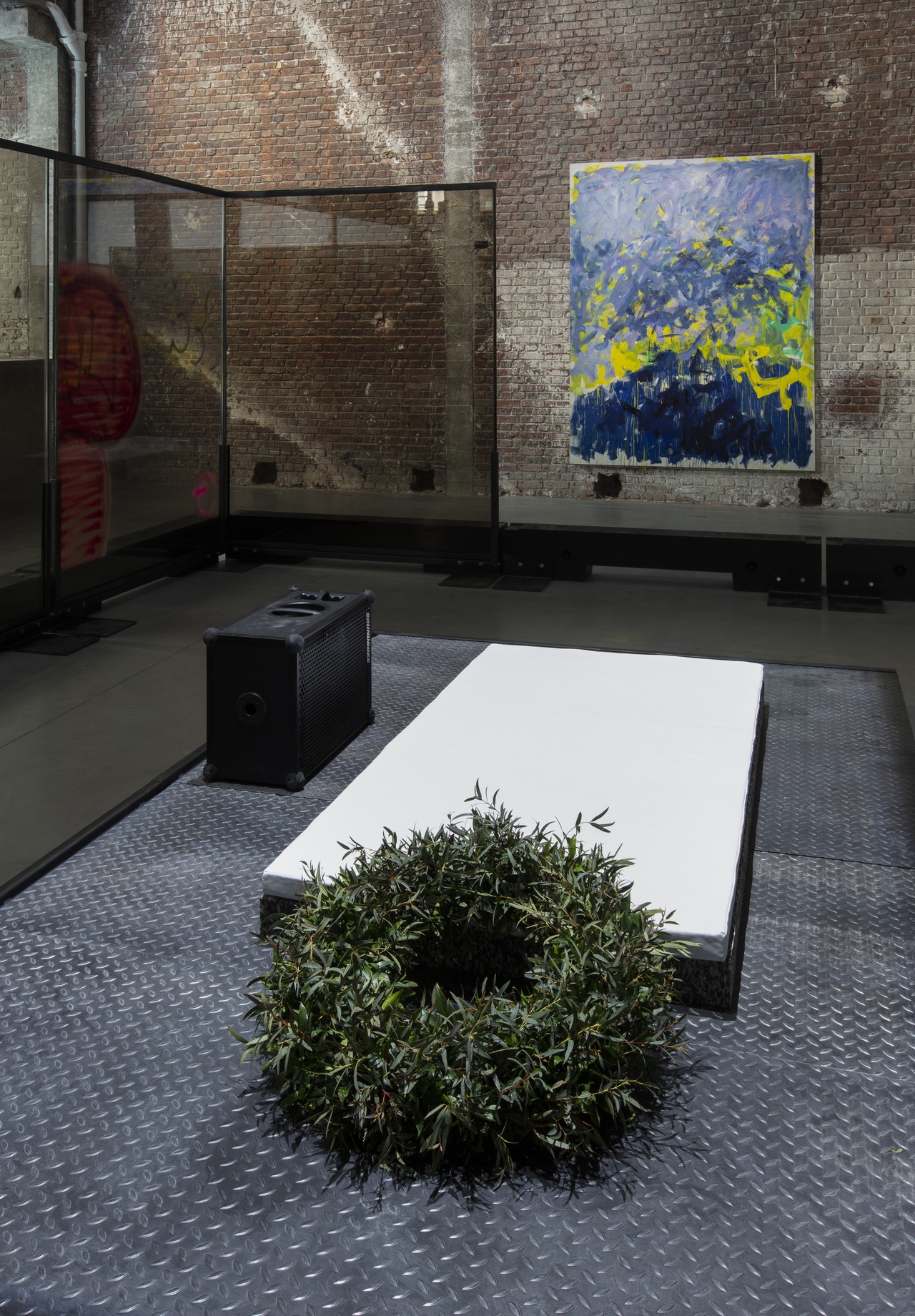 In the lineage of Picabia, Imhof situates herself within a particular paradigm of painting that is considered an autonomous, post-conceptual, and self-reflexive space, which, for her, extends to the "Cologne scene" of the 1990s. Most of the painters that she chose to include in the exhibition form a genealogy of affinities often shared among the artists from this scene, either her teachers or friends. To name a few: Théodore Géricault, who influenced Gustave Courbet and, more directly, Martin Kippenberger, who reworked Le Radeau de la Méduse; Sigmar Polke and Jutta Koether, who herself has expressed the influence of and emancipation from Polke through a form of appropriation in her work; and Rosemarie Trockel. In fact, Imhof sees their network of affinities as a kind a language, a marker of belonging or, in this case, of a time spent at a school that could be associated with this history, at least up until the 2010s. Imhof asserts herself in this genealogy with the presence of her own leather jacket hung on the wall and from which sugar has apparently spilled onto the floor (Wir werden wie ihr sein. Vergraben in eure Mähnen aus Kupfer und Gold, 2020). It is a self-portrait whose title refers to a verse of a poem she recorded for the soundtrack. Here, Picabia is again referenced as a strategy of emancipation for Imhof from her own tutelary figures from Cologne, in the way that Picabia emancipates himself from Renoir, Cézanne, and Rembrandt in Natures mortes.
In a gesture of mistrust vis-à-vis language, apparent even at the level of the mediation of the exhibition, Anne Imhof, as a literalist artist, gives another meaning and use value to words, works, surfaces, and architectures. In her previous performances, another language was developed through bodies and objects; this is absent at the Palais de Tokyo. Here, the performances have been replaced by an all-encompassing stage This leads one to reassess their ambivalent position as a viewer, with the recognition that they have been fully integrated into this closed stage-system. Totally embedded, one has to surrender and accept the powerlessness of any critical gaze. Even the reference to an affinity network, which is associated with both a self-reflexive and a critical position toward the market, is present more as a safe space in this context. In the end, one is left with the impression that, whatever one's position, this exhibition will be seen as a successful institutional operation.
"Anne Imhof: Natures Mortes" at Palais de Tokyo, Paris, May 22–October 24, 2021.
Catherine Chevalier is an art critic based in Paris and co-founder and editor of May Revue.
Image credit: Courtesy of the artist, Galerie Buchholz, and Sprüth Magers; photos by Aurélien Mole
Notes
| | |
| --- | --- |
| [1] | Carole Boulbès, "Le Palais de Tokyo, hybridation et mondialisation," Rue Descartes 37, no. 3 (September 2002): 98–103. |
| | |
| --- | --- |
| [2] | Benjamin H. D. Buchloh, "Rock Paper Scissors," Artforum 56, no. 1 (September 2017). |
| | |
| --- | --- |
| [3] | Imhof in a conversation with the author. |
| | |
| --- | --- |
| [4] | Emmanuelle Lequeux, "Anne Imhof hante de Palais de Tokyo avec ses vanités," Le Monde, May 29, 2021. (my translation) |
| | |
| --- | --- |
| [5] | George Baker, The Artwork Caught by the Tail, Francis Picabia and Dada in Paris (Cambridge, MA: MIT Press, 2007), 99. |