"Critical Commodities?" Kim West on Jutta Koether at Moderna Museet, Stockholm
Jutta Koether, "Rising", 2008
In October, 2010, Christophe Decarnin presented the Balmain Womenswear Spring/Summer 2011 collection at the fashion week in Paris. The low-cut, skintight jeans and the sharp elbow-jackets exhibited the same glitzy punk aesthetic that has made the brand a great commercial success over the last few years. New for this season was an extravagant and distinctly expensive-looking use of abundant amounts of chrome metal studs, spikes and safety pins on denim and polished, smooth black and red leather surfaces. Certain of the works in Jutta Koether's exhibition "The Thirst" at Moderna Museet in Stockholm make me think about nothing so much as these surfaces, with their sparkly, lavish, high-finish grittiness. Paintings/objects such as "Female Force" (2006) or the "Untitled series" (2009), both from the elaborate "New York Fenster" installation, display similar combinations of chromed paraphernalia, pins, rivets and glossy black surfaces (in this case acrylic paint and liquid glass rather than leather), but also similar references to a certain punk or post-punk past (in this case a slightly undefined New York underground-moment rather than the London of the Sex Pistols-era).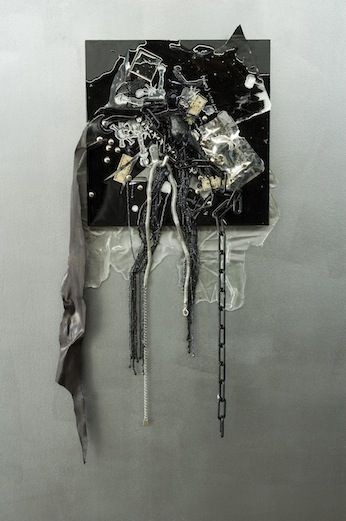 Jutta Koether, "Female Force", 2006
A 40x40 cm combine painting made with liquid glass and "pirate art" (chains, silver Statue of Liberty- and Jolly Roger-stickers, metal nails, a small stuffed bird, pieces of plastic and mirror), and the back of a studded, €14'000 Balmain leather jacket – how do we understand this juxtaposition? The obvious way would be to read it according to a familiar and rather stale opposition: that between radicality and recuperation. Here, the story would go, what were once elements of a truly radical subculture, signs of adherence to an authentic community outside of capital's instrumentalized social relations, have now been recuperated, realigned with these relations, where profit is the only value and exploitation reigns. This story is but a version of the old drama of reification and alienation, with its roots in romanticism: modern conditions of production and capital's universal equivalence shatter all bonds of community and separate man from the fullness of his lived experience.
Simply rehearsing these terms, however, immediately makes it clear that to accuse Koether of recuperating radical forms, of reifying elements of a prior, lived community, untouched by the ravages of capital and commodification, would be as misguided as accusing the Balmain brand of the same thing. To a certain extent, Koether affirms the logic of the late-capitalist commodity, with its arbitrary signifiers and market-inflating speculations. Which begs the question: is there also a critical dimension to her commodities? Do they produce types of experience or modes of common existence other than the spectacular fetishization and oligarchic exclusion of a company such as Balmain?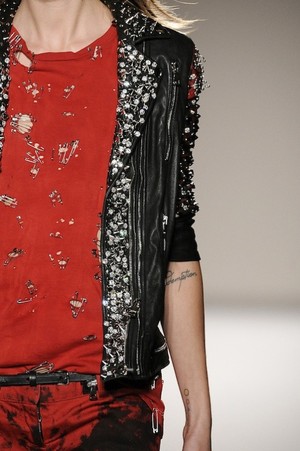 Balmain, leather jacket
Visiting the exhibition at Moderna Museet, two possibilities come to mind. First, Koether seems to want to institute a painterly space that renders "traditional" spectatorship, and by extension established social relations, problematic. Second, her works claim to incorporate a mode of historical understanding that would exceed the methodical, selective amnesia of contemporary capitalist culture.
As David Joselit points out in his essay in the exhibition catalogue (as well as in a text in October), Koether's paintings are "transitive": they are open toward and negotiate the networks that surround them._1 In other words, they do not remain entrenched within the stronghold of critical negativity, but establish a stage where subject positions may be reconfigured. In Stockholm, this is nowhere as apparent as in the space of the installation "New York Fenster", where the paintings are fixed on both sides of transparent, screen-like, mobile walls that are distributed evenly across the floor. Looking at one painting here inevitably means looking at several ones, as well as relating to the gazes and bodies of other spectators, as they all seem to be folded together in a multi-layered, three-dimensional surface. Within this contradictory space, painting acts as a social catalyst that generates a specific mode of coexistence. In this respect Koether's work obviously belongs to a minimalist legacy, although the most clear connection would perhaps go to the spatial negotiations of Blinky Palermo's final paintings/installations. The kinship to Steven Parrino is also apparent.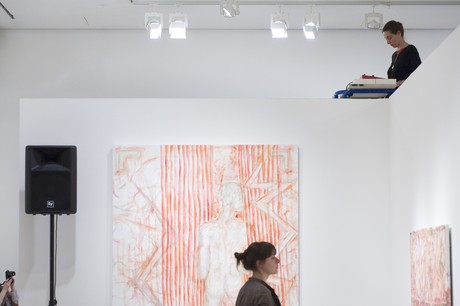 Jutta Koether, "The Thirst", exhibition view, Moderna Museet, Stockholm, 2011
But what kinds of social relations, what mode of coexistence, do Koether's paintings generate? What notion of the common do they submit? Koether's work also claims to incorporate a certain historical understanding. Her explicit or implicit references to New York post-punk, Blinky Palermo and Steven Parrino take place amidst a torrent of further references to recent and distant cultural history, from Poussin to Kenneth Anger, Frank Snyders to Peaches, Antonin Artaud to Bruno Latour. The installation "Lux Interior", with its one featured painting, "Hot Rod (after Poussin)" (2009), is a case in point. While the installation is titled after the stage name of the singer of The Cramps (who died in 2009), the title of the painting refers to the type of car that is constructed solely using parts from other cars. The painting itself returns to and reworks Poussin's 1651 "Landscape with Pyramus and Thisbe", while the very idea of returning to and "studying" Poussin with the means of painting, is said to come from TJ Clark's peculiar book "The Sight of Death", from 2006, in which the author himself returns to two paintings of Poussin day by day for contemplation.
Jutta Koether, "The Thirst", exhibition view, Moderna Museet, Stockholm, 2011
On the one hand, it is perhaps in this plethora of references that we could find an answer to the question of the critical dimension of Koether's work, and of what notion of the common they present. A few decades ago, it would have been obvious to interpret such genre-defying eclecticism and blend of high and low, such simultaneous references to pop and classical culture, according to the program of postmodernism. Today we could perhaps read them as elements of a memorial or even redemptive politics. While history in contemporary culture is almost exclusively present in the shape of digested, speculative and lucrative nostalgia, the historical references in Koether's paintings and installations would instead function as objects of contestation and interpretation in a common space, or better still: as objects the contestation and conquest, the reinterpretation and reconfiguration of which would actually constitute this common space. The common, in other words, would be both the ground for and the effect of a work that renegotiates histories and positions: a place where the past comes to life, the site of a "rising", to refer to one of the paintings in the New York Fenster installation.
On the other hand, walking through the spaces that make up The Thirst, it is difficult not to see the overwhelming multitude of heterogeneous references as merely the idiosyncrasies of a personal taste, as a kind of private, postmodern eclecticism: Bacon can be combined with Broodthaers, a Snyders still life can be appropriated and reimagined in naivist red, silver rivets on glossy black look nice. Looming as a threat in the background of such eclecticism, of course, is the cynical arbitrariness of a purely instrumental and irresponsible relation to history. For the Balmain Fall/Winter 2011 collection, Christophe Decarnin had switched his inspiration and his references: from punk to glam, from Sid Vicious to Ziggy Stardust. He could just as well have chosen Debbie Harry, Napoleon or Cleopatra.

Jutta Koether, "The Thirst", Moderna Museet, Stockholm, March 3–April 24, 2011
Note
1_ David Joselit, "Painting In and Out", in Jutta Koether: The Thirst, exh. cat. (Stockholm/London: Moderna Museet/Koenig Books, 2011); "Painting Beside Itself", October 130, Fall 2009 (Massachusetts: MIT Press, 2009).