An anonymous artist statement in response to the Volksbühne debate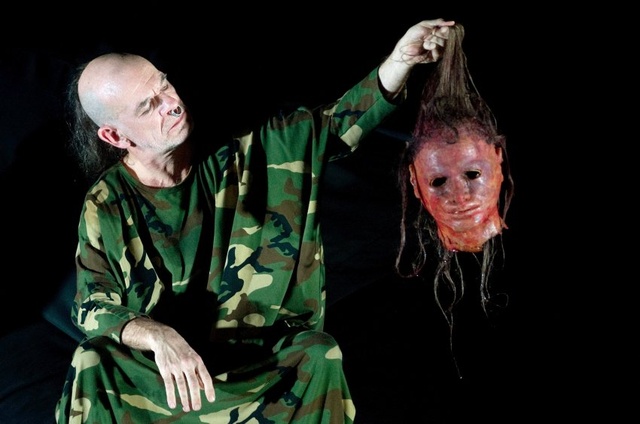 [1]
To Okwui Enwezor, Ulrich Wilmes, Hans Ulrich Obrist, Rem Koolhaas, Hortensia Völckers, Jacques Herzog, David Chipperfield, Bernd Scherer, Thomas Weski, Richard Sennett, Alexander Kluge, Adam Szymczyk, Manthia Diawara, Dirk Snauwaert, Peter Saville, Matthias Mühling, Christine Macel, Philippe Parreno, Konstantin Grcic, Susanne Gaensheimer, Sabine Breitwieser, Friedrich Meschede, Anne Teresa de Keersmaeker, Kasper König, Carolyn Christov-Bakargiev,
and the Volksbühne:
---
Earlier this year, Chris Dercon was appointed the new director of the Volksbühne by the Berlin Senate. The head of one of the largest international exhibition venues, which is mainly geared to city tourism, will take charge of a municipal theatre that, in comparison with Tate, is not large, not efficient, but – as opposed to a rather routine exhibition programme – produces a surplus of specific meaning. This surplus has often enough also been called "surplus of symbolic capital", and one then also becomes aware of the appetite that business has for this surplus in order to enliven itself by following its coercion to expand.
The last protest letter by the ensemble was followed by a letter supporting the new director, largely initiated and signed by international curator colleagues of his generation. The letter claims that the protests against Dercon are mainly aimed at the abuse of senatorial power, written by a narrow-minded group interested only in their own privileges. The letter complains about "the lack of decorum in the reception of the appointment" and misses a minimum of politeness towards the new director – a disgrace for Berlin as a global location.
Meanwhile, a saying has spread in local Berlin for cockily and ignorantly dismissing something: "I'll make you world famous." It is said that Chris Dercon made this unsolicited promise to René Pollesch in the theatre's cafeteria. He also allegedly referred to his arguably quite excellent address book. Maybe that's all gossip, but in the end it is precisely this power-conscious behaviour that artists are familiar with – usually in a subtler form – from global curators.
But we are not interested in taking sides in a leadership debate, and also not in calling for an identitarian delimitation of the individual arts. What has hardly been mentioned in the debate so far is the precarisation of working conditions. In this sense, it almost reminds one of a Freudian slip, when the international curators in their statement particularly attack "the privilege conferred by public employment to defeat an individual's vision."
Not only for this reason do we find it high time for us, as artists, to write a letter as well. It is also because this unfriendly takeover has an exemplary character. It reveals the paradigm change affecting both fields – fine art and theatre – and following the branding of Berlin as an international hub of the creative class.
When we say that fine art has become the flagship of the neoliberal understanding of culture since the end of the 1990s, we mean not only the question of financing, but also the subjectivity of the actors themselves.
Today, we are usually dealing not with individual curators and artists, but with managers and factories, both exhausted by the desired target of global presence and its demand to fill the void of international prestigious architectures. We are facing the divisions of labour and techniques taking on a professionalised momentum of their own. They often replace contents. As in all industries, what we have is a universal, existential fear breathing down the neck of the actors: being absorbed by the global noise caused by the expenditure of superfluous investment capital. That's why there are now so many "teams" and "studios" for which the artist-subjects are working, but not to form a collective. They are instead employed, isolated, hierarchized and compete with each other.
We are dealing with the diagnosis of burnout that has become a fashionable word, because exploitation all the way to exhaustion is now ubiquitous for all actors. What we are ultimately talking about here is something that takes place daily in every other industry as well. But we call to mind that this field, just like theatre, once had the self-understanding of demanding other possibilities of living, thinking and feeling as a practice to counter power and lies.
In regard to theatre, we would like to mention that theatrical, time-based and performative modes of working in the field of art have increased exponentially to its neo-liberalisation – yes, they have become the crucial expressive means of this era. Because 'good performance,' the liquidity of production and the treatment of humans as resources belong to the catalogue of virtues of this form of economy, just as the attributes of immediacy, the ephemeral, the emphasis on the event have become central for both the performance and service economies. It belongs to the practiced, critical "function of ambivalence" of art that performance is often understood as an instrument of institution-critical meta-reflection on immaterial labour, while one's own working conditions precisely correspond with their disenfranchisement. One can speak of an industrialisation that is based on shift work, outsourcing, de-qualification and repetition. And indeed, in exhibitions spaces one increasingly encounters a performative precariat that is at the mercy of the time and object status of the museum and its visitors. This applies both to wages and contracts and to the dignity and self-esteem of the performers. "The algorithm responds to the increased scale of contemporary performance as it confronts larger exhibition spaces and longer exhibition durations," writes Claire Bishop on the work of Tino Seghal in the Turbine Hall of Tate, in which the movement clusters of the performers – now part of the smart building services – are oriented towards the variations in lighting. Therefore, taking charge of a theatre appears quite logical.
We are not interested in painting further horror scenarios regarding the future programme of the Volksbühne or a lean management theatre, as it has been successfully achieved at HAU. Furthermore, we cannot dismiss the "reform" of the Volksbühne as the often cited "creative destruction" of social contexts. We ask ourselves: Why does the imminent reform appear as exemplary as an execution?
The Volksbühne is not only one of the few fortunate examples of mutual inspiration between East and West German culture in an otherwise domestic colonising politics. It definitely prolongs historical knowledge as craft, commons and as the political arena of a leftist intellectuality – it has done so ever since its foundation. It is the venue of long-term ensembles that do not create star directors with their collectivity, but heterogeneous structures of the most diverse characters and attitudes. It is this culture of long-term, collective – and intellectually stimulating – production, this social and intellectual rhizomatics as a social programme and historical memory that is to be destroyed.
The art field of the past decades provides the efficient instruments needed for this destruction.
Berlin, July 2016
Apart from some minor typographical corrections, this letter appears unedited, as received by Texte zur Kunst.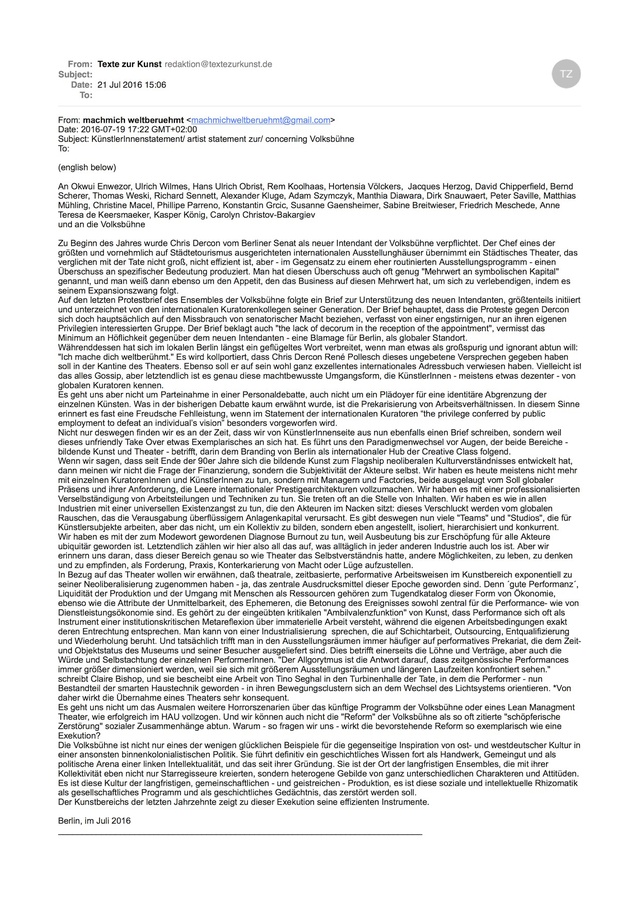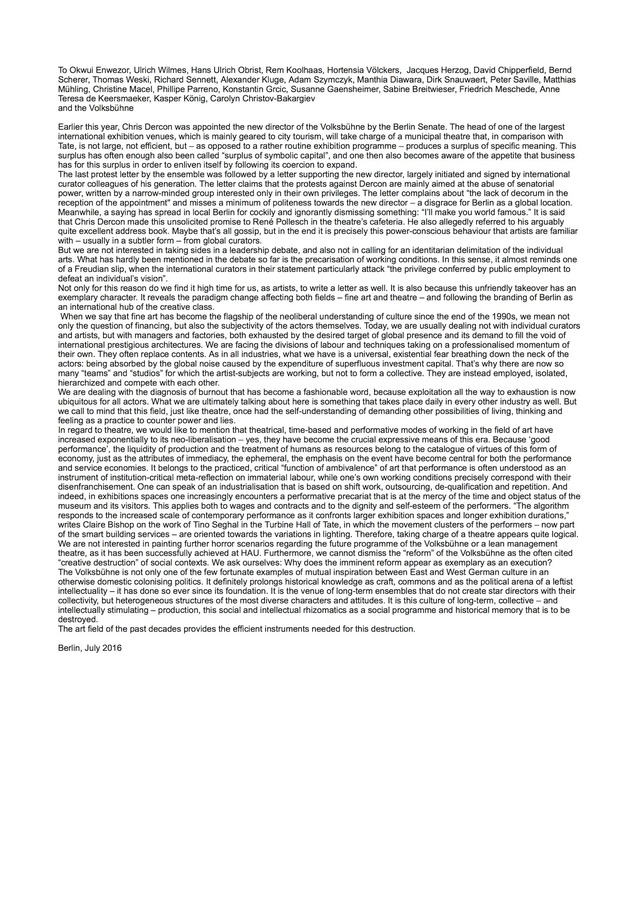 Notes
| | |
| --- | --- |
| [1] | Martin Wuttke as Holofernes in Frank Castorf's staging of "Judith," Volksbühne, Berlin, 2016. |