Feminist Ecologies: "Heresies" in Portugal
Gillian Sneed on "Earthkeeping / Earthshaking – Art, Feminisms and Ecology" at Galeria Quadrum, Lisbon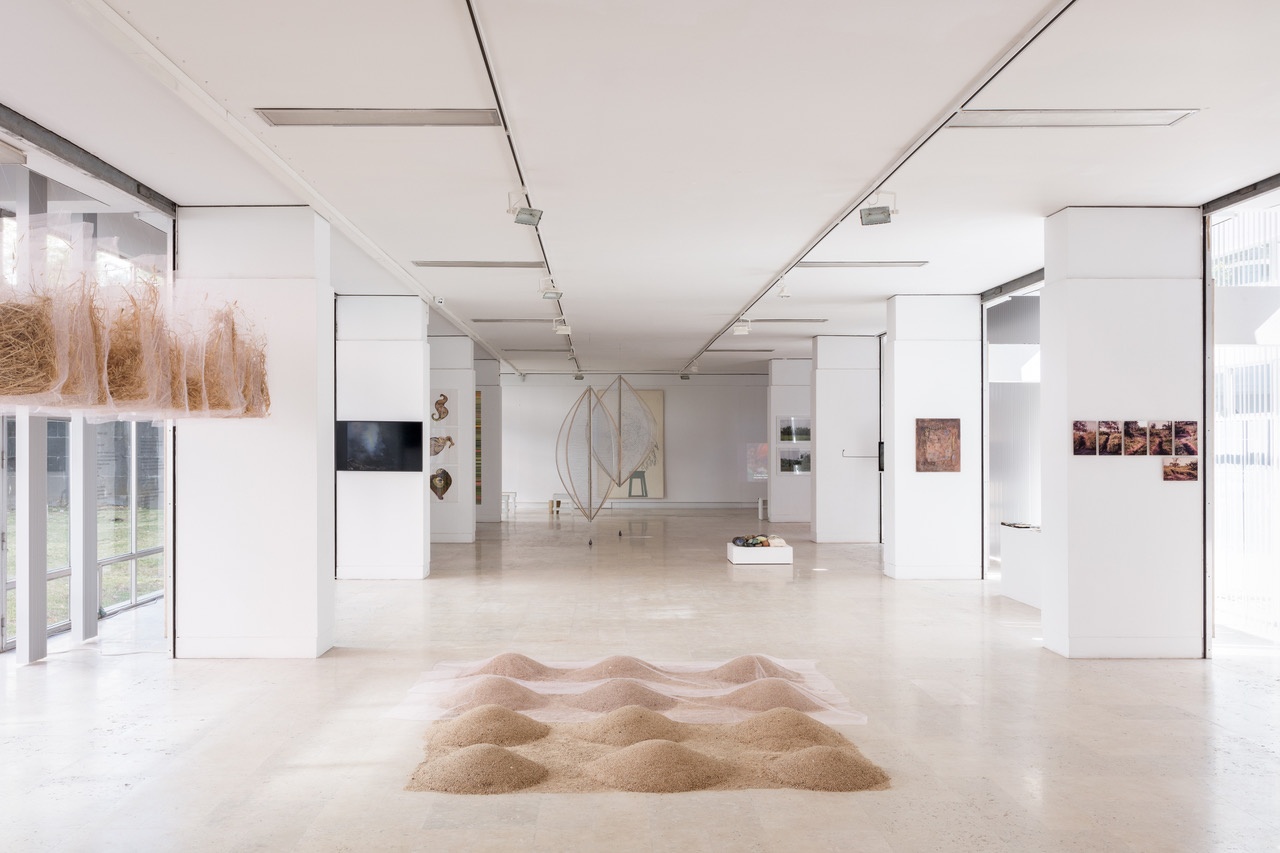 Galeria Quadrum's recent exhibition "Earthkeeping / Earthshaking – Art, Feminisms and Ecology" used the 1981 issue of US feminist art magazine "Heresies" as a starting point for a collection that aimed to "enable a sense of care, artistic agency, and heterogenous approaches to ecology and feminisms." In the 40 years since that issue's publication, attitudes to our earth have changed immeasurably – our ownership of it, our ruin of it, our denial. Ideas of feminism, too, now sit far more comfortably within mainstream discussions. Here, art historian Gillian Sneed considers whether the curator's inclusion of contemporary works against the backdrop of "Heresies" as a now-historical text did enough to offer the viewer a truly diverse and intersectional depiction of a feminism for 2020.
Although some of the most internationally recognized contemporary Portuguese artists are women – including Helena Almeida, Leonor Antunes, Ana Jotta, Paula Rego, and Joana Vasconcelos – until recently, there have been few exhibitions in Portugal explicitly engaging feminist debates around representations of women in art and institutional spaces. Among those that have, were two tricky shows curated by men: Miguel von Hafe Pérez's 2018 exhibition about the institutional invisibility of women artists in the University of Porto Fine Art Faculty's museum collection, and a grab-bag survey of more than 60 Portuguese women artists curated in 2019 by the notoriously macho artist Pedro Cabrita Reis. [1] Lisbon's Gulbenkian Museum also recently orchestrated a rehang of its modern art collection to highlight 130 works by women, which according to former director Penelope Curtis, was "an admittedly feminist, but not yet egalitarian [course] because we continue to have more male artists than women." [2] These tentative first steps failed to squarely address the relationships between women's art practices and feminist theories of gender and sexuality, resulting in problematic essentialist framings, the reification of gender binaries, and a lack of engagement with intersectional, postcolonial, and queer/trans feminist discourses.
Coming on the heels of these predecessors is "Earthkeeping / Earthshaking – Art, Feminisms and Ecology," at Lisbon's Galeria Quadrum, which seeks in part to contend with the kinds of issues overlooked by these previous all-women shows. The exhibition, which closed earlier this month, was co-curated by Giulia Lamoni and Vanessa Badagliacca, two feminist art historians and researchers at the Institute of Art History of the Universidade Nova de Lisboa, who drew on their own research of Portuguese, Latin American, and ecological feminist art histories. Featuring 20 international artists, the show took its point of departure from the historical US feminist art magazine Heresies, specifically its 13th issue (titled "Earthkeeping / Earthshaking"), which came out in 1981 and was dedicated to feminism and ecology. The exhibition opens with glass vitrines presenting an archival display of covers of various editions of the magazine, including the cover and pages of the 13th edition, which featured contributions by several of the artists in the show, including Latin American–born artists Ana Mendieta (1948–1985), Cecilia Vicuña, Gioconda Belli, Faith Wilding, and the US artists Bonnie Ora Sherk and Maren Hassinger.
Drawing on the magazine's feminist methodology of bringing together diverse perspectives, the curators also wanted to actualize a feminist curatorial approach that was collaborative and non-hierarchical and that would enable a sense of care, artistic agency, and heterogeneous approaches to ecology and feminisms. But some works articulate responses to these themes better than others. For instance, Lourdes Castro's Ombre d'Aralia (Aralia Shadow, 1977), a silkscreen depicting a gray silhouette of a large houseplant, does not offer much insight into ecology or feminisms, other than a tenuous link to plants and domesticity. By contrast, Emília Nadal's delicately rendered pencil drawing ALLGARVE (1979) – depicting in soft blues and ochres the iconic rock formations along Portugal's touristic Algarve coast, positioned alongside a greyscale reproduction of an image of this same seascape on the label of a canned product that is "ready for use" – offers a much more critical and intriguing assessment of the themes of the domestic sphere and tourism as a form of capitalist environmental exploitation.
The curators' use of the plural form of the term "feminisms" in the show's title rightly highlights their repudiation of a monolithic interpretation of feminism in favor of emphasizing its many phases and multiple positions. This involves including works by two cis-male artists, Uriel Orlow and Rui Horta Pereira, to underscore the idea that "feminist" artmaking need not only be the domain of women-identifying artists. Likewise, not all the included artists are or were feminists, emphasizing the curators' belief that feminist curatorial methods can be applied even with artists who do not self-identify as such. The curators also amplify the voices of women of color and those from the Global South, testifying to their commitment to intersectional and postcolonial feminisms, a commendable effort at a moment when racism in the Portuguese contemporary art scene is being actively debated. [3]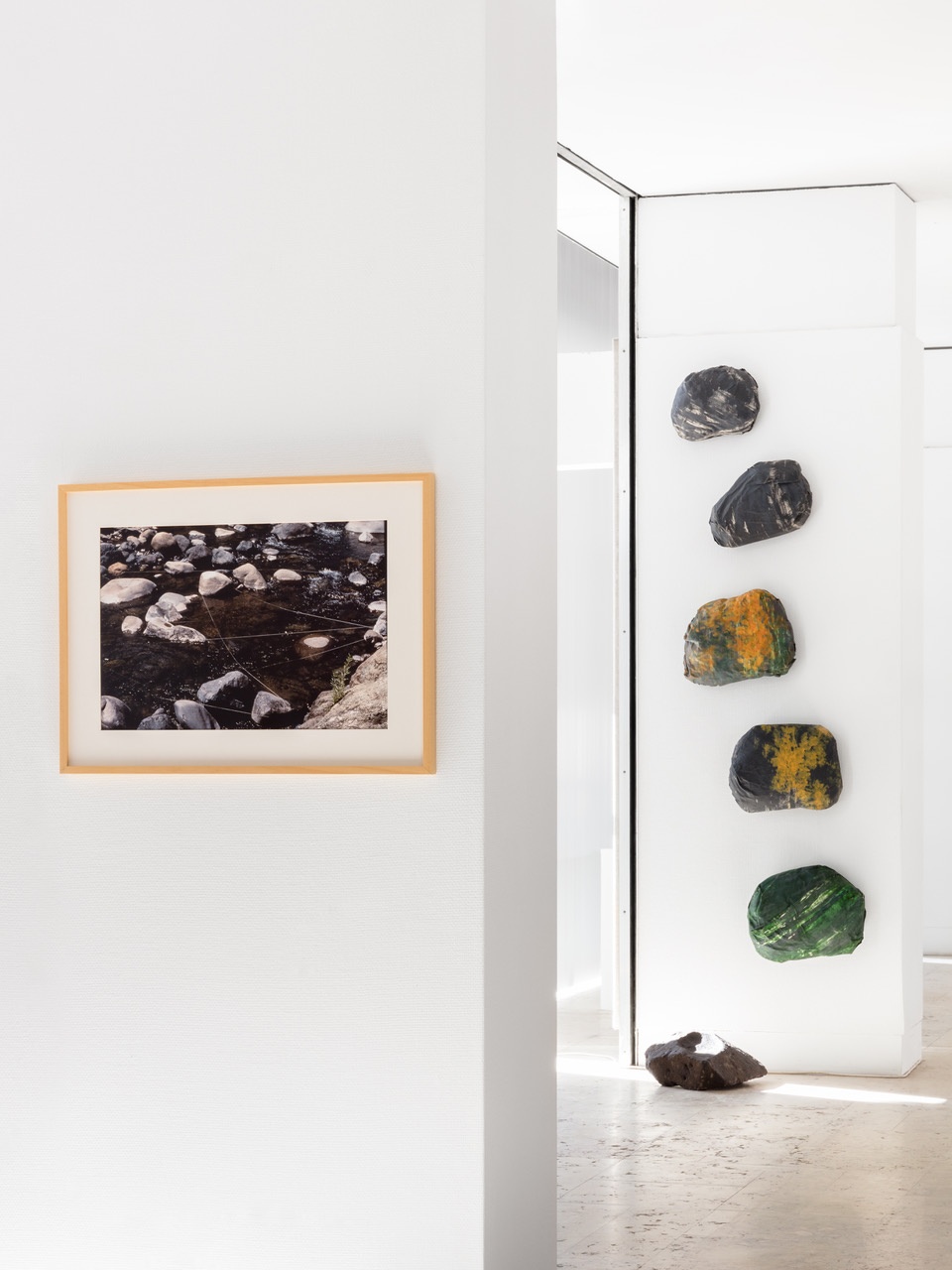 Yet, despite the curators' aim to invite plural perspectives and their own proclaimed doubts around essentialist ecofeminist approaches, most of the show's works still invoke second-wave feminism's biological determinism of gender and the alignment of women's bodies with nature and organic materials. A classic example of this tendency are the videos documenting Cuban-American artist Ana Mendieta's iconic Silueta series, of female figures outlined in various landscapes and natural materials, including a sand figure that slowly washes away in a stream (1978) and a figure formed out of gunpowder that is set on fire (1980). Similarly, Portuguese artist Clara Menéres's (1943–2018) signature work of earth art, Mulher-Terra-Viva (Living-Earth-Woman, 1977), depicting a voluptuous female torso molded into a grassy mound of earth – replete with mountainous breasts and a grassy pubis – also engages in a formula that equates an archetypically fertile woman's body with the landscape. As a rare example of explicitly feminist Portuguese art of the time, the work is historically notable, but the curators only present it through sketches and archival photographs that document the three versions of the piece, which feels like a missed opportunity to have recreated it in the gallery's garden. [4]
In the cases of such historical works, essentialist approaches are understandable, but few alternative perspectives are offered, even among the contemporary works. For instance, in Rui Horta Pereira's Chove Mar Chove (Rain Sea Rain, 2020), two large seed-like forms suspended from the ceiling, made of wood and aluminum armatures and twisted strips of clear plastic from discarded bottles – a commentary on the plastic waste thrown in the oceans – reproduce tropes that link "the feminine" with organic forms, fluids, and fertility. Similarly, in her Linetrap series (2014), Portuguese-Angolan artist Mónica de Miranda sews with straight and zig-zag lines of thread into her color photographic prints on paper depicting the tropical vegetation of the formerly-colonized African islands of São Tomé and Príncipe. Intended as a critique of colonial dualisms, her approach actually only works to reify, rather than trouble, the associations of sewing as women's work and thread's "feminine" organic materiality with gendered stereotypes of virgin island landscapes.
The curators suggest that including contemporary works in an exhibition based on a historical art magazine will help to show how ideas from the past might have an impact on art practices in the present. But including contemporary art opens up the show to criticism for failing to engage current feminist and ecological theoretical positions, such as post-feminisms, queer and transfeminisms, and posthumanist discourses around the Anthropocene. Though the exhibition catalogue does address some of these theories and the curators have referenced them verbally, these perspectives are not immediately apparent in the works on view. [5] When paired with the curators' effort to also parallel art from the Americas with Portuguese and international art (past and present), the show feels at times unfocused. Perhaps these connections would have been more cohesive had the curators only concentrated on the correspondences between the Heresies artists and Portuguese artists from the same historical period.
Despite some missteps, in a country where no substantial engagements with feminist art practices or curatorial approaches have been explored in exhibition settings, "Earthkeeping / Earthshaking" is a valuable contribution to artistic debates on these topics in Portugal, especially in its production of a forthcoming catalogue that offers interviews with Heresies artists as well as theoretical essays, including a text by the eminent US feminist critic and former Heresies editorial board member Lucy Lippard. Hopefully this show will spark more interest and discussion around these urgent themes and prompt more artistic and curatorial investigations on feminisms, genders, and sexualities in Portugal in the near future.
"Earthkeeping, Earthshaking – art, feminisms and ecology" at Galeria Quadrum, Lisbon, July 25–October 10, 2020.
Gillian Sneed is an art historian and writer whose work centers on gender and sexuality in modern and contemporary global art and art of the Americas.
Image credit: António Jorge Silva
Notes
| | |
| --- | --- |
| [1] | Von Hafe Pérez's "Histórias por Contar. Elas: Autoria e Autoridade em Questão" (Stories to Tell. They [feminine pronoun]: Authorship and Authority in Question) was held at the Pavilhão de Exposições Faculdade de Belas Artes Universidade do Porto from July 29 to October 27, 2018. Cabrita Reis's "A Metade do Céu" (Half the Sky) was held at the Museu Arpad Szenes-Vieira da Silva from March 21 to June 23, 2019. |
| | |
| --- | --- |
| [4] | The curators explain that this choice was due to the inaccessibility of the artist's archives and a lack of clarity around her wishes in presenting the work in exhibition settings. |
| | |
| --- | --- |
| [5] | Marcello Di Paola's essay in the forthcoming catalogue "Obvious Latency: Earth and Art in the Anthropocene" addresses these ideas, and in one interview, the curators invoke neo-Materialism, Bruno Latour, and Donna Haraway. See "Earthkeeping, Earthshaking – art, feminisms, and ecology," interview with Giulia Lamoni and Vanessa Badagliacca, Hotpotatoes, October 6, 2020, http://www.hotpotatoes.it/2020/10/06/earthkeeping-earthshaking-art-feminisms-and-ecology/ (in Italian). |