Gustav Metzger (1926–2017) in the words of Sabine Breitwieser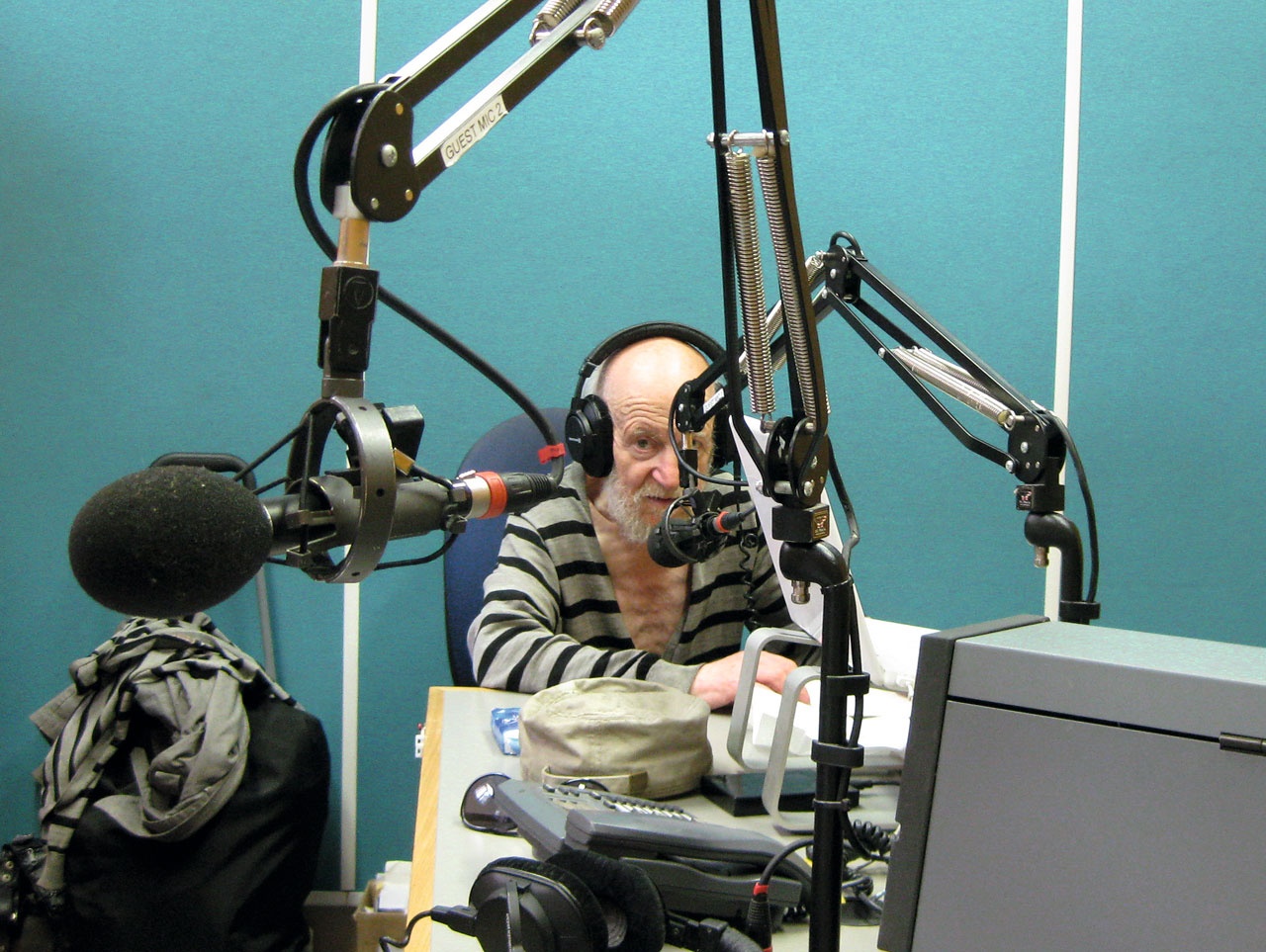 YEARS WITHOUT GUSTAV METZGER
With Gustav Metzger's death, it became painfully clear to me that an end of an era is drawing near: that of the generation witness to certain conditions and circumstances that, even having seen films like Claude Lanzmann's "Shoah," remain simply unimaginable to me; circumstances that I cannot understand and for which Gustav Metzger, both in his works but also and above all through his presence as a person, served as a constant call to memory. An artist and activist, he was among the first to take a stand against nuclear armament and environmental pollution, and became a strong advocate of vegetarianism. This is the same man who inspired the Who's Pete Townshend to smash his guitar at the end of their performances, supplying them with a demonstrative acoustic and performative conclusion.
Metzger was originally trained as a furniture maker and lived, early on, with a group of anarchists and political activists on a farm in England before moving to London to study art. A break in his biography, in 1944, is described in somewhat succinct terms: "Decides to become a sculptor rather than a professional revolutionary."
Metzger was the "founder" – as he wanted to be regarded – of "auto-destructive art," which he described in his 1959 manifesto of the same name as "primarily a form of public art for industrial societies," and which he realized in numerous lecture-performances. A self-destroying art with a lifespan "varying from a few moments to twenty years" the artwork is only finished once the "disintegrative process" is complete, after which it is simply removed from the place of its creation and disposed; an art, then, that does not confine itself to the criticism of institutions, but instead tackles head-on the question of their very existence.
Metzger was not a practitioner of "Holocaust art," but, rather, a critical observer of postwar society and its pursuit of growth, technological progress, and armament in the time of the Cold War. In his third manifesto, "Auto-Destructive Art Machine Art Auto-Creative Art," published in 1961, he defined his concept of "auto-creative art" as an "art of change, growth movement," picking up from and clarifying his first manifesto with the words: "Auto-destructive art is an attack on capitalist values and the drive to nuclear annihilation." Metzger's understanding of aesthetics was fundamentally different to that of his time: auto-destructive art does not take as its core the artist-subject, who indeed largely recedes from view, replaced by automatism, by destructive processes brought about by developments in biology, chemistry, or technology. "I never tried for just one thing, that is for politics or for revolution; rather, I sought to bring those things that are important to me, and hopefully also to society, together in one central thesis," he said in conversation with Justin Hoffmann.
Gustav Metzger was born in 1926 in Nuremberg, the son of orthodox Jews who had migrated in 1918 from Galicia (situated on the present-day border between Poland and Ukraine) to Germany. Almost all of his family members were murdered by the Nazi regime. Metzger himself, his two sisters, and his brother Max (Mendel) were able to flee to England. Gustav and his brother arrived in England in one of the last the last transports of the Refugee Children's Movement (Kindertransports). Whenever I encountered Gustav Metzger, his small, slender form always somehow bent in on itself, I was reminded of how, during the Nazi dictatorship, the right to space was taken from some people on the basis of racist laws. Although he lived in England for so long, Metzger was stateless until his death, a position he himself insisted on keeping. His travel documentation described him as being of "Polish origin."
Gustav Metzger was in many respects a legend in his own lifetime. If one wanted to meet him, the best plan was to go to a gallery opening or other such event in London, where one could talk with him about art and everything else. When I worked with him on the exhibition in Vienna, he had neither a postal address that he was willing to share with me nor an e-mail address nor a phone number. To organize the exhibition, he would call me every Wednesday at twelve o'clock to give me the number of a public telephone box. Following his request, I'd call him back and he'd pick up as promised and we'd discuss the matters at hand. He once even tracked me down in Liverpool in order to ensure that we would see each other in London in the coming days. In the beginning, I was irritated by the background noise Metzger produced. I mean this literally: he carried with him numerous plastic bags containing various items including, very often, a shortwave radio, with which he would keep himself constantly updated on world events. In London, we saw exhibitions together and ate in cheap self-service vegetarian restaurants; and he would often come to my hotel late at night to show me the late-night editions of the Evening Standard, which would serve as the basis for some of the pieces he made for Vienna. Indeed, Metzger was known for collecting whole mountains of newspapers, which he would then repeatedly make accessible in his exhibitions.
I am currently based in Salzburg for work, where the Berlin-born Jewish futurologist Robert Jungk lived from 1970 until his death in 1994. In 1982, Jungk met Metzger in the course of planning the anti-nuclear project "Convergence 84." Another prominent witness of the National Socialists' program of mass extermination, also in Salzburg: Marko Feingold, a man who survived four concentration camps and then, by coincidence (as, in fact, he's from Vienna) ended up here. Now in his 104th year of life, he lives to "bear witness," as he himself says.
We must now ourselves ensure, without Metzger's presence, that things do not merely become history, but assist with a "history of history" (Geschichte Geschichte), as the artist titled his exhibition and accompanying publication at Vienna's Generali Foundation in 2005. We must ensure a mediatized history then, just as Metzger's auto-destructive and auto-creative works about art are themselves mediations of destruction and creation. Legitimized racism can quickly become the norm in countries where we didn't expect it (most recently in the United States); the destruction of our living environment takes place on a daily basis, and we have, perhaps, grown somehow accustomed to it. We must do far more to oppose it – especially given that we must face the future without Gustav Metzger.
Translation: Ben Caton