Induced Demand: MoMA Reopens
by Julia Pelta Feldman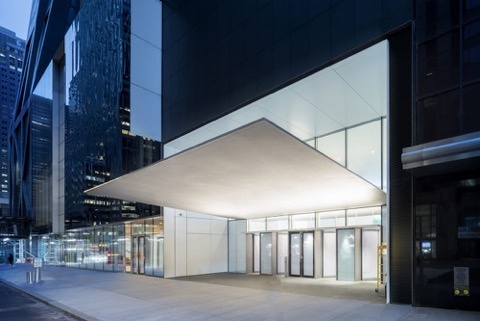 While the expansionist logic of large-scale art institutions continues, they currently face mounting pressure from two fronts: criticized, on the one hand, for the exclusionary nature of the "canon" they helped to determine, while at the same time increasingly being called to account for the behavior and business activities of their board members and trustees. Julia Pelta Feldman paid a visit to the reopening of a true behemoth, New York's Museum of Modern Art, to cast a critical eye over its new permanent collection.
Two topics dominated New Yorkers' conversation in October: the grand reopening of the Museum of Modern Art and the contentious closure of 14th Street to most car traffic. Drivers and downtown block associations had been vociferously certain that restricting 14th street to bus traffic would cause a honking, fuming nightmare: the less space for cars, they reasoned, the more crowding, idling, and noise. Yet instead, the whole area is astoundingly quiet, and bus traffic on 14th street is much smoother. The success of the 14th street closure isn't so astounding to anyone with passing knowledge of urban planning. The concept of "induced demand" – the idea that more highways and roads for cars simply lead to more crowding and more traffic, while restricting drivers' options has the opposite effect – has been well known and well demonstrated for decades; Jane Jacobs wrote about it in The Death and Life of Great American Cities (1961).
Unfortunately, induced demand has yet to be accepted in museum circles. Overcrowding is indeed one of the problems that MoMA promised to solve with its frighteningly massive new expansion, but overcrowding is also what Robert Moses promised to solve when he opened the Triborough Bridge to ease congestion on the Queensborough Bridge, and then opened the Bronx-Whitestone Bridge to ease congestion on the Triborough Bridge, and then, when all three bridges were as congested as the first had been, decided that the solution was to build yet more tunnels and highways. When MoMA decides in a decade that it's still not big enough, don't say Robert Caro didn't warn you.
Another argument for the expansion was the sheer size and excellence of MoMA's collection, considerably more of which is now visible. This argument means little, however, when it is actually impossible to see everything that the museum has on view in one day. This was a demanding enough enterprise at the "old" MoMA – barely 15 years old, rather a brief span for a building that cost more than $800 million. Now, one cannot even pretend that it might be possible, especially for busy tourists, the museum's largest audience.
More significant than the museum's new size is the new approach to its collection. MoMA's press releases trumpet the inclusion of works by artists previously overlooked because of their gender, skin color, or place of origin, as well as its efforts to integrate different media within one gallery – though the latter achievement, which is standard practice at many museums, is unlikely to impress most visitors. As for the former, the collection on view is indeed a more diverse one, but it is hard to find much that is risky or new in this reinstallation. The additions to its canon, all of which are rather conspicuous, can hardly be called discoveries – at least not by MoMA. Such artists as Hilma af Klint, Rasheed Araeen, Carol Rama, Judith Scott, and Florine Stettheimer have all recently been "discovered" by MoMA's peer institutions, those it implicitly claims to surpass (and which, in resources and size at least, it does). MoMA doesn't even own a work by af Klint, whose recent Guggenheim show was such a smash. It had to borrow one.
Unlike the gutsy reinstallations of the Whitney's and the Tate Modern's collections (2015 and 2016), which allowed unfamiliar works to tell genuinely new stories, the new MoMA often gives us the old MoMA awkwardly accessorized with a few exotic pieces. One could easily imagine a new take on what is here called "Action Painting," including more of the women and artists of color on multiple continents who embraced gestural abstraction after the Second World War. Instead, we have two galleries populated with the familiar cast of characters (should I be impressed by the inclusion of both Grace Hartigan and Joan Mitchell?), plus the conspicuous insertion of Vasudeo S. Gaitonde's Painting, 4 (1962), which simply does not belong there. Gaitonde, a member of Bombay's influential Progressive Artists' Group, was a major force of Indian modernism. Though he corresponded with Rothko, he was not an Abstract Expressionist, and pretending that he was neither serves his work – which has its own context, philosophy, and meaning – nor presents a plausible case for Abstract Expressionism as an international movement. "In and Out of Paris" is a jumble of unrelated artworks brought together by their location of creation; all of them, but especially the works by artists from scenes once considered marginal, suffer from this failure to contextualize. MoMA may see this as expanding beyond "isms," but in ARTnews, Maura Reilly called it by its true name: tokenism. [1]
As noted, many major museums have undertaken this sort of rehang, but the stakes are particularly high with MoMA's, because the art history it proposes to rewrite with the new presentation of its collection is one it is largely responsible for instituting in the first place. And the point is not that the old one was wrong and this new one is right, but rather that there never was just one story. MoMA is often criticized for presenting its collection and its narrative as self-evident. This is especially problematic when the collection excludes minority artists, but adding a few newly canonical voices to the canon does not address the fundamental problem: that the museum remains an absolute, unquestionable, and vexingly opaque authority. Telling its own flawed, complex story, a story of personalities and politics, would allow MoMA to take some responsibility for its own marginalization of the artists it has now deemed worthy, and to acknowledge that a museum collection isn't built in a vacuum, or on a pinhead, where angelic curators meet to debate aesthetics.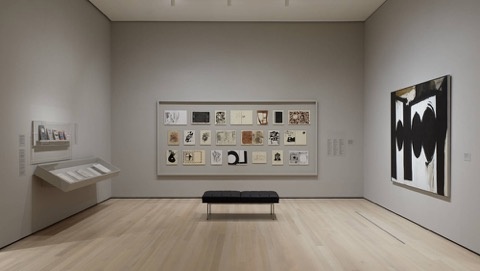 The question then arises of what MoMA should do – what it could do. The new installation does contain a glimmer of possibility. That glimmer is a little gem of a show on the fourth floor, "Frank O'Hara, Lunchtime Poet." This modest yet engaging exhibition, curated jointly by Michelle Elligott, head of the archives and library, and Drawings and Prints curator Esther Adler, suggests a way for the museum to acknowledge its own significant role in shaping the history of modern art. O'Hara was a leading poet of the New York school as well as a sharp-eyed curator at MoMA – he wrote on his lunch breaks – and the show is both accessible to those visitors who don't yet know him and delightful to those who do. It was pulled largely from the museum archives, which holds O'Hara's papers but also includes objects from the departments of Drawing and Prints, Film, and Painting and Sculpture, as well as the library: a true success for the new mixed-media policy. Curiously, however, only the works of art are listed on the museum's website – an odd decision, given that the documents are the stars of the show.
Through them, we see O'Hara not only as a brilliant poet and curator, but also very much as a person – a friend and lover of artists, notably Larry Rivers, whose affectionate portraits of O'Hara are touchingly complemented by a scribbled first draft of a poem addressed to the painter. Discovered by Elligott in the back of O'Hara's travel notebook, a later version was published under the title "Now that I am in Madrid and can think": "I think of you […] you are smiling, you are emptying the world so we can be alone."
The exhibition is also beautifully installed. Elligott brings a sensitivity to the exhibition of archival documents that curators often lack. The show successfully balances the visual and the informative, and its design helps viewers understand how to approach the objects on view. For example, drawings by a group of artists, each a luminary, for a posthumous book of O'Hara's poetry published by the museum are hung on the wall – an appropriate place for a work of art – but grouped together within a subtle frame, so we inherently see them as an ensemble that belongs together. The books exhibited here, including this one, are also available to read on a small table, and the two comfortable chairs provided for that purpose, along with the soothing dark grey of the walls, give the space a sense of rest and contemplative calm that is otherwise absent from the galleries – including where you might most expect or want it, such as in front of Monet's Water Lilies.
But "Frank O'Hara, Lunchtime Poet" offers more than just respite from the rest of the museum: it also suggests a way forward for it. All curators are human beings, and acknowledging their human parts – instead of hiding them behind white-painted sheetrock – lends a touch of vulnerability and humility to an institution that could sorely use some of both. Openly telling its own story is, I believe, MoMA's best option for reckoning past mistakes with present ambitions.
The exhibition's approach to O'Hara is celebratory, and as such it also inevitably celebrates MoMA itself. But elsewhere on the fourth floor, other offerings from the archives tell a different story: that of the Art Workers Coalition, which in the 1960s and '70s protested the absence of art by women and people of color, as well as trustees' links to the Vietnam War. These few vitrines are the only indication that MoMA's story is a contested one. Let me rephrase that: the only sanctioned indication. For even before the museum reopened, the protests began, demanding the removal of trustees Steven Tananbaum, who profited handsomely from the destruction of Puerto Rico, and Larry Fink, CEO of BlackRock, whose role in the 2008 financial crisis was the subject of an installation by Occupy Museums at the 2017 Whitney Biennial. Even the Guerilla Girls, those venerable grandes dames of art activism, have joined the fray, with a protest poster that decries the close ties of trustees Leon Black and Glenn Dubin to Jeffrey Epstein, and which will surely be a collector's item someday. One can only hope that the museum's archivists are paying attention and quietly collecting such rogue pieces of MoMA's history in preparation for the day, however far in the future it may be, when its curators are ready to face responsibility for their own role in art history.
Title image: MoMa, 2019