"Manual: sex." Narcissister, "This Massquerade", Abrons Art Center, New York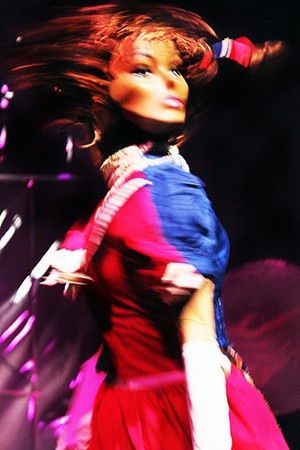 Narcissister, "This Masquerade", photo: Ves Pitts, 2011
Pleasure, and the ability to withhold or offer it, can create some of the most dynamic power relations. Possibly to tap into this strength, the art of burlesque, which has been encountering a stunning revival recently catapulting it even into the realms of Hollywood, has pushed tantalization not only toward sex as a carnal, orgasmic aim, as is often case in the more one-dimensional land of striping, lap dances and the like, but instead uses narrative images from costume and set to characterization and so on, to promise various manipulations of the psyche so as to ultimately renege on them. And like a loaded suggestion, Narcissister's "This Masquerade" sends the performer/audience expectation to new places of reflection.
Narcissister is the stage name of a female performer, who was once a former dancer with the Alvin Ailey American Dance Theater troupe—or so the bio says; she also seems to prefer to stay under her cover name for reasons that become clear through the performance. Since this tenure, Narcissister, has been performing a series of what could be called neo-burlesque acts which have taken place mostly in clubs, but also recently in the context of performance spaces and art exhibitions. These pieces have ranged in the past from "reverse" short stripteases where a naked performer pulls out an entire costume hidden within an oversized afro-wig and gets dressed with it, to an exercise routine featuring a bicycle-weight machine hybrid outfitted with moving dildos and the like that caress the user to give new meaning to the term, "runners high".
"This Masquerade", is a larger, 40-min through composed stage piece that shows the vestiges of her past performances by relying on short 4-min vignettes as scenes. These routines, more or less coalesce into a uniform whole; in further iterations, this sum could use some more work—this current performance is a reworking of an earlier staging at the Kitchen (Center for video, music, dance, performance, film, and literature) Spring 2010. That aside, each individual set dares to one-up the next so as to surprise the audience with each new invention.
Narcissister, "This Masquerade", photo: Ves Pitts, 2011
The black-box performance at Abrons, a catch-all, performance heavy, community art, residency, and education center which often delights in its eclecticism, opens with hisses of smoke that cover a dimly light stage scattered with mirrors and other like shiny objects. A droning bassline plays out a series of naked women crawling in to view, all, on all fours. Each dancer is outfitted and objectified with the same mask, a plastic Barbie caricature-cum-sex-fetish kind of thing—a requirement in depersonalized Narcissister universe. As the first scene continues, the dancers move to and fro with theirs backs raised in the air and at the audience so as to show nude G-strings adorned with oversized pubic wigs. The music cuts in a state of forward-rewind replay, back-and-forth, back-and-forth, wink, wink. The air begins to fill with the smell of the sweat of the dancers, in this dirty nightclub fantasy, as the "lead" Narcissister debuts a solo over her groveling entourage. Rear stage left, an older non-masked lady, Naricisister's mother in fact, sits in a rocking chair and knits—Freud anyone?—while a large, muscular person, in similar mask, stands at a gong à la The Gong Show. Like a classical overture, this scene acts as a foretaste of what is to come…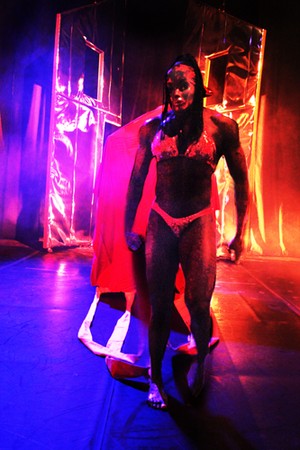 Narcissister, "This Masquerade", photo: Ves Pitts, 2011
Following the opening, the set is rapidly changed as the backdrop/prop is pushed forward and reconfigured into a red velvet-like draped sex shop with Arabic signage—this rapidly adaptable scenography carries throughout, and advances a tangential, dream-like transitional device. As some of the masked naked dancers return to the stage, each grabs part of the red curtain, which has been tailored so as to form a giant three-head burka. They enrobe and dance in intentionally contrived gestures, such as the "Walk like an Egyptian", while Narcissister bounds out for a highly athletic and frenetic pass-as-protest to The Clash's Rock the Casbah. As the music plays on, the lead waves in and about this hydra, and alternates between toying with designer trappings, Chanel bags, cell phones, etc, and the shop's kink objects in suit. As dance-friendly empowerment-themed tracks from Western-pop swap from "The Clash" to a Janet Jackson's Rhythm Nation—the video for which coincidently also displayed a kind of collectivist aesthetic—the "Arabian" lead finds this exchange of culture and consumer goods impossibly irreconcilable. She runs off, only to return in a comically bloated burka. By now, the backing dancers have ripped their Velcro bonds and have turned into a distinct chorus of three, darting about madly. Laughably macabre, they goat the swollen Narcissister, who is trying, in vein, to throw off her dress—every time she removes a layer, another, and more sumptuous silk burka is revealed, 20 or more times over. This parody goes on for a minute, with outfit after outfit being revealed as the dancer fatigues to the point of collapse. Lights out.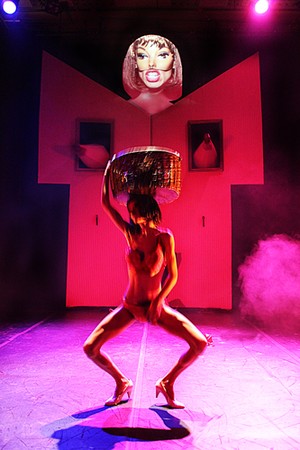 Narcissister, "This Masquerade", photo: Ves Pitts, 2011
Continuing along, we have further dichotomy plays such as; man/woman, as an androgens dancer comes out and reveals a cock—or is it a dildo?—; black/white, as "mammy" strips into a waspy lady; proper/improper, as various Victorians "unbutton", and so on. This checklist of gender and race roles, replete with dances that degenerate and often get "gonged" or booed off, seldom finds any "resolution". Tension grows after each folly till the point in which Narcissiter, literally splits.
At first this new schizoid persona follows the old vaudevillian trope of having the front of the performer in one set of clothing, while the back is complimented with a rear head mask and different costume. Narcissister, in this get up, flips recto-and-verso to display two identities. Still "confused", this doubling is then carried head-over-heels in the next skit, as shoes are placed on hands as well as feet for a Tête-bêche dance against herself—wait is that a head attached to her crotch peeking out from under her dress!? This conflict returns later as a naked Narcissister—sans harness to hold the still in place dummy head to her pelvic cavity as if giving birth—mounts a pedestal, center stage, and contorts. Maternity is scraped though as the act reaches its climax with a highly eroticized, and for the first time, relaxed, dance, with her-selves—all the other performers have left the stage.
Going "beyond the pleasure principle" is only meant to bring pain, as the body can only take a certain limit of enjoyment, so the theory goes. And yet, this still begs the question, can pain be transcended as well? As far as the first, Narcissister, tackles the problems of simple voyeurism and its darker side of exploitation with her litany of stereotypes and related oppressions that all end in disrepair. Yet, taken as a whole, these typical fantasies point to a lack of inspiration as each is rendered in at-hand taboos as if from a role-play menu sheet. Possibly stuck in these repeating cliché, the act teases a final, yet also troubling synthesis.
Simple, enough, the performance finds optimism in something as obvious as "love thy self"—every time I type "Narcissister", autocorrect, adeptly, wants to change the word to "Narcissistic". Taking the portmanteau of the performers' blanket name further, Narci-, as in narcotic or drug, is wedded to and idea of sisterhood. In other words, the whole persona could be question of how to make an additive bond between each other. Yet, drugs after all, lull the senses into a state of torpor and take over the subject, sometimes to the point of destruction—maybe sex does the same? With this in mind, the proposed togetherness, could be the ultimate form of human desire, but also unattainable as the harsh deconstructions only give way to joyous solipsism. Fundamentally, the faceless masks of all the Narcissister duplicates reveal not a corpus of individuals, but a conformist gaggle. Here, everyone becomes an object, to be destroyed or deconstructed, but at the same time, become indestructible tropes of self-replicating, multiple-like, codes. Totality complete, this shared fetishism parallels a kind of mass consumerism, as psychological desires are neatly cataloged into hackneyed and easily traded images. Ironically enough, e pluribus unum, already featured on all American coins, can be exchanged for the entrance fee.
Narcissister, "This Massquerade" Abrons Art Center, New YorkFebruary 11, 12, 17, 18, 19, 2011