Performa Anxiety. On "Performa 09"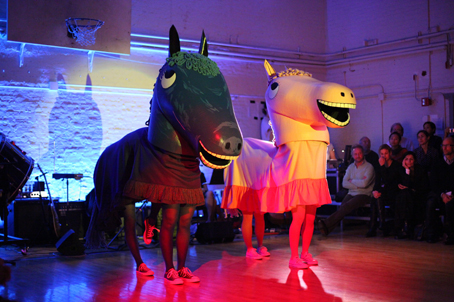 Mike Kelley, Day is Done Judson Church., Performa 09
After a century of revolutions, renovations, and rebirths, it seems that performance art is undergoing yet another comeback. For most of its lifespan, it has been considered the rogue rebel in the visual arts, a medium for outcasts, a mode of insurgency. Yet, in today's contemporary art scene, performance has finally achieved a legitimized position as a fashionable insider. Most artists have tried their hand at it, galleries regularly trade in it, and New York's Museum of Modern Art has even initiated a new curatorial department dedicated to it. As performance has become the featured attraction at numerous international biennials and triennials, what does a biennial completely dedicated to "new visual art performance" have to offer?
This is the question ostensibly posed by Performa 09, New York's premiere performance art biennial, this year in its third season. It is the brainchild of RoseLee Goldberg, art historian, curator, and author of Performance Art: From Futurism to the Present (1979), the pioneering primer on the history of performance art, which highlights, among other things, the significance of Futurist performance in the history of art. Not surprisingly, this year's iteration was dedicated to the legacy of Futurism on the occasion of its 100th anniversary. It was also bigger and more ambitious than ever before, showcasing 170 artists and 25 curators, and featuring 11 new commissions, 6 New York premiers, and a slew of collateral events scattered across the city, including art exhibitions, conferences, film screenings, and of course, performances. Yet, despite Goldberg's zeal, and admirable efforts to single-handedly effect a revolution in the production and consumption of performance art in this city, the highly-anticipated 3-week long festival was, for the most part, overbooked, overworked, and overblown.
From Candice Breitz's tedious staging at Abrons Art Center of untrained actors (split pairs of identical twins) improvising a scene that could have been from a bad 80s sit-com, to Cyprian Gaillard and DJ Koudlam's droning video and electronic music collaboration at the Kitchen—a mind-numbing set which would have been more appropriate at one of Chelsea's nearby nightclubs than at its most preeminent performance venue—Performa was largely a disappointment. The vast majority of the countless smaller events, which took place at galleries, clubs, and cultural and educational institutions around the city, demonstrated lackluster curatorship, poor production values, and tenuous conceptual development. A part of this problem seems to be Goldberg's resolve to celebrate Futurism, a theme that often felt forced, rather than genuinely self-generated by artists and curators. One example of this was "the Prompt," a series of evenings of "Futurist-inspired" variety-theater held in a back room of the Swedish gastropub, the White Slab Palace. Curated by Sarina Basta and Michael Portnoy and featuring a mishmash of muddled and grating acts and screenings, the event was vexing and seemed only tenuously related to Futurism.
While these and other Performa artists should be commended for their risk-taking and earnest attempts at forging new kinds of engagements with the medium, their works read as superficial and monotonous, lacking the intricacy, finesse, or conceptual maturity that can discriminate greatness from mediocrity. Ultimately, it was only really the well-funded Performa Commissions that delivered on the promise of presenting high-quality new performances. Even so, with limited runs, expensive ticket prices, and regularly sold-out shows, they weren't exactly as highly-accessible to "a broad cross-section of audiences" as Goldberg had promised.
Perhaps the best among these was Mike Kelley's Surreal Pop opera "Day is Done Judson Church," based on found photographs of extra-curricular activities from American high school year books. Presented on a basketball court in the basement of the Judson Church, the piece featured a talented orchestra of horns, percussion, strings, and even a Theremin, that performed spellbinding music Kelley produced in collaboration with Scott Benzel. The performance itself was a bizarre sequence of scenes including dancers playing basketball and performing in large-than-life-size pony costumes, three completely nude men carrying a large ladder, 13 musicians playing horns while climbing and perching on said ladder, and a Mardi-Gras styled parade ringmaster. Operating as a meditation on adolescent fantasy and desire, Kelley's carnivalesque spectacle assaults the senses with oscillating moments of shock and gravity, an exhilarating thrill from beginning to end.
Dominique Gonzalez-Foerster & Ari-Benjamin Meyer, K.62, Performa 09
Also distinguishing itself as one of the most innovative and delightfully surprising of the commissions, was Dominique Gonzalez-Foerster and Ari Benjamin-Meyer's "K.62" presented at Abrons Art Center. While most audience members assembled in the theater to witness an orchestra move from the audience to the stage to perform Albinoni, others were sent on mysterious missions involving early arrival at an off-site location, a paid taxi ride, and a wait in a line for entry through the theater's back door, only to realize as they were shoved through it, that they were in fact walking right into the spotlight on stage. "Am I the performance?" queried one dazed and embarrassed woman as she was guided by stagehands from the stage to her seat in the audience. At the end, the entire audience was re-routed back on stage via the backdoor. Through their playful disruption of audience expectations and mischievous disclosure of the mechanisms of backstage operations, Gonzalez-Foerster and Meyer effectively deconstruct how we think about the theater and performance itself.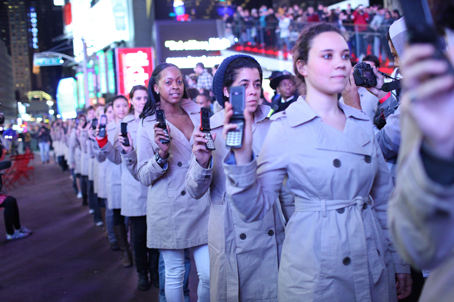 Arto Lindsay, Times Square Parade, Performa 09
Other honorable mentions include: Arto Lindsay's by now requisite biennial-initiation parade, this time in Times Square, involving a single-file line of marching performers garbed in trench coats and wielding musical cell phones; and Omer Fast's riff on the child's game, "telephone" in the form of a television-style talk show, complete with cameras, "a live studio audience," and a "guest," whose initial interview is transformed as it is repeated by a string of actors. Though neither of these two artists really expanded on their previously-rehearsed repertoires, both delivered clever and engaging entertainment, nonetheless.
Apprehending something as unwieldy as Performa is incredibly tricky. Dispersed in time and space, it is challenging to take it all in. It is also difficult to evaluate curatorial and artistic accountability in largely collaborative works. While Goldberg and her curatorial team could be criticized for having organized an unrestrained hodge-podge of uneven programming, I would like to suggest an alternative. Despite its failures, Performa's curators should be credited for providing a broad and open platform for real experimentation, a rarity in today's climate in which the cooptation of performance art into the mainstream threatens its radical and revolutionary roots.