"Polly wants a punctuation mark." Diana Baldon on Rivane Neuenschwander's exhibition "At a Certain Distance" at Malmö Konsthall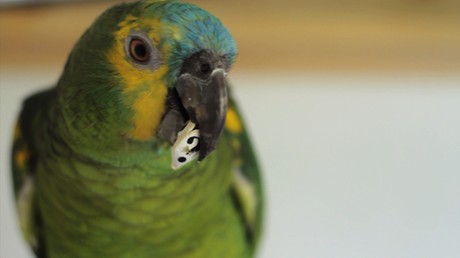 Rivane Neuenschwander, "Sunday", 2010, Videostill


In 1957 Japanese author Daisetz Teitaro Suzuki — who, among other occupations, was John Cage's teacher of Zen practice — stated that artists following Zen principles are not interested in imitating nature but, rather, in interpreting its spirits._1 In the same year, British philosopher Alan W. Watts wrote that non-Western artists employ cosmocentric abstract production methods to present the world not for what they think it means but for what it is._2 An example of these are the indeterminate compositions of Japanese Noh music -from scores based on star maps to entirely silent- where sounds are supplied by nature and by the audience. In her first solo exhibition in Scandinavia at Malmö Konsthall, Brazilian artist Rivane Neuenschwander seems to combine aspects of this model of thought together with Brazil's original contribution to the history of Conceptual art, thanks to the significant practices of artists like Lygia Clark and Helio Oiticica whose theories and strategies centred on the viewers' body, prompting them to explore space through tactile, auditory, olfactory and immersive experiences.

Neuenschwander's effort is outlined in Quem vem lá sou eu / Alarm Floor (2005), a large in situ installation, co-conceived in collaboration with the musicians' duo O Grivo from Belo Horizonte, in which big pine floorboards are walked on by viewers whose barefoot steps emit sounds as if they played the keys of an extra-sized prepared piano. The piece is inspired by the "nightingale floor", a 17th century system of flooring -made of clamps and nails underneath the boards to create friction- found in Japanese temples and palaces as a physical alarm system making it impossible to enter some areas without emitting squeaky sounds. Here the dynamic bodily experience of Neuenschwander's performing viewers is directed towards producing melodious sensations out of their musical skilfulness achieved by playing the boards turned into instruments by way of cans, plastic cups and metal rods positioned underneath. On the other hand, in the video The Tenant (2010), shot in collaboration with filmmaker Cao Guimaraes, this kind of physical engagement is replaced by a static, quasi hypnotic state induced in the audience by the contemplation of the journey of a soap bubble filled with helium gas, relentlessly monitored by the camera's close and seductive scrutiny inside an empty dwelling under renovation. In his theory about the spatiality of one's body and motility, French philosopher Maurice Merleau-Ponty wrote that movement depends on performing a "motor intentionality" established by a balance between voluntary reactions._3 In these two works, intentionality is revealed in the non-hierarchic relation between physical and mental motion, lifting the viewers' embodied knowledge of basic acts, like walking or following an object with the mind, from their everyday commonplaceness to offer them a new temporary meaning within the symbolic realm of the exhibition.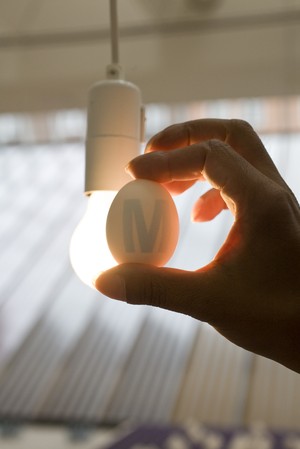 Rivane Neuenschwander, "Prosopopeia", 2010
In many of Neuenschwander's works a prominent role is taken by organic materials -egg shells, seeds and spices; water and wood- which are left untransformed. They reveal no hint at specific narratives or analytical demands, but effortlessly interact with precise spatial and phenomenological situations of agency designed by the artist. In Palatable Digressions (2010) dried food products achieve gigantic dimensions and govern the gallery space. This is a some forty-meter long intervention created in situ as a response to the building's glass skylight of the same dimension, a minimal-looking structure made of ten-meter high sheets of transparent polycarbonate, a material usually employed for temporary constructions, that falls from the ceiling onto the floor obliquely. Its internal units are filled up at alternating intervals with spices and powdered foods (coloured sugar sprinkles, green pepper, paprika, wasabi, coffee powder, yellow mustard seeds, etc.) thus obtaining long coloured stripes. Despite the monumental size of the piece, the decaying and precarious nature of its materials make it profoundly anti-heroic and humble. From a distance the work gains attention for its formally abstract and serial patterns, though on a closer inspection in the daylight, the pigments brighten up while an intense scent captures our olfactory faculty, transforming the whole into a multi-sensory experience. This sculpture plays off the "suprasensorial" theory advanced by Helio Oiticica in his perceptually-heightening and anarchic installations, while its repetitive geometric motif and topological specificity draw it near to the Conceptual practice of French artist Daniel Buren, known for his unvarying striped patterns of alternating white and coloured vertical bands employed since 1965, and for his invention of the notion of "in situ."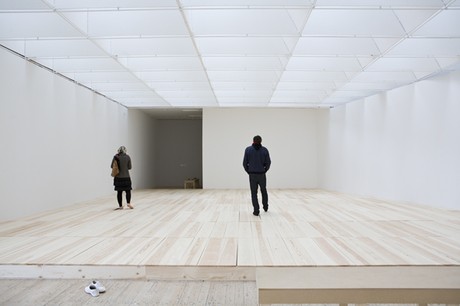 Rivane Neuenschwander, "Alarm Floor (Quem vem là sou eu)", 2005
Neuenschwander's post-Conceptual practice has been often associated with the fields of poetry and linguistics, an interest that be discerned from the titles of  works, as the one described below, that seek the symbolic or semantic connection between images and linguistic enunciations. From an art-theoretical perspective, her artistic production has also been discussed in relation to the function of art as an agency of social interaction, mediation and communication. In effect, an important focus in the exhibition have installations able to create situations for participatory forms of interaction with the audience. Prosopopéia (2010), for instance, consists of four tables displaying peeled and dehydrated oranges, limes, blown-out eggs, coconut soaps, etc. filled or imprinted with letters from the alphabet. The audience is invited to a Scrabble-like game, setting up a reciprocal engagement between work and spectator in a similar way to how American artist Allan Kaprow's influential Happening Words (1962) experimented with a structure of controlled tasks for visitors actively changing panels of words and writing messages onto blackboards. Here the audience is asked to arrange eggs on containers whose interiors hide a letter that becomes visible when an egg is inspected against the light of a lamp suspended above, as if their fertilization would be checked. As a result, we realise that the shells encrypt a message, spatially arranged as the three-dimensional variant of a Modernist visual poetry by Stephane Mallarmé or the 1950s Concrete poems by Haroldo and Augusto de Campos, members of one of Brazil's most significant cultural movements. Yet, any potential analysis of language and speech events is turned into empty speech bubbles (Zé Carioca and Friends) The Return of The Three Caballeros (2005), or punctuation marks Sunday (2010). If in the first piece the audience is invited to fill in, or erase, a 8-page story of the Disney cartoon character José "Zé" Carioca — a parrot from Rio de Janeiro — using a chalk, the video Sunday portrays an Amazon parrot eating seeds with large punctuation marks painted on them, while in the background we hear a radio with a football commentary of the 2002 World Cup final between Germany and Brazil. The bird is "eating" some symbols that structure written language, thus contrasting the silent parrot irrupting into the pauses and intonation of human language, against the relentless talking of the football commentator, who is speaking without interruption. Perhaps this is the artist's critique to our insatiable need to compulsively combine words, while the voice over performs a gasping rhythm of repeats and pauses which, if transcribed, would form an illogical, counter-organised and anti-textual prose.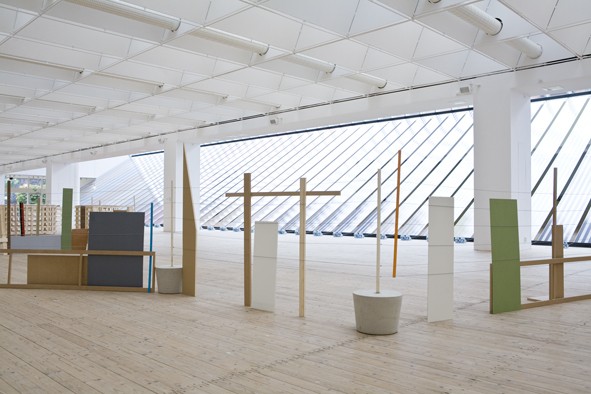 Rivane Neuenschwander, "At a Certain Distance (Public Barriers)", 2010
This and most works in the exhibition underline her quiet detachment in approaching her subjects, aesthetic and processual investigations, as indicated by the exhibition title "At a Certain Distance". In the ostensible free movement between ideas and materials, sites and situations, textual and visual media, Neuenschwander's practice doesn't superimpose its will on a predetermined form or conceptual scaffolding, but is subdued to abstract, simple and understated methods that hide, in reality, complex procedures.  
Concurrently, her works trigger "primitive emotions" we all have of the inherent essence of nature; they call for a transformative power which coalescences each piece into another, like in a Noh orchestra where any sound can become music. However, as an architectural thinker of the organic, Neuenschwander draws upon that phenomenology of the spirits known to Zen philosophy, where each formal, interactive and spatial encounter is inhabited by a large universe, of greater resonance.
Rivane Neuenschwander "At a Certain Distance" at Malmö Konsthall, September 11-November 14, 2010
Notes:
---
1 D. T. Suzuki, Mysticism Christian and Buddhist: The Eastern and Western Way, London: George Allen & Unwin, 1957, p. 11.
2 Allan W. Watts, The Way of Zen, New York: Vintage, 1957, p. 174.
3 Maurice Merleau-Ponty, Phenomenology of perception, New York: Routledge, 1962, p.117.