Scarlata: The Paintress of Modern Life
Ana Vogelfang on Valentina Liernur at Ruth Benzacar, Buenos Aires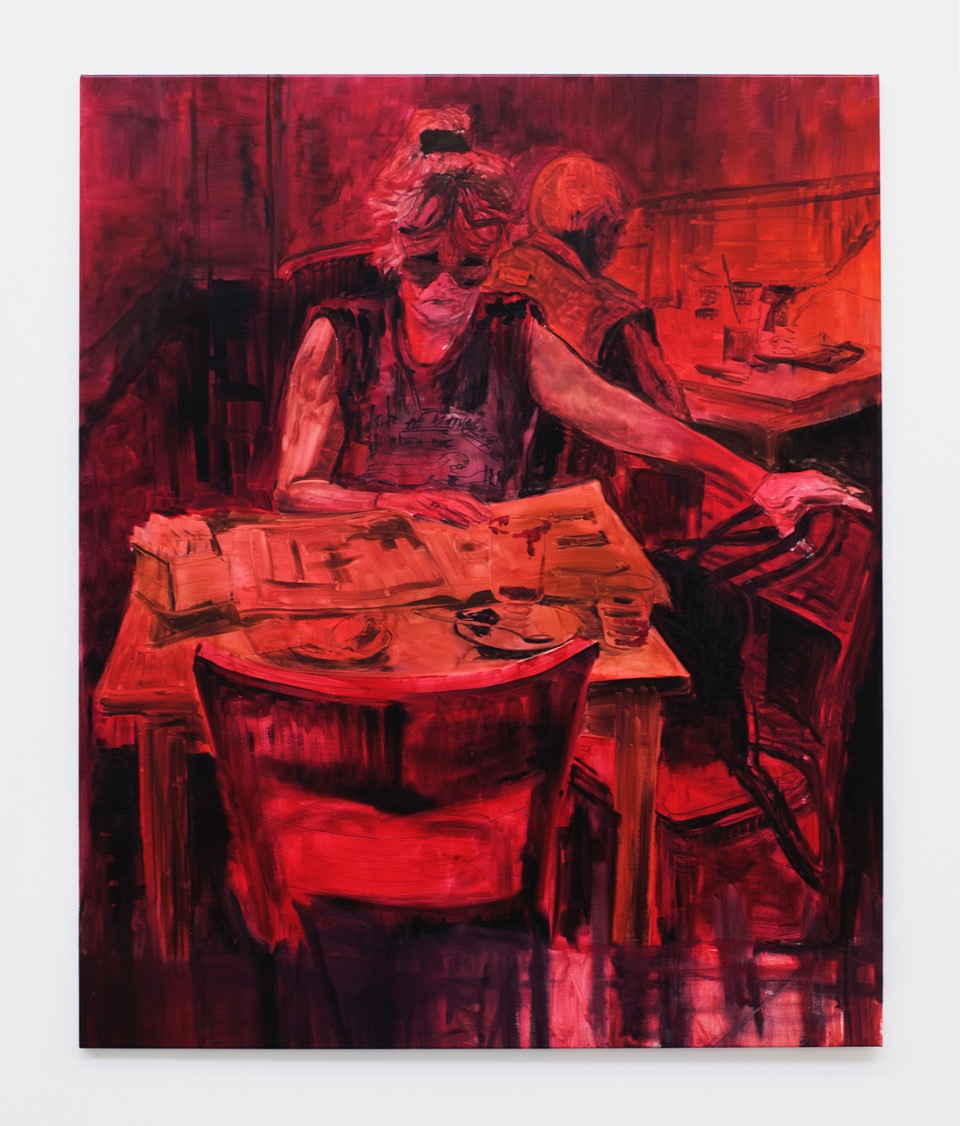 The work of the Argentinian artist Valentina Liernur sits squarely between the disciplines of performance and painting, both of which are often suffused in her exhibitions and installations. A new group of Liernur's work was recently exhibited in their native Buenos Aires, and local artist and architect, Ana Vogelfang, offers her take on the significant of Liernur's work.
Red ranges in hue from dazzling scarlet to gloomy brick, covering a wide spectrum of emotions as vitalism, danger, love, lust, and anger. Cinnabar, the mercuric sulfide that was once used by the ancient Romans to produce vermilion pigments, is highly toxic, as are obsessions and fears. Red is also the color one uses for aiming when target shooting.
Armed with a heavy stroller and a smartphone camera, Valentina Liernur went hunting around Buenos Aires. She wandered through the city, entering cafes in search of her target. In her most recent exhibition, she presented a new series of paintings (all works 2019): 16 pieces consisting of portraits in different shades of red depicting older women in urban settings, intertwined with cloudy abstract monochromes and three pieces sketching scenes appropriated from comic books or fashion ads, hung over fake leather office couches.
The longest wall at Galería Ruth Benzacar held nine paintings aligned by their middle axes, all of them in different large-scale formats, diagrammed as a storyboard of mismatched vignettes. The 20-meter-long wall unfolded a scope of ruby, cherry, wine, blood, and rusty paintings. Among them, the self-portrait Selfie with Stroller (2019) disclosed no boundaries between the artist persona and the work. The depicted scene – Liernur snapping a "lift-selfie" reflected in the elevator's mirror – suggests a life span: the artist persona on her way out for a walk with a baby (her own?) in a stroller. The painted selfie stages the artist herself as a character while introducing the camera as an instrument of immediacy and voyeurism. The way it is painted, the work announces itself in a performative manner: brushstrokes are fast and furious, some extensions of the canvas remain plain, the figure is somewhat rough, unfinished, giving an abrasive texture to the self-portrait. The urgency and indetermination of the way the figure in the painting is accomplished inverts the mannerist gesture bestowed in other exhibited canvases, where every brush trace is achieved by means of meticulous labor.
While the art world constantly seeks out new blood to vampirize, Liernur puts herself in a temporality of indulgence and self-reflection. The mirror sends back an image where it is clear that she is not pursuing youth. As Agnes Martin said once "Anything is a mirror. There are two endless directions. In and out."
Precisely one meter apart from each other, the other paintings on the wall braided pink mist abstractions with depictions of mature women in typical argentine "porteños" cafés.
There are hints in the abstract paintings pointing to the fact that Liernur is introducing sexuality as a topos. Three oil and acrylic monochromes on canvas stitched with zippers, titled Fucsia (2019), Cierre Azul (2019), and Cierres Rosa (2019), are follow-ups to the series of stretched denim and gabardine pictures that Liernur started years ago and continuously produces. In previous paintings on denim, zippers were left open, a kind of trendy update of Lucio Fontana's Concetto spaziale. Although they keep a suggestion of sexiness, this time the zippers are completely closed.
Camouflaged as just one among the other women in the café – one can see a corner of her own table or the empty chair on the other side in several paintings – Liernur is something like a contemporary flâneuse, carefully observing these women while they are thinking, reading, or just killing time. Motivated by the pleasure that comes with concealing one's identity as a painter, Liernur's observational processes become both sly and sneaky. "The observer," declares Baudelaire in "The Painter of Modern Life," "is a prince who enjoys his incognito everywhere." Liernur, through the selfie's looking glass, observes these spectral women with sharp attention, alternating the painter position between accomplice and oblivious observer. Troubled as Gina Rowlands in A Woman Under the Influence, Liernur contrived their painted representations, revealing an obsessive verism; inarticulate and full of hesitations, digressions, and imperfections.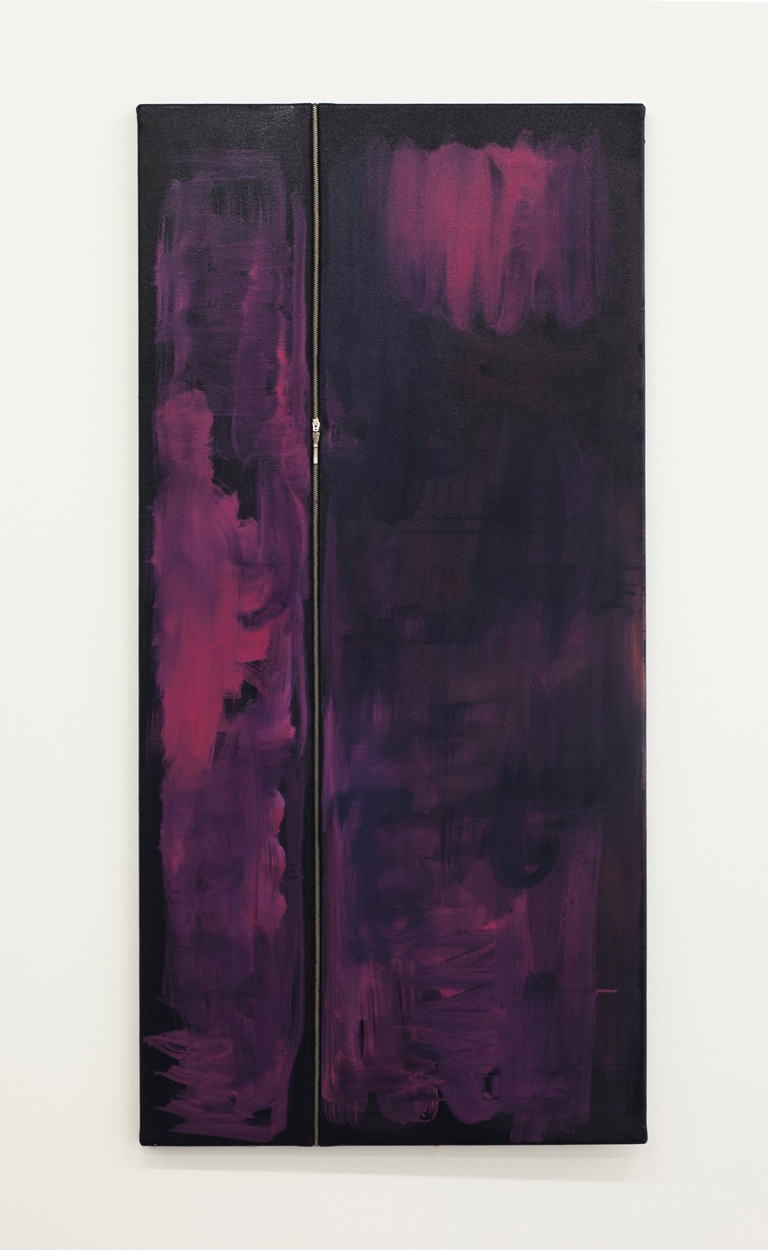 The sequence of works depicting women drinking coffee and seemingly wasting time could also be a hint to the local political and economic crisis: far from idleness, these characters' attitudes could be revealing of an acute unemployment issue. Both subject matter and the activity that takes place in the studio while painting thematize the means of representation of women killing time while time is killing them. They all have an agenda: the paintress, the depicted, and, by contingency, the observer, who's forced by the composition of the image to transition into a female perspective. Spectators are positioned by the framing of the images into a voyeur's angle. The observation point is somewhat coy, timid, oblique. This behavioral demure toward scrutiny in the public sphere is a process contrasted by the way in which Liernur brazenly approaches the canvas in her studio.
Liernur assumes some class privileges in her paintings, not only through the female figures in this red series – they are clearly not working class – but also through the references to high fashion advertising campaigns and celebrity culture in the works Las amigas en Caminito (Girlfriends in Caminito, 2019) and Las Amigas in Puerto Madero (Girlfriends in Puerto Madero, 2019). Inspired by a 2015 Balenciaga campaign featuring an older Kate Moss and a younger and upcoming Lara Stone, both paintings depict two women seductively reclining and staring at each other. Highly erotic, these pictures emanate a contagiously sexy scent. Their figures and physicality in "Dos jugos y un cortado," "Cortado en jarrito," or "Estación Bulnes" are not fetishized, allegorized, or commodified. They are simply shaped by the unpretentious activities each of them is engaged in.
A phoenix-like half-naked female figure in the painting Valentina (2019) extends her arms like the black plumage of large crows flying around her. Is she being attacked by them, her clothes snatched away? Is she looking down because of the exhaustion of fighting against defeat? Or is she becoming one of them, her fingers turning into feathers?
This figure is based on Guido Crepax's comic book Valentina (1965–96), which depicts a photojournalist seeking sexual empowerment. While the character of Valentina grew older during the series, over time, Valentina gradually evolved into a more erotic comic book. In the stories, Crepax introduced an odd combination of eroticism, hallucinations, and dreams.
Liernur's red series can be understood as a sour allusion to the gender protocol that dooms female sensibility to the autobiographical. Or it can be read between the lines of figuration and abstraction as a way of silhouetting the contrivances of a femininity in the process of ageing: a social, sexual, and psychic construction that is in constant negotiation.
As argentine writer María Moreno said in La flor de la edad es mañana (The Flower of Age Is Tomorrow) (A tontas y a locas, 2001, p. 39): "Traumas apart, I long for my ageing days without shame, that promised land where passion becomes language [...] Believe me sister, when the body starts adrift, the 'crazy old women' will still be able to parodically paint our lips scarlet and give ourselves to the jovial egoism, that of not being."
"Valentina Liernur: Scarlata," Ruth Benzacar, Buenos Aires, March 13–April 27, 2019.
Ana Vogelfang is an artist and architect running AltoRefugio. club in Buenos Aires, where she lives and works.