176
MOURNING MOMENTS
Tom Hastings on R.I.P. Germain at Cubitt Gallery, London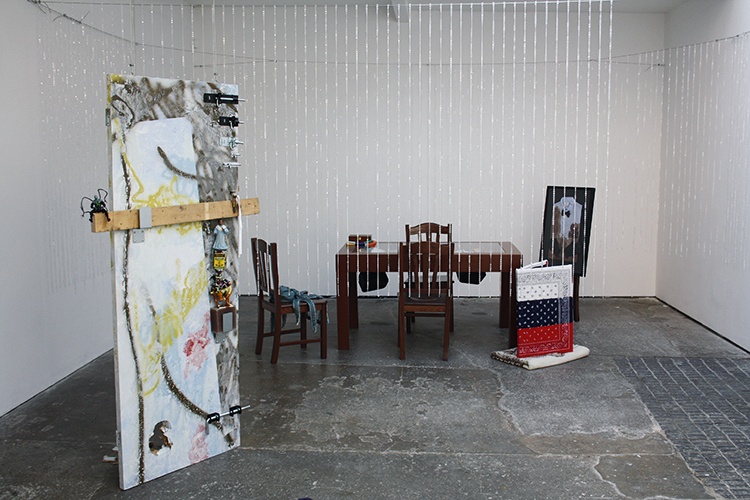 At the center of the liberatory political goals of the Black Lives Matter movement are the unfreedom of Black life and the injustice of Black death. In his exhibition at Cubitt Gallery, artist R.I.P. Germain addresses Black life and loss in the UK, drawing on personal losses and creating a space for grief and mourning. Artifacts of personal memory provide ground for collective witness, writes Tom Hastings, capturing the entanglement of joy and terror in Black experience.
I read what looks like a funeral booklet but is actually an exhibition program. Its title, "Dead Yard," is set in red spray-paint above familiar cursive script: "In Loving Memory." Miniature portraits of relatives, haloed in ovals of the same redness, hover above the artist's name, "R.I.P. Germain"; the short time period listed, "3 Sep–22 Nov 2020," is the only indication that this is not a funeral but an exhibition booklet. Instead of a service schedule, the inside cover includes a list of works, yet these are named after the artist's deceased loved ones, Lloyd, Imarl, and Sonny, among others, so that it is still unclear which genre is being foregrounded. This merging of personal and public modes of address suggests the artist's own experience of loss is inextricable from the atmospheric effects of death for Black people; the exhibition's focus thus sits in relation to the recent mobilization of Black Lives Matter.
The exhibition "Dead Yard" is legible through contemporary art tropes: its three sections comprise sculpture and sound installation, furniture, and a collection of books intended to be read. Yet the booklet's list of names, the artist's family, and my own white discomfiture instigate a blurring of art and life that exceeds those tropes. Living rooms, vestibules, kitchen tables, and community spaces are imagined within Cubitt's walls, countering the violence of display that links the exhibition format to histories of anti-Blackness. R.I.P. Germain's works are closer to mnemonic devices that make sharable different forms of grieving, and their configuration in a room-like structure invites visitors – the artist's friends and family, others, me – to sit with artifacts (literally) marked by grief. The artist explores his own entanglements with loss and care through a series of works that mediate the daily proximity to death experienced by Black people in the UK, each situation presenting a singular mode of opacity and chance for engagement.
The artist's grandfather provides the name for Lloyd (2020), a thin tree trunk affixed to the ceiling by a heavy-duty metal chain. A length of the same chain, wrapped around the trunk's hewn midriff, is surrounded by stubs of cut branches that protrude along the trunk's length and thicken around its base, while all over, regular forms that look like darts but are actually resin-coated joints – stuffed with medicinal herbs – jut out at odd angles. These are made to represent the nails of a nkondi idol – fashioned by the Kongo people to ward against witchcraft, hunt enemies, or enact nurture within the village. Further, the joints' association with ashes is cited as a marker of respect or disrespect depending on your allegiance to US rap or UK drill scenes. Lloyd stands by the entrance: a spiky, vigilant presence.
Opposite Lloyd, a plywood door surfaced in acid clouds of paint hangs decontextualized in limbo, one side lined with barrel bolt latches. Relics of a domestic interior – gospel singer figurine, liquor bottle, silk scarf, and a plastic horse – are pinned beneath a wooden bar in a totem-like shrine; shatteringly, a rough hole at the door's base outlines a desperate, thudding, exhausted kick: this sculpture is named Imarl (2020) after R.I.P. Germain's baby cousin. As a group, the mementos that adorn this door remind me of the Canadian poet Dionne Brand's statement that "No seeing can truly verify the door, no real place can actualize the lost place." [1] For Brand, "the door of no return" stands for the Black diaspora's experience of belonging without origins, where the impossibility of return is a nexus for relationality. I do not invoke Brand to suggest that death comes after life, or vice versa – R.I.P. Germain upturns this Eurocentric conception, materializing (social, corporeal) death as immanent to Black experience. Rather, these mementos suggest the artist views "the lost place" as an ongoing site of belonging, one that flows between violent and soothing modes of memorializing in the present. An octopus-shaped soft toy has been placed over neatly folded baby clothes on the ground in front of the door, motioning to preparations for a quick exit.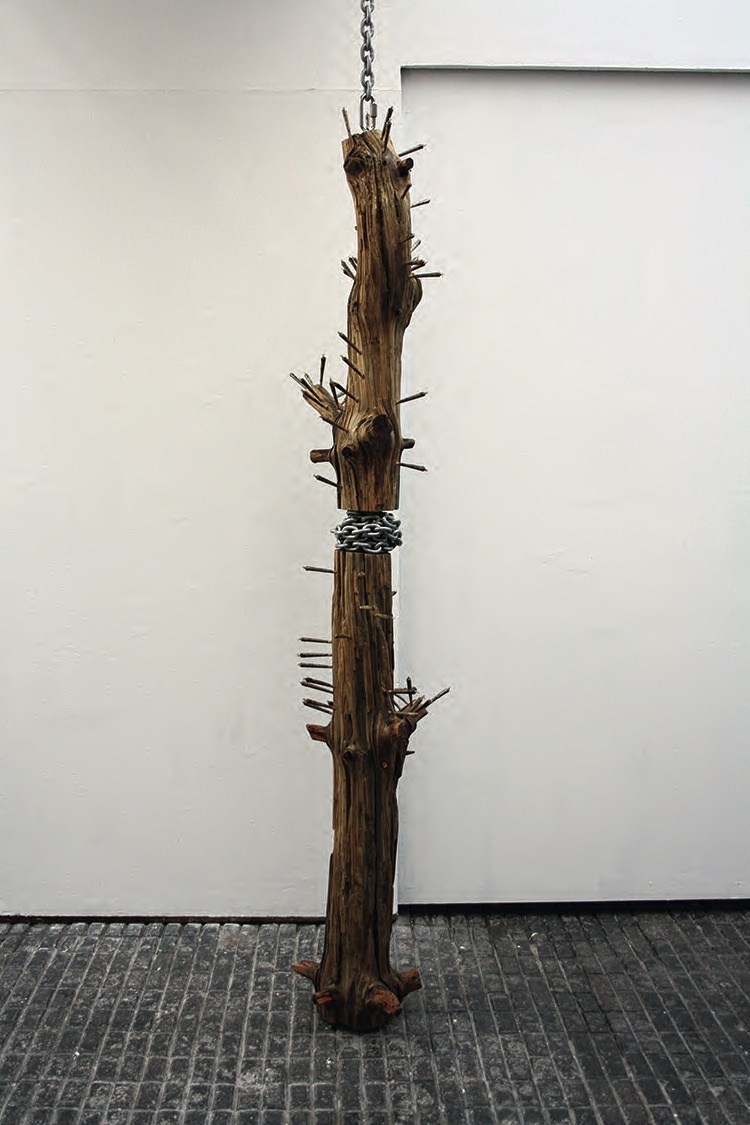 "Dead Yard" is the first exhibition in Languid Hands's Cubitt Curatorial Fellowship. Languid Hands, a collaboration between London-based filmmaker Rabz Lansiquot and writer Imani Robinson, screened their film, Towards a Black Testimony: Prayer/Protest/Peace (2019), at the height of lockdown. Footage of loose carnival-goers in Saint Martin and Notting Hill and of newlyweds laughing at their wedding reception show Blackness as recuperable from images of violence, even as ­Robinson's clipped voiceover suggests otherwise: over the sounds of Abbey Lincoln, "where shriek turns speech turns song," a tissue of quotations from the Black radical tradition provides testimony of how humans cleave to violence. [2] In a post-screening Zoom discussion, the writer Gail Lewis responded to Languid Hands's film by asserting that Black life, rendered more vulnerable during the pandemic, is coextensive with queer modes of belonging to the extent that Blackness is socially fantasized as exterior to homonormative conceptions of the human.
R.I.P. Germain's attachment to a "lost place" is queer too, his collation of Black masculine codes expressing a disidentificatory desire inseparable from loss. [3] The sculptural assemblages in "Dead Yard" reorient the inquiry of his video essay Dat Tyron Lookin' Yout (2020), which examines popular culture through his experience of a botched mugging, by inviting his audience to take a seat. To the rear of the gallery, four wooden chairs and a table are partitioned by strings of transparent plastic discs hung like a beaded curtain. Sonny (2020), named for the artist's uncle, reconstructs a funeral scene at which the family played dominoes: nudging one table leg, a semi-folded domino mat is covered with bandanas and lined with a patchwork of England sports shirts mimicking those worn by undercover police as they harassed the late UK drill rapper Siddique Kamara; more blatant still, a framed boxing referee's shirt sits on one chair where a portrait of Sonny had been placed during the funeral, the jauntiness of the uniform's bowtie here offset by huge bloodstains. A similar bloodied shirt appears in a dramatic post-match clip in Dat Tyron Lookin' Yout, shadowing its distressingly photogenic appearance in Sonny. The table itself doubles as a vitrine housing Black Mirror DVDs, an Arsenal shirt, boxing shorts, Shea Miracle Curl Activator, and a pink Afro comb. Around these contents, the muffled voices of a three-hour sound installation can be heard; R.I.P. Germain asks friends and acquaintances questions such as, "Is it fair to say that people are scared of death?" Responses gather around Sonny like voice notes, their aggregate intergenerational intimacy embodying Lewis's assertion to a T.
This conversation reel also mediates the artist's outreach work with young people on grief, loss, and hope, triggering meditations on the efficacy of art in the face of immanent Black death. As if to assist this "wake work," a library occupies one side of the gallery, its catalogue split in two: anti-racist children stories are laid out on trestle tables while a compilation of radical Black literature – enough material for a generational Black Lives Matter reading group – covers a tiered platform swathed in satin curtains. [4] Its ritualistic arrangement cites the Mexican ofrenda, a domestic altar upon which food and other offerings are placed to remember the family's lost ones. The drapery of this ofrenda refers to the flags of Haiti and Ethiopia, nations whose family histories share a collective genealogy of resistance to colonialism and slavery. With "Dead Yard," R.I.P. Germain explores the afterlives of this genealogy by transmuting his own "lost place" into a site of belonging and consciousness; in doing so, he delivers a timely response to Saidiya Hartman's ethical question, "Is it possible to construct a story from 'the locus of impossible speech'?" [5] In constructing stories of Black life from the archive, Hartman navigates the racist violence of historical erasure and the reproduction of violence in the present. After Hartman, the mourning moments of "Dead Yard" express the entwinement of joy and terror in Black experience as a story that is necessarily rooted in queer kinship and collective witness.
"R.I.P. Germain: Dead Yard," Cubitt Gallery, London, September 3–November 22, 2020.
Notes
| | |
| --- | --- |
| [1] | Dionne Brand, A Map to the Door of No Return: Notes to Belonging (Toronto: Vintage Canada, 2011), p. 26. |
| | |
| --- | --- |
| [2] | Fred Moten, In the Break: The Aesthetics of the Black Radical Tradition (Durham, NC: Duke University Press, 2003), p. 22. |
| | |
| --- | --- |
| [3] | José Esteban Muñoz, Disidentifications: Queers of Color and the Performance of Politics (Minneapolis: University of Minnesota Press, 1999), p. 5. |
| | |
| --- | --- |
| [4] | Christina Sharpe, In the Wake: On Blackness and Being (Durham, NC: Duke University Press, 2016), p. 13. |
| | |
| --- | --- |
| [5] | Saidiya Hartman, "Venus in Two Acts," Small Axe, vol. 12, no. 2 (June 1, 2008), p. 3. |